Even though it doesn't start for another two-and-a-half months, this year's Halloween Horror Nights has already proven to be something of a return to form; the hallowed event used to be a more synchronized or cohesive affair, with a headlining icon that would set the year's theme and tone both, with a set of haunted houses and scare zones that would help reinforce it. The rise of Horror Nights's licensed attractions – mostly notably The Walking Dead, which dominated the event from 2012 to '16 – helped to dispel this unified approach, however, diminishing the sheer visibility of the icons and helping to keep each of the haunts and zones more or less separated. (And with the various intellectual properties bringing in more guests than ever before, the trend was only accelerated and, seemingly, cemented.)
The news throughout this year, however, has provided something of a pivot back to those earlier days – all while still keeping the bigger-than-ever IPs, along with their attendant crowds, in the horror fold. Although there may not be that larger-than-life icon hanging over 2018's proceedings, there is a general 1980s theme stringing them all together, thereby allowing Stranger Things to sit comfortably side-by-side with Slaughter Sinema, the original creation that takes its inspiration directly from the decade's B-films. And, now, we've received a backstory for at least one of the original haunted houses (that would be Dead Exposure: Patient Zero), providing a narrative context – or, even, just a narrative, period – for at least part of this latest Horror Nights.
That backstory looks a little something like this: on the official Halloween Horror Nights Twitter account, a series of postcards were published over the course of eight hours yesterday, telling the story of a honeymooning couple named Emily and Greg as they begin their sightseeing trip at Paris in October 1982. What starts out as a simple, sweet series of reminiscences or tourist updates quickly takes a turn, setting up how the zombie plague spreads all across the world in just a 14-day period: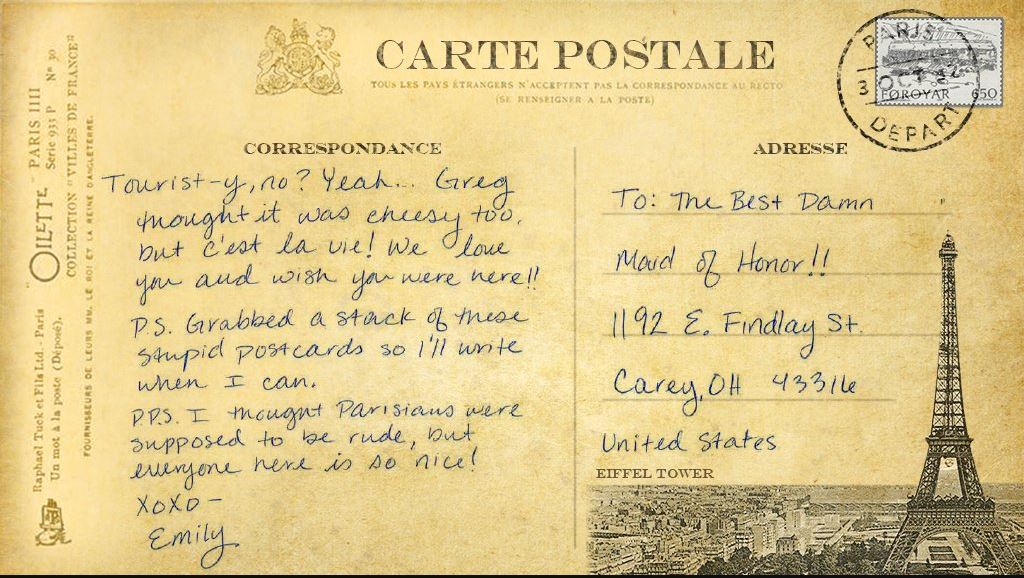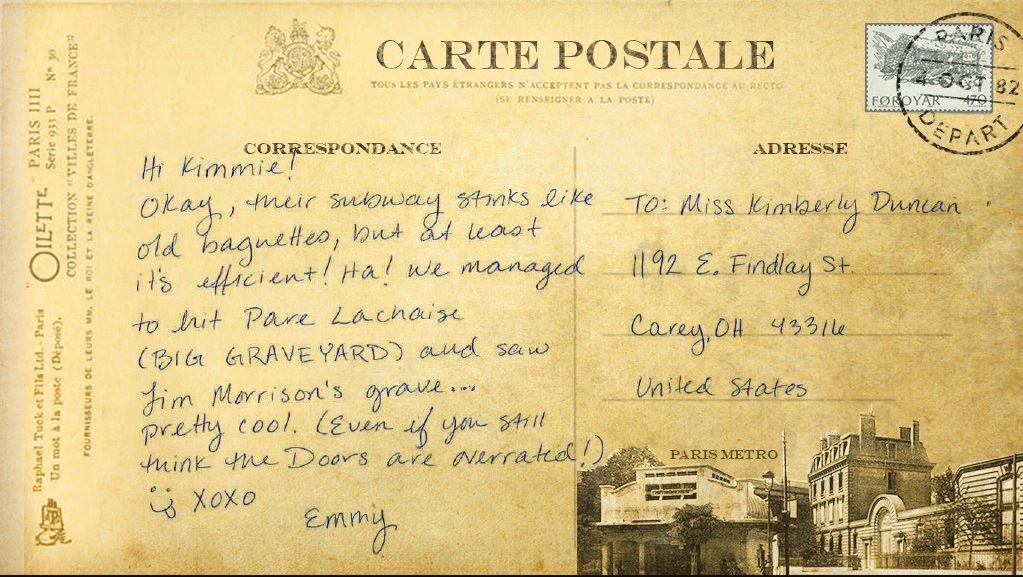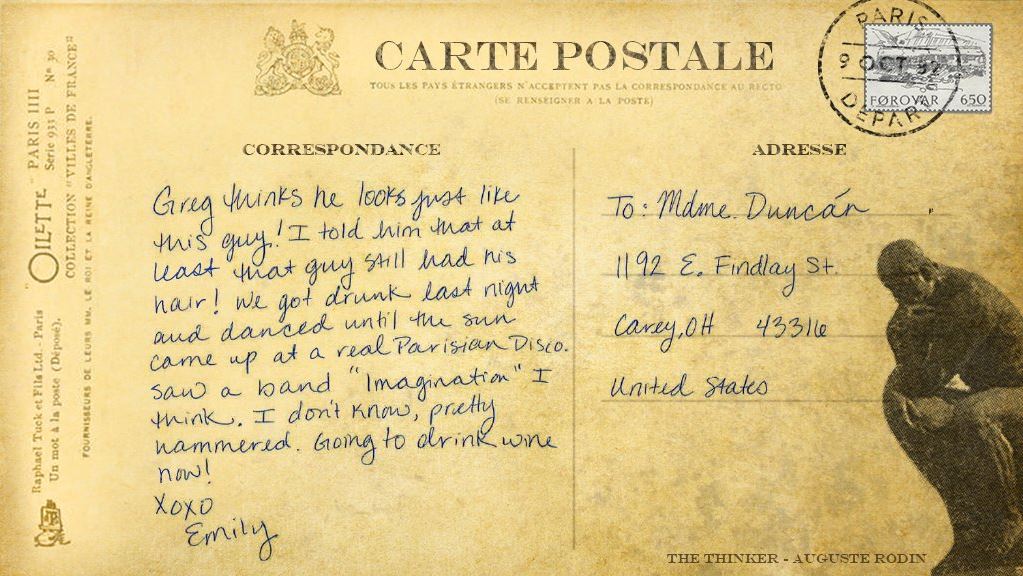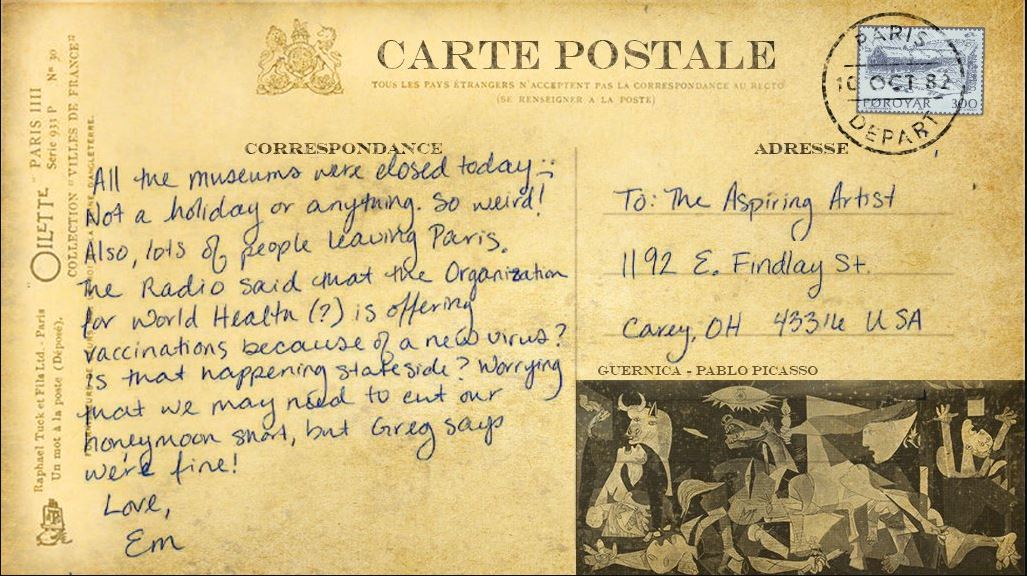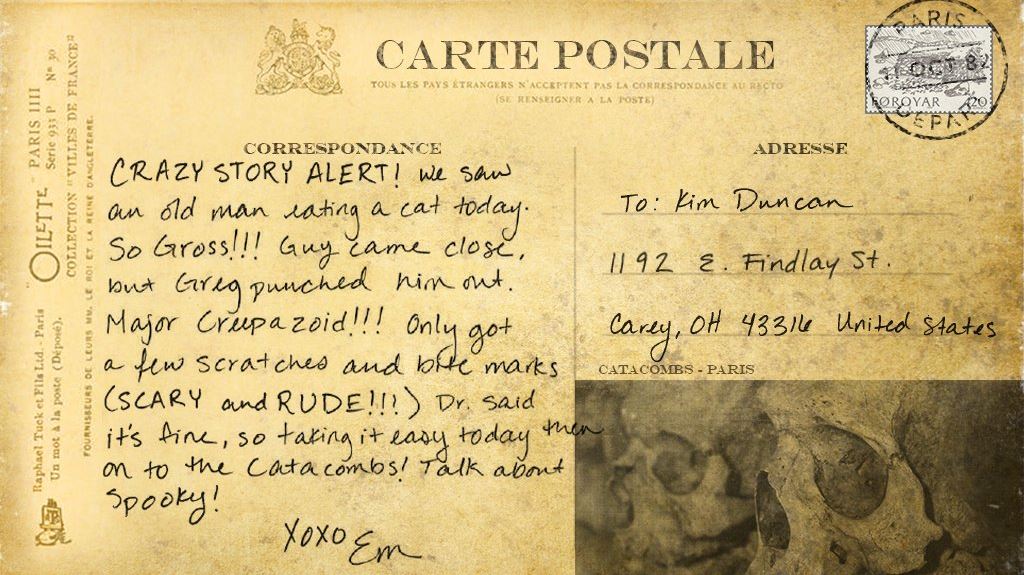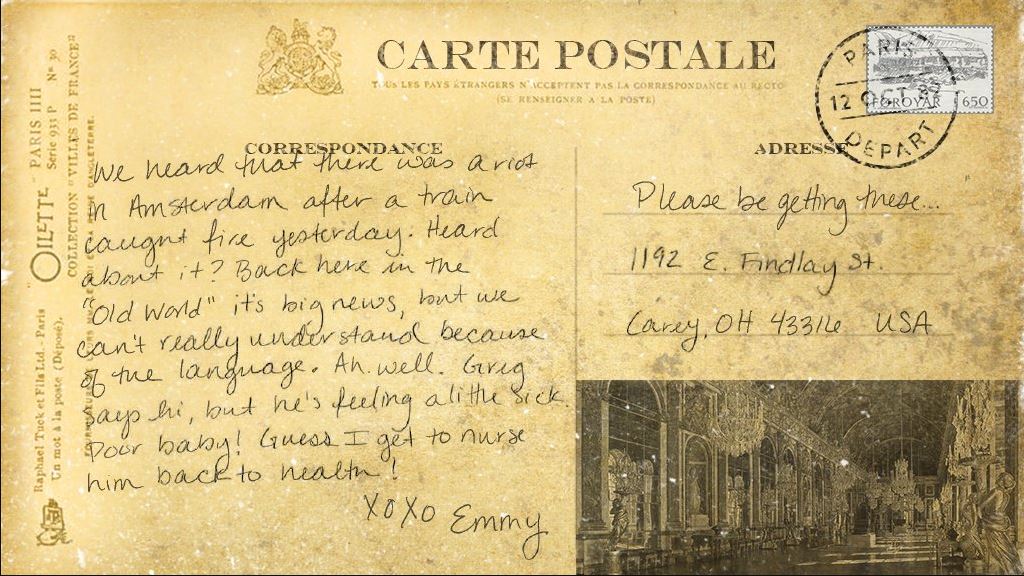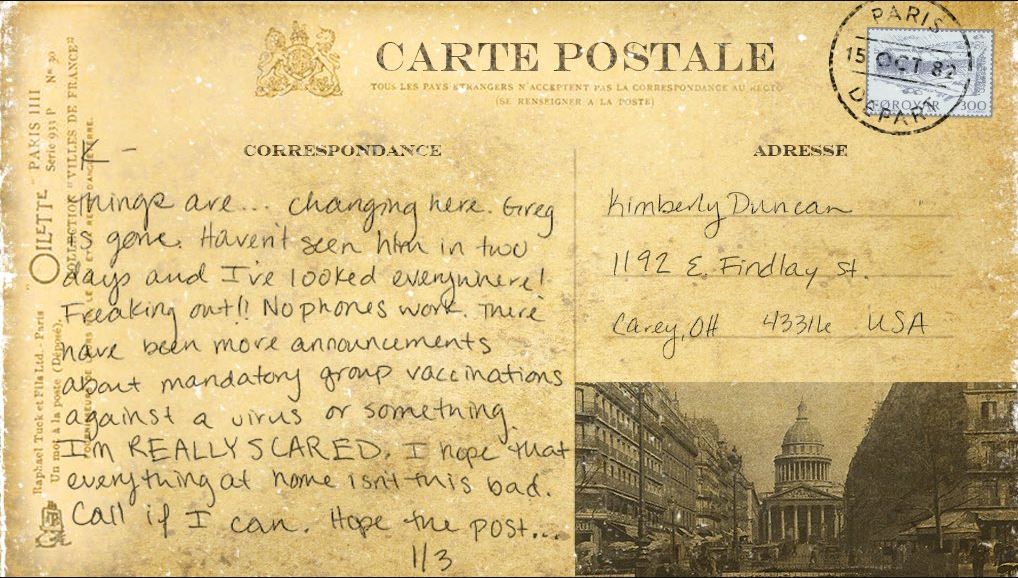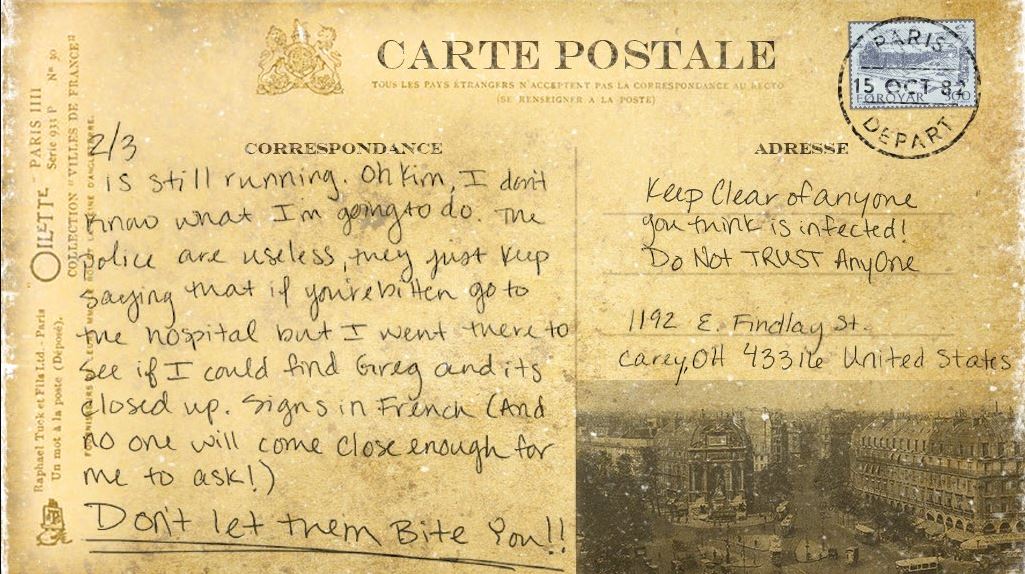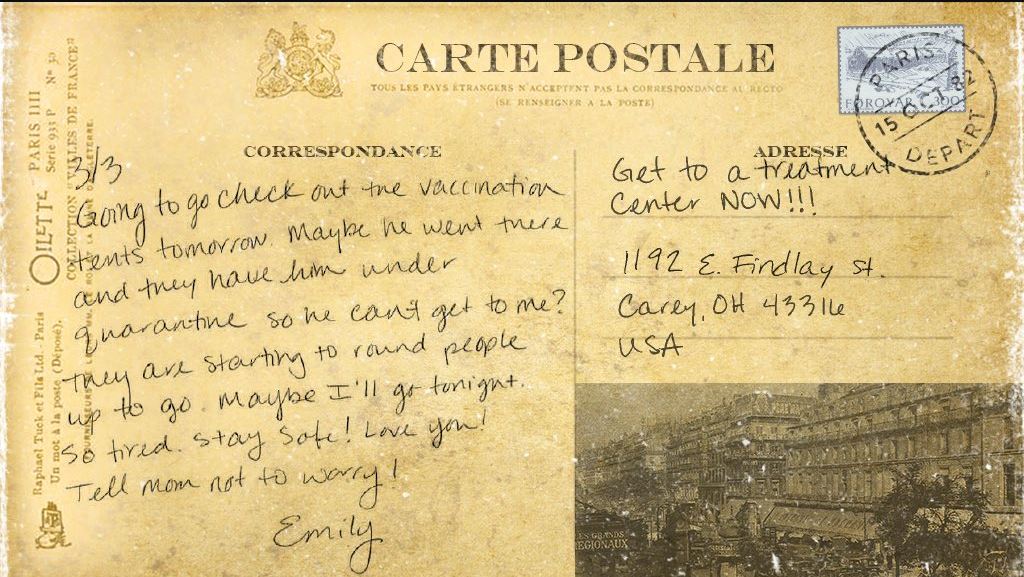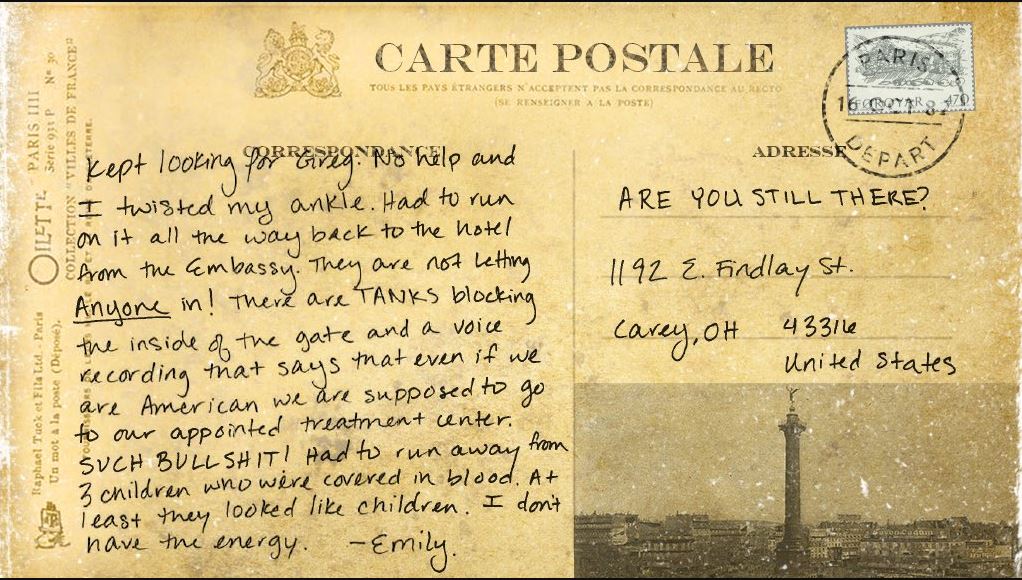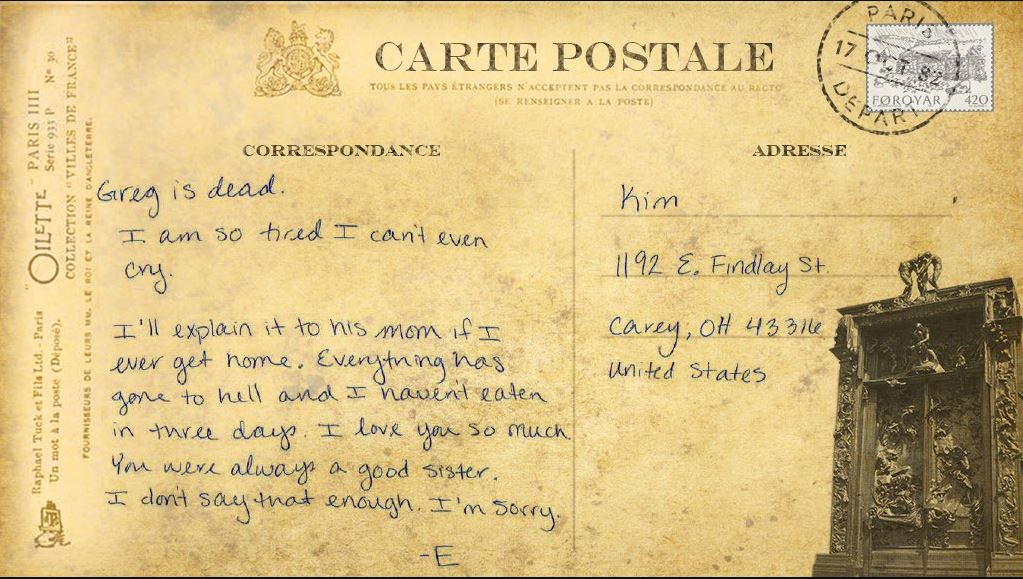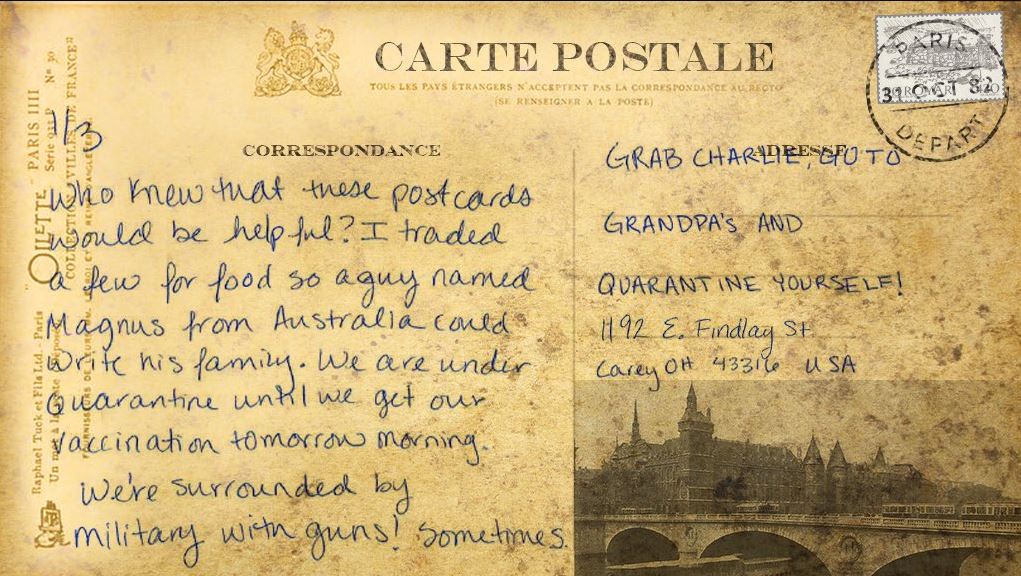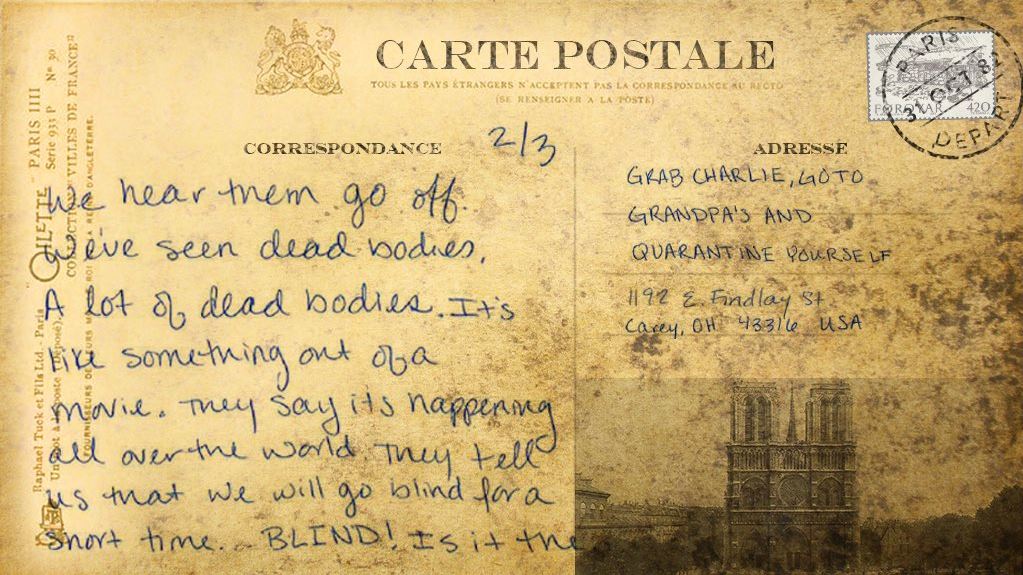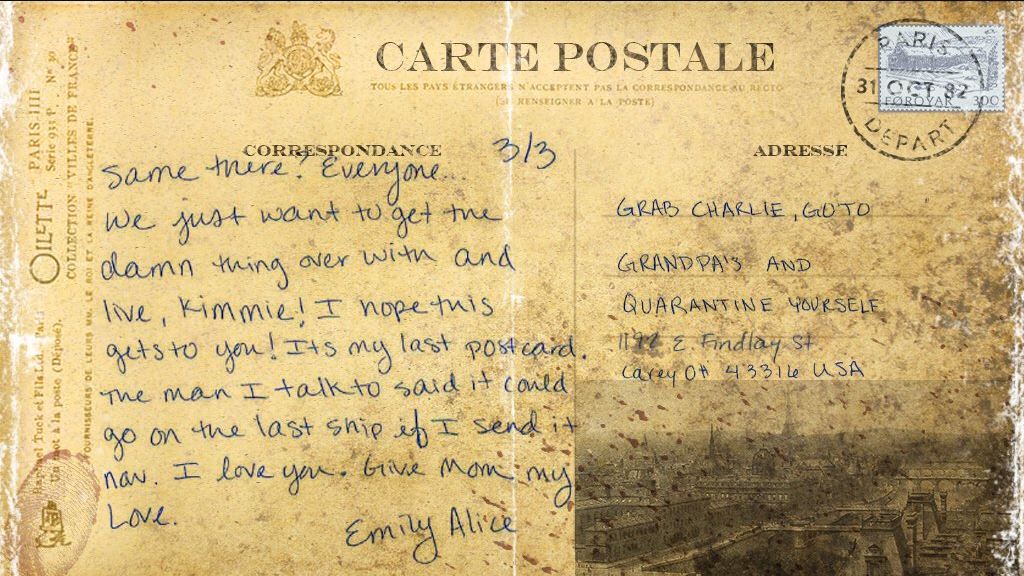 There's a surprising amount going on here, given the constraints of the postcard medium, and it's worth our parsing through the info to glean as much as we can about Dead Exposure, specifically, and – just perhaps – this year's HHN, generally. First up, there are a few deductions we can make about the narrative landscape that the haunt occupies: it seems that the world governments already knew about the existence of the zombie virus, given their ability to manufacture a vaccine so quickly (in just eight days!), and, furthermore, by the time Patient Zero takes place, it seems that only a constrained, if still sizable, percentage of the world population is infected (unlike what we see in Walking Dead and a whole host of other zombie-apocalypse entries) – though there's still a collapse of several societal pillars, such as hospitals being shuttered, phone lines going down, and the police only being capable of rerouting citizens to the vaccination tents. It's unknown whether any of this will actually surface in the maze proper, but they're still interesting tidbits to mull over, nonetheless.
Speaking of what may appear in the haunt: there is a series of locations that the postcard-happy Emily visits that will undoubtedly double as scenes that guests will have to make their way through, including the Parisian subway (which smells like old baguettes – another possible [sensory] element to look forward to), Pere Lachaise (the largest cemetery in the city), a disco (where we might be able to check out the zombified remains of the band Imagination), Paris's legendary catacombs, and, of course, those aforementioned vaccination tents. Each seems ready-made for a haunted-house appearance, and each is ideally suited for an undead encounter.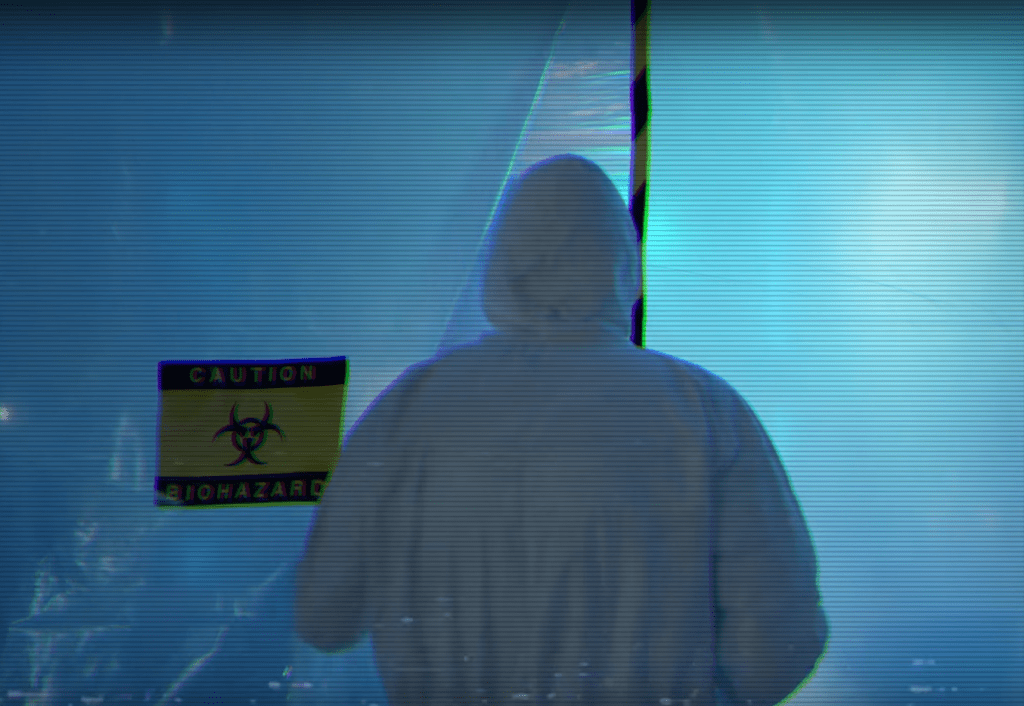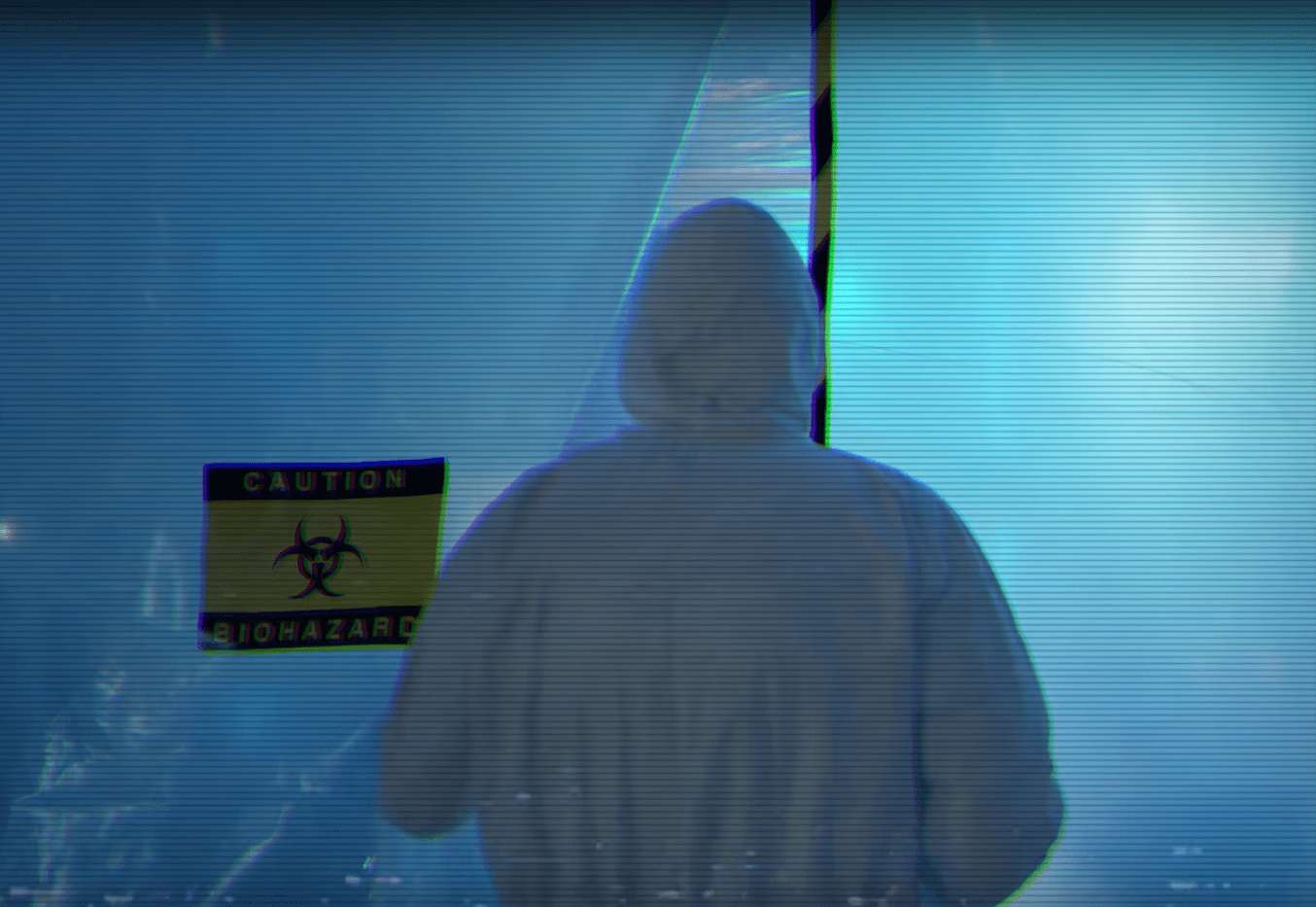 There are other elements introduced here that may pop up somewhere around the attraction, as well, starting with an image of three children-sized creatures, covered in blood, coming after our protagonist, Emily. That she's incapable of discerning whether they are, indeed, children is potentially pertinent – maybe Patient Zero will take a page out of the Resident Evil book and introduce a slew of mutated monsters alongside the mainline zombies. And then there's that train that caught fire in Amsterdam, a development which is primed for inclusion in the queue's video (if, indeed, there is one) – it's dramatic and ambiguous in the backstory, and it might be even more thrilling and foreboding when witnessed in motion on-screen.
And, finally, what would a Halloween Horror Nights entry be without its fair share of Easter eggs and hidden references? These story vignettes are no different, as the recipient of Emily's postcards is her sister, Kimberly Duncan, who lives back home in Carey, Ohio. Both of these are nods to previous Universal developments – Kim Duncan is the name of the former host of Terminator 2 3D: Battle across Time, which closed just last year, and Carey, of course, is the setting of nearly every single original maze. Maybe these are exactly what they seem like – Easter eggs – but there's also the small possibility that they may serve as entries to other HHN attractions this year; the fictitious drive-in that will be showing the all-night Slaughter Sinema marathon just may be located in that fabled, tiny Ohio town (which actually seems to be the case, since a number of those equally-fake movies were shot in Carey), for example, and the fleetingly-named character of Mangus from Australia may tie into a house that has been hitherto unannounced.
Regardless of what its expositional value may prove to be, however, it's nothing short of wonderful to get a dose of good, old-fashioned storytelling from the horror masters over at Universal. If one wasn't excited for Horror Nights 2018 just yet, it's hard to see how he isn't now.
–
Dead Exposure: Patient Zero joins Stranger Things, Trick 'r Treat, and Slaughter Sinema at Universal Orlando's Halloween Horror Nights, which runs for a record-breaking 34 select nights, from Friday, September 14 to Saturday, November 3.
Find out everything you ever wanted to know about HHN – plus more! – in our insider's guide. And be sure to follow Orlando Informer on Facebook, Twitter, and Instagram for the latest news and tips at Universal Orlando, Walt Disney World, and other Orlando experiences.