Universal Orlando's biggest event of the year has begun its 26th run. Halloween Horror Nights 26 runs a select 31 nights now through October 31. In the past two weeks, I had the opportunity to experience everything HHN 2016 has to offer over multiple nights.
If you're not familiar with the event, I'd recommend perusing our HHN.Guide prior to reading this review.
The best Halloween Horror Nights 2016 houses
This is my ninth year attending Halloween Horror Nights. Without a doubt, this is the hardest year to rank the houses. The rankings of the first 6 houses I list below changed countless times throughout my first eight nights at the event. Each of them has their own strengths and weaknesses, but they are all rich houses that will almost undoubtedly leave you with at least one good scare.
1. Tomb of the Ancients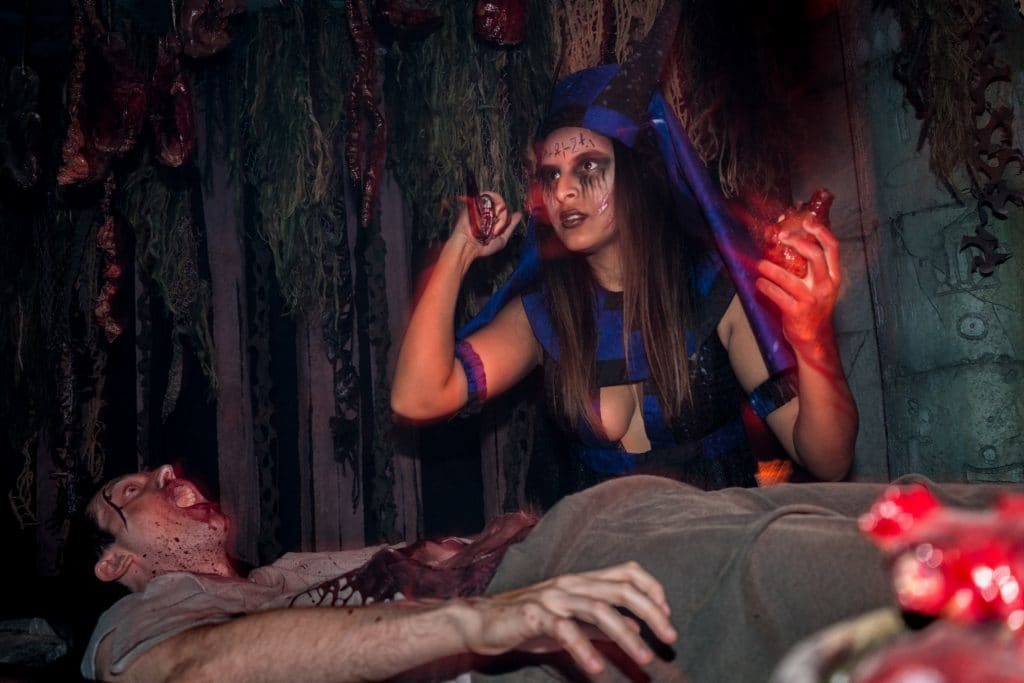 Immortal beings of the ancient past have returned to rule mankind. Now they wait for someone foolish enough to disturb them.
Tomb of the Ancients is dark and gruesomely beautiful. There's almost as many scenes inside of this house that will leave you impressed with the design as there are scenes that will scare you. Scareactors are cleverly hidden and both casts are full of energy. As you would guess, costuming is also elegant and simply overall impressive. Bonus, the use of "roofs" in the majority of scenes creates a real claustrophobic feel.
My only wish for Tomb of the Ancients is that we knew more about the story behind this house. Audio plays while you enter, but I'd love to see the story fleshed out and shared.
2. Ghost Town: The Curse of Lightning Gulch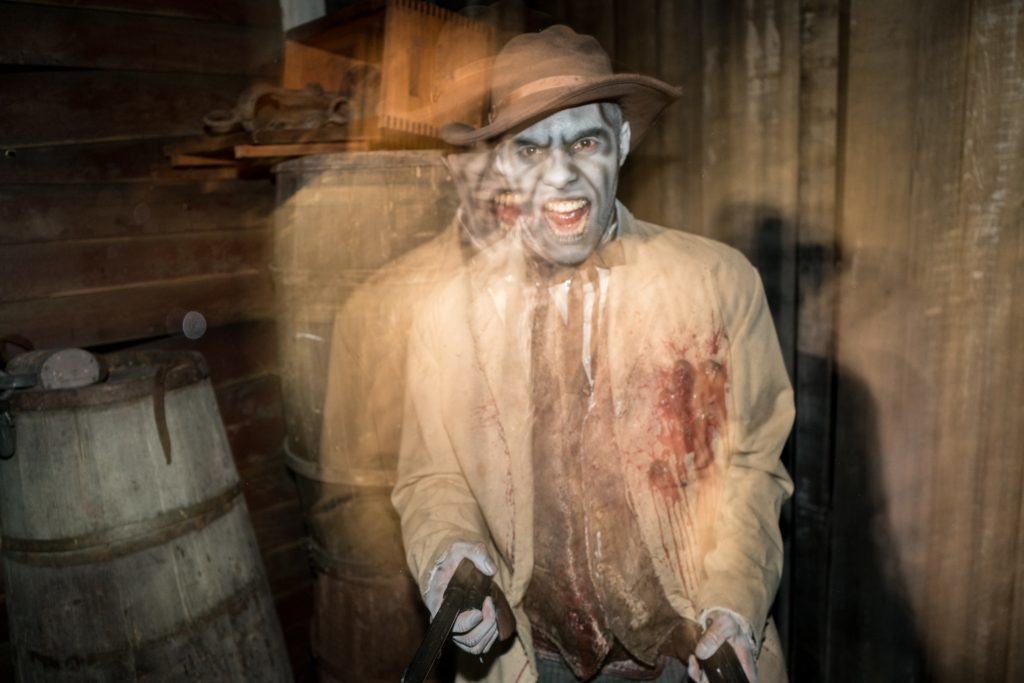 They came looking for gold. Instead they found death and destruction. Now their doomed souls seek others to join them.
Ghost Town: The Curse of Lightning Gulch is another "golden" part of Halloween Horror Nights 26. It's grandiose design and towering sets are even more impressive than Tomb of the Ancients. The storyline, sets, and overall feel of the house is just, simply put, fun. In my ten trips through Ghost Town, each has been unique and entertaining. While this house is without a doubt home to a good scare or two, it is not nearly as scary as Tomb of the Ancients. This caused it to end up at the number two spot on my list.
3. American Horror Story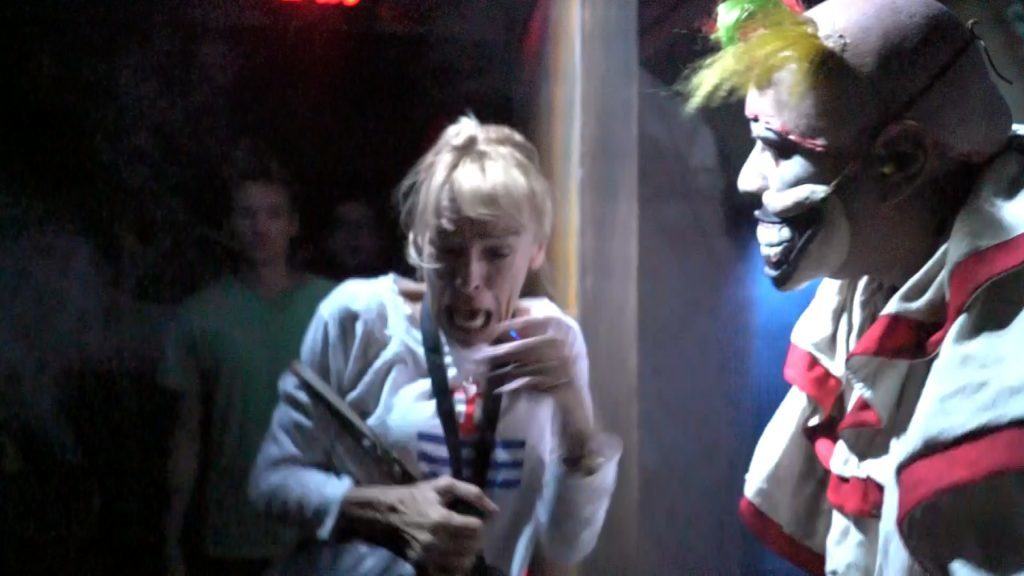 Relive scene after scene of sinister threats from Murder House, Freak Show and Hotel in this extensive, terrifying house.
This is easily the most popular house at this year's event. It's for good reason– this is a solid house. I'm not a huge American Horror Story fan, but if you are this could easily be your favorite part of HHN 26. It stays true to each of the seasons that it covers and does a good job at encompassing everything. If you're not familiar with one or more of the seasons, you're still sure to find American Horror Story scary. The above picture is of my mother coming face to face with Twisty.
Yes, we sent my terrified mom through HHN 26, including American Horror Story. You can watch that here:
One thing that many people seem to enjoy is that it covers three significantly different seasons (Murder House, Freak Show, Hotel) causing the house to have three different sections. Being the longest house of the year, it's almost like its three houses in one.
4. Krampus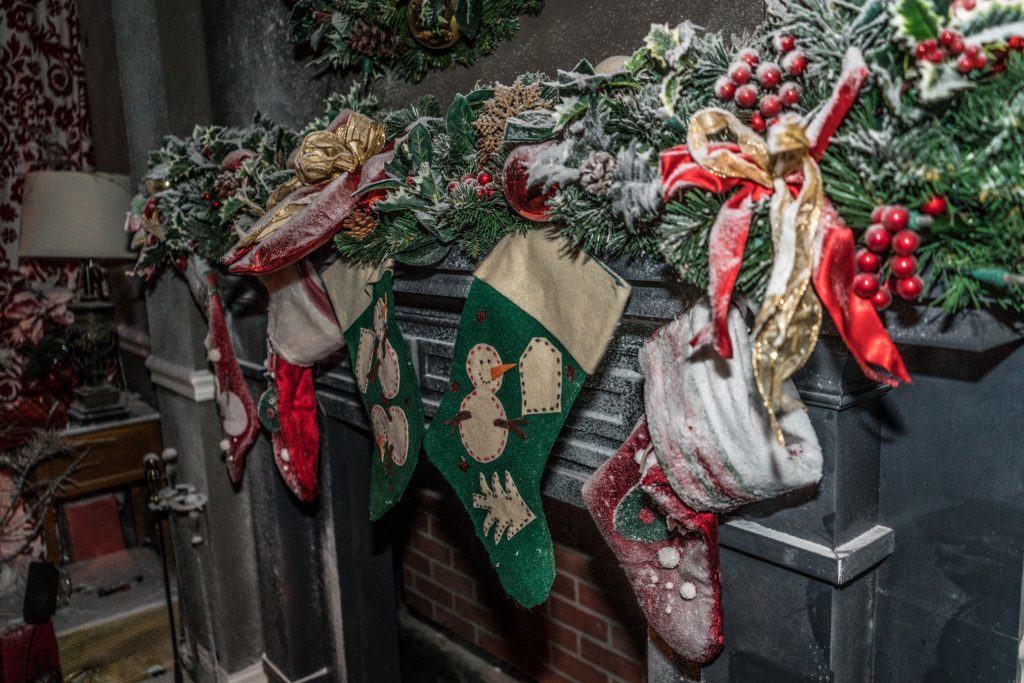 As a blizzard rages outside St. Nicholas' evil counterpart and his band of Dark Minions claim the souls of the faithless one by one.
This is the only house that beats out Ghost Town in the "fun" category. Krampus may not be scary for everyone, but it wholeheartedly delivers on fun. On the topic of scariness, it may actually surprise you. This house is scarier than you'd expect at face value. As someone who fell asleep during the movie, this house was a pleasant surprise and an enjoyable break from all the heavier content. The kitchen scene in this house is my favorite scene of HHN 26.
5. Halloween: Hell Comes to Haddonfield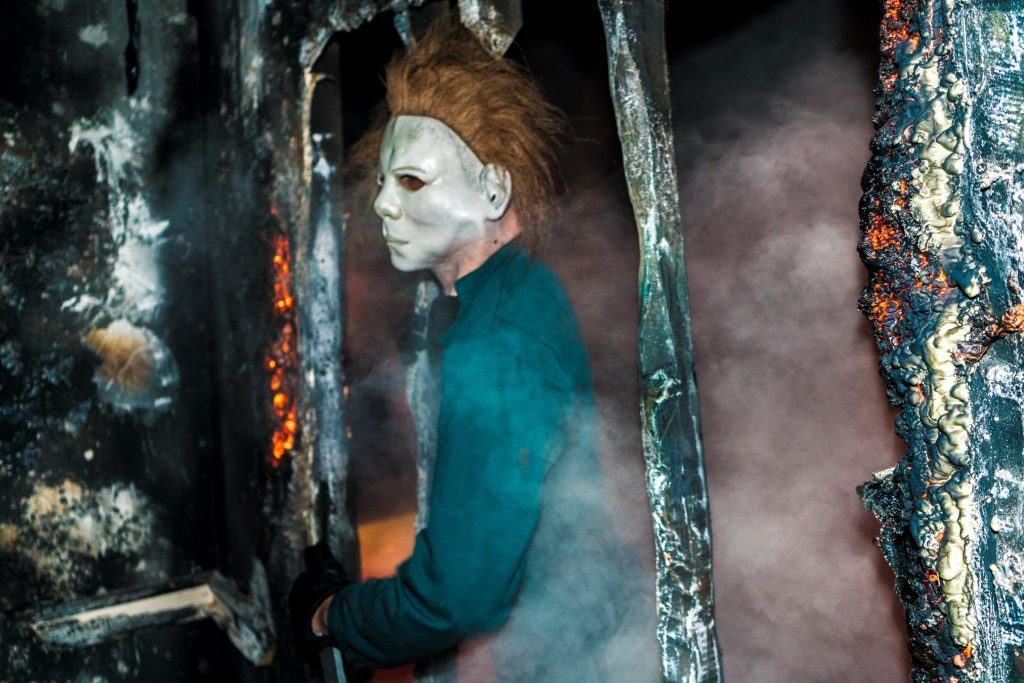 Michael Myers is still alive and still out for blood in this all-new house.
In another year with a weaker house lineup, this could easily be a top three house. It's a deserving sequel to the original Halloween house from 2014. The sets are even better in this rendition of Halloween. Halloween: Hell Comes to Haddonfield is chalked full of expertly designed scares. Particularly, the finale sequence is a large step up from the 2014 house and likely the best ending of any house this year.
The only critique of Halloween is likely it's operations team. Faced with capacity goals, this house has become notorious for over the top rushing guests through and sometimes ruining scenes or scares.
6. Texas Chainsaw Massacre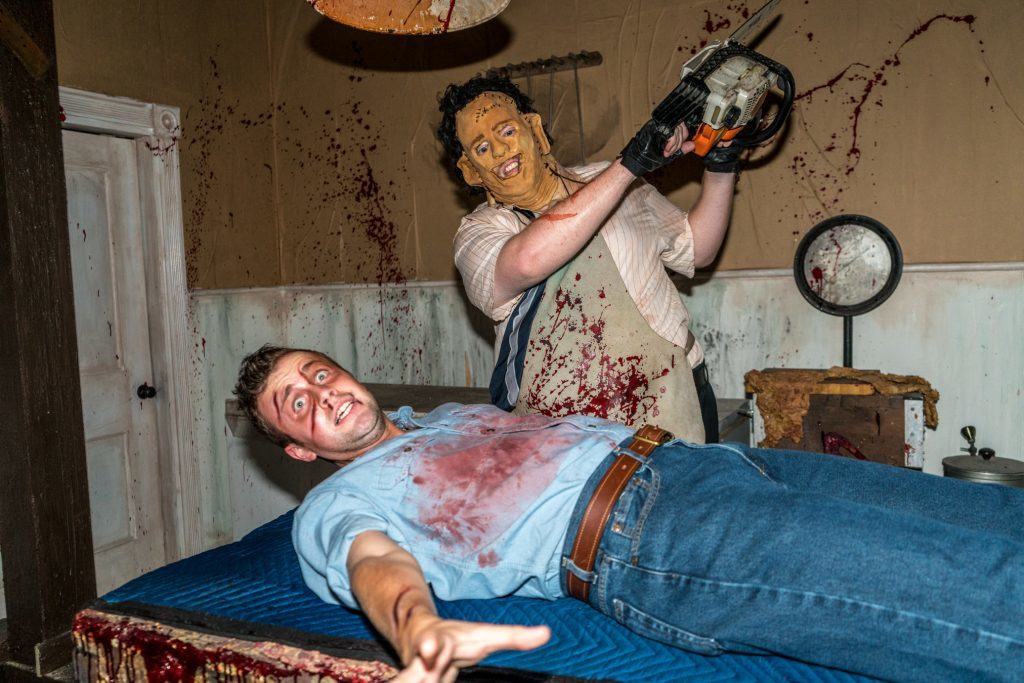 Experience every scene, every kill, every bone-chilling rev of the chain saw from the original masterpiece.
I really don't have many things to critique about Texas Chainsaw, which makes it hard to explain why it's at six on our ranking. The explanation is, again, most of this year's houses are truly all equally strong. The house is likely more scary than many ranked above it and it truly feels as if you stepped into the movie. I decided to put it at six only due to the fact that it isn't quite as memorable as some of the others. Still, any fans of the classic movie are sure to enjoy this one.
7. The Exorcist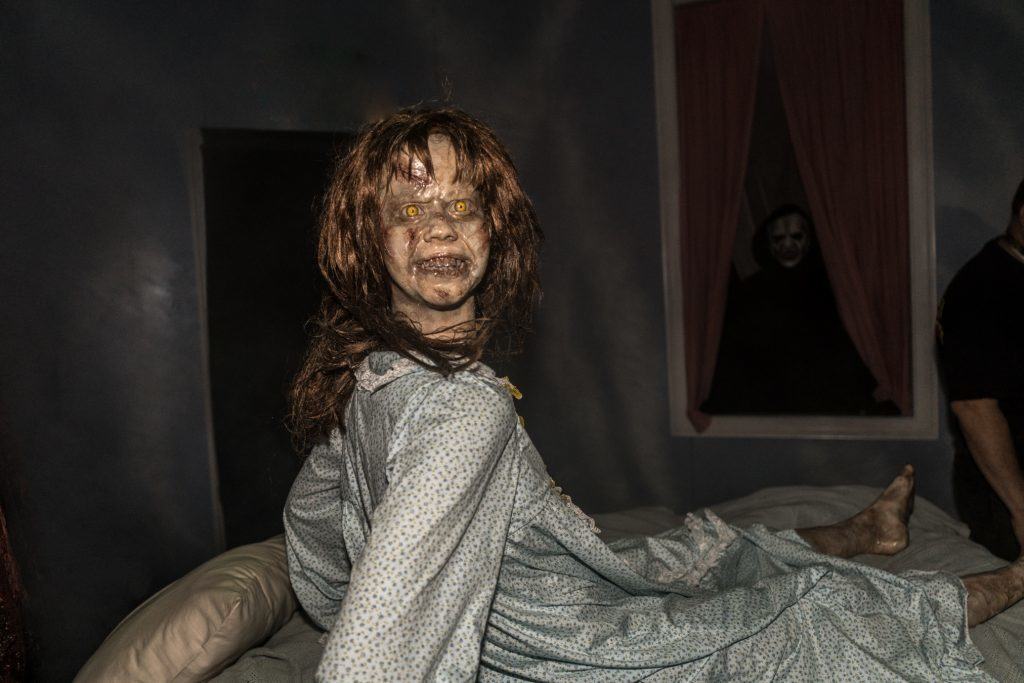 Go inside the mind of a tormented girl, possessed by evil. It will leave you haunted.
I truly expected to love this one and unfortunately came out indifferent. It is a difficult concept to execute, with the majority of the movie taking place in one room. In my opinion, the execution fell flat and at times even felt gimmicky. The house takes an effect from last year's Insidious house, but extends it to double the length for no reason. While the house does show flashes of brilliance, especially the facade and energy of some of the actors, it ultimately disappoints.
8. Lunatics Playground 3D: You Won't Stand a Chance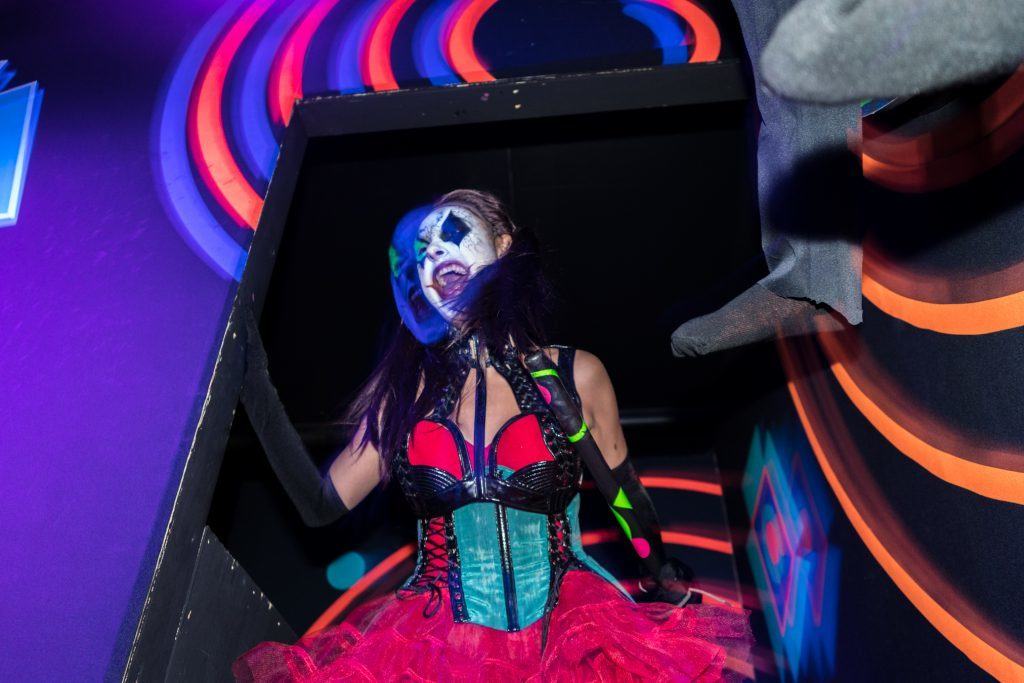 Step into Chance's realm where the lines between her twisted delusions and reality are continuously blurred.
In this house's defense, I have a tendency to not like 3D houses. The problem with 3D houses, in my opinion, is that I have yet to experience a 3D house that wouldn't have been better with traditionally designed sets and no 3D glasses. Lunatics Playground is no exception, I couldn't help but walk through and think how epic the house could have been if it had been home to detailed sets without 3D. I also feel as if the concept of two versions of Chance is not displayed well throughout the house and lost upon most guests. Couple this with numerous simple costumes, like plain white t-shirts, and this house ends up at number eight.
The one bright spot for Lunatics Playground is some of the actors, who are working hard to get scares.
9. The Walking Dead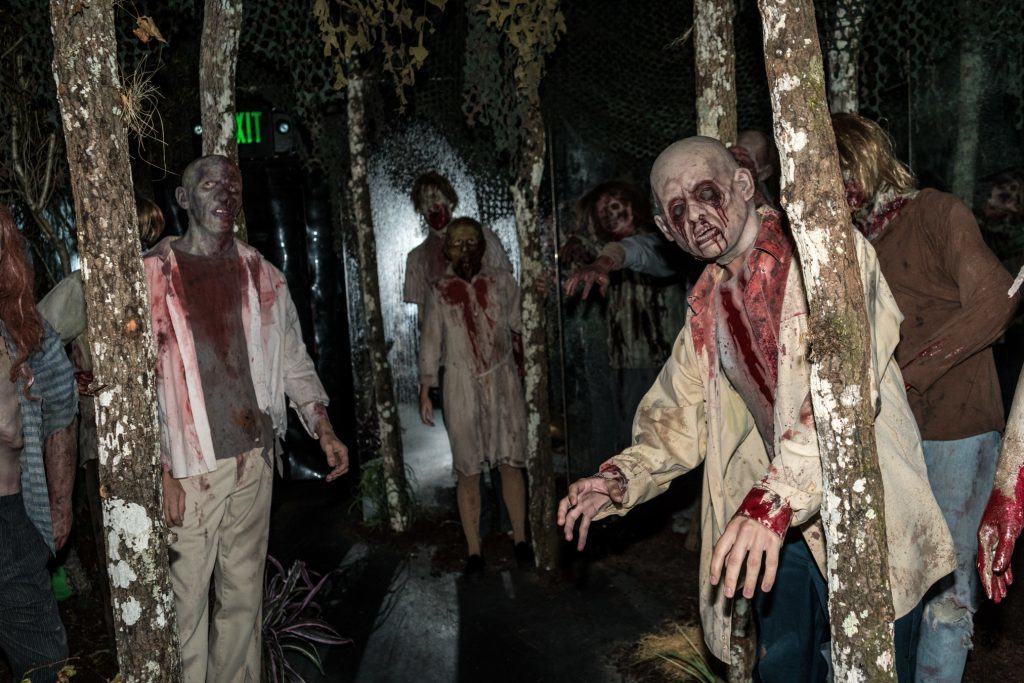 Face relentless threats starting from the beginning of the series to last season's most unforgettable moments.
Universal delivered on their promise of The Walking Dead. It was announced to be a "best of" house and that is exactly what it ended up being. It's likely the best 'Walking Dead' house that HHN has seen, with 2014 being a close second. However, with that being said the property remains tired in its fifth year at the event and comes in at the bottom of my rankings.
The best Halloween Horror Nights 2016 Scare Zones
1. Vamp '55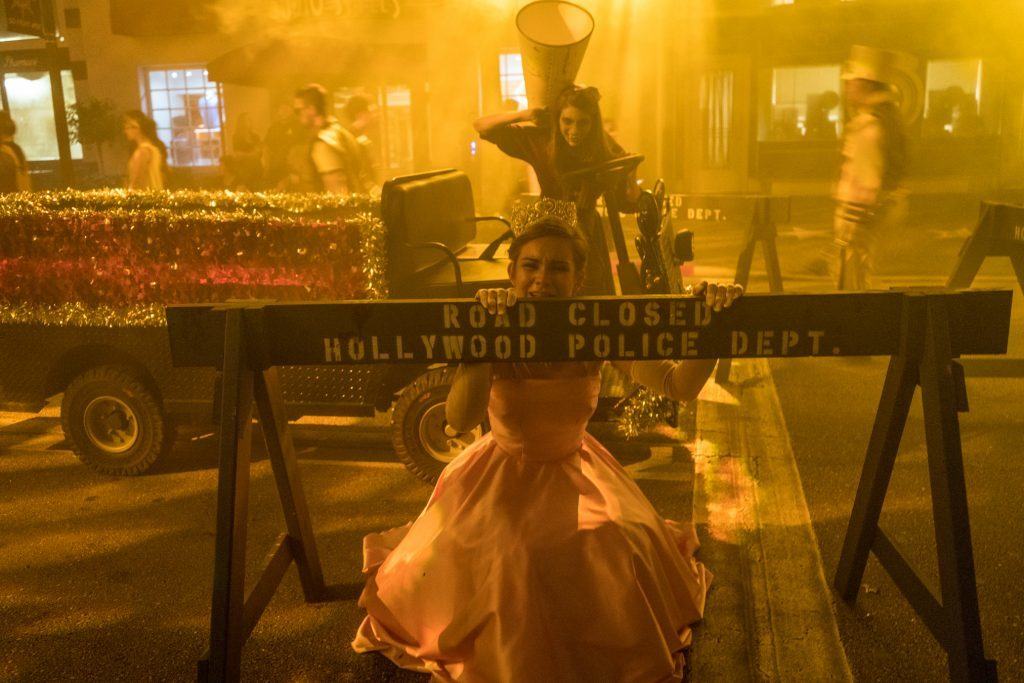 Welcome to Hollywood High School's 1955 Homecoming Parade. Everything is perfect until the greasers roll into town with fangs as sharp as their switchblades. The festive scene has turned to chaos as vampires attack from all around.
It is difficult to dispute that Vamp '55 is the best zone of HHN 26. What was easily one of my least anticipated zone of the year quickly transformed into my favorite. The interaction of all casts is wonderful. The mini kill scenes are a great touch and bring the zone to life.
2. Survive or Die Apocalypse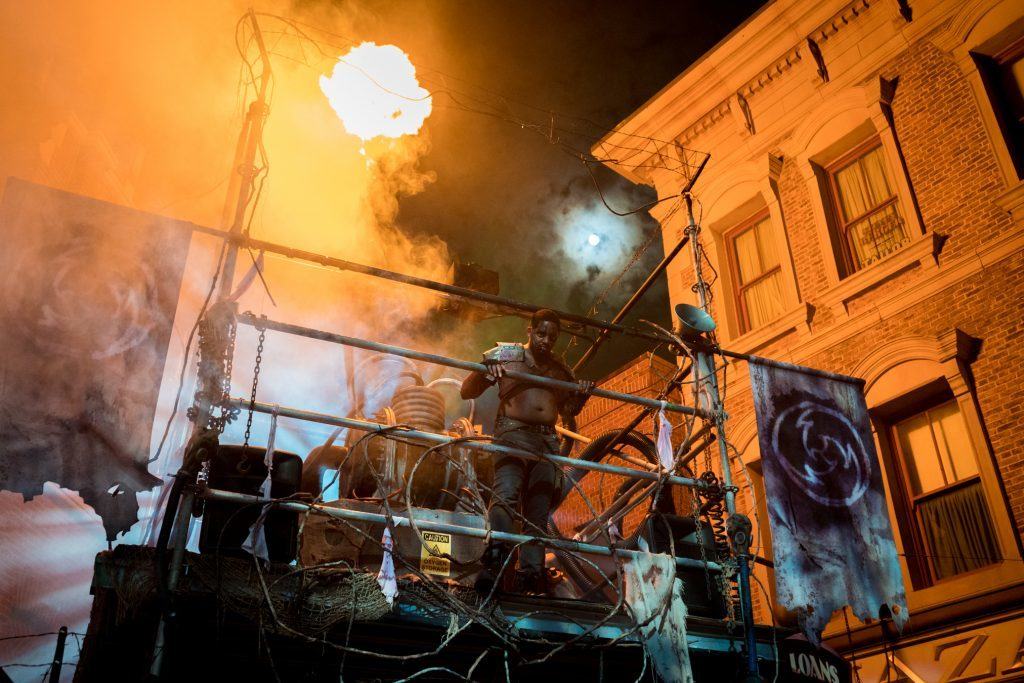 A Global catastrophe has ruined Earth's atmosphere. Now three warring gangs fight for control of a machine that provides clean air. All three gangs are looking for new members to help them destroy the others. Join them, or feed their starving ranks.
Survive or Die showed significant improvements over the first week and it's only going to get better as the event continues. It's great to see projections return to simulate the buildings crumbling. Makeup in this zone has majorly improved over opening weekend. Makeup is now beginning to reflect which of the three factions each of the actors belong to.
Speaking of factions, I wish that the backstories of each of these gangs was better explained prior to your arrival to the zone. When you're visiting, I would encourage you to interact with the actors and learn more about the world they're in. Each gang is unique and has interesting stories. Finally, I wish that there were was more set pieces in this zone.
3. Dead Man's Wharf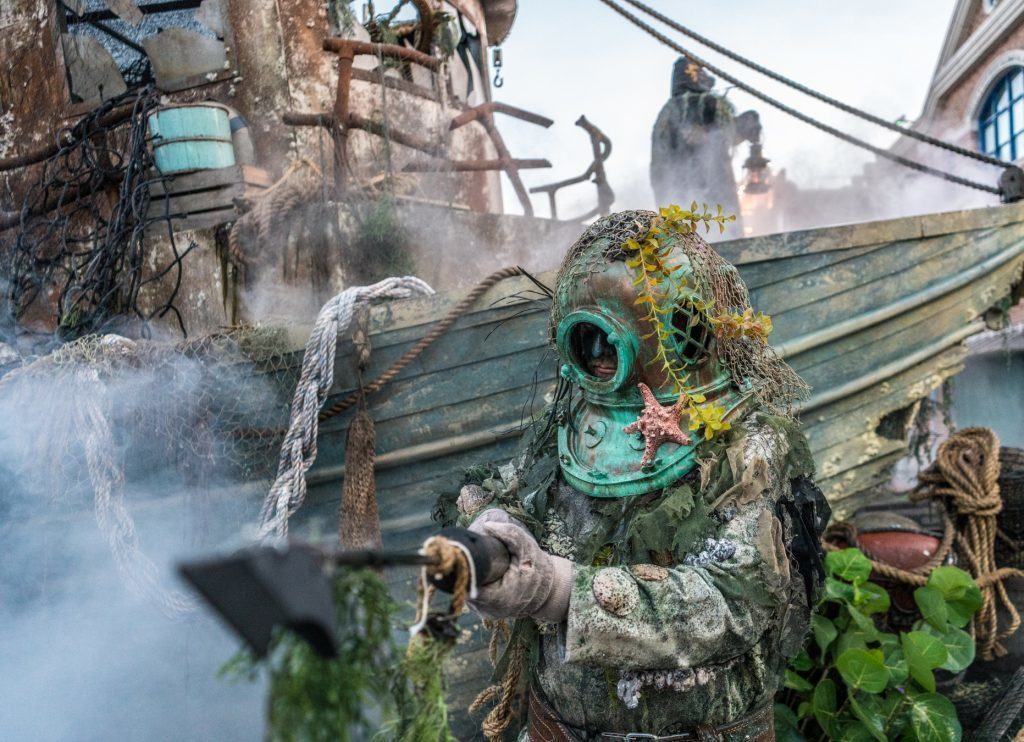 Today, on the anniversary of the disappearance of the fishing vessel Annabel Lee, a thick fog has rolled in. The spirits of the lost crew have returned to punish the town that left them to die on the open seas, and make sure the dock earns its morbid nickname.
If you were looking for a atmospheric zone, here it is! This is easily the best looking zone in years. If it was only a little bigger with a few more actors, it would take the prize of number one zone. I could stand in this zone all night. Keep your eyes peeled for an extra cool sailer with a black light effect.
4. Lair of the Banshee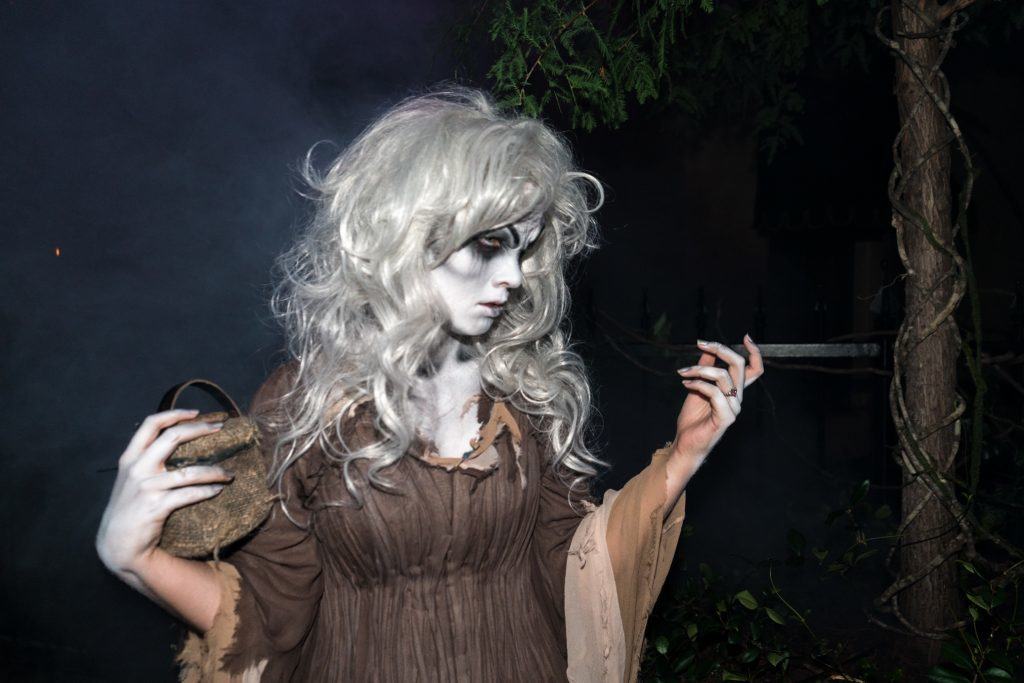 Deep in the forest there is a centuries-old dark hollow where evil spirits and horrific creatures of the ancient world roam free. Now the modern world has found the entrance to this sinister place. Enter, if you dare, and meet the primordial horror of these dark spirits.
Similar to Texas Chainsaw, there's not much to critique about this zone. It certainly delivers on scares. It ranks at fourth due to its similarity with a number of past zones that have inhabited this area in the past years.
5. Roaming Hordes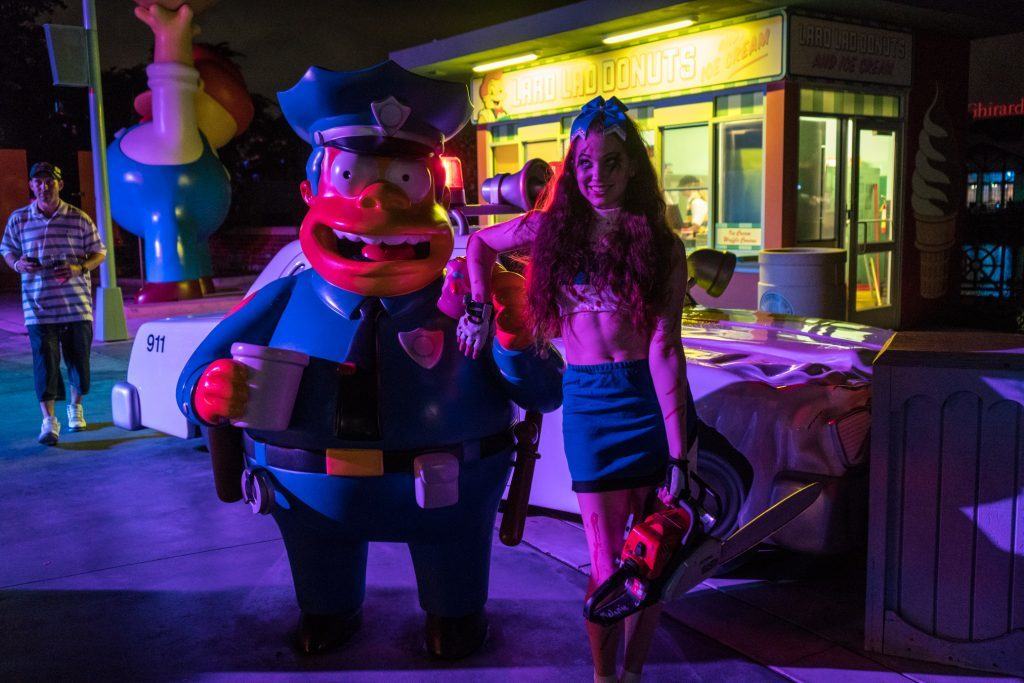 Not published on the map or online, there are two areas with secret chainsaws. Pumpkin Heads and Hillbillies with chainsaws are classic Horror Nights. Cheerleaders with chainsaws is just pure awesome. However, geishas with chainsaws feels a bit forced. I would loved to have seen them receive an actual story and set pieces. Nonetheless, these unmarked zones are a welcome addition to the event and absolutely add to the screams.
6. A Chance in Hell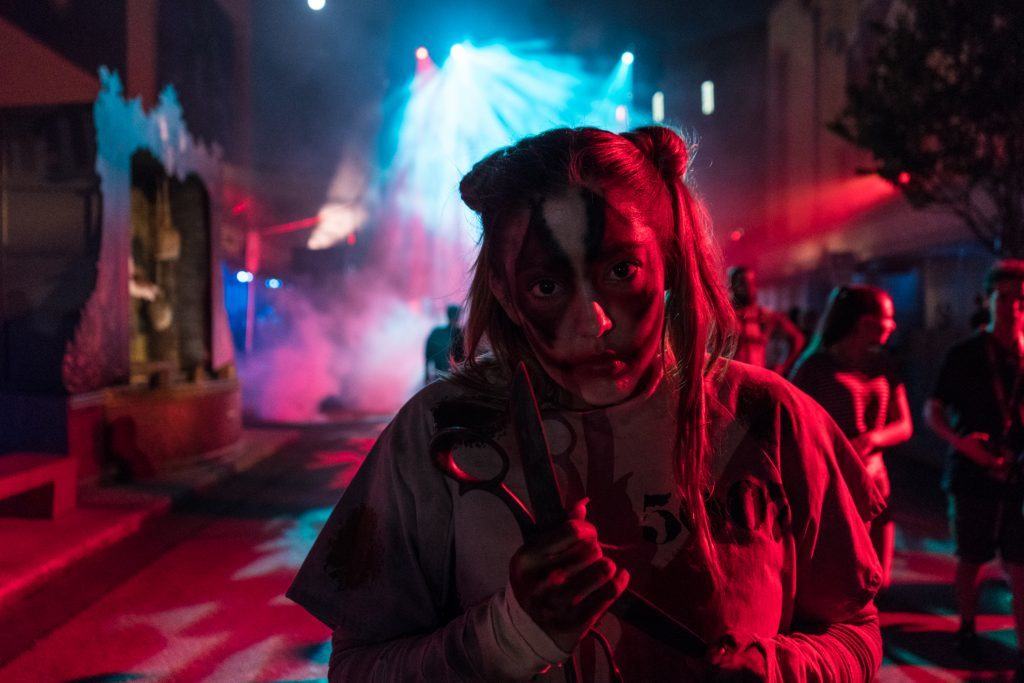 Get ready for the audition of a lifetime. Chance may be locked away, but that hasn't stopped her. As the alarms ring and the bloody remains of those who tried to stop her lie around, she's busy recruiting cellmates to join her biggest act yet.
This is the only zone I was disappointed with. It doesn't feel right. The lighting and actor energy is there. However, the numerous underutilized stages makes this zone feel incomplete. Chance deserves a bigger spotlight than what she is given.
The best Halloween Horror Nights 2016 Shows
1. Academy of Villains: House of Fear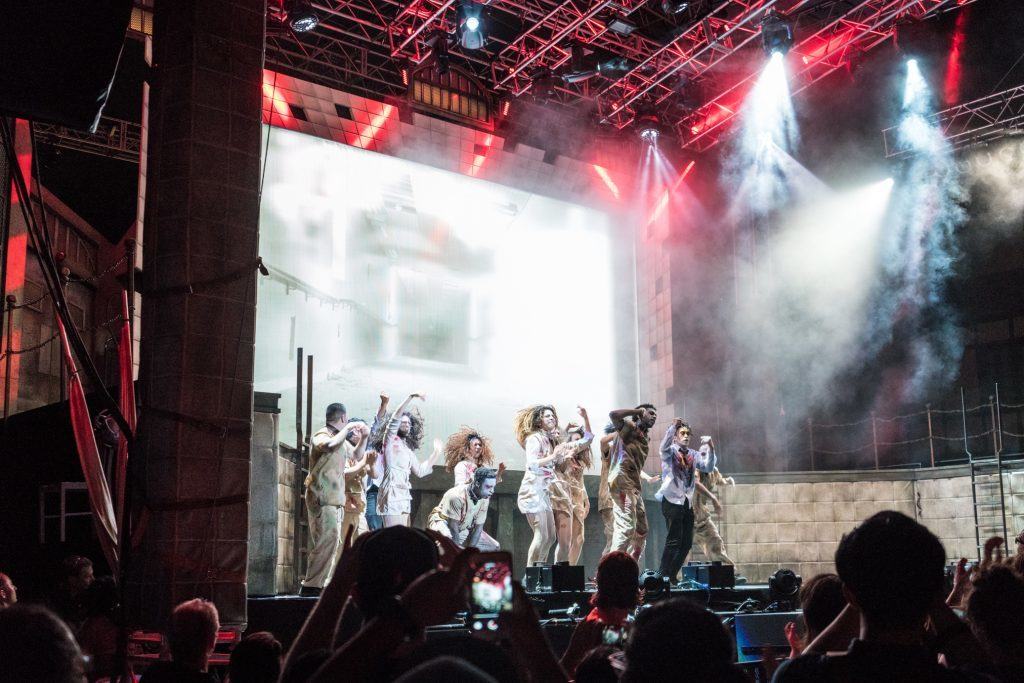 As a riot breaks out in Shadybrook, this take-no-prisoners performance troupe thrusts you into a realm of madness and mayhem. High-energy dance and specialty acts mix in an explosion of insanity. The inmates are now running the asylum!
Easily one of the standout parts of Halloween Horror Nights 26. Academy of Villains delivers a consistent, high energy show multiple times a night. Out of everybody I have spoken to in the past two weeks, I have only met one person who did not like this show. It is a clear winner. My only gripe with Academy of Villains is the continuous attempts to hype up the crowd. This group is talented enough to not need to motion for the audience to cheer every two minutes.
2. Bill & Ted's Excellent Halloween Adventure
Party on as those two most excellent dudes return to skewer the biggest names in politics, show business and pop culture.
While this year's opening and finale is admittedly improved over the previous year, the show's jokes continue to deteriorate. The 2016 rendition of the annual show caters to a very, very specific group of people. A good portion of the jokes fall flat. Compared to 2008 and 2012, this year's show does not feel like it is set in an election year.
Bill & Ted's 2016 Halloween Adventure does feature one of the most talented cast of actors that I've seen in nine years, however.
Halloween Horror Nights 26 is a solid follow up to an anniversary year. It boasts a powerful lineup of houses that are sure to leave you screaming. The event runs select nights now through October 31. To learn much more about the event, including the best tickets to buy, read our HHN.Guide!