Halloween Horror Nights is not something to miss if you're a horror lover like me. I eagerly made plans to go with some friends from work, and on the evening of Wednesday, October 24th we excitedly made our way through CityWalk to the entrance of Universal Studios.
The minute we walked through the gates and into the park I felt my senses come alive. It was as if they had put something in the air. Everyone was keyed up, waiting for what would be lurking in the shadows. We made our way to the back of the park and started our scare-a-thon at Universal's House of Horrors. I loved the eerie display of all the classic monsters, and just when I thought I was safe Frankenstein popped up in front of me! Next we made our way over to Alice Cooper Welcome to My Nightmare. Weird, freaky and terrifyingly awesome is what I have to say about that!
We decided to walk the streets a little to see what nightmares were wandering about as we made our way to Silent Hill. The sets on the streets were amazing, in typical Universal Studios fashion, and I couldn't wait to walk through Silent Hill. It was bone-chillingly spectacular. The way they had everything set up made me feel like I was actually in the game. It was a fantastic and frightening display. I'm so excited to see the movie now.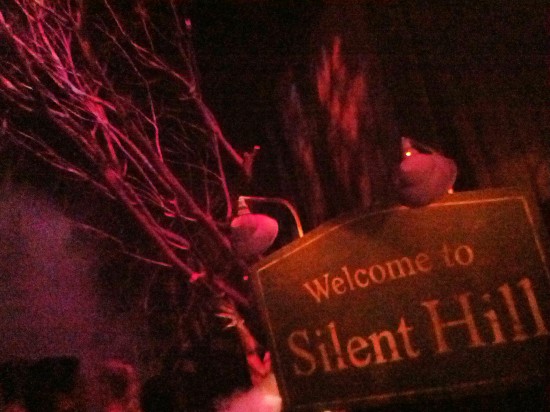 After that we were off to AMC's The Walking Dead, Dead Inside. As a major fan of The Walking Dead, I had very high hopes and expectations for how the show would be portrayed. I figured with as much of a following as The Walking Dead has received in the last year AMC would not allow for anything less than a perfect portrayal and Universal would not settle for anything less than that, but, you know, stranger things. However, I've got to say I was completely blown away. The scenes and elements they pulled from the show flowed so well and seamlessly together. This was the only house where I willed myself not to close my eyes at all because I wanted to be able to take everything in. I could see how well they brought everything to life. It felt real, scarily real. Gothic was our last stop of the night and those gargoyles and ghouls scared the absolute daylights out of me. Good show, guys.
My one and only negative point about this year's Halloween Horror Nights is that there seemed to be a serious lack of scareactors walking the streets of the park. At last year's HHN you couldn't turn a single corner in that place without a character popping out at you with an axe or a chainsaw or some creepy, weird bird head. I had heard that the powers that be decided to do away with designated scare zones, and instead scareactors would be in all corners of the park, including the restaurant and shop areas. I spent days psyching myself up for unlimited scares and no safe zones, especially since I really thought the scare zones from last year (acid rain, for example, with its burnt and oozing cannibals) were so creative and well done. However, I was disappointed when I did not come across any scareactors outside of the designated haunted house areas, and even in those areas I felt the scares were in short supply. The characters on the streets are just as effective in creating frightening situations for park-goers as the actual haunted houses themselves, and it's a shame that it has been slighted this year. I hope this is something that will be remedied between now and next year's Halloween Horror Nights.
That being said, Universal has once again completely outdone themselves in terms of set quality and attention to detail. From the falling ash and burning smell in Silent Hill to the hospital and Winnebago in The Walking Dead, everything was set up in perfect space and order to create an eerily real feeling while walking through each of the haunted houses. Not to mention, the sets spread out on the streets were immaculate and left nothing to be desired. This kind of high quality showmanship is something I have come to expect from Universal over the years and they continue to deliver with amazing gusto and impeccable talent. All in all, I've got to say job well done, and I'll for sure be back next year to see what the masterminds at Universal think up next.
Editor's note: The final weekend of Halloween Horror Nights is upon us! Expect it to be BUSY, even with a little wind and rain. Last night the average wait time for the haunted houses at 10:00pm was 70 minutes. Please use early admission and our touring plan if you want any chance of seeing the houses without waiting in line for over seven hours.
[sws_author_bio user="DinaFayeMagdovitz" size="105″ authorposts="More OI posts by Dina" name_format="About the author"] [/sws_author_bio]