Be the first to know about any future announcements by signing up for email updates!
Orlando Informer got the chance to check out Hagrid's Magical Creatures Motorbike Adventure last week, getting a personal tour of (most of) its queue, learning some intriguing tidbits about its wild ride experience, and watching as the magicked motorcycles went whizzing past us nearly the entire time. It was an enchanting experience, and it made us even more excited for the attraction than we thought possible.
We've collected all of the highlights, from some hidden details to what the ride's preshow consists of (Professor Rubeus Hagrid is joined by a special guest from the Wizarding World!), and presented them below for your countdown pleasure. Only three-and-a-half weeks to go until the grand opening and our full official venture into the Forbidden Forest!
Hagrid's queue is beautiful – even before it starts
After passing through the front gate, guests will need to walk through a nice, open area to get to the mysterious building, which Universal simply refers to as the ruins, that houses Hagrid's Motorbike Adventure's queue proper. Yes, on the one hand, this is the same exact setup employed by Dragon Challenge, the previous occupier of the 6.8-acre space, but, on the other, this patch of land feels quite transformed now, with all of the new foliage, the body of water underneath the roller coaster track that is officially being called the Black Lake (something which only Universal Studios Japan's Wizarding World of Harry Potter – Hogsmeade had up until this point, even though it's located in an entirely different spot), and, of course, the track itself intertwining through it all. The attraction's layout has been set up in such a way that guests will have different vantage points on the landscape as they progress through the queue and then, after the ride is over, make their way out of the ruins' exit, providing some pretty spectacular views in the process.
And we should take just a moment to pause on all the greenery that has been planted throughout Hagrid's boundaries. Normally, in situations like this, theme-park operators choose to plant younger foliage and then allow it all to grow in over time, to give the various parks or attractions a fuller, more refined look and feel; with Hogsmeade's newest addition, however, Universal opted to transplant a lot of already-mature trees in order to truly make the space feel like the Forbidden Forest right off the bat – and then to have it become overgrown in the years to come. (There is even some deadfall – the fancy term for fallen trees – scattered throughout the nearly-seven acres, just to complete the immersive illusion.)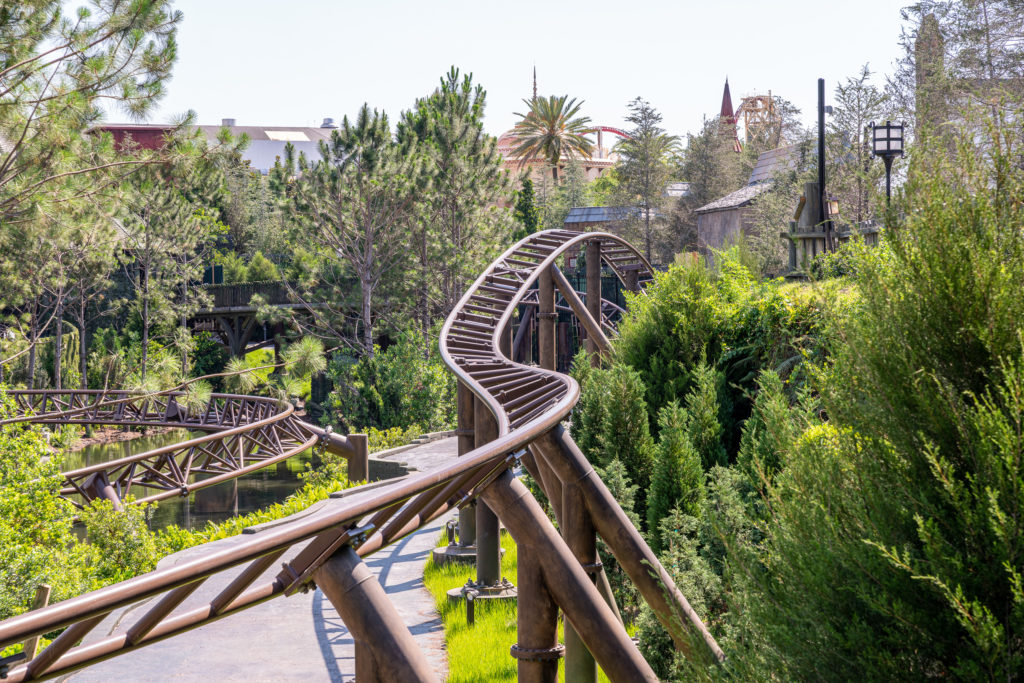 And in case that weren't enough, there's also a giant, hand-painted mural – the biggest to be featured in a theme park anywhere in the world – strategically located in the background, designed to make the forest look even deeper and bigger than what it really is. To borrow a phrase from another classic Universal property, it seems as if the company has spared no expense with Hagrid's Magical Creatures Motorbike Adventure.
(And here's one of many fun little bits of trivia we learned while on our magical tour: the 6.8-acre footprint of Hagrid's new ride is big enough to fit either all of Hogsmeade or all of Diagon Alley in it. That actually makes everything that Universal has done all the more impressive – and explains where it can get enough room to plant all those trees, fallen or otherwise.)
Creatures, creatures everywhere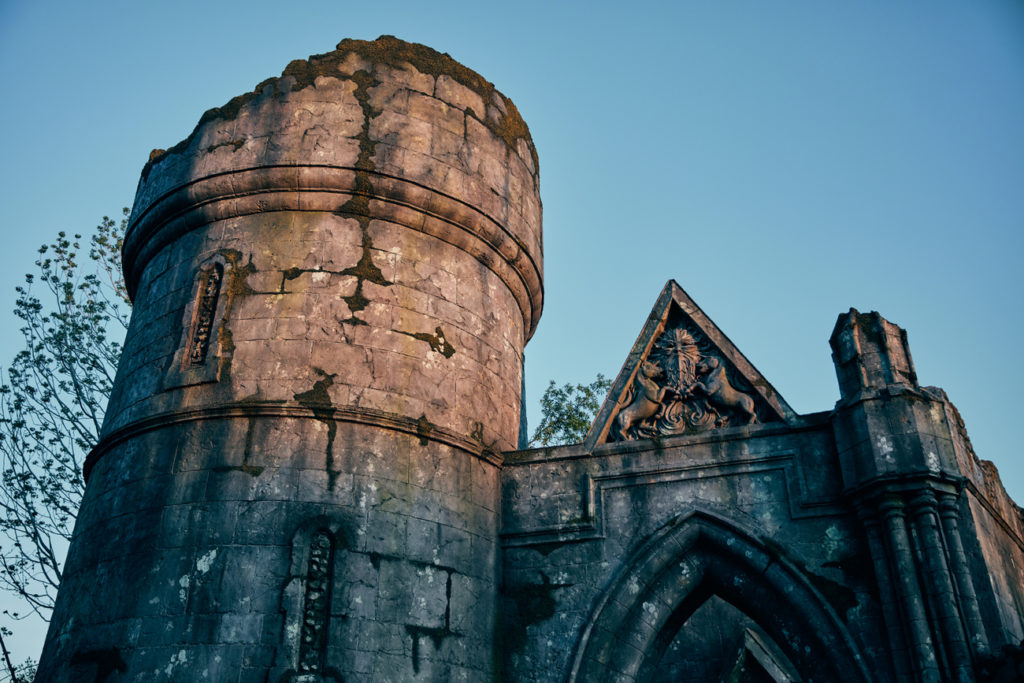 Forget the foliage, impressive as it may be – Universal has also populated the entire experience, from the very beginning to the end, with various instances of the titular magical creatures. Not only do they act as a thematic device meant to reinforce the attraction's subject matter, but spotting them should also act as something of a fun Easter egg hunt to help while away the time when waiting in line (something which, we're sure, will be a very common occurrence for the ride's first several months, if not more).
While we don't wish to give all the fantastic beasts' occurrences away, we do want to just quickly focus on a few that particularly drew our eye (consider these freebies!). There is a fountain positioned just inside the ruins that is festooned with Merpeople and Grindylows, the inhabitants of the Black Lake (which makes sense, if the watery area located there is meant to be the famous body of water) – and, even better, it was sculpted by Bryn Court, an artisan who worked on the Harry Potter films, as well. And then, on the exterior of the queue building itself, just above its entrance, is a carving of twin unicorns flanking a peculiar design called the Green Man, which has been found all throughout the various mythologies all throughout human history; typically a face surrounded by or made from leaves, it's meant to be a symbol or representation of nature and was, in fact, the very inspiration author J.K. Rowling had for Rubeus Hagrid himself. (It also doesn't hurt that it's somewhat prevalent in British society, popping up in various buildings, both secular and religious, and doubling as the name of many pubs all throughout the country.)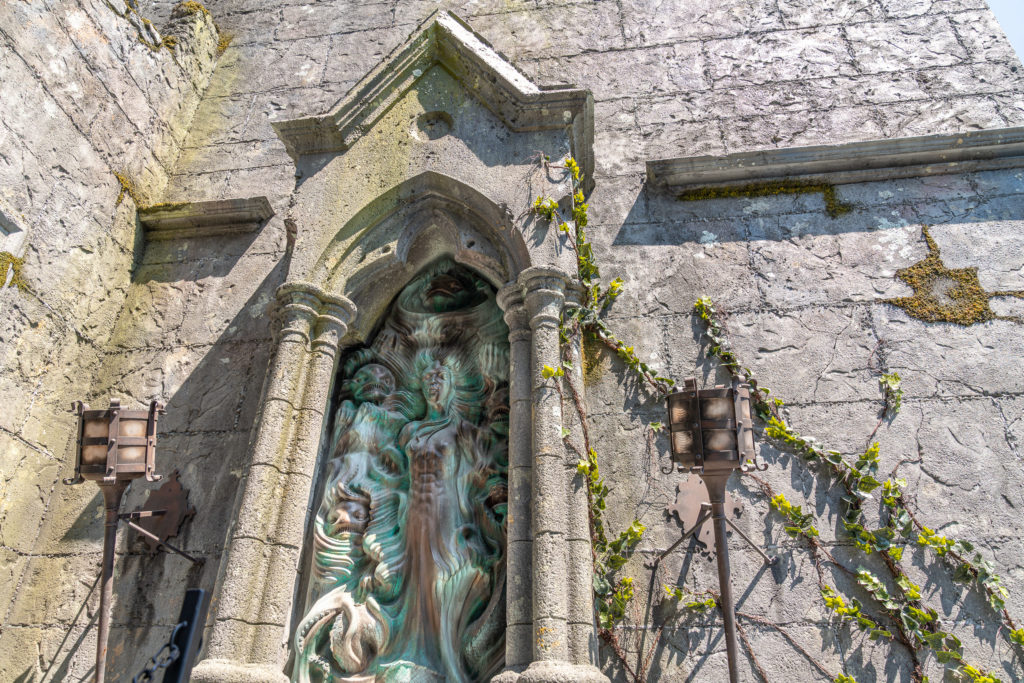 The Green Man, actually, is one of the very first things that will greet guests – another depiction of him can be found in the archway that riders will have to walk through in order to get to the path that leads to the ruins (this one with a beard made out of Devil's Snare, serving as another bit of foreshadowing). Consider it just another of the many winks and nudges to real-world mythology that Rowling liked to pepper her novels with in the first place.
The Forbidden Forest's ruins are mysterious but filled with Easter eggs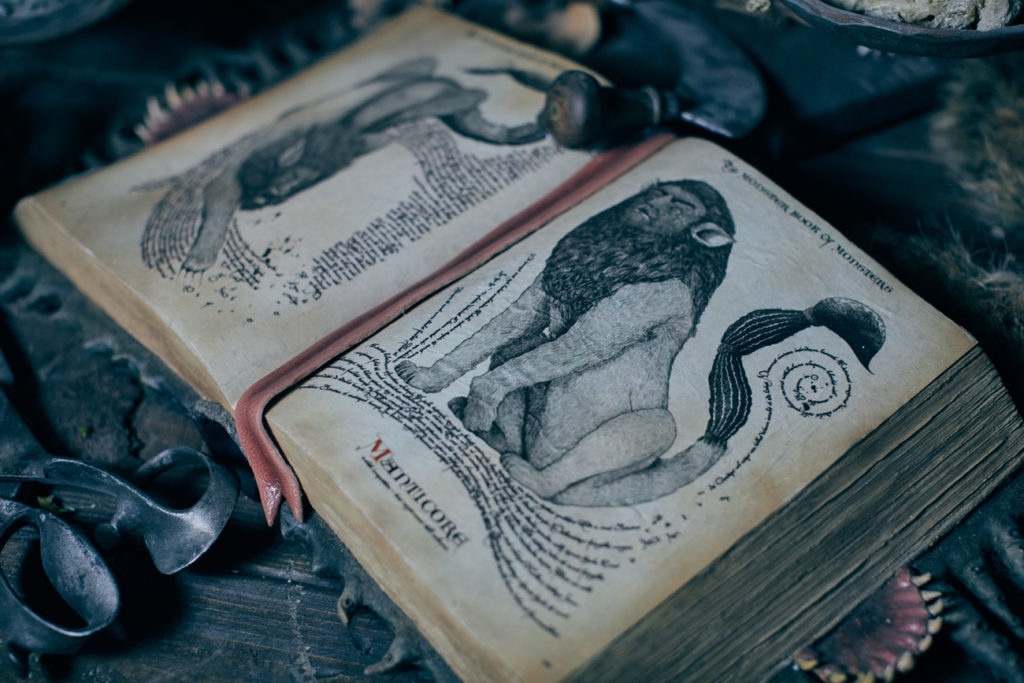 One of the first questions fans had as soon as they saw the original concept art for Hagrid's Magical Creatures Motorbike Adventure revolved around the unknown structure that dominated the ride's background. What was it, where did it come from, and was it somehow linked to either the Harry Potter films or their spinoff, Fantastic Beasts?
The answer, it turns out, is that no one knows – and that's by design; given how mystery is a core tenant of the Harry Potter mythos, Universal didn't feel it was necessary for these castle remnants to have an exact explanation. They predate the 1,000-year-old Hogwarts Castle (by a few centuries!), and students of Hogwarts School of Witchcraft and Wizardry have been using them as a hideaway of sorts, a place to goof off and do all the wonderful things that teenagers tend to love to do throughout any millennium.
Hagrid has similarly taken over giant swaths of the ancient premises, using it as a repository to store some of his treasured groundskeeping possessions, such as a giant collection of eggs that may or may not hatch into one dangerous beastie or another and, much more importantly, where he took care of his Blast-Ended Skrewts, which are an (illegal) cross between Manticores and Fire crabs that he personally hybridized. By the time the attraction's story takes place, most have already been killed off (hey – that's what skrewts do, all right?) and the last few have gotten to be so big, the half-giant's been forced to relocate them from this makeshift nursery to a different spot (where riders will get the chance to meet them on the back of their flying motorbikes in just a bit).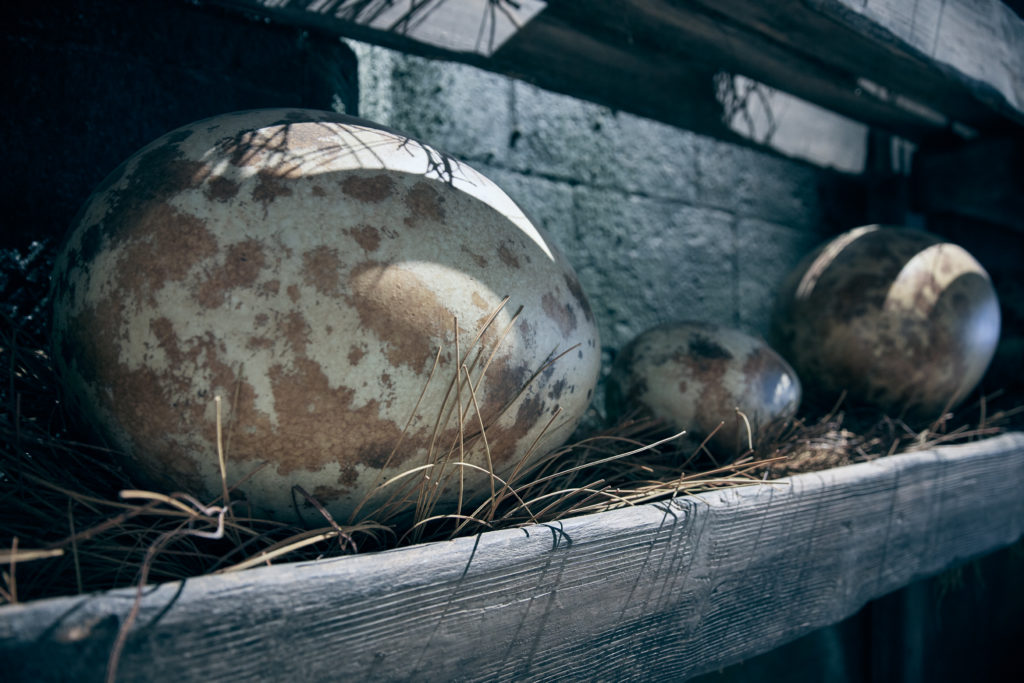 After traveling down long, rocky corridors (which are mostly the same from Dragon Challenge's queue, incidentally), guests will come face-to-face with Hagrid himself, who's busy at work reconfiguring and then duplicating Sirius Black's flying motorcycle in order to transport his brand-new Care of Magical Creatures class of muggles to the very edge of the Forbidden Forest in a safe and orderly way. Beside the jovial giant is none other than Arthur Weasley, Ron's good-natured and rubber duck-obsessed dad, who's lending a helping hand in the endeavor – which not only represents a nice little cameo, but which is also the very first time the character has been represented in The Wizarding World of Harry Potter. After Fang, Hagrid's faithful canine companion, accidentally knocks over a cage of Cornish pixies, all hell breaks loose – and so do the jinxed vehicles, which take off (and set Hagrid's beard on fire in the process!). It's a fun experience, replete with some practical effects – such as bursts of air when the pixies fly by or squirts of water from Mr. Weasley's aguamenti spell – but nothing too dissimilar from either Harry Potter and the Forbidden Journey's or Escape from Gringotts's preshow.
Oh, yeah – there's one final element that Universal has promised resides in these old ruins on the outskirts of the Forbidden Forest: hidden references to the source material, though the company wouldn't explicitly state what they were (something else to look forward to doing while waiting in line!).
BONUS: Ride experience details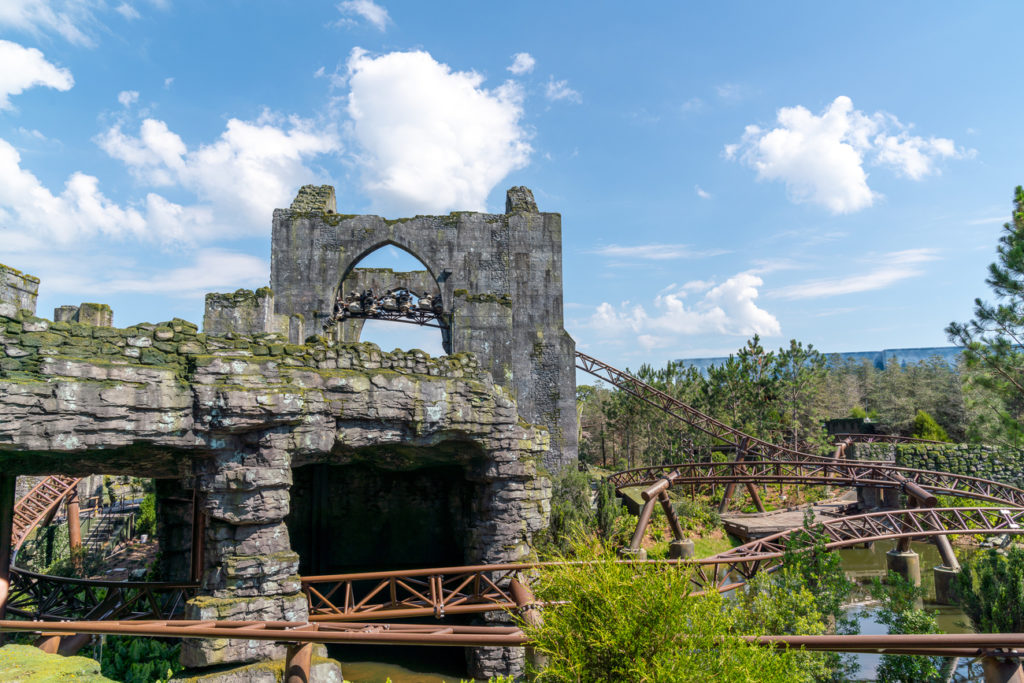 While making our way through the forest and the old castle ruins, Universal couldn't help but drop a few more morsels about what the ride experience of Hagrid's Magical Creatures Motorbike Adventure would entail – little exciting nuggets that we can't help but pass along ourselves.
The roller coaster will go a top speed of 50 mph, although Elaine Hinds, a show producer at Universal Creative – who's already ridden the attraction – has promised that "it's deceivingly fast, and it's going to be so much fun." There are a total of seven launches throughout its nearly-mile-long track, making it hold the world record for launches and the Florida record for length. The front of the train is more thrilling, but the back gets a longer exposure to the various show elements (including some seriously-impressive animated figures) – something which gets flipped when the coaster goes backwards, of course. There is a 16-foot drop during the Devil's Snare portion of the ride, which makes it the first roller coaster in the country to feature such a free-fall vertical drop. And a "spike" element – which launches riders 65 feet into the air at a more-than-70-degree angle before immediately dropping them backward in one single movement – looks to be the icing on the wizarding cake. All in all, the entire ride experience will last for a little more than three minutes, which puts it just slightly behind Forbidden Journey in terms of duration.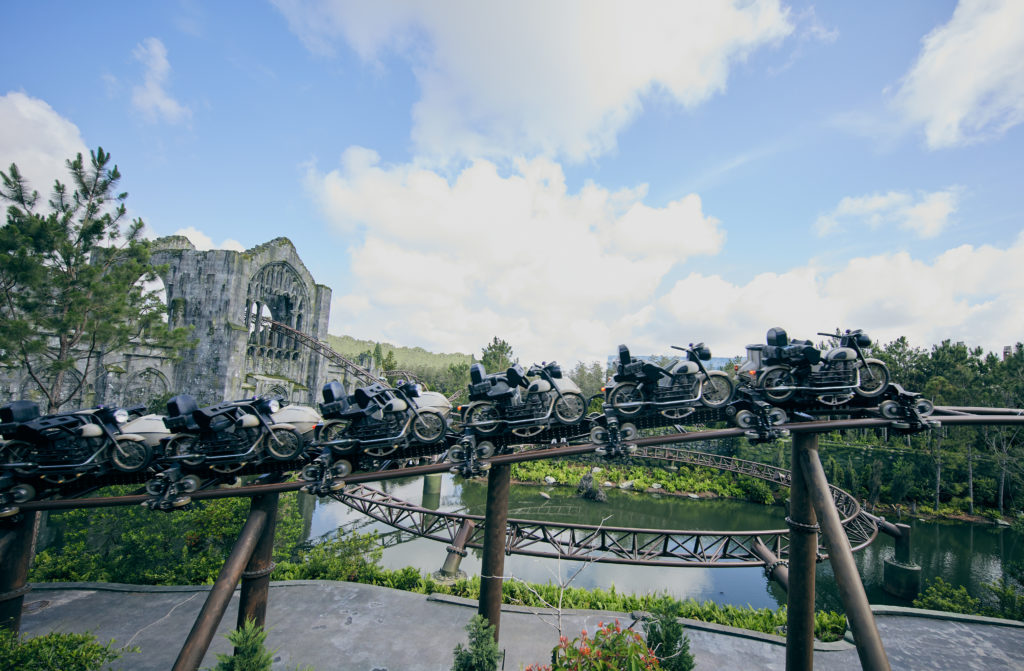 But the real spotlight of Hagrid seems to be its dual seats – the motorbike proper and its sidecar – which really do seem to provide two different experiences. The sidecar will sit some 10 inches lower than its ride counterpart, which makes us think it'll feel more thrilling, and although the motorcycle will command the better view of the attraction's surroundings and happenings, every scene has been designed expressly around the sidecar's narrower view to ensure that there really isn't a bad seat in the house. (Hagrid's Magical Creatures Motorbike Adventure is far more accommodating than many of Universal's other rides, but we believe that the motorbike's seat will be friendlier to different body shapes and sizes than the sidecar's.)
Even with our magical sneak peek, we don't think June 13 can come soon enough.
–
How excited are you for The Wizarding World of Harry Potter's newest ride? Be sure to share it with 70,000 other Universal fans in our OI Community Facebook group.
And be sure to follow Orlando Informer on Facebook, Twitter, and Instagram for even more updates on everything Universal Orlando, Walt Disney World, and other Orlando experiences.