Preview this Page
Overview
Time to get holly and jolly! See what spirits are made bright at Green & Red Coconut Club. Read more to find out about this festive lounge available on select nights during the holiday season.
Jump to
The haunted affair at the widely successful Halloween overlay, Dead Coconut Club, has been replaced by tinsel and holly in Universal CityWalk's Red Coconut Club's newest seasonal shift, Green & Red Coconut Club. Long gone are figurines of familiar Universal Monsters as Universal Orlando Resort's unofficial holiday mascot, Earl the Squirrel, has taken over this lounge.
Similar to hints left by Universal Orlando Resort's creative team for Dead Coconut Club prior to its opening, we found at least one clue that insinuated what was coming this holiday season for Red Coconut Club. A Santa Claus Mug, Elf on the Shelf, and Green & Red Coconut Club menu were presented in the window display for a music shop facade in the New York area of Universal Studios Florida. As we watched the Resort transform into a magical winter wonderland over the last few weeks, this hint of an additional seasonal offering grew our anticipation.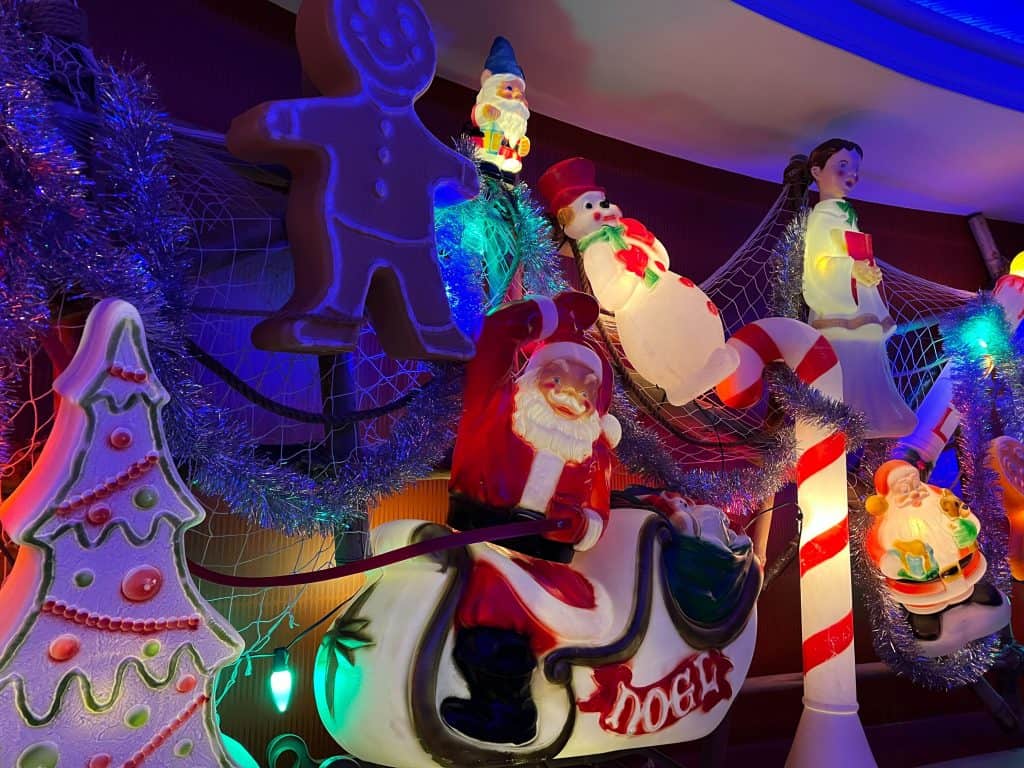 On Green & Red Coconut Club's opening day, November 18, we decided to join in the festivities for ourselves. During last year's yuletide, Red Coconut Club was dressed with Christmas trees for an exclusive Universal Orlando Resort Annual Pass event and offered small bites and cocktails. As the doors have opened to all guests visiting Universal CityWalk this year, the theming was delightfully intensified with signs for various fictitious holiday businesses and an array of glowing, vintage Christmas decor lining the walls.
Our personal favorite portion of this seasonal offering was "The Attic" of the Green & Red Coconut Club. Journey upstairs to see a varied arrangement of holiday decor that could resemble your very own loft at home. Overall, this lounge has made us feel at home for the holidays.
This lounge will be open to rock around the Christmas tree on select nights until 1 AM.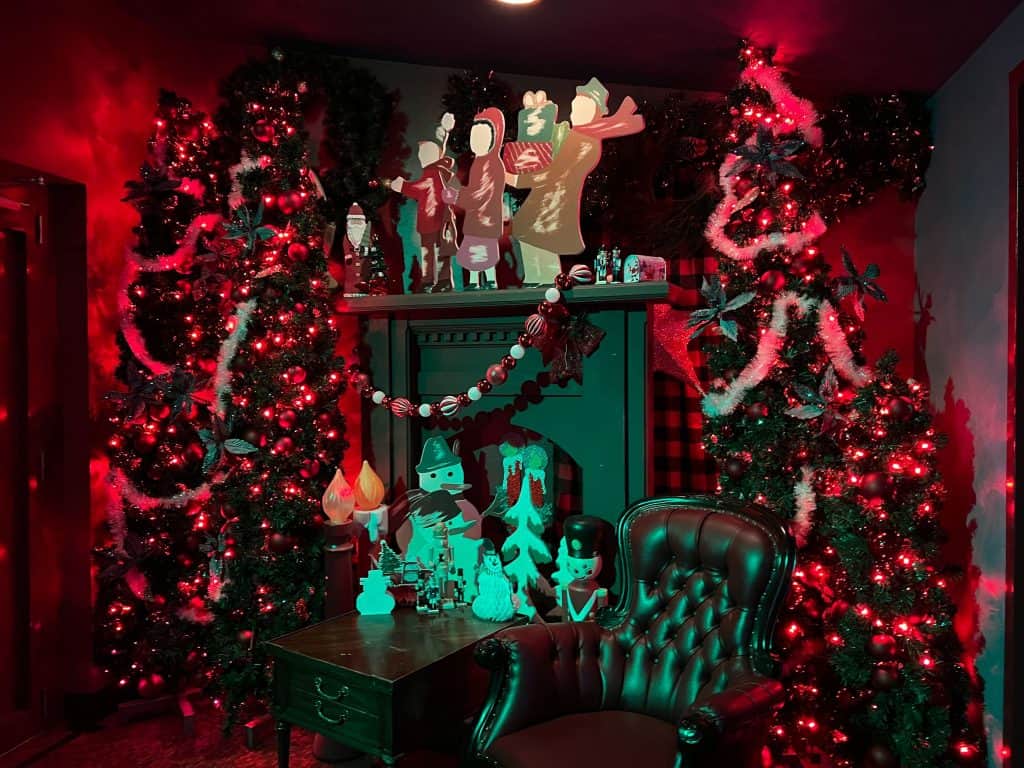 Specialty Cocktails
Secret Family Holiday Punch
Deep and brooding holiday punch featuring pineapple, lemon and blackberry flavors, along with Bourbon, allspice and coffee liqueurs, topped with a pineapple wedge and pineapple fronds
Cinnamon Swizzle Paloma
Warm cinnamon together with even warmer tequila, balanced with tart grapefruit and lime juices, and topped with Fever Tree Grapefruit Soda and a grapefruit zest
Noel Nui Nui
Rich spiced rum and allspice liqueur combined with orange and lime juices, cinnamon and a touch of bitters. Topped with an orange wheel and festive holiday spice drop candies
Candy Cane Pina Colada
Light and spiced rums combine with coconut cream, pineapple and lime juices, Tempus Fugit Creme de Menthe and mint concentrate. Topped with a full-size candy cane!
Souvenir Cup – $18
Souvenir Cup Refill – $15
Non-souvinir – $15
Holiday Mocktail
Tropical Fizz
Grapefruit, cinnamon, mango and vanilla flavors are shaken with heavy cream and topped with sparkling mineral water, creating a foamy top which is dusted with ground cinnamon
Pineapple Holiday Cooler
An easy-going tropical holiday treat combining pineapple, lemon, and mint. Topped with holiday red and green spice drops, plenty of fresh mint, and a mini candy cane
Souvenir Cup – $18
Souvenir Cup Refill – $15
Non-souvenir – $15
Canned Beer
Rogue Santa's Private Reserve – $11.25
Festive Wines
Spellbound Cabernet Sauvignon – $9
Beringer's Chardonnay – $9
While you are making your way into the parks to experience the holidays at Universal Orlando Resort, be sure to stop by Green & Red Coconut Club – a can't-miss holly jolly lounge.
---
Unwrap big savings toward your visit to Universal Orlando Resort this holiday season by purchasing discounted theme park tickets through Orlando Informer.