Disney's Hollywood Studios is currently facing a whole slew of some pretty massive changes – after all, nearly half the park is under construction, with part of it being transformed into Toy Story Land for next year and the rest eventually rising as Star Wars Land in 2019. A Star Wars-themed hotel is also said to be arriving at some point thereafter (yes, right on park property itself), and a brand-new entranceway is being prepped to accommodate the new layout – which isn't even to mention the fact that Disney has previously stated that the name of Hollywood Studios isn't long for this world.
As all-encompassing as these developments are, it turns out that there just may be one more in the cards, one that would alter the theme park in a fundamental way that not even an on-site boutique hotel would: the 28-year-old Great Movie Ride may possibly be shuttered in the very near future, making way for a whole new experience.
Why would the closure of one little ride prove to be so mighty? Two reasons, actually. Firstly, The Movie Ride is the last of Hollywood Studios's opening-day attractions to remain in the theme park, meaning that its departure – and the arrival of lands devoted to the Muppets, Toy Story, and Star Wars – really would erase the last vestiges of the park's original premise and intent (that is, a pseudo-Hollywood backlot where real productions unfold around you and whose every last ride is meant to absorb you in the filmmaking process). And the second reason revolves solely around what Great Movie Ride's successor looks likely to be.
Let's dig down a bit deeper into both of these points, shall we?
The great history of The Great Movie Ride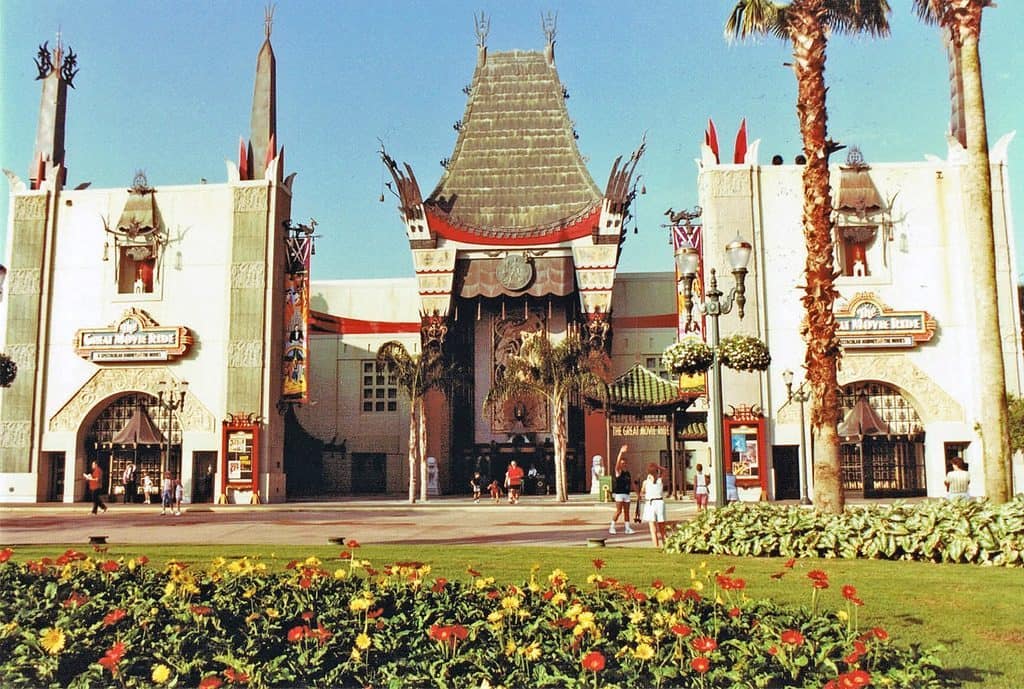 What was intended to be Hollywood Studios's flagship ride has not only become its longest-running attraction, it's also been strangely emblematic of the filmmaking-themed park's history and, even, identity.
The Great Movie Ride acts as something of a cinematic trip down memory lane, recreating some of the most legendary scenes from film history; the 12 specific movies it honors range from The Public Enemy (1931) to Aliens (1986), with a couple of Disney pictures thrown in for good measure, of course. But its importance to Walt Disney World Resort goes far beyond that – it actually inspired the existence of all of Hollywood Studios around it.
The story goes a little something like this: in the mid-1980s, when Imagineering sat down to create two new pavilions for EPCOT Center (as it was originally known), one concept came to be known as Great Moments at the Movies and had the kernel of The Great Movie Ride contained inside of it, wrapped in the façade of a classic movie theater. Disney's management, which had just learned about Universal's interest in exporting its Universal Studios Hollywood to Florida, quickly fast-tracked the concept to be the basis of an entirely new theme park, dedicated to show business.
In order to buttress this new location's library of content and its appeal to guests, Disney entered into a far-ranging deal with Metro-Goldwyn Mayer, one of the great titans of Hollywood history, in 1985. Though much of the exact nature of the contract is still unknown – Disney has a tendency to keep licensing arrangements such as this one under tight guard – it appears that the company had acquired the right to use much of MGM's catalogue of films, its name, and its logo for a period of 20 years for, essentially, pennies on the dollar. Needless to say, once the studio's owner learned of the details of the transaction – which wasn't, inexplicably, until the contract was being signed – he railed against it, understandably calling it a bad deal for MGM. This led to a hostile relationship between the two companies for the entirety of the next two decades, helping to foster lawsuits and countersuits between them.
When 2005 finally rolled around, it seemed inevitable that Disney-MGM Studios, as the park was initially dubbed, would be forced to undergo a name change. On January 7, 2008, that's precisely what happened, with Disney's Hollywood Studios materializing as the replacement moniker. Interestingly enough, however, the end of that particular licensing agreement didn't affect the content of The Great Movie Ride, as all of the MGM films featured in it were sold off to competitors (mostly Time Warner) all the way back in 1986 – and their inclusion in the attraction was attained in separate deals, at any rate.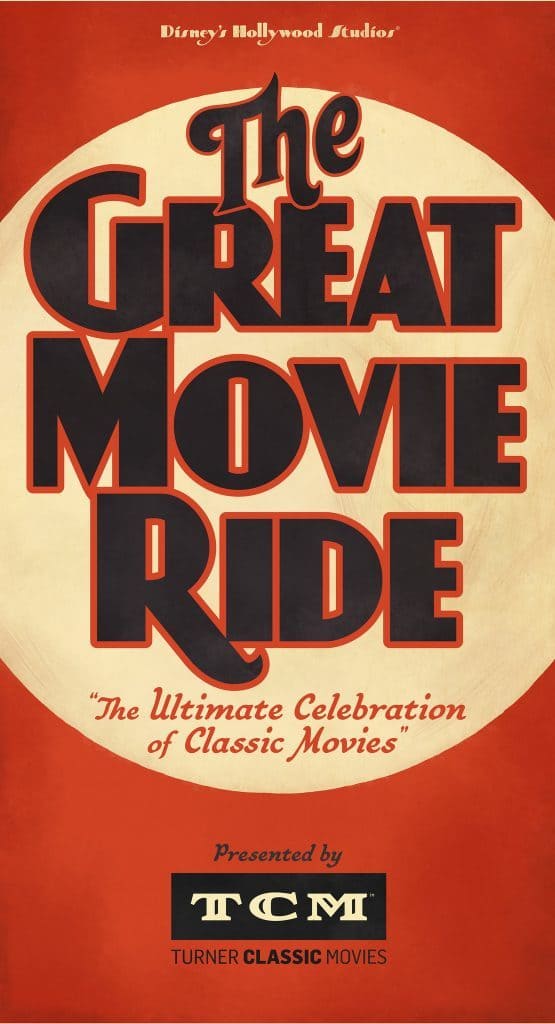 In November 2014, Disney found something of a new partner for its headlining attraction: Turner Classic Movies, one of the subsidiaries of Time Warner. The two companies entered into a mutually-beneficial arrangement: Disney would see its Movie Ride get a fresh, high-definition intro and outro (including appearances by the late Robert Osborne, a film historian and the ubiquitous face of TCM) and, presumably, some financial help in maintaining it; Turner, meanwhile, would get sponsorship billing on the ride and access to certain chunks of Walt Disney Studios's film and television library – namely, such vintage programs as Walt Disney's Wonderful World of Color, which would be used to fashion a periodic programming block that started to air right before Christmas of that year.
(A couple of quick fun facts regarding this arrangement between Disney and TCM. The two corporations actually had a good relationship even before the new deal was inked; a few of the TCM Classic Cruises that Turner would occasionally throw were held on the Disney Magic, and some of the TCM Classic Film Festivals already featured such older Disney gems as Mary Poppins. More entertainingly, however, the new partnership over The Movie Ride came about thanks to a Turner Classic Movie administrative assistant who was on vacation at Hollywood Studios and thought that Turner was missing a great synergistic opportunity with Disney.)
The slightly-revamped Great Movie Ride debuted on May 29, 2015, and still is in effect to this day – well, for now, at least.
The Great Mickey Ride?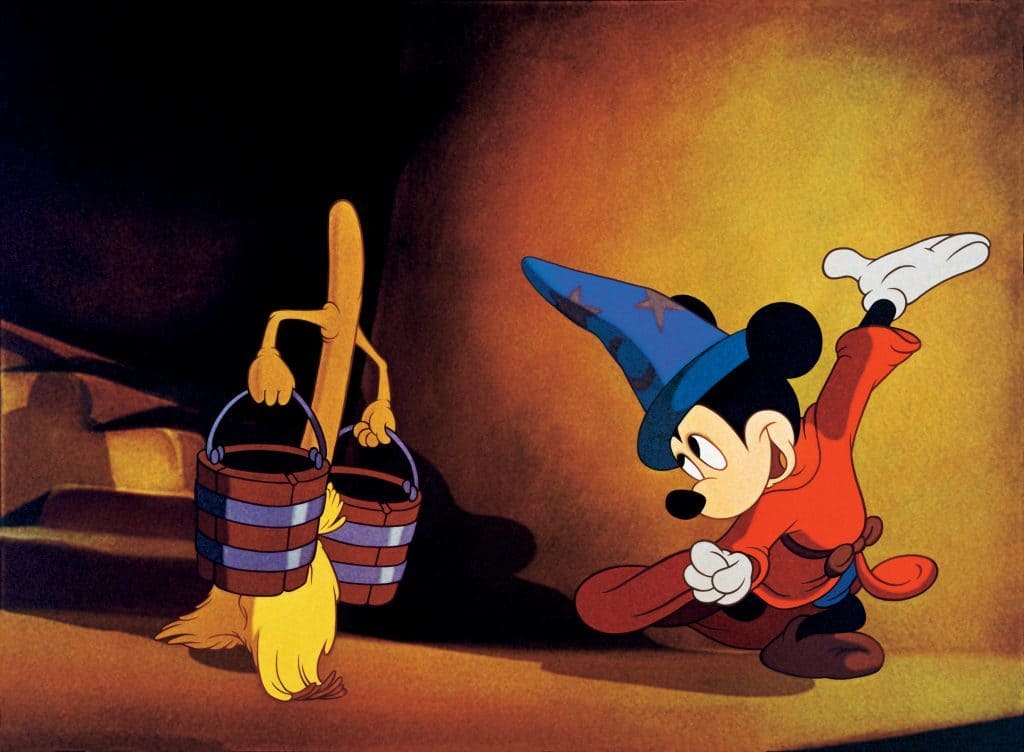 It turns out that the three-year sponsorship deal is just about over (we actually don't know if it expires in November of this year, when the contract was initially signed, or if it comes to an end on May 29, 2018, the anniversary of The Movie Ride's reopening), and Disney is already busy implementing its new vision for what will come next.
Rumors originally began to surface in August 2016 that Disney wasn't interested in renewing the Turner Classic Movie deal, and speculation immediately turned to one of the few logical reasons as to why: the company wanted to tear down and replace the attraction with something brand-new. Just this week, "notice of commencement" permits were filed with the Orange County's comptroller office for the very parcel of land that The Movie Ride sits on (the permits are officially for "DHS Project M," in case you were curious), leading many to put two and two together.
But just what would replace The Great Movie Ride? Rumors have long held that the company has been interested in finally doing something that Disney Parks and Resorts has never been able to do across its 62-year history: create an E-ticket attraction devoted to none other than Mickey Mouse. Dubbed The Great Mickey Ride by the themed community, it's believed the current façade of the iconic Grauman's Chinese Theater would remain but that the show building behind it would be gutted and replaced with a trackless dark ride that would, perhaps not surprisingly, roughly mimic Movie Ride's premise, just replacing the 12 classic movie scenes with the most legendary Mickey moments from both film and television.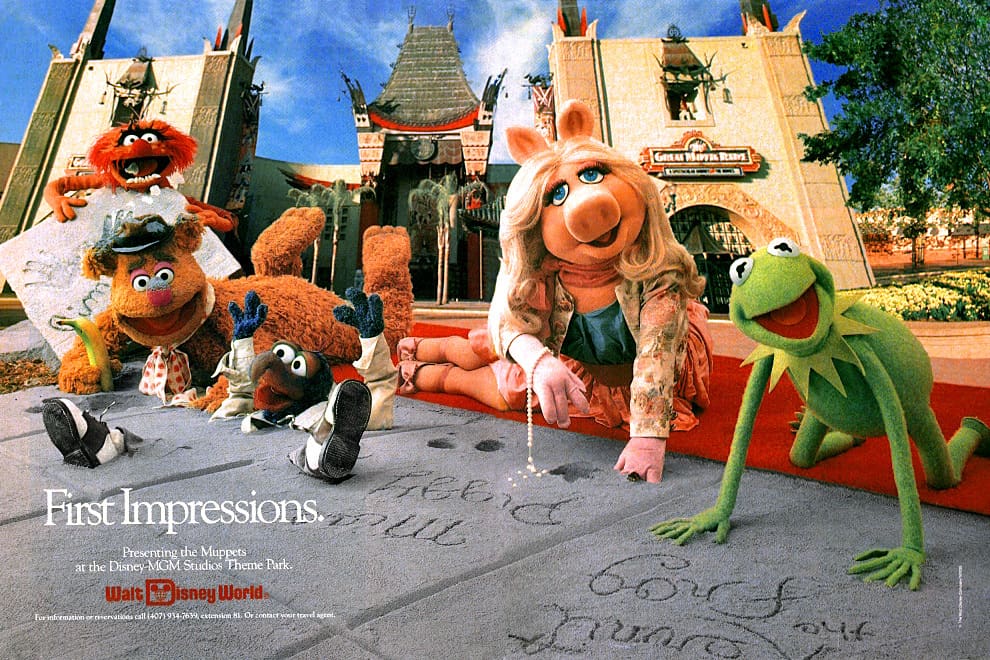 The idea actually isn't that far-fetched; right after Disney-MGM Studios had first opened its doors to the public on May 1, 1989, talk within the company turned to Muppet Studios, what would have been the park's very first expansion. Although Muppet*Vision 3D was always intended to be a part of the land (and, indeed, it did end up opening two years later), the real anchor was to have been an attraction called The Great Muppet Movie Ride, essentially lampooning The Great Movie Ride by infusing the Muppets into classic films' scenes, such as Frankenstein and Peter Pan. The project ultimately fell apart, however, with Muppet Studios never coming to be (although, today, Muppet*Vision's small surrounding area is called Muppet Courtyard, a move that was necessitated by all the rest of that part of the park being closed to make way for 2019's Star Wars Land).
If Kermit, Miss Piggy, and all the rest were deemed worthy enough to carry their own Movie Ride-esque attraction, why couldn't Mickey himself do the same? And, more to the point, such a move would line up perfectly with Disney's newly-issued mission statement for Hollywood Studios, one that has visitors actually set foot inside their favorite film universes – such as Toy Story and Star Wars – instead of walking around soundstages that just so happen to feature various movie properties (hence the rumored change in name from Disney's Hollywood Studios to Disney's Hollywood Adventure). A ride that transports guests to Mickey's world(s) would fit nicely snuggled in between the two new lands, making The Great Mickey Ride just as much of a headlining attraction for the future as The Great Movie Ride was for nearly the past 30 years.
Given that the recently-filed patents have an expiration date of October 31, 2019, we should see some construction work start soon – and we may even get official word well before that, as a little something called the D23 Expo kicks off tomorrow.
–
Be sure to follow Orlando Informer on Facebook, Twitter, and Instagram for the latest news, tips, and rumors at Universal Orlando, Walt Disney World, and other Orlando attractions.