Prepare to dance with ghosts in the graveyard. Well, perhaps we should make that "run from" – Graveyard Games has just been revealed as the last original haunted house at this year's Halloween Horror Nights.
As the name might suggest, this latest haunt is a (gorier) riff on the classic children's game, Ghost in the Graveyard, which is itself essentially a variation on Hide and Seek – players first try to find the ghost (a participant who is hiding), then yell out, "Ghost in the graveyard!" when they do and make it back to base before the spook can tag any of them and make them the ghost. Indeed, in Universal's take, two teenagers have inadvertently (and disrespectfully) awakened the spirits of the dead while playing the game in Ascension Parish Cemetery, unleashing "ghosts of every shape and form" to exact their revenge. As the company elaborates:
Skeletal beings, ghastly apparitions, and vengeful spirits will try to drag you to the grave. And, in the end, you'll find out what happened to those who set out to deface the cemetery.
Graveyard Games will funnel guests through the hauntingly beautiful cemetery, making their way past such staples of the horror genre as mausoleums and "decaying piles of coffins." But the truly intriguing aspect of this haunt is the interactive nature of it: before plunging into the maze, visitors will be able to chat with several of Ascension Parish's teenage citizens and local storytellers in the form of Facebook Messenger, getting the full scoop on the history and "spooky legends" of the ill-fated graveyard.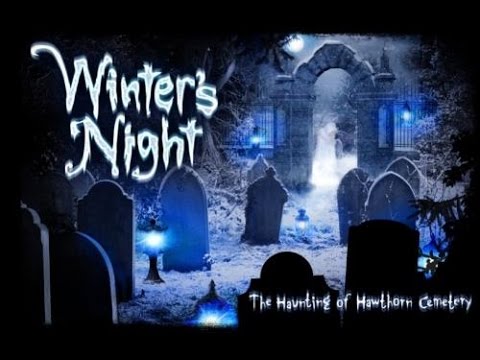 Halloween Horror Nights actually has a rather short-but-sweet track record with implementing cemeteries into haunted-house form: 2011's Winter's Night: The Haunting of Hawthorn Cemetery (which brought a Gothic graveyard populated with all manner of ghosts to life [no pun intended]) is largely considered to be one of the very best mazes Universal has ever done across the event's 28-year history, and last year's Carnival Graveyard: Rust in Pieces (which delivered a "dilapidated salvage yard" where all carnivals would go to die), while technically not a traditional cemetery, won many accolades for its elaborate sets and detailed costuming. Here's to hoping that 2019's entry more than lives up to this pedigree.
Graveyard Games will join Stranger Things, Nightingales: Blood Pit, Universal Monsters, Depths of Fear, Yeti: Terror of the Yukon, Ghostbusters, Killer Klowns from Outer Space, and Us at Universal Orlando's Halloween Horror Nights, which runs for a record-breaking 41 select nights, from Friday, September 6 to Saturday, November 2.
–
Find out everything you ever wanted to know about HHN – plus more! – in our insider's guide. And then discuss it all with 80,000 other Halloween die-hard fans in our OI Community Facebook group.
And be sure to follow Orlando Informer on Facebook, Twitter, and Instagram for the latest news and tips at Universal Orlando, Walt Disney World, and other Orlando experiences.