Who you gonna call?
If you're Universal and you're looking to fill up the roster of this year's Halloween Horror Nights, the answer, of course, is the Ghostbusters, one of the biggest names in comedy/horror over the past three-and-a-half decades (and a property that is celebrating its 35th anniversary this month!). Indeed, despite long gaps of time in which no new products – whether they be films, television shows, or videogames – were released, the property has remained high in fans' awareness, thanks to heaping helpings of nostalgia and the caliber of comedy that the original two movies brought to bat in the '80s. It is for these reasons that Universal has reached out and brought Ghostbusters back into the Universal Orlando fold – well, plus the fact that a long-awaited third film in the series is currently on track for release in July 2020.
But we're getting ahead of ourselves here. Ghostbusters originally started out life as a 1984 movie written by and for such Saturday Night Live alumni as Dan Aykroyd and Bill Murray. It became an instant success, leading to Sony, the studio behind the film, attempting to mass-produce it in every form imaginable, from a line of toys and comic books to, most notably, an animated television show called The Real Ghostbusters that started up two years later (a nerd-historian's note here: the cartoon was, like so many from the late '80s and early '90s, more of a spinoff than an in-continuity extension, using the general premise to create a whole slew of new, kid-friendly adventures). Such commercial popularity was enough to eventually force the original crop of filmmakers into participating in a sequel, despite their general reluctance to do so and their continued insistence that the first movie's story was already completed; in 1989, Ghostbusters II followed, cementing the intellectual property's shelf life.
It also had the effect of hardening the cast members' and director's resolve to not sign off on any future cinematic follow-ups unless they all agreed the quality was firmly there (they regretted that it wasn't for the second installment). Such a stance stonewalled Sony's continued efforts at sequelizing, resulting in a third entry never seeing the light of day for the next 25 years – although work continued on unabated behind the scenes, with the narrative focus eventually shifting away from the aging original cast to introducing brand-new swaths of characters, showing how the ghostbusting torch could get passed on for a whole new generation of audiences.
Interestingly enough, such an approach would ultimately prove to be successful, albeit initially in media other than film: in 1997, six years after the first television foray ended, a brand-new animated series called Extreme Ghostbusters premiered, and then, 12 long years after that, Ghostbusters: The Videogame released for consoles and the PC (a title which was billed at the time as the third installment in the movie series and, even, had the participation of most of the original cast). Though both of these spinoff stories would only last for just one installment, they successfully planted the seed of the older Ghostbusters serving as mentors for new protagonists (if, indeed, the original characters even got that much screen time at all), and they proved to Sony that interest was still there in the general public for the continuing adventures set within this world. In (relatively) short order, a third movie would be officially greenlit.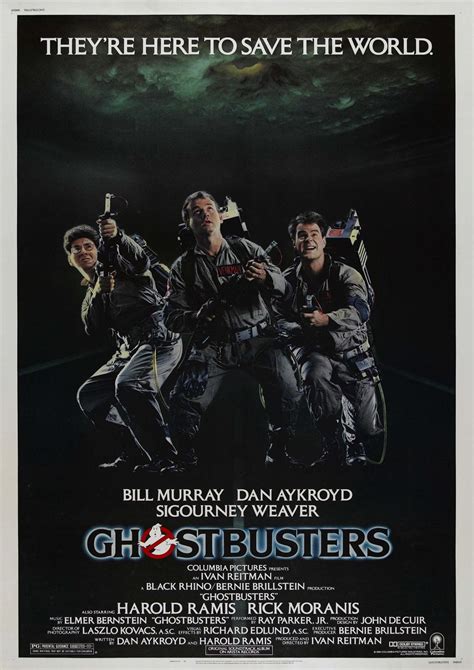 Originally called simply Ghostbusters (and later amended to Ghostbusters: Answer the Call during the home-media release), this 2016 entry actually served as an entire reimagining, but with the added twist of recasting all of the male characters as females (and vice versa). Starting from scratch was not only meant as a way to kick off a string of new sequels, but to also fire up a shared cinematic universe (much like what Marvel Studios was doing with its Marvel Cinematic Universe) – officially dubbed Ghost Corps, these interconnected stories would consist of an all-male spinoff film and various animated projects. The reboot, however, bombed commercially and created something of a firestorm culturally, igniting debates that involved various tangled socio-political topics and, even, causing Twitter to re-approach its stance toward bullying. Now deemed to essentially be radioactive, the Ghostbusters franchise, after 32 years, seemed to have died at long last.
Expect, of course, that it didn't. Just as before, development quietly pressed on, eventually finding a successful helmer in Jason Reitman, son of the director of both Ghostbusters and Ghostbusters II. Called Ghostbusters 3, this outing is largely expected to ignore the 2016 reboot and will instead show, once again, how the original characters mentor a whole new group of ghost hunters. (Fun fact: this third movie co-stars Finn Wolfhard, one of the leads from Stranger Things, increasing its Halloween Horror Nights bona fides.)
While serving as a marketing tie-in for next year's Ghostbusters 3 would seem to be the logical choice for including the evergreen property in this year's HHN (or that whole 35th anniversary to celebrate, as well, of course), there is actually a strong, if somewhat recent, tradition of taping into classic horror names in addition to current releases in order to furnish as well-rounded a roster of haunted houses as possible: last year saw the show-stopping Poltergeist; 2017 had The Shining; 2016, The Exorcist; 2014, Halloween; and 2013, An American Werewolf in London. Ghostbusters more than belongs on this hallowed list, and if those previous entries are anything to go by, attendees should be in for a real treat.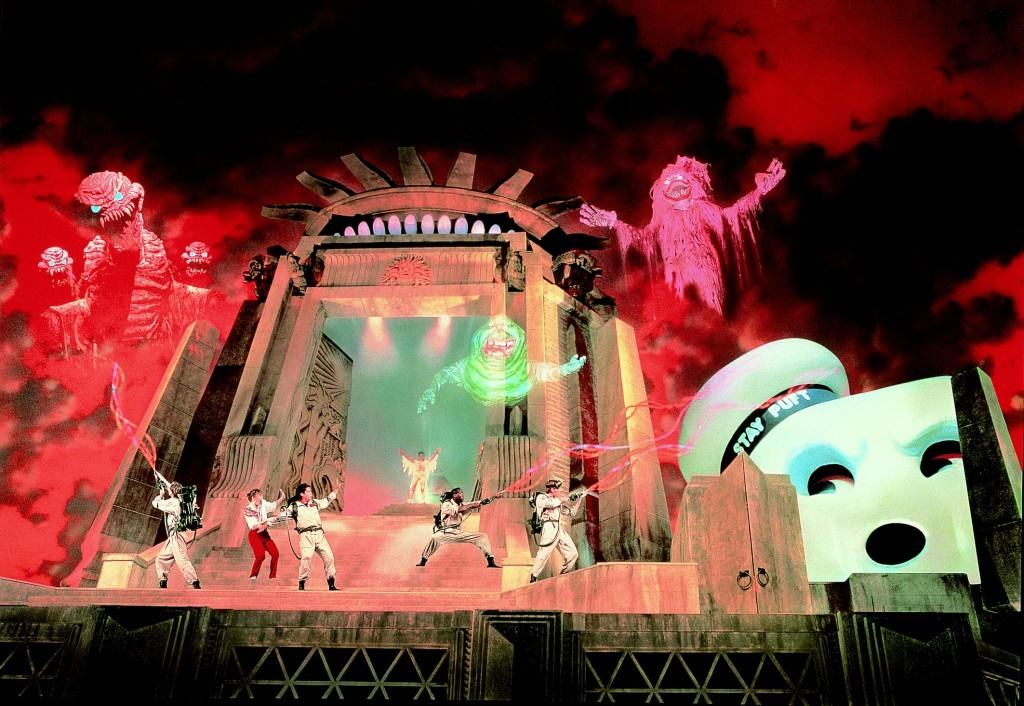 Of course, we would be remiss if we didn't also mention one other possible reason for the ghostbustin' appearance – the property's surprisingly rich history with Universal Studios Florida already. Throughout the 1990s, there was Ghostbusters Spooktacular, a type of stage show, and a series of street performances, typically ones in which the franchise would cross over with another popular cultural entry from the '80s, Beetlejuice (one of these productions even focused exclusively on the second cartoon, Extreme Ghostbusters). There's too much here for us to go over now, but, luckily for you, we've already examined all of these in detail in our retrospective feature.
So, what about this year's Halloween Horror Nights appearance? Prepare to face down the likes of Slimer, the Sumerian deity of Gozer the Gozerian, and, naturally, the Stay Puft Marshmallow Man (who's supposed to be the Destructor summoned by the ancient god) in such iconic locations as the New York Public Library, the Ghostbusters' firehouse, and the just-(re)created Temple of Gozer. Along the way, you'll encounter an army of "ghoulish spirits, hideous specters, and ectoplasm-dripping phantasms in every shape and size."
(And just to double down on the Stranger Things connections, the second season of that show – which will be realized in a maze of its own this year – partially takes place on Halloween 1984 and has its four main characters dress up as the Ghostbusters. Seeing as how Universal has already promised that the holiday will be represented in the haunt, there is the very real possibility that we could get some inter-house references going on. How meta!)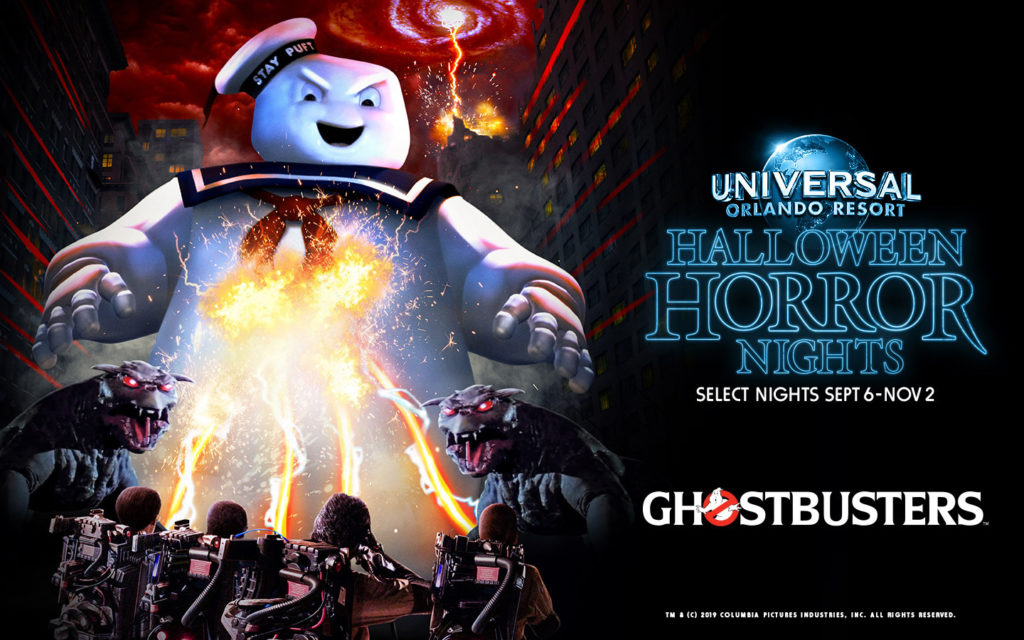 Ghostbusters will join Stranger Things, Nightingales: Blood Pit, Universal Monsters, Depths of Fear, and Yeti: Terror of the Yukon at Universal Orlando's Halloween Horror Nights, which runs for a record-breaking 41 select nights, from Friday, September 6 to Saturday, November 2.
–
Find out everything you ever wanted to know about HHN – plus more! – in our insider's guide. And then discuss it all with 70,000 other Halloween die-hard fans in our OI Community Facebook group.
And be sure to follow Orlando Informer on Facebook, Twitter, and Instagram for the latest news and tips at Universal Orlando, Walt Disney World, and other Orlando experiences.