Universal Orlando has recently overhauled the menus at all of their full-service in-park restaurants, Orlando Informer has learned.
The smallest number of menu changes took place at Mythos and Finnegan's, whereas the less popular Confisco and Lombard's were subject to a more extensive menu overhaul. In addition to adding, updating, and removing offerings, Universal also increased the pricing of about 40% of the items on every menu by one to five dollars.
You can find a full list of the menu changes below.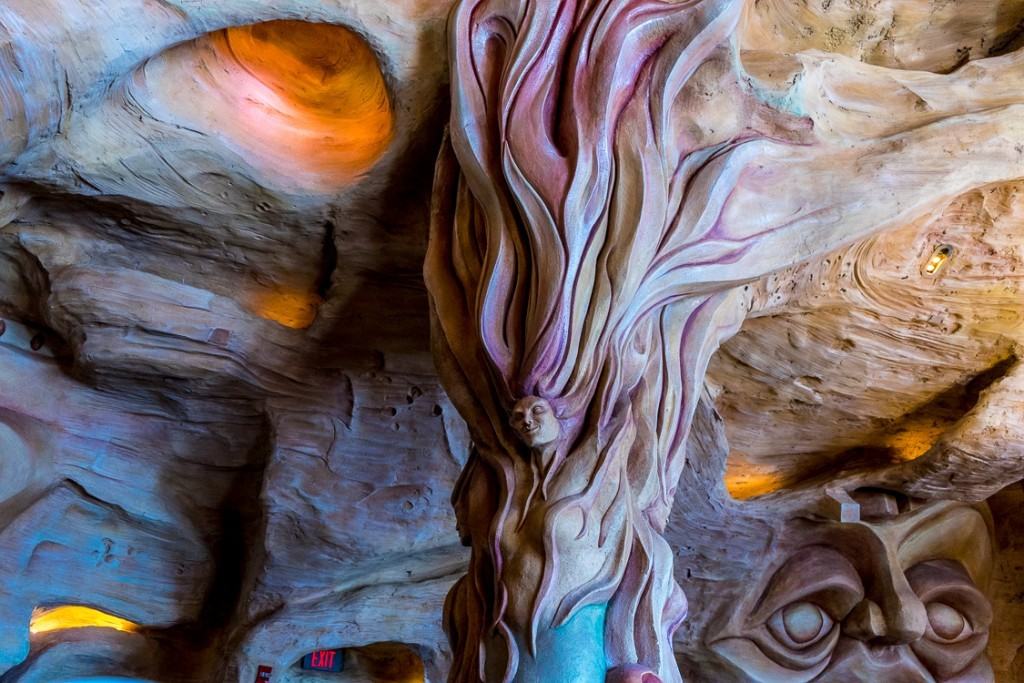 Mythos at Universal's Islands of Adventure
Additions
Semolina Crusted Calamari: tender calamari flash fried, served with Spanish chorizo aioli, marinara and charred lemon. $8.99
Wedge Salad: crisp iceberg, blue cheese vinaigrette, cherry tomatoes, red onion, sweet and sour bacon jam, croutons. Grilled Chicken $13.99 or Shrimp $17.49
Cranberry Blue Cheese Crusted Pork: seared pork loin, russet potato puree, summer cannellini and corn succotash, apple-brandy demi-glace, apple salad. $14.99
Updated
Greek Salad: shredded lettuce, diced tomatoes, red onions, Kalamata olives, feta crackers, herb-lemon vinaigrette and shaved marinated feta. Grilled Chicken $14.99 or Salmon $18.49
Beef Medallions: herb roasted fingerling potatoes, summer cannellini and corn succotash, fresh watercress and "chimichurri". $21.99
Pan Roasted Salmon: spicy tomato-fennel broth, russet potato puree, grilled rapini, pickled onion, mint oil. $21.99
Gnocchi Bolognese: slow simmered beef and tomato sauce, cream, crispy Parmesan wafers. $13.99
Crispy Crab Cake Sandwich: fresh Maryland crab cake, lettuce, sliced tomatoes, dill pickles, house made remoulade sauce on a toasted brioche bun with potato salad and watermelon-tomato medley. $12.99
Removed
Chef's Signature Pizza
Harissa Fried Shrimp: crispy shrimp, spicy harissa sauce, mango-cucumber slaw, served with creamy cumin-cilantro dip.
Asian Cashew Chicken Salad: with a soy vinaigrette dressing and wasabi cream.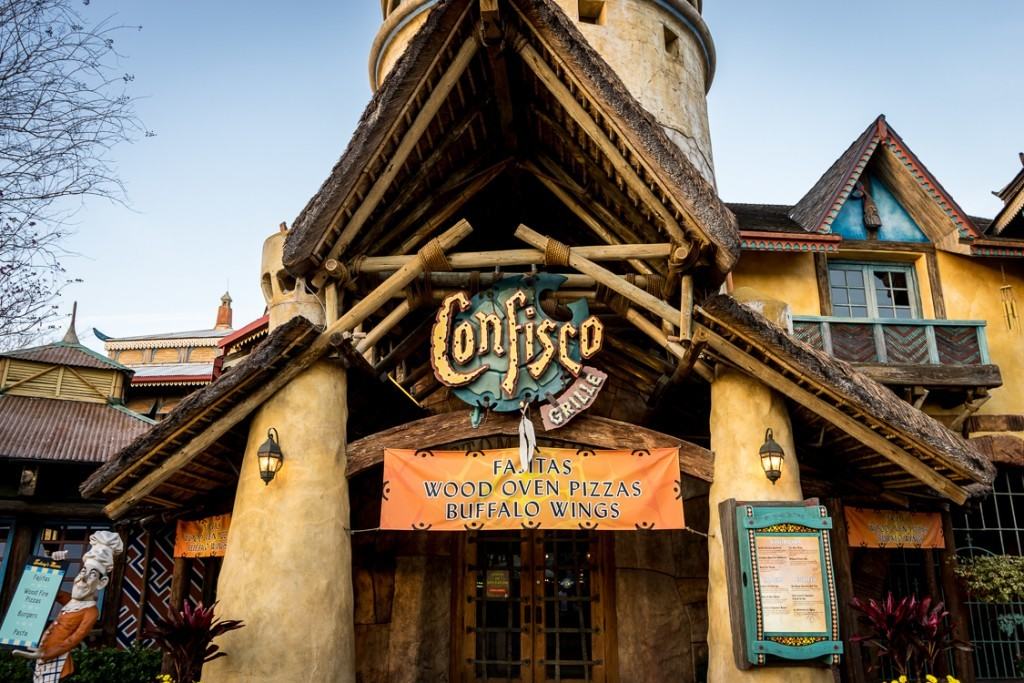 Confisco Grille at Universal's Islands of Adventure
Additions
Moroccan Fried Calamari: Moroccan seasoned fried calamari and sweet peppers served with a roasted lemon garlic aioli. $8.99
Portside Beef Medallions: Grilled beef medallions served with port wine glazed onions, mushroom amaranth and sautéed green beans (Amaranth is a super grain similar to Quinoa). $21.99
Salmon Santa Maria: Grilled salmon served with apple wood smoked bacon, roasted Brussel sprouts, fingerling potatoes and topped with a Mediterranean caper sauce. $21.99
Chicken Valhalla Pasta: Sautéed chicken breast with fusilli pasta tossed with kale, artichoke hearts, fresh tomatoes and a lemon caper rosemary sauce then topped with a crispy cabbage blend. $13.99
Chicken Curry Chakra: A Caribbean spiced chicken curry made with carrots, onions, peppers and sweet raisins served with coconut jasmine rice from the islands. $13.99
"Walk the Plank" Burger: 1/2 pound topped with potato planks, shredded cheddar and bacon drizzled with chipotle sour cream and chives on a challah bun garnished with an onion ring. $15.99
Buffalo Shrimp & Chicken: Popcorn shrimp and grilled Buffalo chicken served with ranch dressing, cheese, lettuce and tomato on a challah bun. $13.99
Mediterranean Pulled Pork Pita: Shredded tender pork with a cucumber mint yogurt sauce and Mediterranean farro and couscous salad. $13.99
Portobello Veggie Wrap: Roasted Portobello mushroom with roasted red peppers, caramelized onions, cucumbers, spinach, hummus and a balsamic glaze with fresh corn, tortilla chips and salsa. $10.99
Updated
Chef's Signature Oven Fire Pizza. $9.99 (Now an appetizer)
Trader Wings: Your choice of traditional Buffalo style, teriyaki or Amstel blood orange barbecue. $8.99
Removed
Shrimp-Scargot: Fresh shrimp broiled in a scampi sauce covered with parmesan and provolone cheeses. Served with our rosemary flat bread for dipping.
Smashed Potatoes: Fingerling potatoes smashed, fried to a crisp and served with a garlic aioli.
Chef Lizzoli's Fish of the Day: Grilled or blackened fish of the day, served with seasoned mashed potatoes, sautéed spinach in a lemon butter cilantro sauce garnished with diced tomatoes.
Pesto Gnocchi: Gnocchi tossed in a pesto cream sauce and julienne sundried tomatoes.
Confisco's Signature Burger: Grilled, Cheddar cheese, crispy bacon, roasted plum tomato, lettuce, Tabasco onions, and peach barbeque sauce. Served on a fresh Challah bun with French fries and a pickle.
BBQ Pulled Pork Sandwich: Pulled pork tossed in peach BBQ sauce served on a toasted challah bun with a side of coleslaw, French fries and corn on the cob.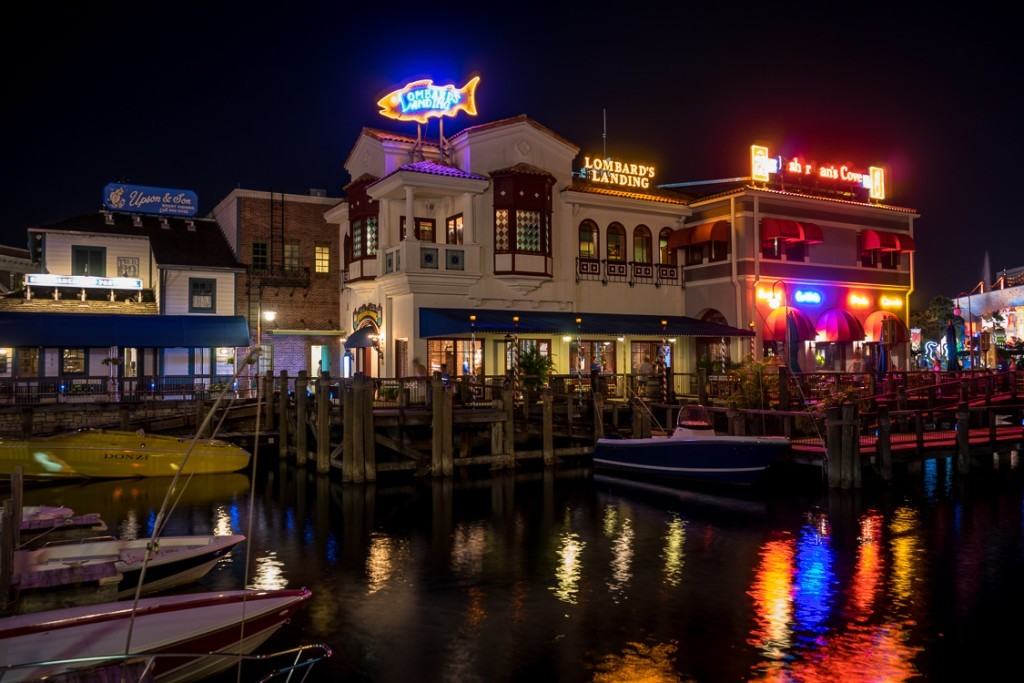 Lombard's Seafood Grille at Universal Studios Florida
Additions
TUNA POKÉ: Sushi-grade Ahi tuna diced and marinated in a soy garlic sauce, over a bed of Frisée lettuce with scallions, tomatoes, avocado, wasabi and crispy wonton chips. $12.99
SHRIMP SCAMPI GRATINÉE: Shrimp cooked in butter, white wine, and garlic, with provolone and Parmesan cheeses melted over the top, garnished with sourdough bread. $7.99
LOMBARD'S SIRLOIN STEAK: 8 oz. sirloin seasoned and grilled, served with horseradish mashed potatoes, mixed seasonal vegetables, and garnished with diced tomatoes, with a Bordelaise sauce. $21.99
ROAST BEEF DIP: Thinly sliced roast beef with sautéed onions, melted Swiss cheese, served on rosemary focaccia bread, with Au Jus for dipping. Served with French fries. $12.99
Updated
GRILLED CHICKEN SANDWICH: Grilled chicken breast layered with Swiss cheese, bacon, tomato, and lettuce. Served on a toasted challah bun. Served with French fries. $11.99
Removed
Edamame Duo: Steamed edamame beans, sea salt accompanied with fried edamame wontons and tomato jam.
Steak & Blue Salad: Grilled beef medallions served on fresh greens with blue cheese crumbles, tomatoes, cucumbers all tossed in a mustard ale vinaigrette and topped with crispy fried onion strips.
Seafood Pot Pie: Salmon, shrimp, cod, carrots & mushrooms in a lemon & herb white wine cream sauce, baked with a flaky pastry crust.
Wharf Signature Beef Medallions: Grilled twin beef medallions served with roasted fingerling potatoes, seasonal vegetables. Topped with asparagus and port win demi-glaze.
Boursin Steak Sandwich: Grilled medallions of beef topped with herbed Boursin cheese and crispy fried onion strips. Served on a toasted bun.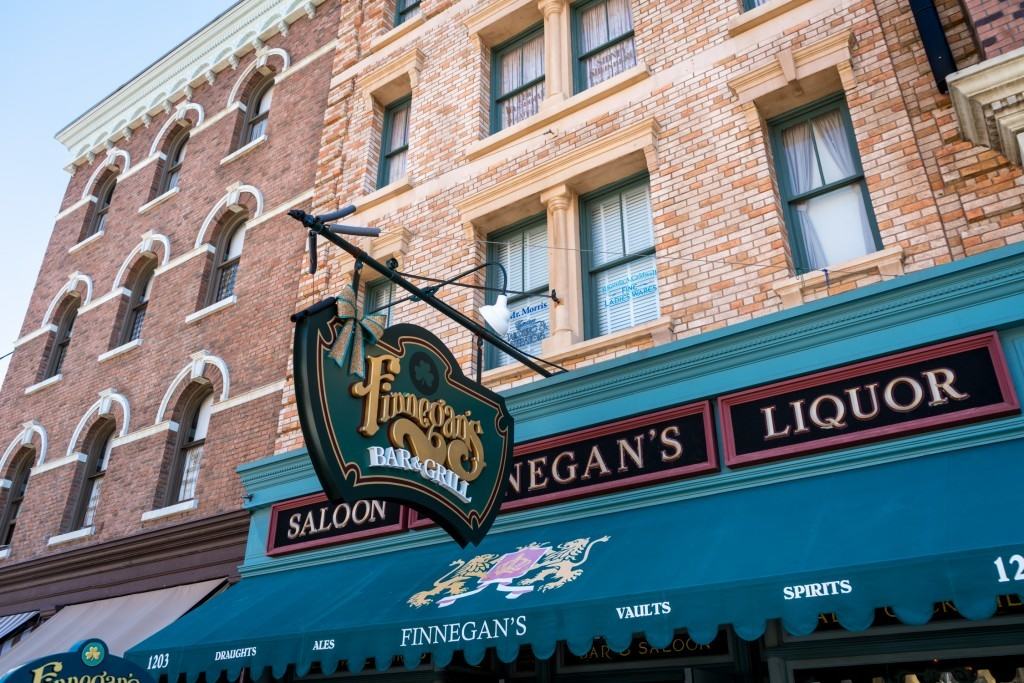 Finnegan's Bar and Grill at Universal Studios Florida
Additions
Finnegan's Pork Loin: Marinated center cut pork loin with our own bordelaise sauce served with garlic mashed potatoes, Brussels sprouts, carrots, and garnished with Potato & Onion Webb. $12.99
Beef Tenderloin Medallions: Pan seared filet medallions with red wine sauce, garlic mashed potatoes, Brussels sprouts, carrots, and garnished with Potato & Onion Webb. $21.99
Pistachio Crusted Salmon Salad: Pistachio crusted fillet of salmon served on a bed of baby greens with roasted root vegetables, tomatoes, onions, and havarti dill cheese with homemade mustard ale vinaigrette. $15.99
Removed
Misty Isle Mixed Grill: Country sausage & chicken breast grilled with apple-smoked bacon with roasted garlic mashed potatoes & cellar root vegetables.
Finnegan's Pub Sirloin Steak: Char-grilled choice sirloin served with garlic mashed potatoes, root cellar vegetables & topped with peppercorn butter.
Beef & Blue Salad: Tender grilled steak on a bed of fresh greens topped with crumbled blue cheese, tomatoes, roasted shiitake mushrooms & fried potato sticks. Choice of dressing.
For more news and updates from Universal Orlando, be sure to follow Orlando Informer on Twitter and Like us on Facebook!