We all have our favorite lodgings when visiting Universal Orlando. Especially when speaking about the resort's hotels, it's safe to say that each has its own unique qualities that could make it tough trying to plan your vacation ahead of time. So, how do you choose? Which is truly the best to go with?
I had the same questions myself. After doing some digging, both from proper research as well as personal experience, I believe I've found your answer! Without further ado, allow me to present, in descending order, my reasons as to why Royal Pacific Resort is the best choice.
5. Royal Pacific's meal experiences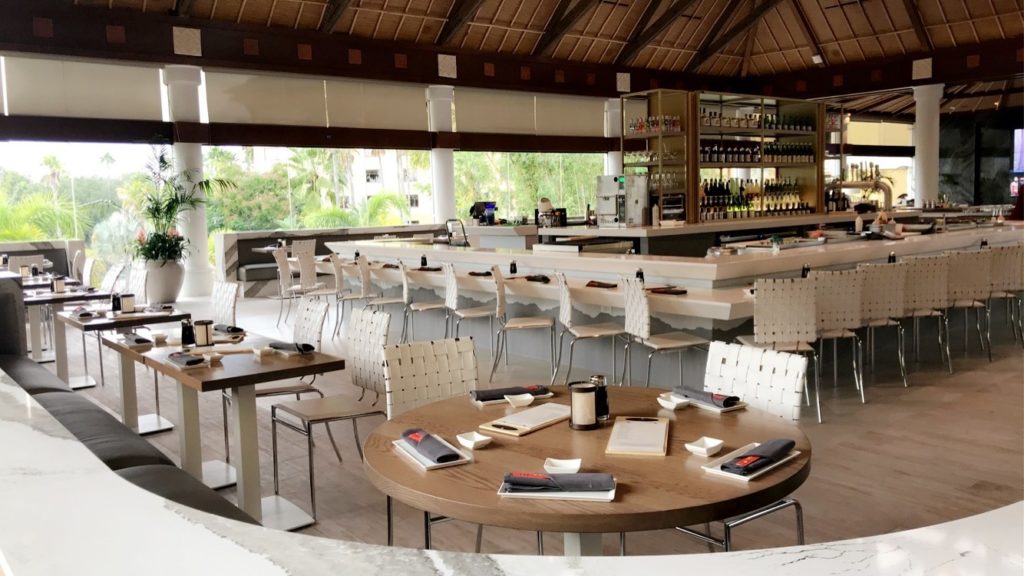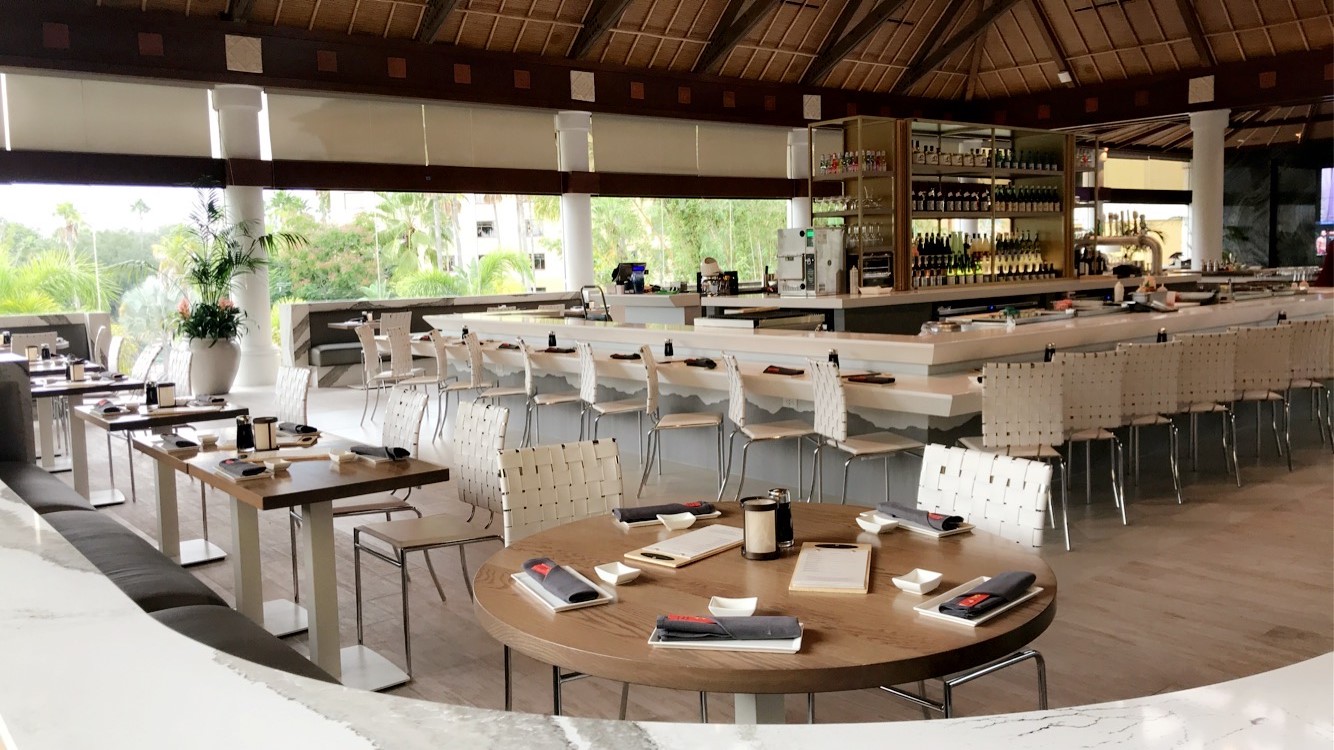 For my money, Royal Pacific offers the best culinary variety of the Universal hotels. Within this establishment, there are three different venues to choose from: Orchid Court Lounge, Islands Dining Room, and, my personal favorite, Jake's American Bar. Jake's menu offers something for everyone, and I've never had a bad meal (the pretzel bread and onion rings are to die for!). And guests who plan their dates right could have the opportunity to attend the restaurant's Beer Dinner event, which is worth anyone's time.
Recently, the hotel completed some renovations to its lobby that included Orchid Court Lounge and the addition of Tuk Tuk Market. Within the upgrades, the lounge has been modernized with trendier seating and a more open design that's centered around the sushi and sake bar. Nearby at Tuk Tuk, guests can find a variety of grab-and-go choices, as well as a quick-service counter that vends Starbucks coffee and a made-to-order menu. To me, the market was a great addition for anyone on the move to the parks or attending a conference at the hotel – and even if you're not on-the-go, Tuk Tuk's seating area allows you to enjoy a wonderful view of the hotel property with your coffee.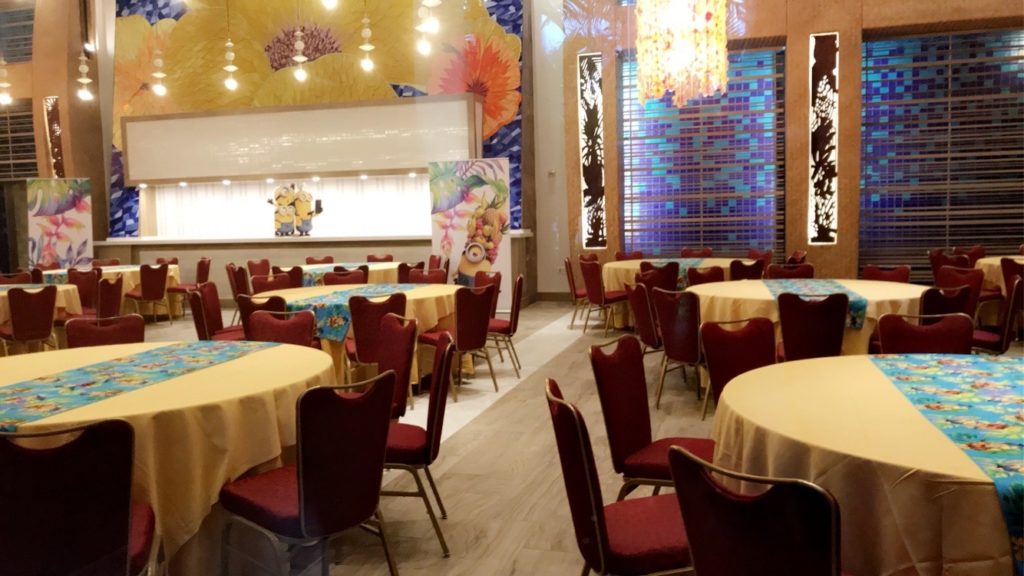 Vacationing families may be interested in knowing that Royal Pacific is the only resort with a weekly character breakfast. Every Saturday, at a fee of $47 for adults and $28 for the little ones between the ages of three and nine (I've included tax and rounded up on these prices for the convenience of those who may be planning), participants can enjoy a breakfast buffet serving all your morning favorites and meet Gru, the Minions, and other characters from Despicable Me in the Tahitian Room, which is decked out in Minion decor (though seasoned visitors may still recognize this as the former Emeril's Tchoup Chop). In this writer's humble opinion, moving the breakfast encounter from its previous location in Jake's to here was a smart move, as it provides more space for mingling and for those memory-making photo opportunities.
On a similar note, the resort is also home to the Wantilan Luau. As Universal Orlando's only permanent dinner show, it provides a narrative of Polynesian history and culture over a tropical-themed buffet. Throughout the experience, guests can enjoy fire and hula dancers and partake in some mild participation (and I will neither confirm nor deny any rumors concerning my inclusion during this segment!).
The buffet is one of my favorite points, mainly due to how expansive it is. Visitors can select from varying salads, exotic entrees (such as a pit-roasted suckling pig), and a kids' buffet that serves pizza, chicken tenders, and macaroni and cheese. This adds that extra-something-special to anyone's trip, as it's fun, tasty, and educational!
4. Royal Pacific's world-class pool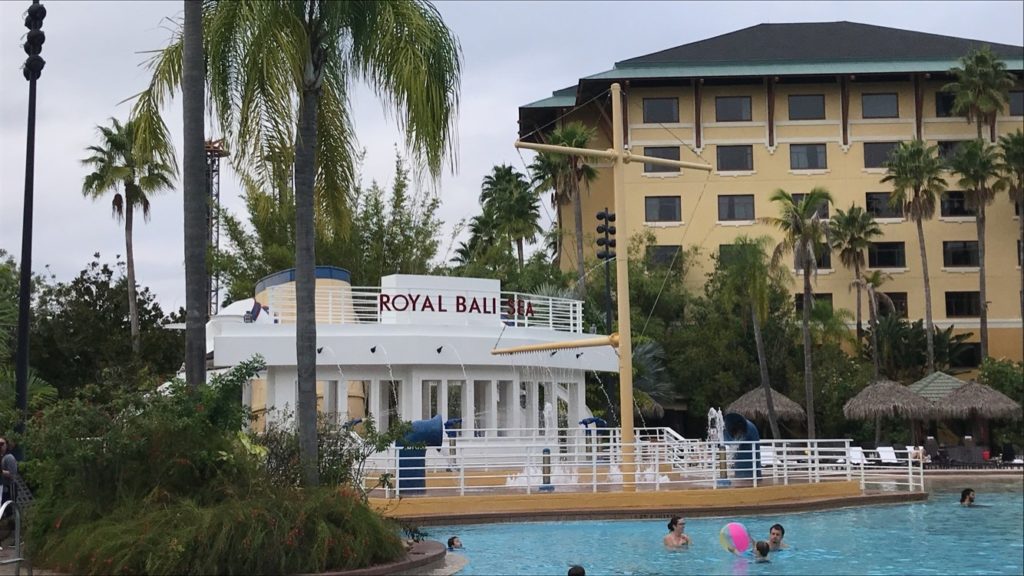 While all of Universal Orlando's hotels have pools worth hopping over to, part of what makes Royal Pacific's lagoon-styled pool unique is its torch-lighting ceremony that takes place on select occasions. The free show features the "oli aloha" welcoming chant, as well as fire and hula dancing. Additionally, guests can take advantage of the poolside activities similar to its Universal peers, such as volleyball, ping-pong, and the kids' club contests, all of which provide potential for family-bonding moments.
Speaking of fun – let's take a moment to talk about the Royal Bali Sea. This interactive children's water play area is boat-themed, equipped with water cannons, and provides plenty of play and spray amusement for kids to enjoy. (Admittedly, as an adult in his mid-thirties, I have to stop myself from running around it whenever I visit.) This brings a wonderful value to staying here, as the only other hotel I would deem comparable in this respect would be Cabana Bay Beach Resort.
3. Royal Pacific is the most family-inclusive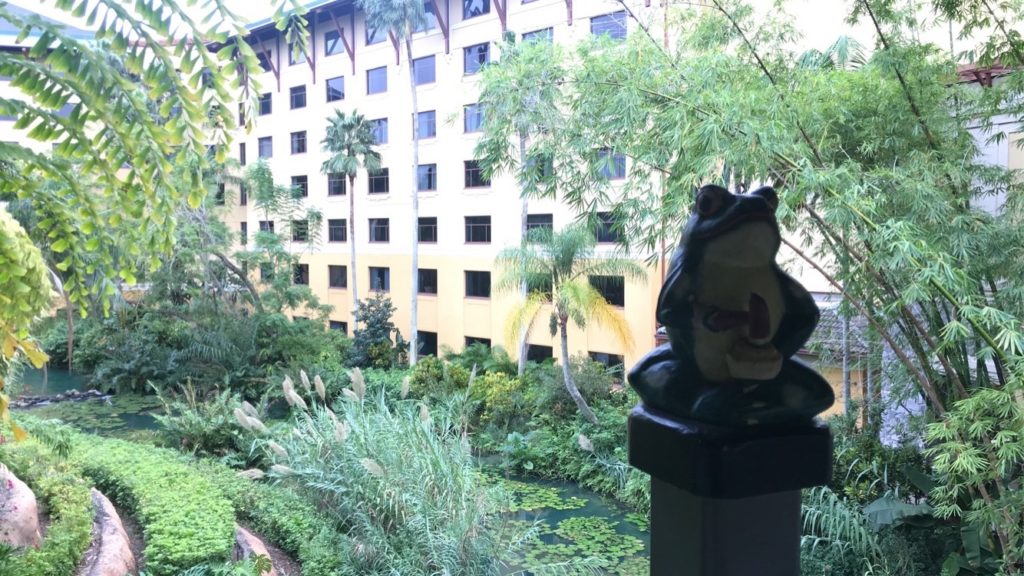 You may have noticed an alteration of the term "family-friendly" in the sub-header. This is due to how considerate of literally the entire family Royal Pacific Resort is – which includes the furrier ones! Sure, it's fair to say that all the hotels between the premier and preferred tiers welcome pets with open arms, but what sets Royal Pacific apart from its animal-friendly peers is that its dog park has built-in obstacles your pet can play on rather than large, grassy areas to stretch their legs and do their business.
Factoring this in with the other aspects Royal Pacific offers for the family – such as a spa for the grown-ups, an arcade, Jurassic World-themed children's suites, a supervised care center, and other kids' activities similar to the other Universal resorts – it certainly perks an interested ear towards why you should consider staying at this property.
2. Royal Pacific's value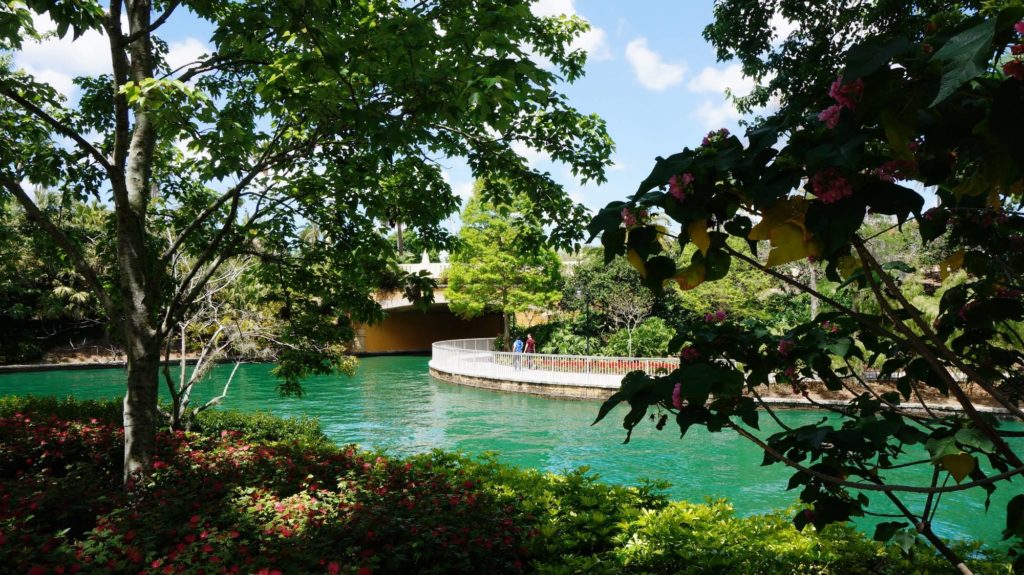 It's true that Royal Pacific isn't the least expensive of the Universal Orlando hotels. However, it is, on average, the lowest-priced of those you'll find at the premier level – which means that you'll still receive the deluxe benefits, such as complimentary Unlimited Express Passes, at a slightly lower cost. From my research, the difference starts at about $20 per night. This may not seem like much, but if it came from my wallet, this would be just enough to sway me in Royal's direction – especially when I'm staying for three or more nights.
Furthering the value, Royal Pacific is at a closer proximity to Islands of Adventure – by my own measure, I found that a leisurely walk from the park to the hotel is just under 15 minutes. Honestly, I prefer the water taxis to walking, as you can't beat the bliss of this after a long day, but I wouldn't blame anyone who wants to get their steps in or just has some extra energy to burn.
1. Royal Pacific is vacation defined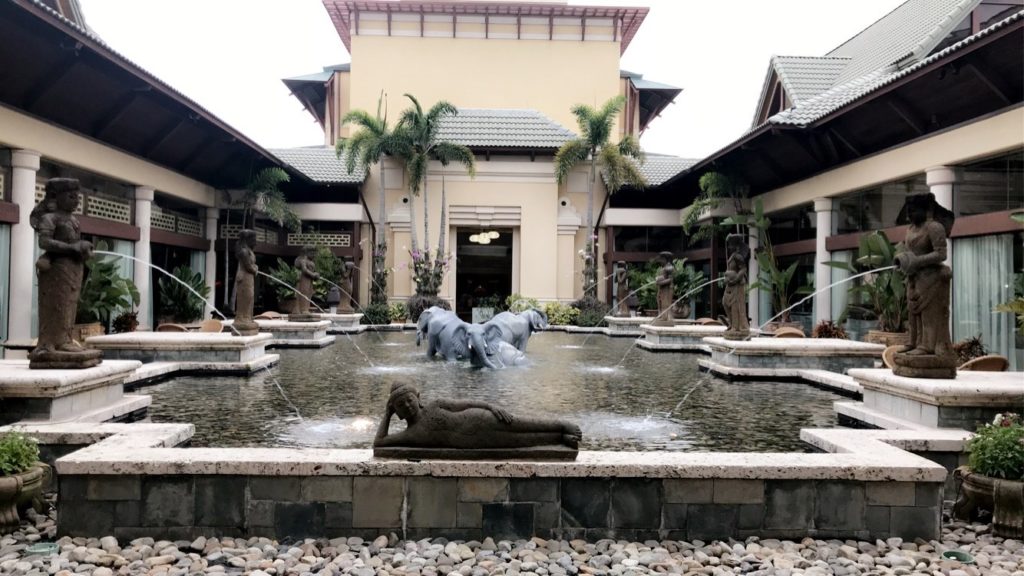 In my opinion, it doesn't get better than Royal Pacific's South Pacific theme. Every step from the moment you cross the bridge to the lobby, you're transported to an island getaway. After getting your lei at the registration desk, a relaxed feeling immediately sweeps over you. Throughout the entire property, Polynesian-inspired sculptures and decor can be found, maintaining consistency to the theme – this includes the Serenity Fountain at the center of the lobby, which I would say is a statement of what to expect during your stay. That exact statement may differ per individual, but, for me, it's accepting the challenge of being as relaxed as the welcoming statue sprawled across the fountain's frame is (so far, that bar-setting statue has won every time!).
Continuing the theme, there's a great transition that happens between the resort and parks via the Garden Walkway when you stay at Royal Pacific. Lining the path are walls of massive bamboo, the same you can find within Royal Pacific's grounds. Put simply, this allows guests to be whisked between the excitement and thrills of the theme parks and the laid-back luxury of a tropical paradise.
Which, if you ask me, defines the term "vacation" – and you can't get that feeling at any of the other resorts.
–
What's your favorite Universal Orlando hotel? Compare notes with 80,000+ other Universal fans over in our OI Community Facebook group.
And also be sure to follow Orlando Informer on Facebook, Twitter, and Instagram for the latest news and tips at Universal Orlando, Walt Disney World, and other Orlando destinations.