It's no secret that Universal Orlando offers a plethora of experiences that are perfect for adults who want to get away for a while. One of the favorite ways for adults to kick back is to have a cold, refreshing adult beverage. There's so many wonderful choices, the possibilities are almost staggering. That's why we couldn't have just one BIG 5 countdown for Universal's best alcoholic offerings – we had to make it a double!
#5 – Frozen Slush Drinks with a shot (multiple locations)
No matter what time of year you visit Universal Orlando, chances are the temperatures will lean on the toasty side. There are a couple of frozen slush drink stands throughout the resort; on their own, these frozen slushies aren't all that impressive, but add a shot of liquor, and you've got yourself an easy, breezy, cool, and refreshing adult beverage. And since it is a frozen drink, it is easily carried throughout the park while maintaining a nice cold temperature.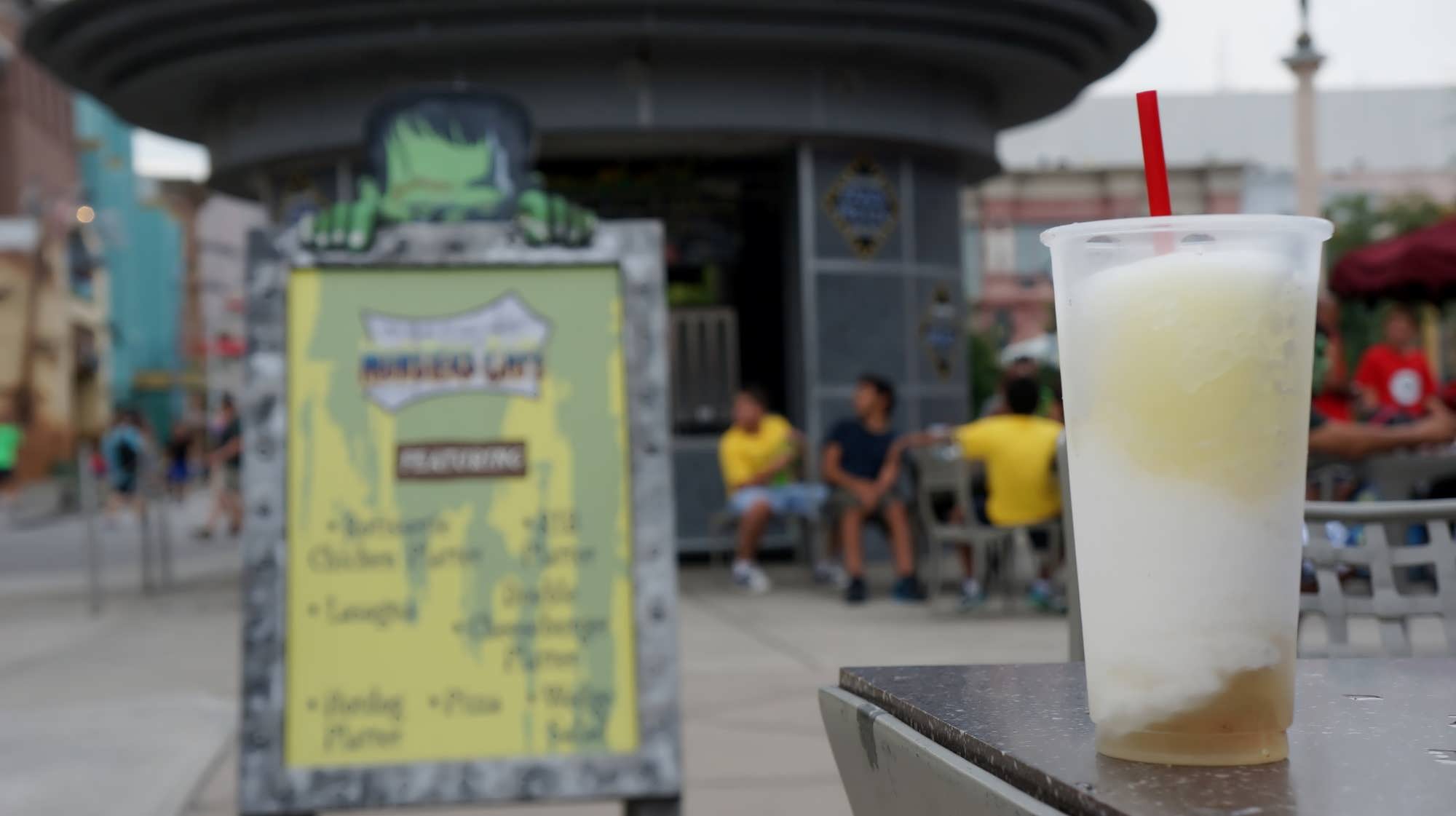 My personal favorite slush stands are the Watering Hole in Jurassic Park (offering Strawberry, Pina Colada, and Blue Raspberry) and the snack and beverage stand just outside Monster's Cafe (offering Margarita-flavored slush and Pina Colada, seen above). The Margarita-flavored slush can be a bit too tart, so I like to mix the Pina Colada and the Margarita flavors together. Keep in mind, though, the ability to do such a thing is up to the Team Member working the stand.
Prices are $3.75 without alcohol and $7.75 with. You can usually choose between rum and tequila.
#4 – Hurricane at Pat O'Brien's (CityWalk)
In the words of Jimmy Buffett and Alan Jackson, "pour me something tall and strong, make it a Hurricane, before I go insane." This drink borders on insanity. It is tall, deep ruby red, and strong as the day is long.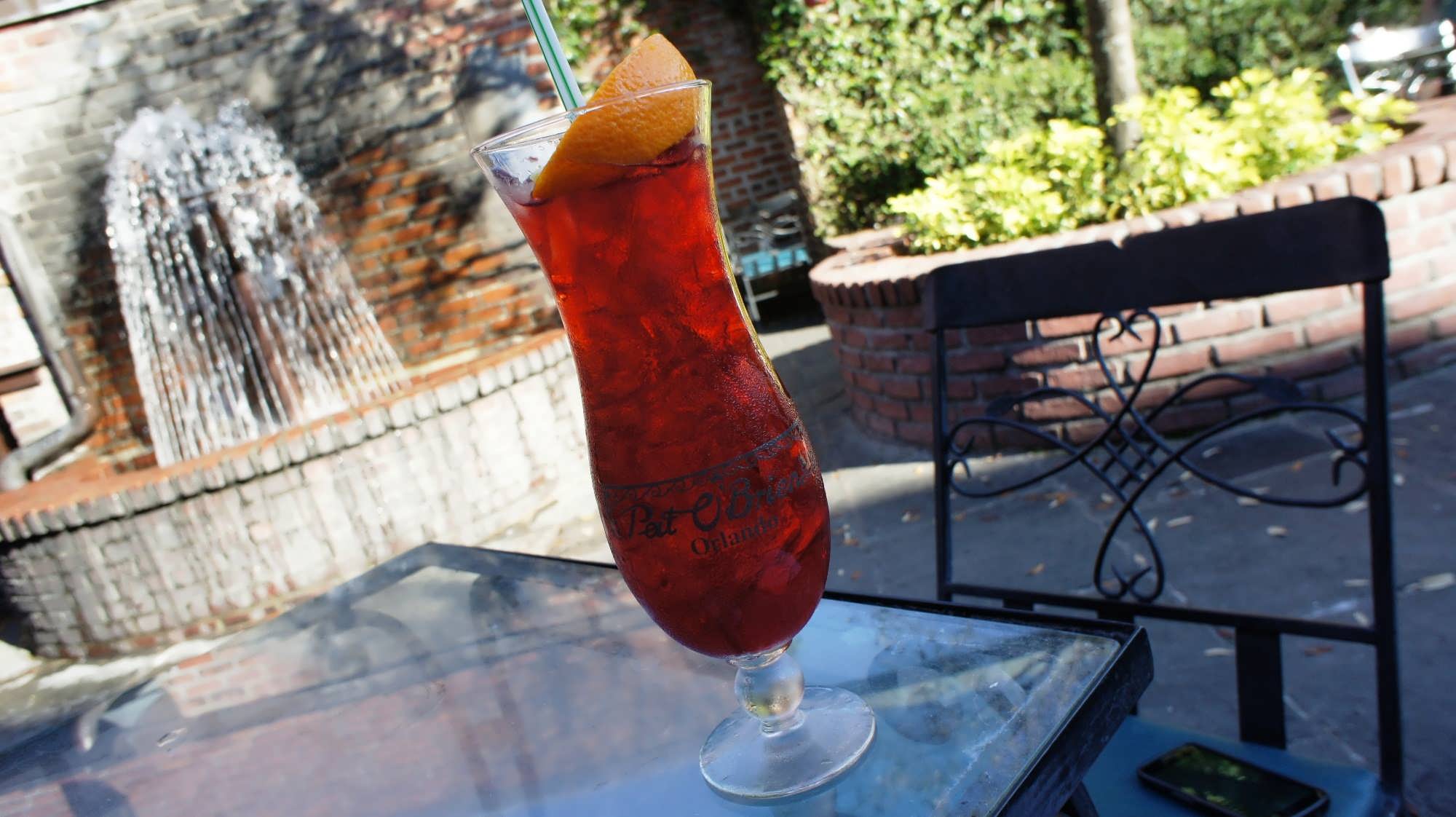 The Hurricane ($7.50 without souvenir glass) is made with equal parts special Pat O'Brien's Hurricane mix and rum. It is fairly sweet, with a deep cherry flavor. I find I prefer to squeeze the orange slices that are given as a garnish into the drink to help with its strength.
#3 – Fat Tuesday's Frozen Daiquiris (CityWalk)
At Universal Orlando, you can cool off at not one, but two Fat Tuesday locations. Walking up to the original venue, in between the Groove nightclub and Pat O'Brien's, is almost like walking into a candy store. The back wall is lined with over 10 frozen drink machines, each containing a brightly-colored concoction. Personally, my favorite flavor on its own is the Peach Bellini – I find it to be the smoothest.
The real fun begins, however, when you combine two flavors into one drink. The three most popular combinations are the Miami Vice (creamy pina colada with strawberry daiquiri), the Bloody Smurf (a psychedelic combination of Eye Candy and strawberry daiquiri), and the 44 Magnum, a powerhouse combination of the two strongest drinks (190 Octane and Cat 5 Hurricane).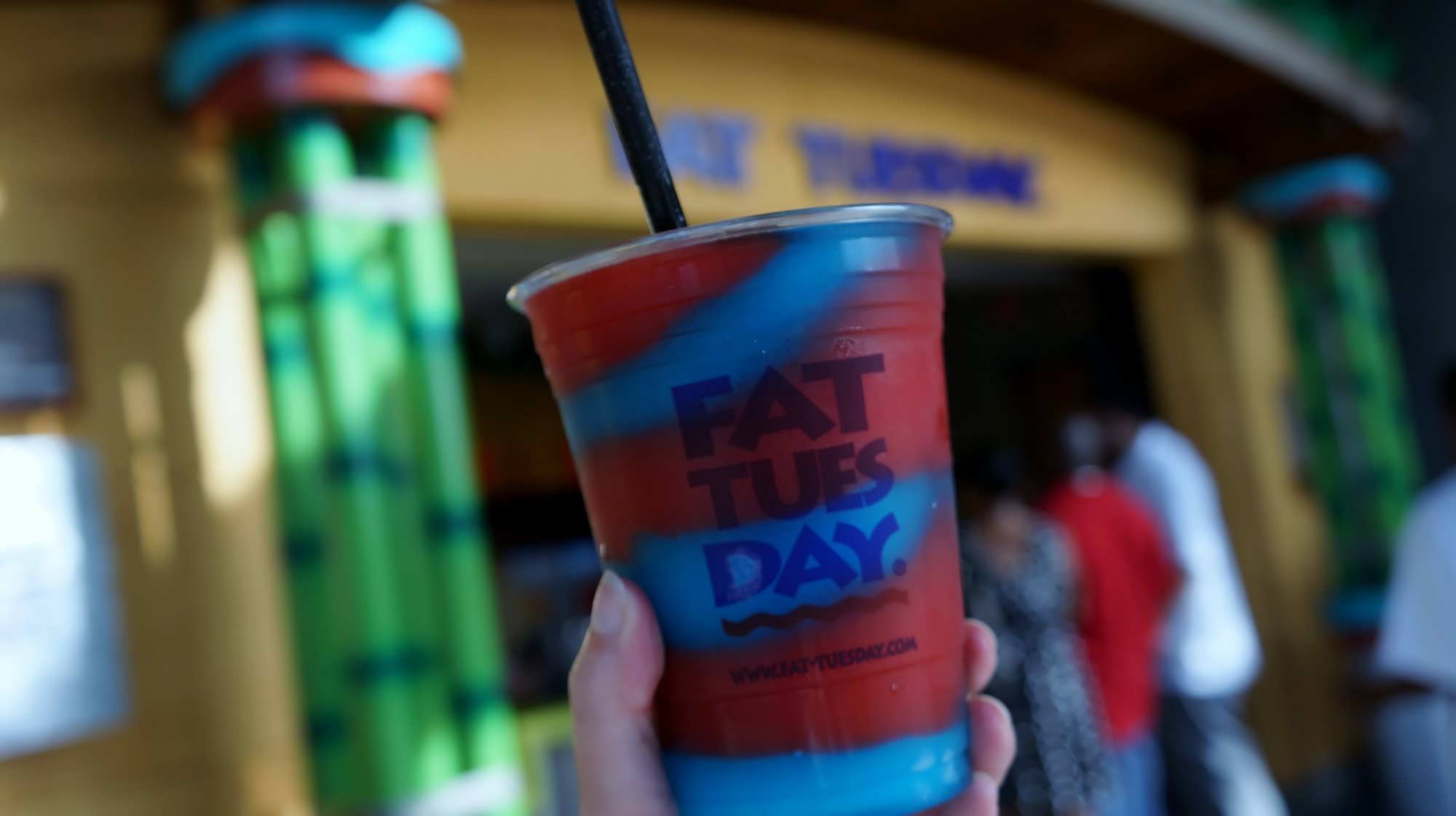 The drinks are a pretty good value, compared to the cost of other adult beverages throughout Universal Orlando. A regular serving (16 oz) is $7.00, and you can add an extra shot for just $1.00. If you are a frequent visitor, or even on an extended vacation, the souvenir cups should be considered: the 16-oz size may be $10.00 and the 21-oz version may be $15.00, but their refills are only $6 – and they're good for discount refills at any Fat Tuesdays across the globe.
The outdoor Fat Tuesday bar offers seating in a lovely, relaxed atmosphere as well as non-alcoholic smoothies. However, there are only four daiquiri flavors offered here (the most popular ones).
<script async src="//pagead2.googlesyndication.com/pagead/js/adsbygoogle.js"></script>
#2 – A mixed drink at a waterfront bar (CityWalk)
One of the best enhancements Universal has made to CityWalk over recent years is the addition of a collection of outdoor waterfront bars that offer plenty of seating, social spaces, and killer views. Most of these outdoor bars feature the same "Mixology" drink menu, which features five traditional cocktails that are a good value for repeat visitors: the first purchase is $9.75 in a souvenir Pilsner cup, with refills coming in at $7.75. I have kept mine and have reused it multiple times.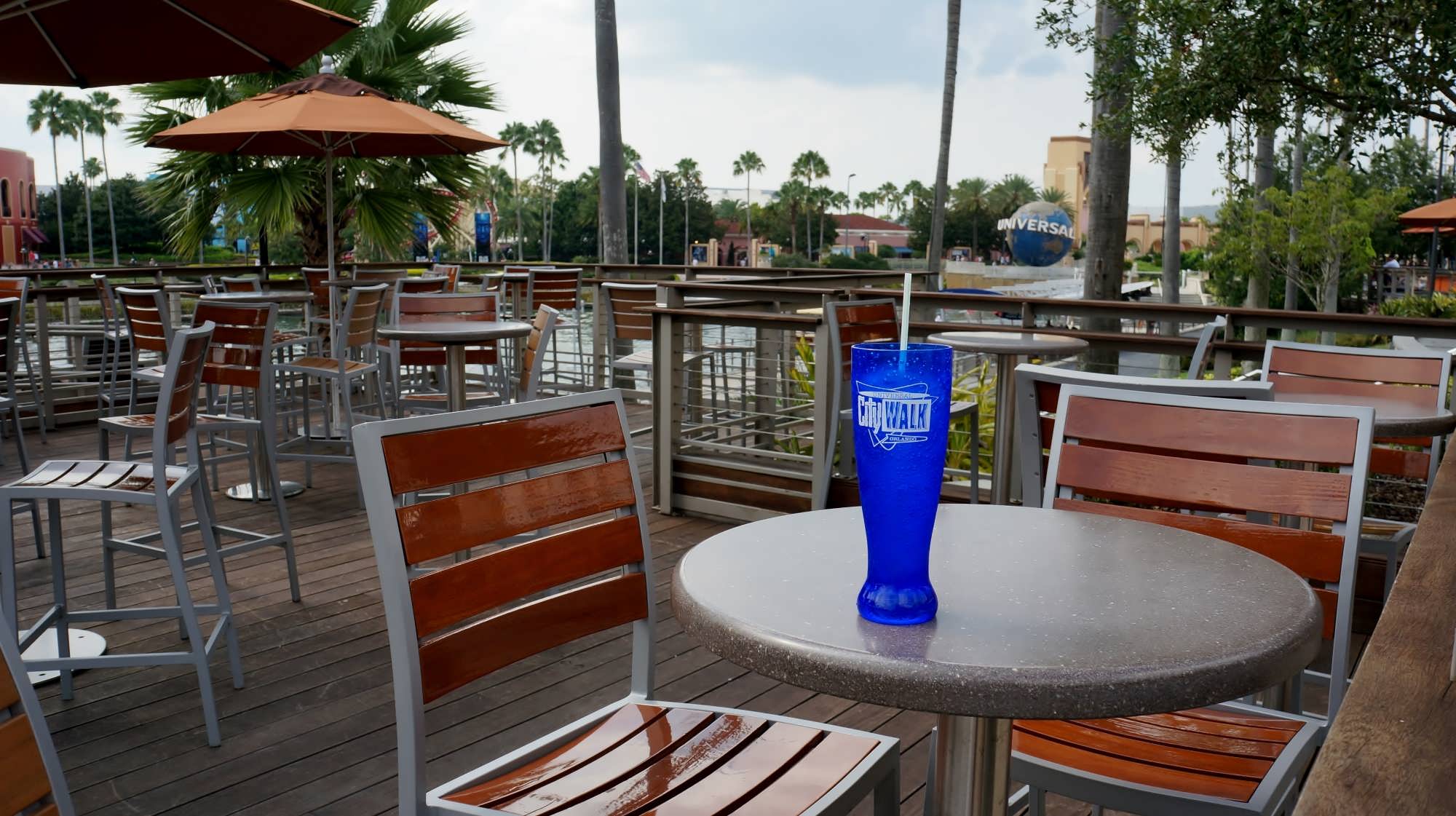 Of the drinks offered on the Mixology menu, my personal favorites are the Electric Blue Lemonade (I love vodka, lemonade, and blue curacao) and, if Aaron is bartending, a Mojito. (Aaron spent many years as a bartender at Latin Quarter [which was replaced by Antojitos], so he knows how to make a smooth mojito, a popular rum drink in Florida thanks to nearby Cuba.)
Of course, the best bang for your buck is a Long Island Iced Tea, but it's difficult for me to order this one when I can go into Islands of Adventure and get my beloved Hog's Tea at Hog's Head Pub in Hogsmeade.
#1 – Moai Punch at Emeril's Tchoup Chop (Royal Pacific Resort)
The drink menu at Emeril's Tchoup Chop is remarkable. In fact, for a 1920s-to-1940s and Tiki fan like me, it is an attraction all its own. Brimming with hand-crafted recipes that harken back to the days when creating and savoring a cocktail was an art form, these 12 drinks are on the pricey side, but each one is an elevated, handcrafted cocktail that is meant to be savored and enjoyed.
Emeril's Tchoup Chop is also home to one of Universal Orlando's best happy hours since it runs daily, not just weekdays, and has a fair amount of choices. Going from 5:00 to 8:00pm, the happy hour specials include five small plate appetizers, which are only $4.00 to $5.00, and a variety of drink specials, though none include any of the specialty cocktails.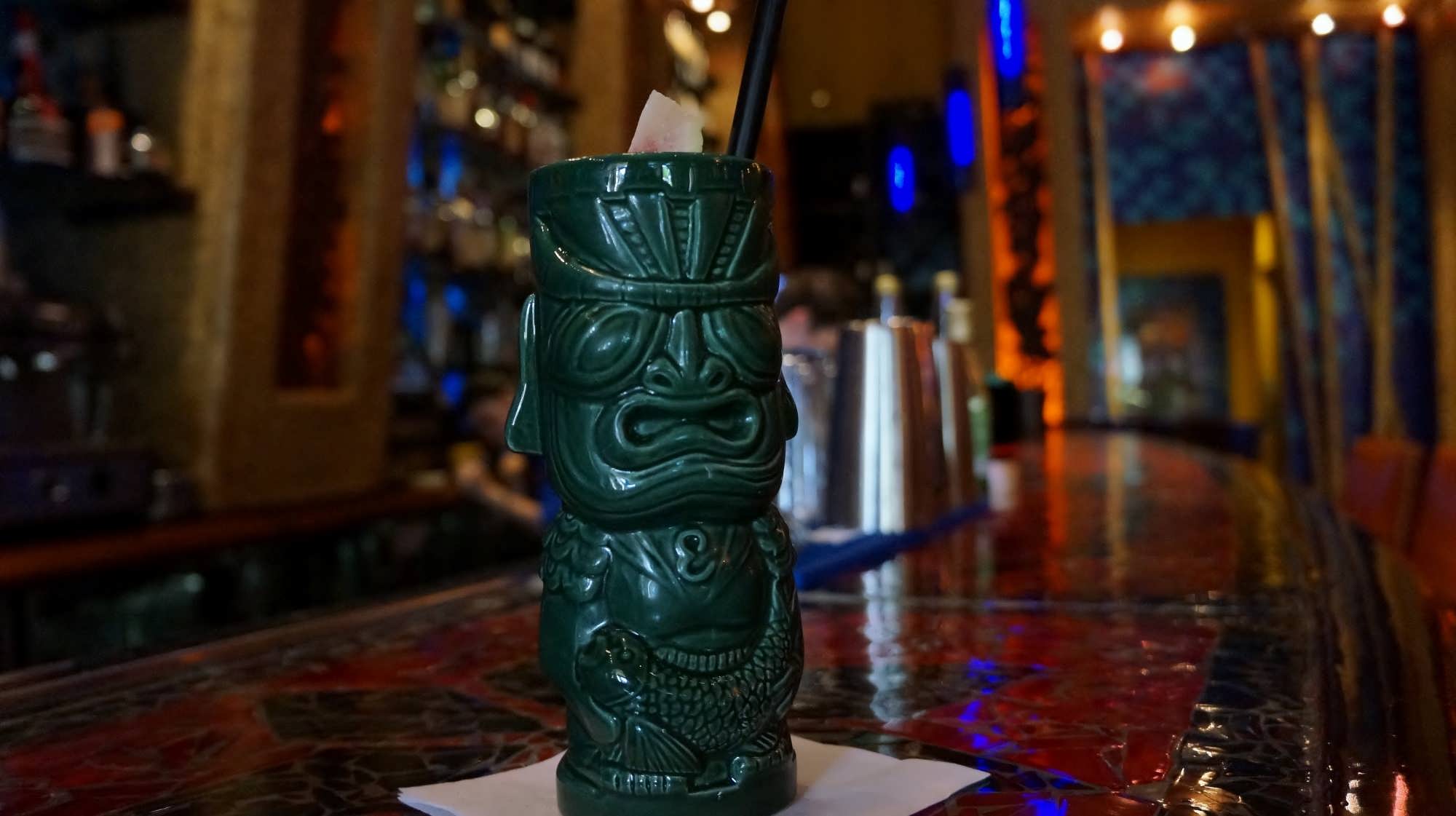 It is difficult to choose a favorite, but the Moai Punch has a leg up over the rest of its cocktail ohana because it is served in a delightful souvenir cup, which is a deep green, ceramic Tiki god-shaped glass that is sure to make you smile. The punch itself an intriguing blend of two kinds of rum – tropical passion fruit and lime juice – pomegranate syrup, and fresh lime juice. The special ingredient that adds a tasty flavor is the angostura bitters.
Honorable mention: Your drink of choice aboard the Hogwarts Express
Did you know you can purchase food and drinks inside King's Cross Station and actually bring them along for your journey on the Hogwarts Express? So far, I have two favorite drinks to take on board the most magical train to ride the rails.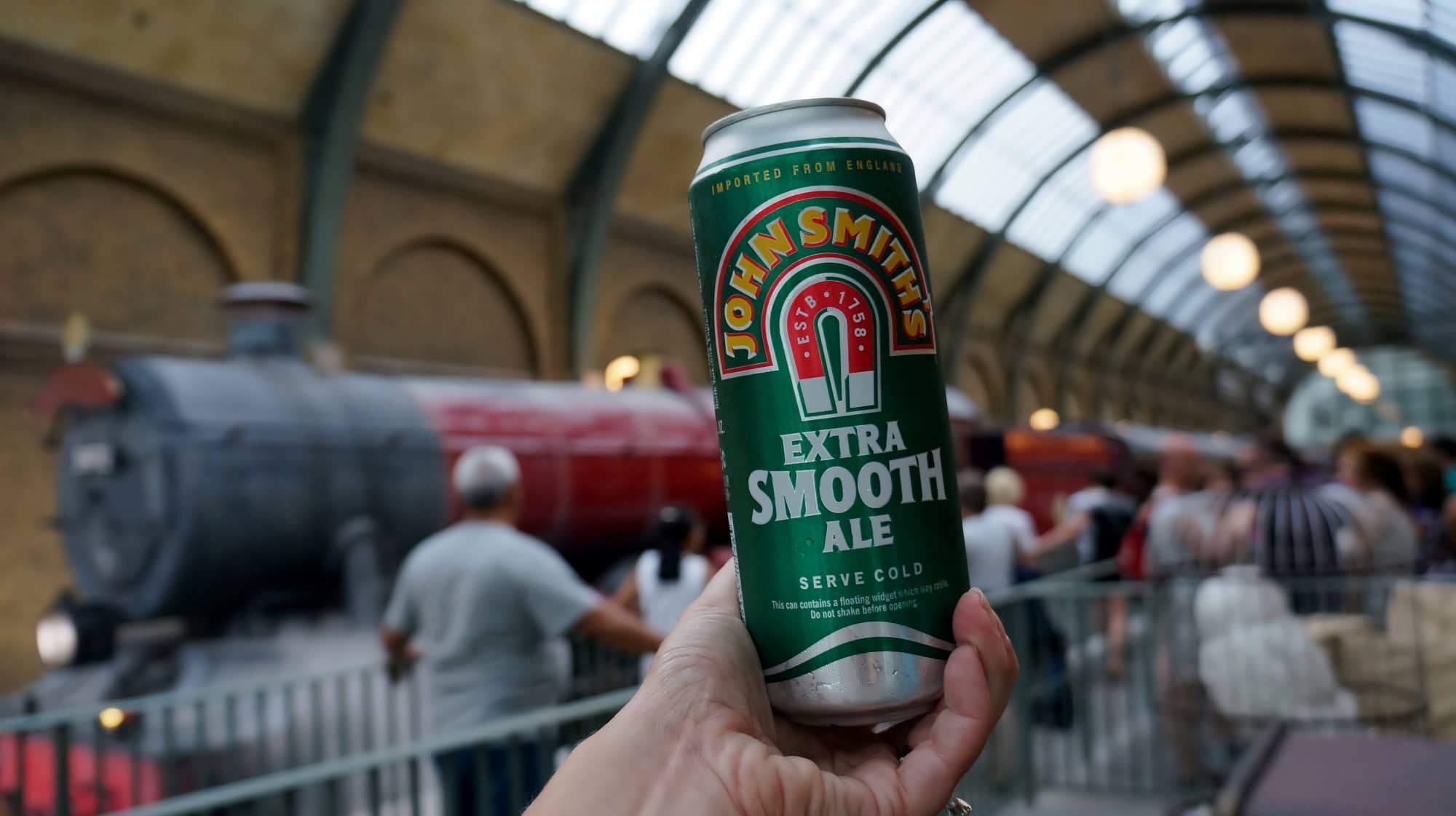 First, the British beers in ice-cold cans (available on the way from Universal Studios Florida to Islands of Adventure) are certainly a hit in my household and add a nice level of authenticity to the lovely London atmosphere. Second, my beloved Hog's Tea, which we purchase at Hogsmeade (and which I covered in my previous list) can now, for the first time ever, go with me to Universal Studios Florida. Let me tell you, the first time I sipped the familiar flavors of Hog's Tea while inside Diagon Alley was awesome!
There's no shortage of refreshing adult beverages to enjoy while on your vacation of a lifetime at Universal Orlando. If we somehow overlooked your drink of choice, please share it in the comments below.
You can check out our list of the Top five sweet treats at Universal here, or you can keep the party going with your fellow Universal fans in the OI Forums.
Want to price out your trip to "drink around the universe" and find the best deals on vacation travel? We'll do it for you – for free (seriously). Learn more.
Planning a vacation to Orlando?
Want to skip all the work and just price out a vacation to Universal Orlando? We'll find the best deals for you – for free (seriously.) Learn more, or check out some of the current deals: