Originally announced at the D23 event in 2017, Mickey and Minnie's Runaway Railway has been at the forefront of fans' attention ever since thanks to its zany animation style (based off of the current Mickey Mouse shorts that have aired on the Disney Channel since 2013); the promise of its new, catchy theme song, called "Nothing Can Stop Us Now"; and, of course, the fact that it marks the very first dark ride dedicated solely to the big cheese himself.
Only a few snippets have emerged over the past two-and-a-half years – including the little factoid that the attraction was getting delayed at Disney's Hollywood Studios from its original fall 2019 opening window to spring 2020 – which makes Disney's little surprise for the media that were gathered for the Star Wars: Rise of the Resistance event all the more welcome.
Actually, we should say surprises. First came word that Runaway Railway will open on March 4, 2020; then, just this morning, we were offered the chance to step into its preshow, just to get a little taste of the colorful experience that follows. And we do mean colorful! The room is done in all different shades of red and is festooned with movie posters for those various Mickey cartoons – a nice wink-and-a-nod to both the attraction's source material and to its predecessor, The Great Movie Ride, which originally called the Grauman's Chinese Theater home for 28 years.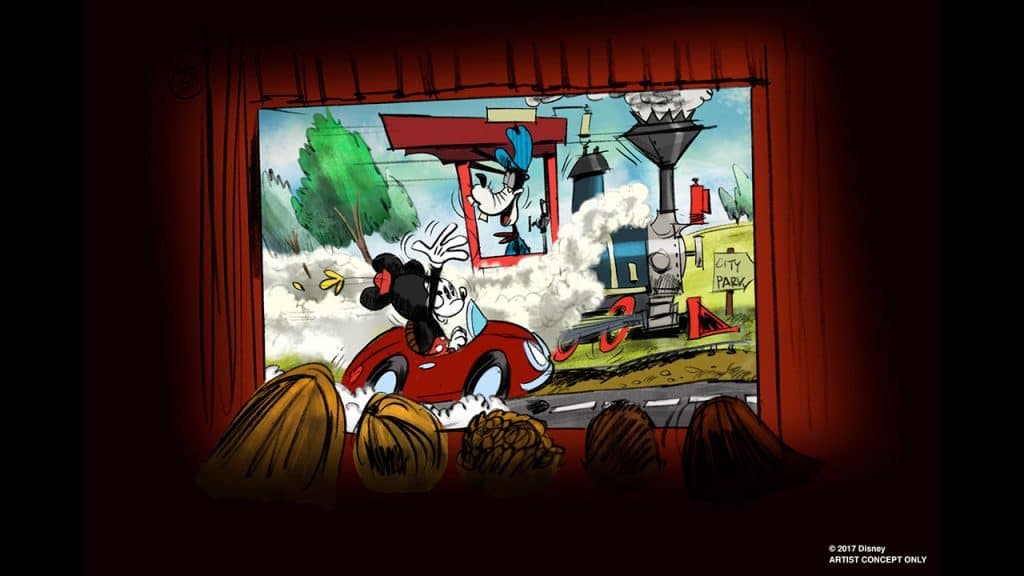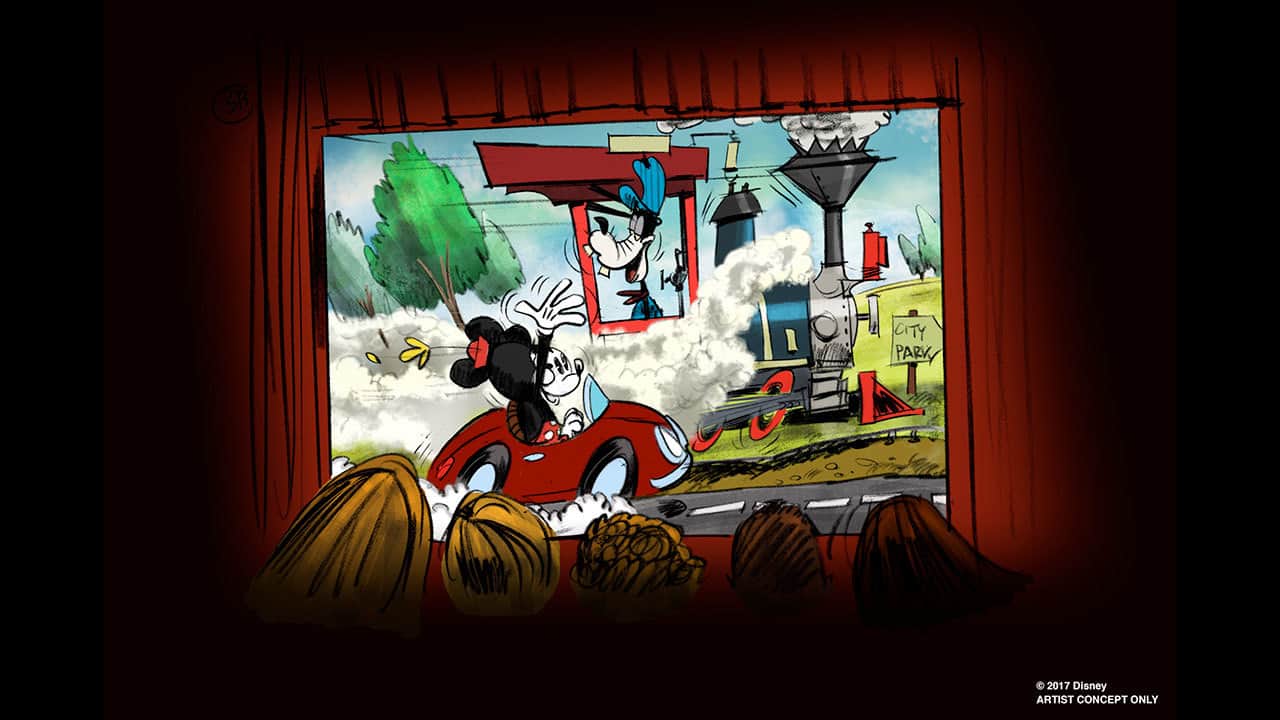 On a giant screen that dominates one wall, a brand-new short (called "Perfect Picnic," an original production by Disney and the main delivery vehicle of the "Nothing Can Stop Us Now" tune) plays out – until something, of course, goes wrong, and the animated world opens up to welcome members of the real. The effect is so vivid and surprising, it produced gasps from the audience gathered around us and is way too special to ruin here, three months early. Let's just put it this way: Executive Creative Director Kevin Rafferty and Creative Producer Charita Carter have said that Mickey and Minnie might be their favorite ride of all time, given its predilection for the unpredictable, and this very first effect more than sufficiently sets the stage for that sense of creative chaos.
Although we weren't provided the opportunity to walk through Runaway Railway's queue, it looks to be largely the same as it was for Great Movie Ride, just – of course – with some of the famous movie props switched out with Mickey memorabilia; in fact, the justification for keeping the Chinese Theater facade and queue intact in the first place comes in the new attraction's backstory, which has guests arriving for the world premiere of "Perfect Picnic." It would seem to be the perfect grounding for the topsy-turvy experience that follows, a world – according to Disney – in which "the rules of physics don't apply." Mickey and Minnie's Runaway Railway looks to be nailing both of these fronts, which makes the three-month wait for its grand opening all the harder to bear.
Mickey and Minnie's Runaway Railway opens on March 4, 2020.
–
What are your thoughts about Mickey's first-ever dark ride – and all of the other enhancements coming to Walt Disney World Resort? Discuss it with thousands of other Disney fans in our OI Community Facebook group.
And don't forget to follow Orlando Informer on Facebook, Twitter, and Instagram for the latest news and tips at Universal Orlando, Walt Disney World, and other Orlando experiences.