BEE-DO! BEE-DO! Gru's crew is delivering more hijinks to Universal Studios Florida. Our favorite anti-hero and his goggled henchmen have begun their new adventure at Illumination's Villain-Con Minion Blast with its technical rehersals beginning today, July 15.
The team at Orlando Informer received a sneak peek this morning to share with you what the Minions have been scheming at Universal Studios Florida's newest attraction – Illumination's Villain-Con Minion Blast.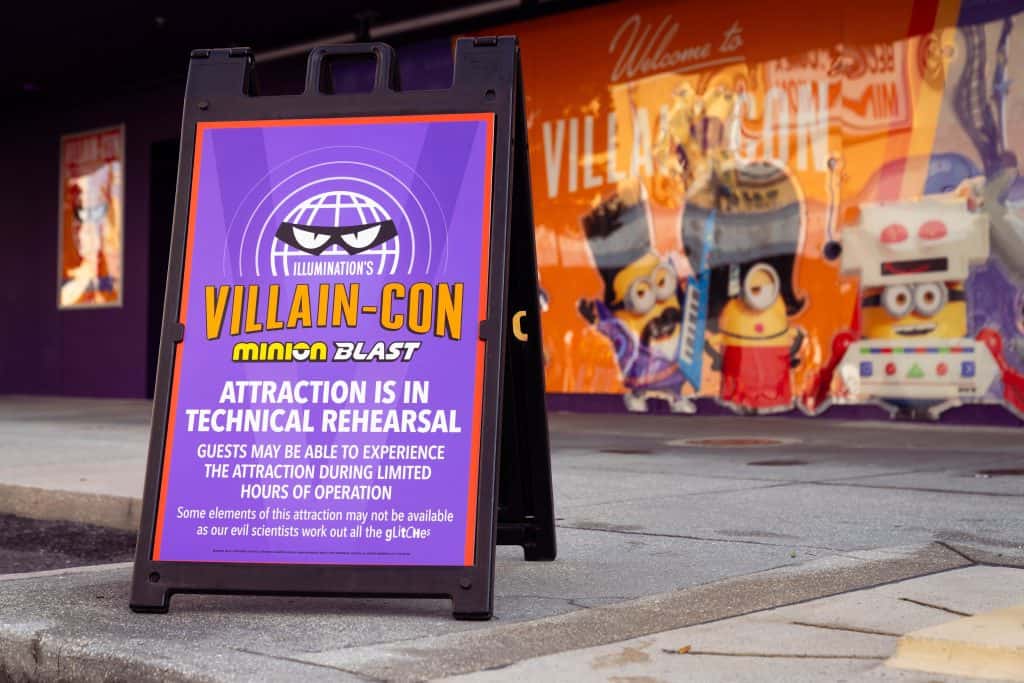 As some will recognize from Minions: The Rise of Gru, Villain-Con is the ultimate gathering for all aspiring evildoers and seasoned masterminds to show off the latest and greatest in their felonious field. It's so much fun, it's a crime. You're invited to this year's conference inside Universal Studios Florida! Equipped with your trusty "E-Liminator X" blaster, you'll embark on a daring quest to face off against the infamous Vicious 6 and earn points for causing destruction and mayhem.
As we eagerly made our way through the queue, we were led through the floor of the con, with booths showing off the newest gadgets, vehicles, and fashions fit for the most cunning and devious criminal masterminds.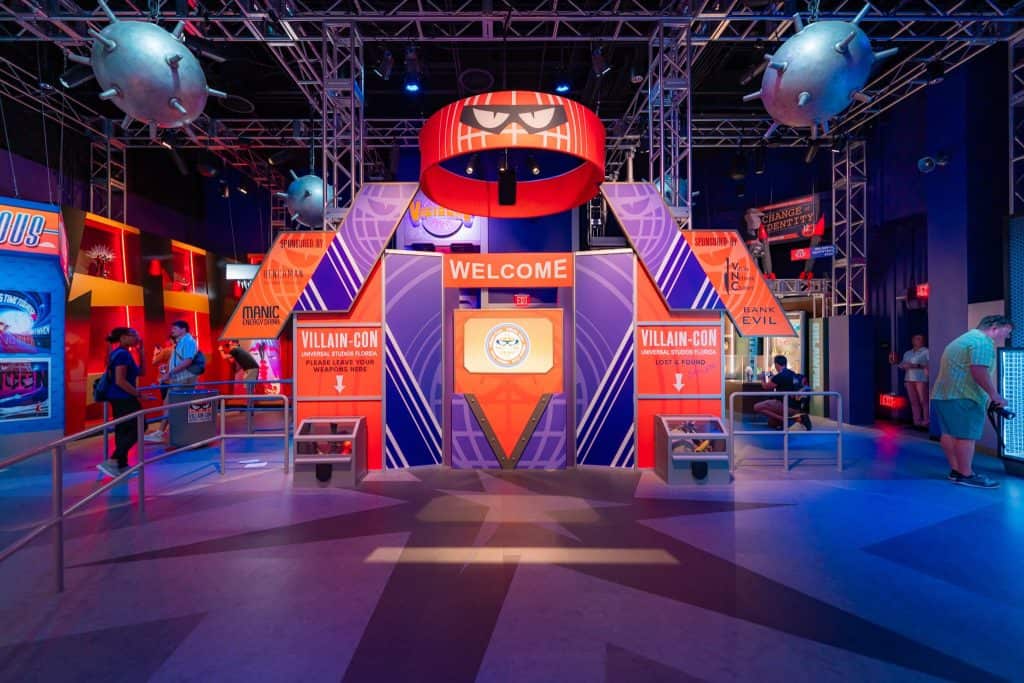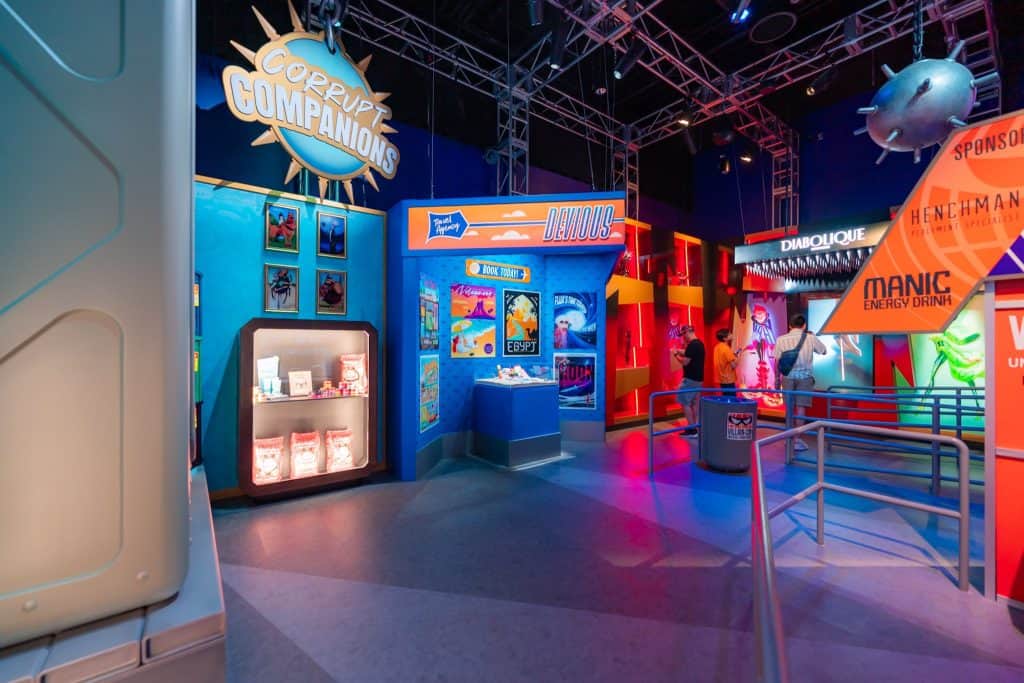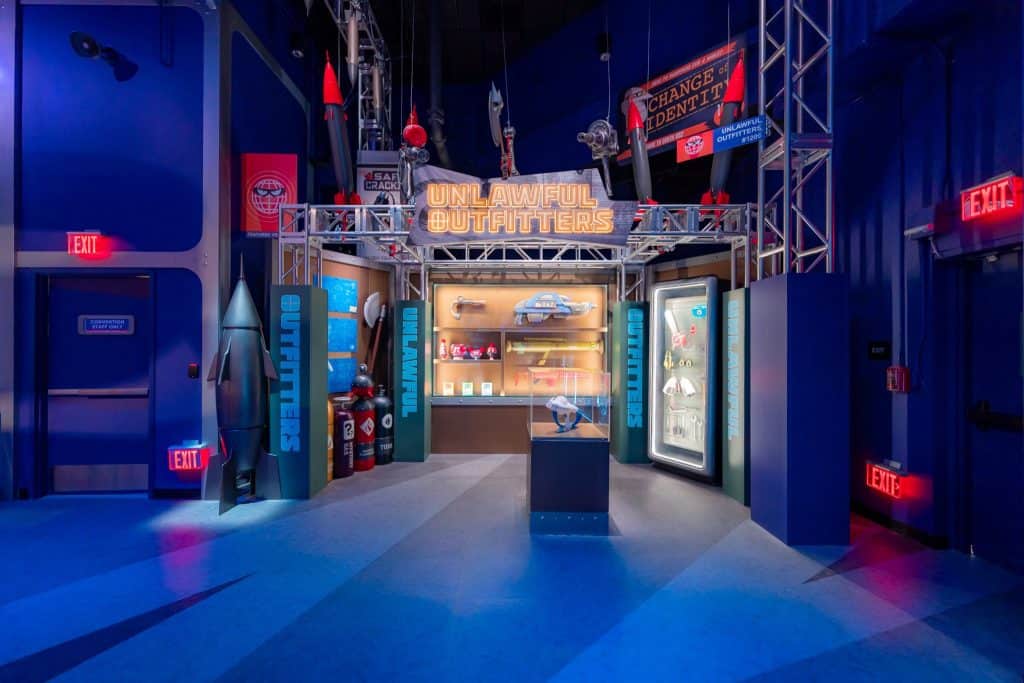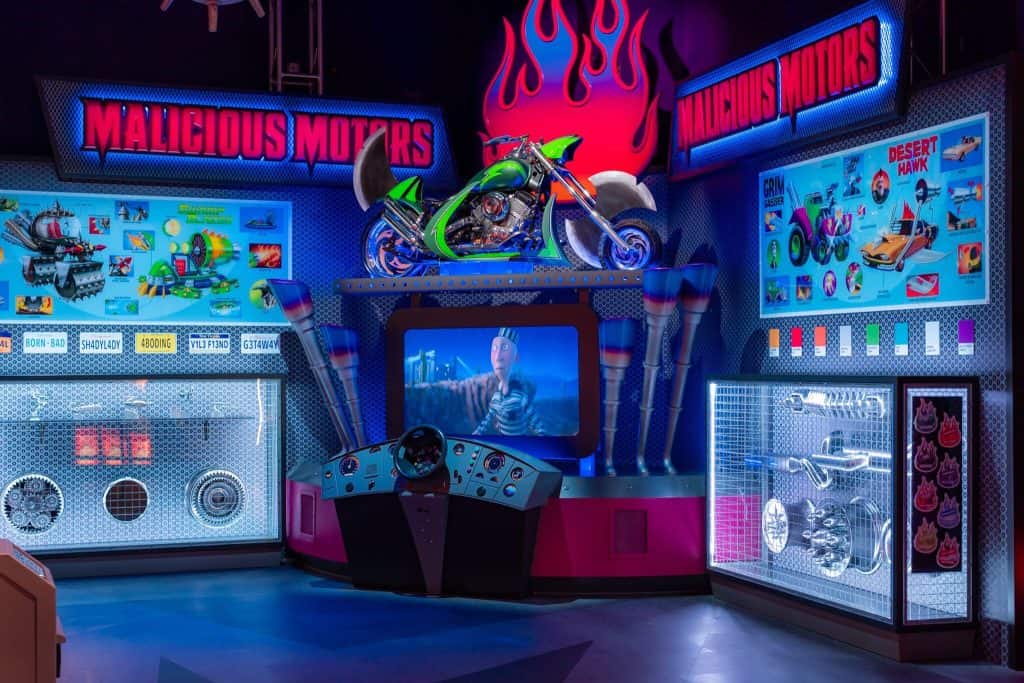 We then equipped ourselves with a handy "E-Liminator X" blaster and prepared for battle.
Knowing you can connect the Official Universal Orlando Resort App with your "E-Liminator X" blaster is helpful. While not required, it can unlock an entirely new level of engagement within Illumination's Villain-Con Minion Blast. Guests can utilize this feature to track their scores, customize their blaster, embark on special missions in-ride, snag collectibles throughout the attraction to score extra points, and enjoy seasonal blaster enhancements, like exploding turkey legs in November. This connectivity will be available when the attraction officially opens.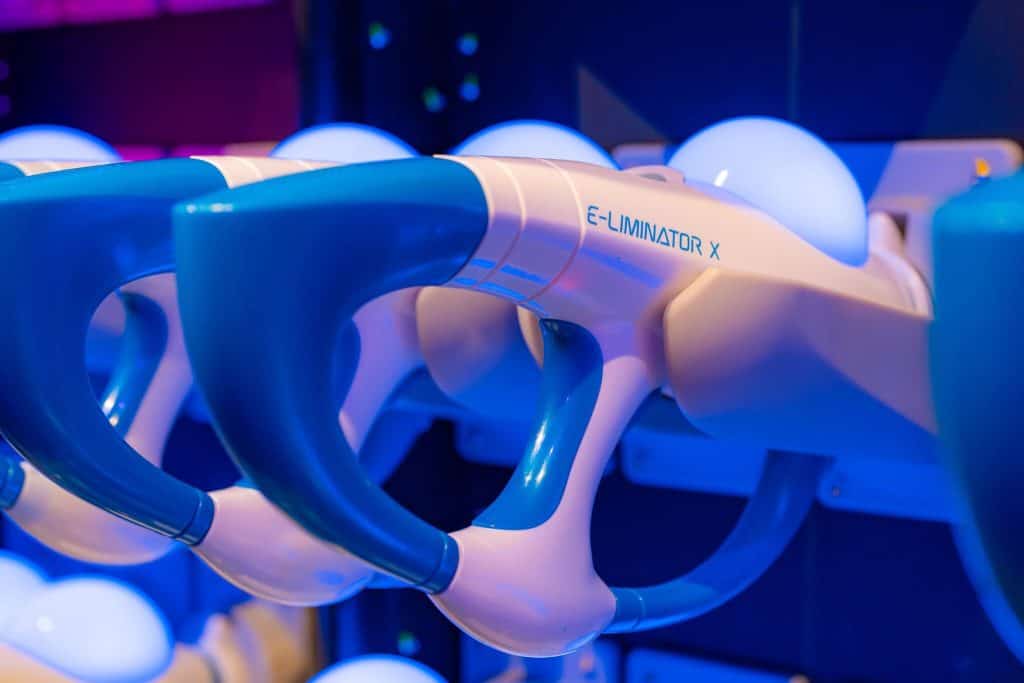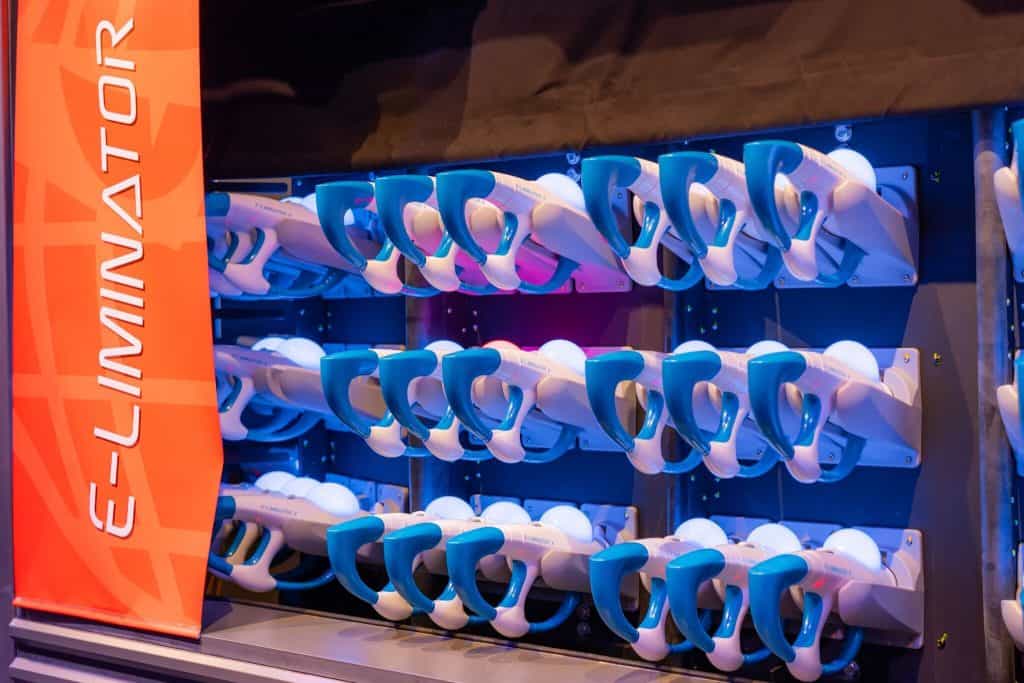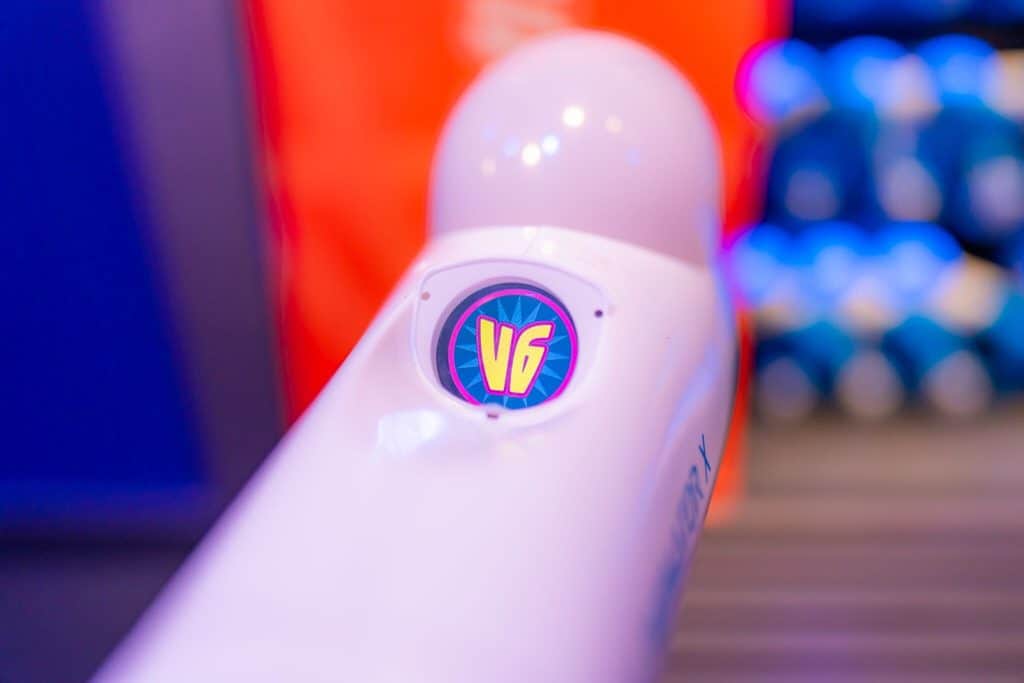 As a first for us regarding ride technology, we traveled through the attraction on a motion-based pathway that took us through various sinister settings themed after each member of the Vicious 6. Keep your eyes peeled because in one scene of the ride, we were transported to a very familiar Universal Orlando Resort spot.
Be sure to stay on your designated spot on the motion-based pathway throughout your mission, otherwise your chances to join the Vicious 6 will diminish as your blaster temporarily disables.
Typically, we would be quaking with fear coming face to face with these foes, but our "E-Liminator X" blaster was equipped with Freeze Rays, Banana Bombs, Explosive Nunchucks, and more. The more mayhem and destruction caused through the skirmish raked in more points. You'll find yourself not only trying to conquer the baddies you'll encounter, but attempting to score higher than your friends and family in healthy competition.
Once the dust settled and completed our villainous debut, we returned our blasters and exited through Evil Stuff, wanting to ride again and again.
This villain-themed attraction will lives across from Despicable Me Minion Mayhem, where guests enter through the door of Gru's home for a motion simulation that transforms attendees into Minions. Despicable Me Minion Mayhem has been the sole franchise-themed experience in the Orlando parks since 2012, with nods to the beloved bad guy and his family included within various parades that Universal Orlando Resort has held throughout the years. That being said, it is exciting to see an extension of the Despicable Me story making its home here in Florida.
This addition to Universal Studios Florida marks another change to the first area in the park. The section that welcomes guests after they enter the turnstiles of Universal Studios Florida was initially called the Front Lot. It later transformed into Production Central. A portion of this area will evolve again into Minion Land this summer.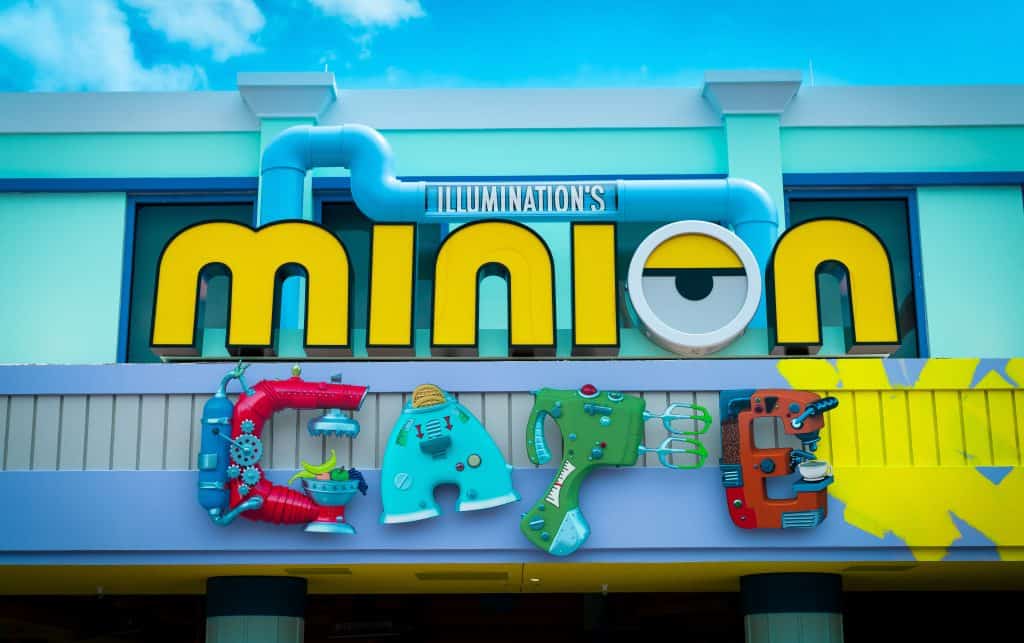 In addition to a designated new land, we recently received another eatery option to satiate our hunger after experiencing the new interactive attraction. Located in the former Universal Studios Classic Monsters Cafe location, Illumination's Minion Café adds to the bill of delicious quick-service options available at Universal Studios Florida.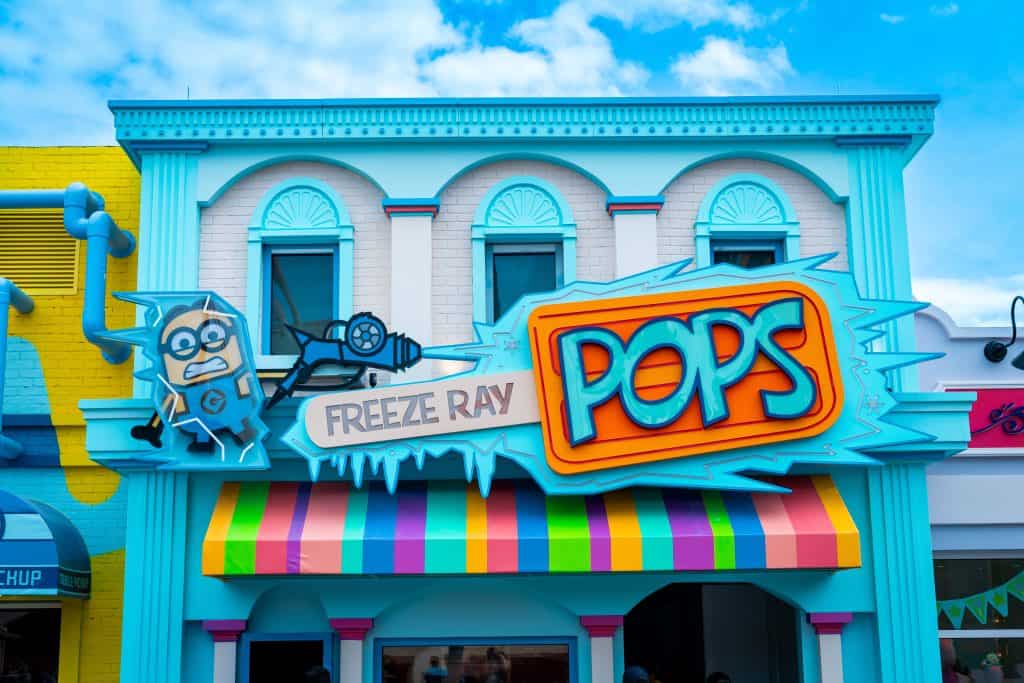 Additional themed dining options include Pop-A-Nana, a popcorn stand serving banana-flavored popcorn, Bake My Day, a Minion-inspired bakery that also serves as a retail store for all your Minion needs, and Freeze Ray Pops, which delivers beloved character-themed popsicles.
Guests also have an opportunity to meet adored characters at Illumination Theater where they'll find favorite Minions franchise characters – the Minions, Gru, Margo, Edith, and Agnes greeting guests, along with friends from "Sing", Rosita, Gunter, and Johnny.
These delicious and picture-perfect spots opened in June to begin Minion mischief ahead of the headliner attraction's opening.
Step into the realm of the criminal elite for yourself by experiencing Illumination's Villain-Con Minion Blast!
---
Are you ready to embark on this diabolical quest? Discuss it all with 160,000+ other Universal die-hard fans in our Orlando Informer Community on Facebook. And be sure to follow Orlando Informer on TikTok, Threads, Facebook, Twitter, and Instagram for the latest news, tips, and more at Universal Orlando, Walt Disney World, and other Orlando attractions.