Two years ago, upon the release of Fantastic Beasts and Where to Find Them – the first of the new Harry Potter prequel/spin-off film series – we sketched out our three best ideas for theme-park attractions based off of the new Wizarding World tale. Now that the second installment, Fantastic Beasts: The Crimes of Grindelwald, is here, it's time to do the same thing, poring through the new movie's copious amounts of new characters, locations, and magical items in order to see how Universal Orlando Resort could (hypothetically) further benefit from writer J.K. Rowling's still-thriving multimedia universe.
It turns out that a film that is jam-packed with worldbuilding, mythological references, and – of course – building tension doesn't have a huge number of scenes that scream "theme-park ride!" but it does contain more than enough to still produce a number of themed experiences that would, we think, strengthen a guest's day at Universal's parks. (Which parks? Well, for the purely speculative nature of this article, we won't differentiate between an expansion of the pre-existing Wizarding World of Harry Potter over at Universal Orlando's main campus or the new theme park that Universal wants to build on the thousand or so acres that were recently purchased some ten minutes down the road. We'll leave that part to the professionals.)
WARNING: the following article contains some light spoilers for Fantastic Beasts: The Crimes of Grindelwald. If you want to walk into the movie theater completely fresh, please wait to read this until afterwards.
3. The Thestral chase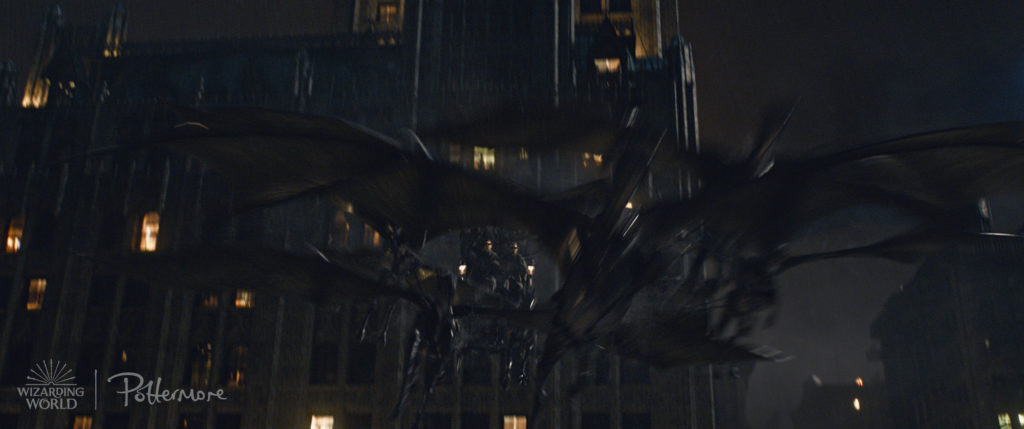 The action sequence that opens the movie, in which the imprisoned Gellert Grindelwald makes his escape from the Magical Congress of the United States of America while being transferred via a Thestral-drawn carriage in the sky, is, perhaps, The Crimes of Grindelwald's best candidate for a traditional dark ride – something along the lines of either Harry Potter and the Forbidden Journey or Escape from Gringotts, in which guests careen down twisty, loopy tracks while being fully immersed in Harry's wondrous world.
But precisely because of this obviousness – and because of what would probably be an uncanny resemble to Gringotts's ride experience – we think we're going to take this scene and push it into a different, equally-as-immersive attraction. With the still-recent advent of Universal Orlando's Cinematic Celebration nighttime spectacular, the door has now been open to a fully-fleshed-out presentation, one that incorporates lasers, fireworks, projection-mapping, and water fountains to recreate the story from the big screen. Why not add in wind effects to the equation, to help seal the impression that you're soaring high in the air alongside Grindelwald as he does battle with his American captors, and also include brand-new footage, to expound upon this particular section of Fantastic Beasts – say, a few grand scenes set inside MACUSA's majestic Woolworth Buildilng headquarters? In this way, some of the most beautiful sets designed for the filmic Wizarding World could get further exploration, and the theme parks could be home to a slice of the story that couldn't be found anywhere else.
But why stop there? We could easily shift the focus of this production away from a lagoon show and turn, instead, to The Nighttime Lights at Hogwarts Castle as our inspiration; instead of using Hogwarts Castle as the canvas for our production-mapping extravaganza, we could use the exterior of the Woolworth Building (which could still house the queue for our E-ticket New York City-based ride derived from the first Fantastic Beasts and Where to Find Them). If we're feeling really fancy, we could even throw in live-stage elements, such as actors and drone-controlled beasties, like we see over in Universal Studios Japan's Hogwarts production – the high-flying theatrics of wizards, brooms, and Thestrals would really come to a whole new life then.
2. Circus Arcanus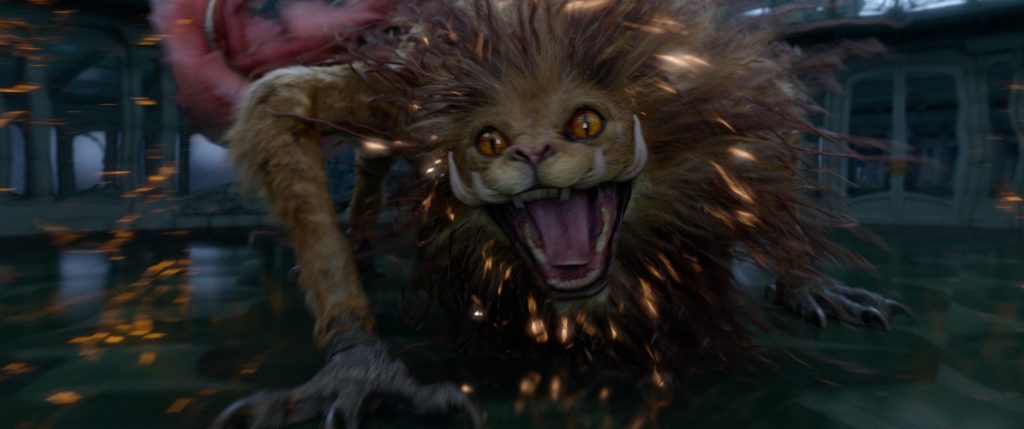 The Circus Arcanus, a combination of travelling wizarding circus and freak show, that we see in Paris may have only taken up a brief moment or two in Fantastic Beasts: The Crimes of Grindelwald, but it leaves an indelible mark, particularly when one considers what the theme-park footprint of the Harry Potter mythos should continue to be moving forward. The colors of the performers' costumes, the sights and sounds of the French passersby, and – of course – the presence of the various fantastic beasts, from the Japanese water demon Kappa to the absolutely adorable (and ferocious!) Zouwu, would all make for a sublime theme-park street fair.
Hear us out on this one. Starting with The Wizarding World of Harry Potter – Hogsmeade in 2010 and continuing with Diagon Alley four years later (and, just possibly, being perfected by Walt Disney World Resort's upcoming Star Wars: Galaxy's Edge), theme-park lands have evolved from mere picture-setting placeholders to become fully-fledged walk-through attractions in their own right, containing many a hidden secret or Easter egg and doing as much to immerse visitors as their individual attractions themselves. Including a Parisian street from 1927, especially one that contains the throng of activity from Arcanus, that patrons can stroll down and stop to engage with is no different than the London waterfront of Diagon Alley, with its food and merchandise kiosks, Knight Bus meet-'n-greet, and Ministry of Magic and Kreacher cameos.
And make no mistake about it – our fictitious wizarding circus would absolutely include many a themed delight, whether they be period-specific French pastries or "I survived the Zouwu!" memorabilia. Stage shows along the lines of Tales of Beedle the Bard and Celestina Warbeck would be on hand, as would meet-'n-greets with the various bizarre and otherworldly exhibits of the freak show (most especially Nagini, the Maledictus that would one day become Lord Voldemort's cherished snake companion [and future Harry Potter and the Escape from Gringotts co-star], should Jo Rowling back down and allow other, Universal actors to portray her characters). And we could even sneak in here a whole bunch more: a daily street parade, which the event in the film also included, even if we didn't end up seeing it on screen; some projection-mapping mini-shows, such as the Zouwu's escape and rampage; and a recreation of Newt Scamander's investigating the scene after the fact, which could be realized with the help of some blacklight and interactive wands (think the current Wizarding World's interactive spellcasting experiences, but placed on steroids).
Many a guest would treat this as an attraction in and of itself, never mind the ones that are housed in their giant, fancy show buildings. But speaking of which…
1. The French Ministry of Magic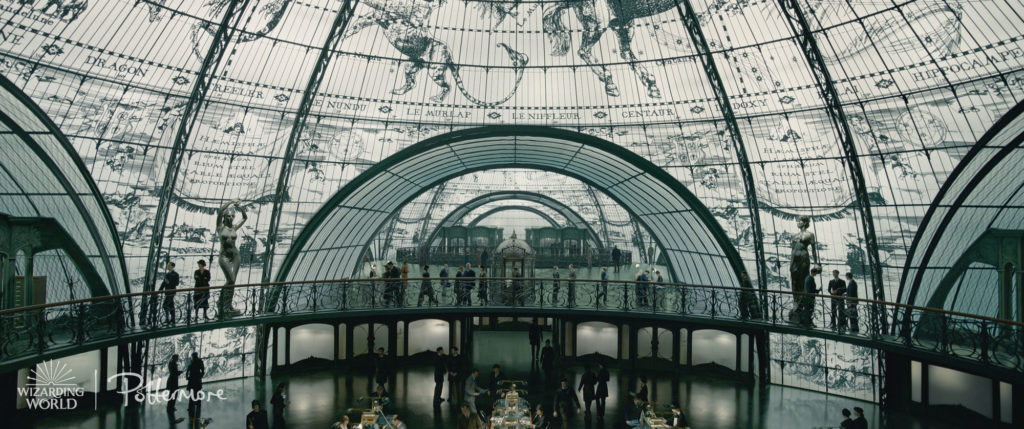 As guests make their way through the Circus Arcanus street fair, they're also heading to a second, bigger destination: the French Ministry of Magic (or, if we're being technical, the Ministere des Affaires Magiqus de la France), a destination just as strikingly beautiful, just as boldly designed as New York's Magical Congress of the USA. Having this space double as a queue is an absolute no-brainer; the art nouveau building is open, spacious, brightly lit, and, of course, enchanted, with a magically-endowed glass roof that depicts all the various star constellations' mythological denizens (such as a dragon and a hippogriff). The background details of workplace conversations and moving newspapers and statues could be every bit as rewarding to observe as those seen in either Hogwarts Castle or Gringotts Bank, and the show building's entrance façade of an animated Wallace fountain could provide a photo-op every bit as charming as that of Platform 9¾ in the Hogwarts Express's queue.
But the real kicker here, naturally, would be the ride that the Ministry houses. Gellert Grindelwald is about to loose chaos across the French countryside, and you, dear no-maj/muggle, suddenly find yourself conscripted into Professor Albus Dumbledore's effort – headed by Newton Scamander himself – to stop him. You'll mount that Zouwu from the wizarding freak show outside, and we could employ here the same mechanics that Disney spearheaded with its already-iconic Avatar Flight of Passage ride, making guests actually believe that the ride vehicle they've boarded is a living, breathing creature that leaps and growls and climbs and is mesmerized by shiny cat toys. Your adventure would start in the French Ministry of Magic, rampaging through its archives while fending off the hordes of Maragots (the Sphynx-looking cats that the French employ as a [formidable] security measure), and then progress on to the Lestrange family tomb and, finally, Grindelwald's giant Parisian rally that results in – what else? – violence and death. (If you think it's a bit much to include the Zouwu in these additional scenes from the movie, all one has to do is reference Harry Potter and the Escape from Gringotts's narrative-stretching.)
The result could easily be Universal Orlando's most captivating ride yet – no small feat, given the impressive competition already present at the resort.
–
Have your own ideas for what the next Harry Potter/Fantastic Beasts attraction should be? Share them with 50,000 other Universal fans in our Universal Community Facebook group.
And be sure to follow Orlando Informer on Facebook, Twitter, and Instagram for the latest news and tips at Universal Orlando, Walt Disney World, and other Orlando destinations.