Parents of young children may be initially terrified of planning a vacation. After all, it's a lot of hard work — especially with little ones. However, SeaWorld Orlando makes caring for your young children just a little easier with all-day access to quiet rooms, nursing rooms, and a whole child care facility at Sesame Street Land. Strewn throughout the park, these baby-friendly locations can make caring for your children a smoother part of the vacationing process.
All of these facilities are available for use free of charge and many come complete with vacant/occupied locks to indicate that a room is currently in use. Here is a complete list of these locations and their amenities.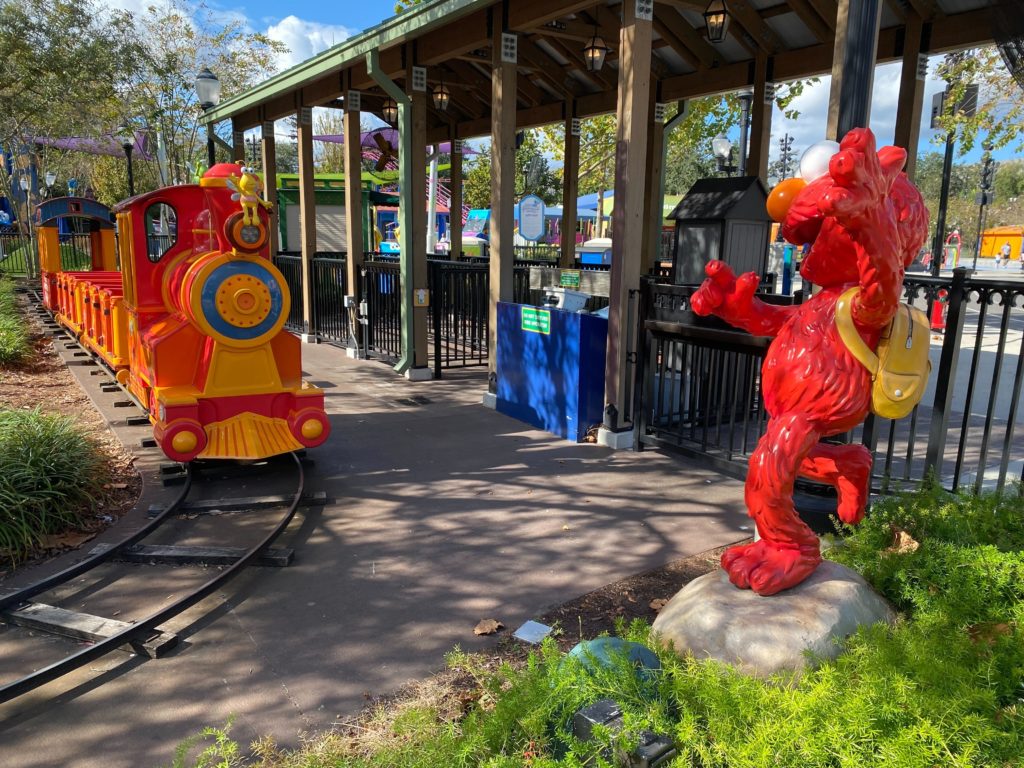 Child Care Facility at Sesame Street
Tucked away just behind Elmo's Choo Choo Train is a small building with rocking chairs under a wrap-around patio. On the patio are an ATM and a set of double doors leading into a child care facility that truly has everything your little one needs in order to have a smooth and calm day.
Inside this facility is a full diaper-changing room with long counters and several garbage cans that allow for multiple babies to be changed at once — efficiency that means shorter lines to clean baby bottoms.
Next door to the diaper-changing room is a nursing mother's room. This room has wonderfully comfortable recliners that allow nursing mothers the privacy to take care of their babies in comfort and away from crowds or unnecessary noise.
On the right side of the facility are two small bathrooms with tiny toilets and sinks that make potty-time much easier for toddlers and very young children. These bathrooms are private and have locks so they can be used to change out of the wet clothing your children may have from the splash zone outside.
In general, this child care facility is perfectly placed. Many parents find themselves spending much of their day in Sesame Street Land, sometimes riding all six Sesame Street rides, or enjoying the Rubber Duckie Water Works splash pad, and watching their children run up and down the small hills at Rosita's Harmony Hills.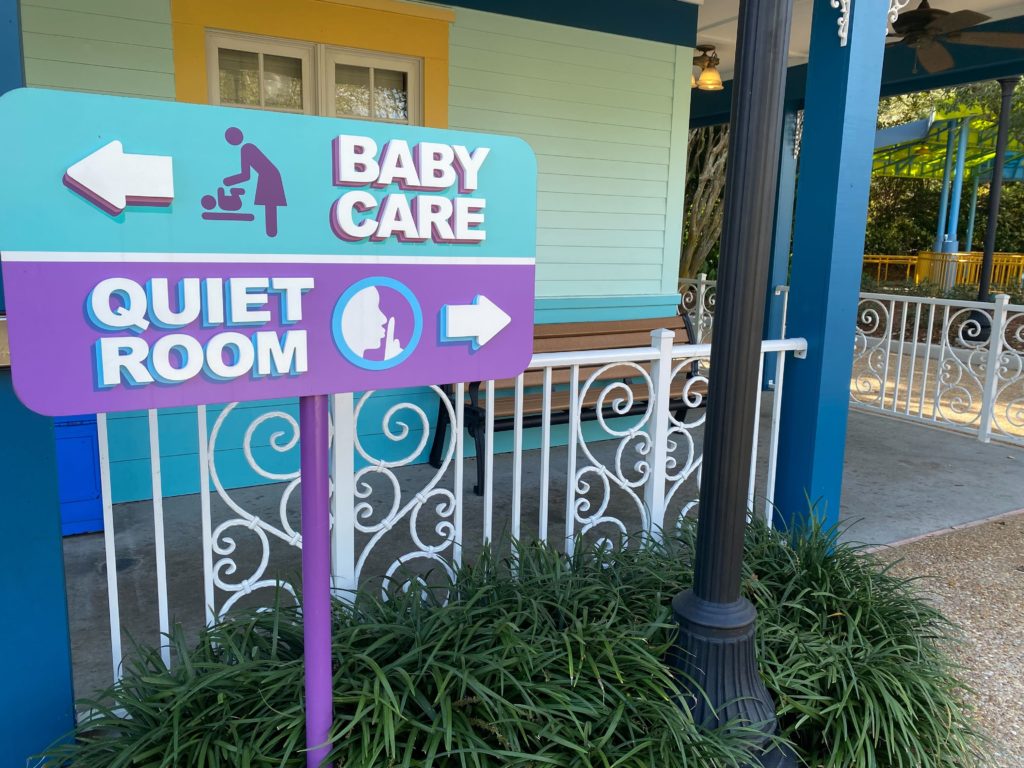 Quiet Rooms
Recently, SeaWorld Orlando and Sesame Street Land partnered with The International Board of Credentialing and Continuing Education Standards (IBCCES) to make their park a Certified Autism Center (CAC). The benefit of being made a CAC is that SeaWorld Orlando now has two quiet room locations to serve parents and children who are impacted by sensory stimulation and overload.
These two locations prove invaluable among families who need some quiet time to help their children find peace and relief. Outfitted with comfortable seating, these rooms are also padded to cancel noise from outside. Locks on the doors help parents rest easy knowing that their child can have privacy and they can devote all their emotional resources toward caring for their child.
These quiet rooms are located in two convenient locations: Sesame Street Land and next to the Information and Reservations Counter. The Sesame Street Land quiet room is located inside the child care facility behind Elmo's Choo Choo Train.
The Information and Reservations Counter is located at the front of the park, just before the lighthouse and exit. The quiet room is tucked away right next to this counter before the Stroller and Wheelchair Rental.
These quiet rooms are available as needed on a first-come first-serve basis and do not require any type of reservation.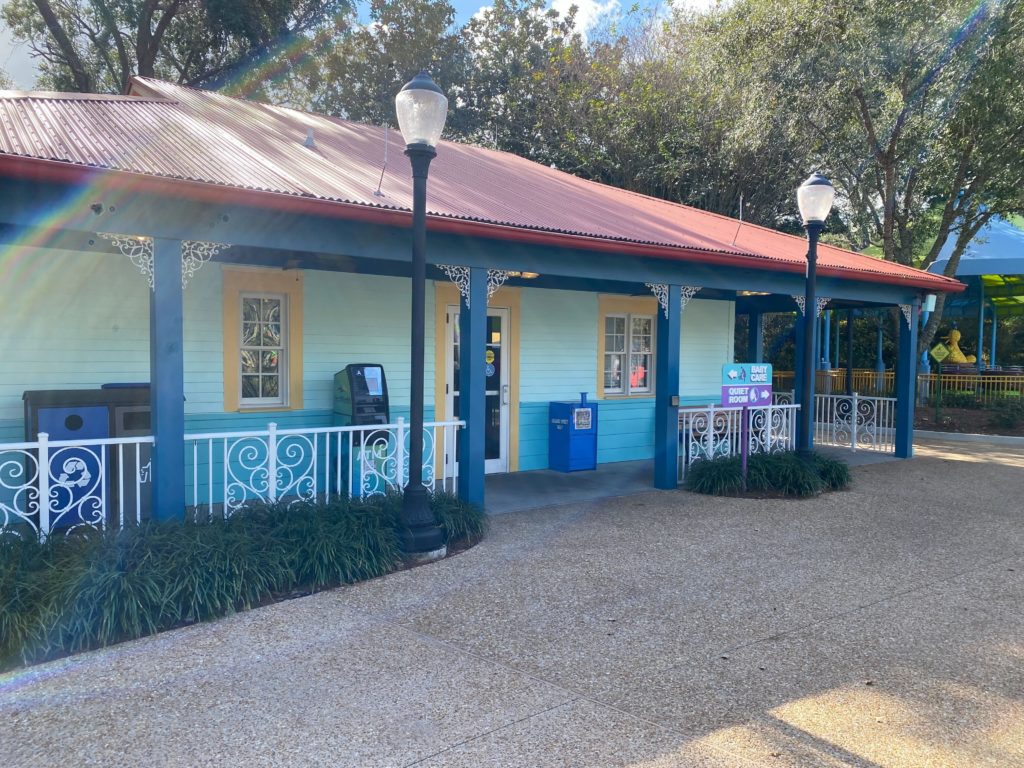 Nursing Rooms
One of the most difficult plights of a new mother can be nursing in public. SeaWorld Orlando makes this struggle just a little easier with three convenient nursing room locations. All nursing room locations are complete with comfortable chairs and labeled doors to help prevent any interruptions.
Inside the child care facility in Sesame Street Land is a nursing mother's room that sits just between the children's bathrooms and the diaper-changing room. This nursing room can get pretty busy during the day (particularly around nap time), so it may fill up fast. Alternatively and if you're comfortable, you can sit on one of the rocking chairs on the patio to nurse and rock your baby there.
Another nursing room is located inside Waterway Grill, the restaurant just behind Infinity Falls. Upon passing Infinity Falls, head toward the left side of the restaurant and go toward the back left. The nursing room will be just next to the restrooms in the left corner. This nursing room is a little more out-of-the-way and gets less traffic than its Sesame Street Land counterpart.
The last nursing room available to new parents is located just in front of Journey to Atlantis. Simply look toward the beige-colored restrooms and you'll see a sign for a nursing room across the wall. This nursing room is also tucked away and may see a little less traffic than the Sesame Street Land room.
Parents and families could use a little help making their vacation run smoother. We hope this rundown has helped give you the tips you need to make parenting at a theme park easier.
---
How was your last experience taking your little ones to SeaWorld Orlando? Share your story with us – and thousands of other SeaWorld fans – by connecting with our Facebook, Twitter, and Instagram! Be sure to follow us for more information, tips, and the latest theme park news you love.

Looking for SeaWorld Orlando tickets? Check out Orlando Informer Tickets! You can also discuss vacation planning with our SeaWorld Community on Facebook!