When Universal CityWalk Orlando first started to open at the end of 1998, one restaurant stood out from all the other original venues, quickly establishing itself as the flagship eatery at the nascent dinning/shopping/entertainment complex: Emeril's Orlando. With such words as "gourmet," "high energy," "sophisticated," and "upscale" being deployed in its official descriptions, and with a grand two-story free-standing building – replete with a 10,000-bottle wine gallery, tasting room, cigar bar, and an open kitchen (nearly a decade-and-a-half before Universal would make that last item a requisite feature at every CityWalk property) – Emeril's almost instantly marked out its territory as the crème de la crème.
But times have changed, particularly at the district that lies at the heart of Universal Orlando Resort. Although still CityWalk's fine-dining option, it has recently gotten a bit overshadowed by the area's newer, flashier, and more gastronomically-distinct neighbors, such as Toothsome Chocolate Emporium and Savory Feast Kitchen, The Cowfish Sushi Burger Bar, and, most recently, Voodoo Doughnut (which is, arguably, a problem all of the first-generation tenants, such as Hard Rock Café, are also facing).
Perhaps this helps explain the seemingly-out-of-the-blue announcement that Emeril's Orlando will be closing its doors forever on July 7. But, then again, the reason could have something to do with the complex's seemingly never-ending lineup rotation; at this point, after a nearly-ceaseless level of construction over the past four years, five of the complex's 11 full-service tenants have been replaced – and that's even before taking Emeril's into consideration. If change is a constant at all of Universal Orlando, generally, it's the norm at CityWalk, specifically.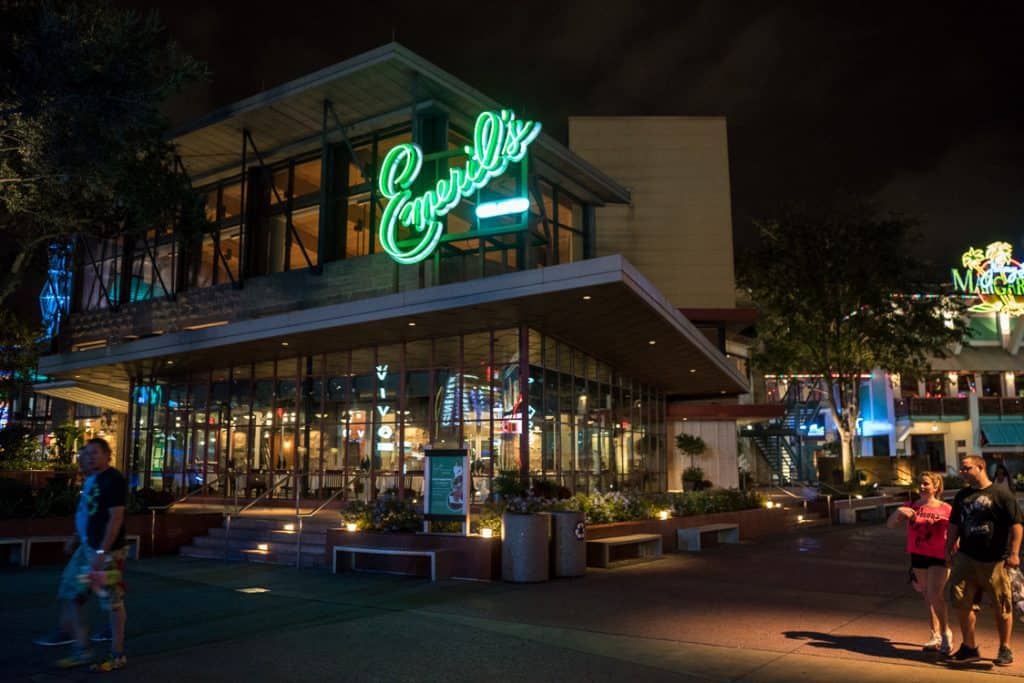 (Or, perhaps, the closure has less to do with the resort and more to do with the chain; it was only on December 31, 2017, after all, that celebrity chef Emeril Lagasse had his other Universal location, Emeril's Tchoup Chop – which specialized in Asian-Polynesian fusion – shuttered over at Royal Pacific Resort. At the time, representatives from the Food Network star's company insisted that the main venue would be left standing, but it could simply be that neither restaurant found a truly sustainable home in a theme-park setting. [Tchoup Chop lasted for 15 years, opening with the on-site hotel it was located within, in case you were curious.])
"We have deeply enjoyed the opportunity to serve our loyal guests and are immensely appreciative of our entire staff for their dedication and service," Emeril Lagasse said in a statement. "I am thankful to the entire team at Universal CityWalk for their valued relationship and for the opportunity to operate here."
Tom Schroder, a Universal Orlando spokesman, issued his own statement to the Orlando Sentinel: "Emeril's has been a special part of Universal CityWalk from the beginning. We are sad to see them go, but we respect their decision. We've enjoyed our relationship with Emeril and his entire team, and we are thankful for the years of great dining and great service they've offered our guests."
It is currently unknown what will replace Emeril's Orlando – or, for that matter, Emeril's Tchoup Chop – but it would stand to reason that a similarly fine-dining option would be the ultimate selection, helping to fill that newly-formed hole. For all of Lagasse's fans, however, worry not – you can still get your "bam!" fix, after a fashion, in the form of the Emeril Lagasse Foundation Kitchen House and Culinary Garden, which just opened last April in College Park. Although not a traditional eatery, children, parents, and teachers are able to participate in workshops, cooking classes, summer schools, and chef nights (catwalks are available on the second story to watch the "edible educational" experiences unfold below) at the 3,000-square-foot facility.
–
Be sure to follow Orlando Informer on Facebook, Twitter, and Instagram for more on Universal Orlando, Disney World, and other Central Florida experiences.