From her humble beginnings of doing stand-up comedy, Ellen DeGeneres has established herself as a staple in entertainment via her former sitcom Ellen and current daytime talk show The Ellen DeGeneres Show. During the latter's third season, Ellen's popularity became so immense that she filmed her show at Universal Orlando Resort. Given her fame and how often she returned, we thought we'd provide a handy reference for your reading pleasure. Admittedly, there's a ton to cover, so we'll keep this simple and go over some of her more notable guests and discuss how fans can attend similar tapings.
Join us as we step into the Wayback Machine, won't you?
The Ellen DeGeneres Show at Universal – the episodes and guests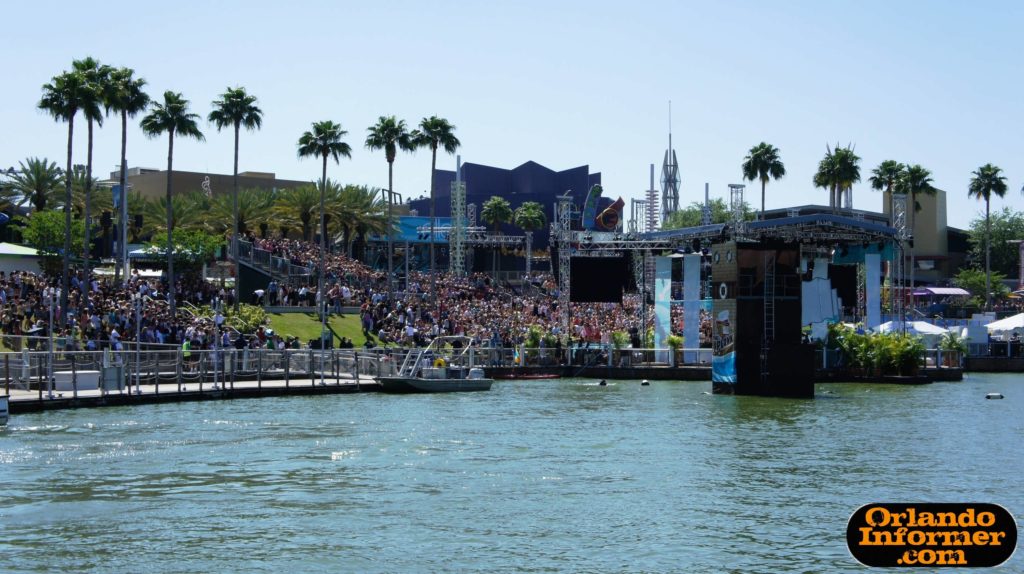 From 2006 to 2011, The Ellen DeGeneres Show filmed a total of 10 spring break specials from Universal Orlando Resort at the CityWalk lagoon stage. Ellen always has a great guest line-up, but it was most fitting that Brendan Fraser would be on the first of the specials; during his visit, she had Brendan hang out at the "fake ending" of Revenge of the Mummy as a surprise for riders. And as that episode's music act, Shakira performed live with Wyclef Jean on the CityWalk stage.
Other notable guests during the theme-park specials included John Goodman, LL Cool J, Tim McGraw, Kelly Clarkson – who sang a medley of her hits during the more recent special in 2011 – and Duran Duran. Some even went the extra mile of riding the attractions with her, which we'll get to in the next section.
(This writer was actually lucky enough to be working in CityWalk during the 2011 special. I couldn't see them, but I was able to hear Kelly Clarkson and Duran Duran's rehearsals and actual performances. For those wondering, it was just as cool as you might imagine.)
Ellen at Universal – attractions, games, and pranks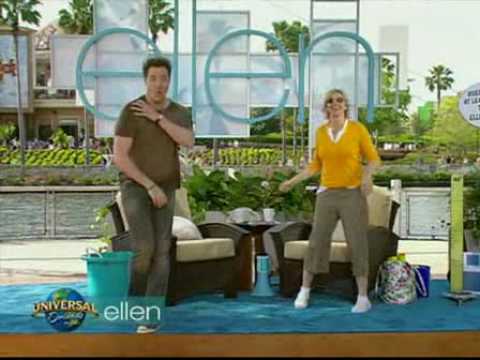 Naturally, there wasn't a shortage of games and pranks for any of the special episodes, whether it was Ellen and Brendan playing catch with the Riff Raft, having audience volunteers answer trivia questions at the risk of being dropped into the lagoon at CityWalk, or DeGeneres hijacking the Mystic Fountain or surprising riders of Jurassic Park: River Adventure with a Super Soaker. She always made sure that everyone was having just as much fun as she was during the show's tapings, even if it meant adding water cannons to the stage so she could spray the audience with them.
It wouldn't be right to broadcast from two of the biggest theme parks in the industry without taking advantage of their amazing attractions. With that in mind, the host braved many of them and wasn't shy about taking her wife and others along with her. For instance, on the very first Universal episode, she rode Revenge of the Mummy with Brendan Fraser and went solo on the first iteration of The Incredible Hulk Coaster. Over the years, she would take on the big, green, gamma-radiated machine once more with Usher, as well as Doctor Doom's Fearfall and Hollywood Rip Ride Rockit with members of her cast and crew and other celebrity guests.
There seriously wasn't a square foot of Universal Orlando's property Ellen didn't dance her way into. Over the years, she has taken over as guest captain on the former Jaws ride and the water taxis, helped Orlando's Blue Man Group find an understudy, served shots as a guest bartender at Margaritaville's Lone Palm tiki bar, and took over one of the boat taxi's PA system. In one of my favorite skits, she went undercover as an esthetician named "Rissa," giving facials to guests at Portofino Bay Resort's Mandara Spa. And, most notably, during her 2010 visit, the host and two Harry Potter superfans were able to experience The Wizarding World of Harry Potter – Hogsmeade two months before the theme-park game-changer opened.
Ellen at Universal – taping and audience process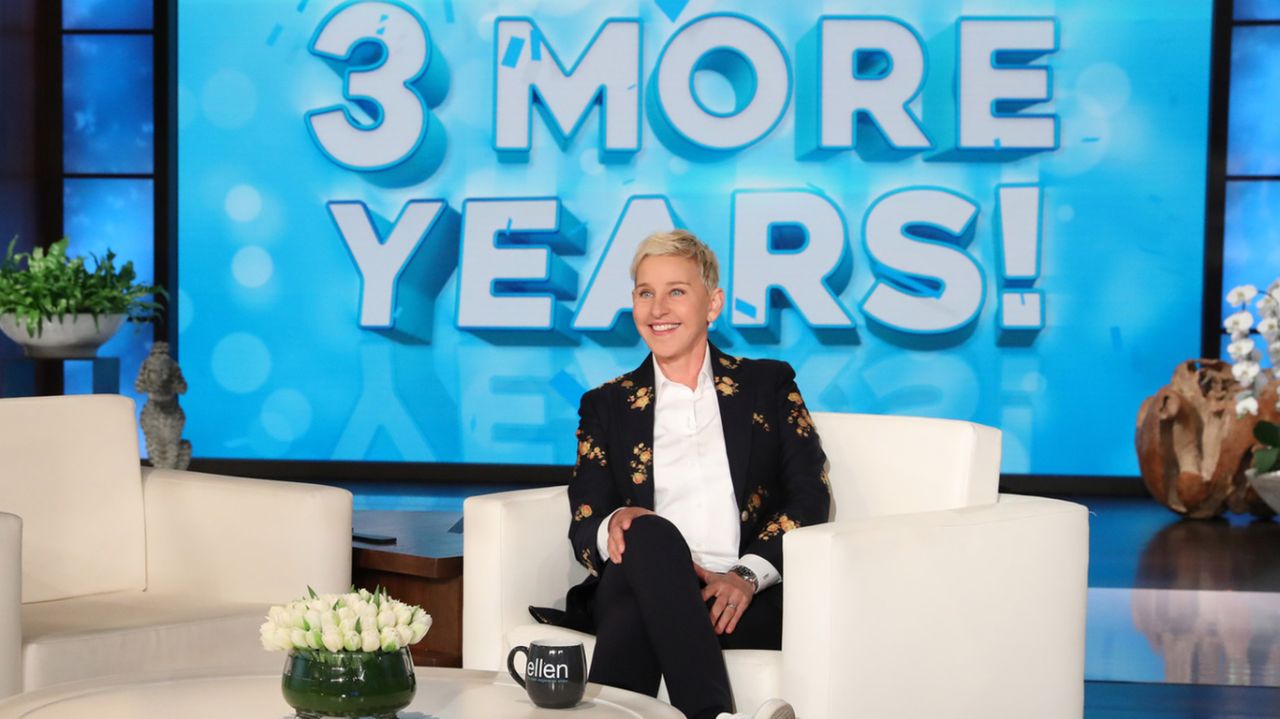 At this point, you've probably read this and become giddy to see the first live taping at Universal Orlando you can score. Unfortunately, as we mentioned, Ellen DeGeneres hasn't been back to the resort since 2011. But don't fret – that isn't where your opportunity ends! Television shows film at Universal often, and, considering the new and "epic" attractions in development, you never know what could happen. But how does any of that work? Well, dear readers, don't worry – I'm about to get into that.
While the focus here is The Ellen DeGeneres Show, I can tell you from experience it's generally the same idea for any series you're able to attend, with just a few minor differences here and there. Being part of the live audience is free and as easy as signing up through a link found at the Universal Orlando website or, in this instance, Ellen's site. Typically, there's either reserved seating done in advance or a standby list for the day of taping. The likelihood of the waiting list coming through was variable, though, so I'd recommend keeping your day free if the fates cast this possibility upon you.
Being prepared for a crowd was advisable as an audience member of The Ellen Show, but this never proved to be a big deal. Even those that couldn't be a part of the viewing audience were invited to join in the show's excitement as part of her "Riff-Raff Street Party," when it was available. Riff-Raff guests could enjoy watching the show via the nearby Astrovision screen located at the Coca-Cola stand in CityWalk as well as get in on the live performances by her musical guest.
From my experience, being an audience member may be a bit more grueling than it sounds; I can also tell you that it's worth it.  The taping process could vary, but it wasn't uncommon for the show to film two or three episodes at a time, with the audience switching out for each one. Those who want to be an audience member should know that there are rules to adhere to for any show production, especially concerning audience attire and cell phones. In Ellen's case, she prefers that the audience wear colors as opposed to the traditional black-and-white look.  And while you can bring your phones with you, it is asked to have them completely off during your participation.
Some additional pro-tips: as we all know, DeGeneres is a naturally animated and interactive host. So make sure to be well-caffeinated and -fueled before the taping, as high-energy is a must. Since you are on television, you'll want to remember your posture while sitting, as well – the more presentable and energetic you are, the better the possibility you'll have of being on camera and that Ellen may interact with you!
It's fair to note that The Ellen DeGeneres Show hasn't been back in quite some time. However, the impact from the Universal spring break specials can still be seen by fans of the show. Recently, the host sent members of her writing staff and special guests through some of the haunted houses at Universal Studios Hollywood's Halloween Horror Nights, as part of her Halloween episodes. The assumption could be made that the switch was more of a cost-efficiency and convenience maneuver, but it does provide a little extra hope that maybe she'll return to us in Orlando some day.
Should she ever, writing this article has convinced me to make sure that I'm front and center in the audience at that time.
–
Have you ever been part of a show taping at Universal Orlando? Let 80,000+ other Universal fans know over in our OI Community Facebook group.
And also be sure to follow Orlando Informer on Facebook, Twitter, and Instagram for the latest news and tips at Universal Orlando, Walt Disney World, and other Orlando destinations.