In a move that seemingly came out of nowhere, it's today been revealed that the Eighth Voyage of Sindbad stunt show will quickly be coming to a close – its last performance is currently scheduled for Saturday, September 15.
We say the development is a surprise one, but, in retrospect, the writing has been, perhaps, long on the wall. Sindbad has been a mainstay attraction at Islands of Adventure since literally day one, having opened with the park back on May 28, 1999, undergoing relatively few alterations across all that time – a fact made all the more noteworthy given the massive amounts of change that have affected all the rest of The Lost Continent around it (a goodly chunk of that land was spun off into The Wizarding World of Harry Potter – Hogsmeade, and even the island's other remaining major attraction, Poseidon's Fury, underwent a pretty substantial overhaul just one year after first opening).
But this, perhaps, is getting ahead of ourselves – we should first go back to square one. The Eighth Voyage of Sindbad was designed to be one of two opening-day shows at Universal's new theme park, giving guests a spectacle of action, stunts, and, even, pyrotechnics, including setting one stuntman on fire each and every performance (the other original show, Pandemonium Cartoon Circus, was situated over in Toon Lagoon and was intended to be the family-friendly song-and-dance alternative. In stark contrast to Sindbad, it would last for less than a year). The 1,700-person theater that was designed to house The Eighth Voyage dominated the Arabian-themed Sindbad's Bazaar sub-area, one of three mini-lands that originally comprised Lost Continent; once the show closes, the only remaining experience in the Bazaar will be the Mystic Fountain, since the series of carnival games that originally resided here were shuttered on February 3, 2014, to make way for the slice of land that would eventually become Hogsmeade Station (the games were transported over to Jurassic Park, for all those curious, taking up the real estate formerly occupied by Jurassic Park: River Adventure's long-abandoned overflow queue). And, yes, we're absolutely positive about Mystic Fountain's longevity, despite the fact that it was originally intended to be a type of Sindbad preshow – we've confirmed with Universal PR that the beloved mini-attraction will remain operational past September 15, 2018.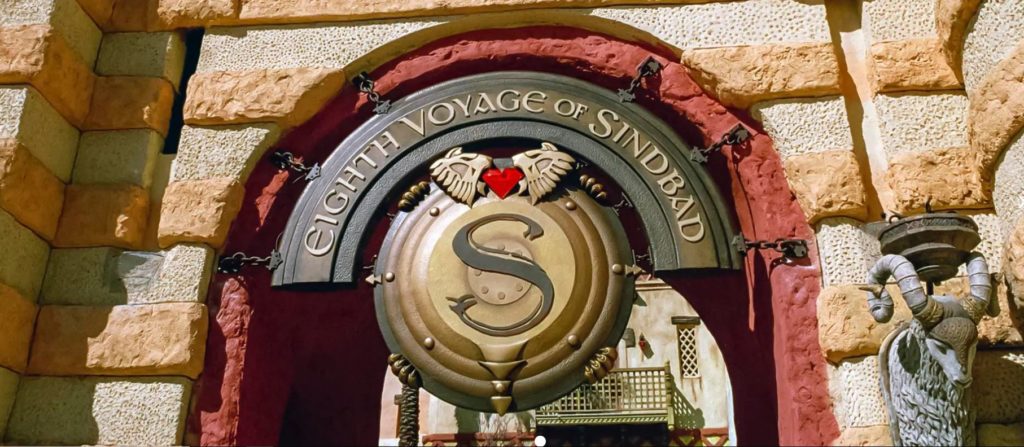 The only (substantial) change Eighth Voyage saw landed in 2015, when some of the stunts were slightly altered, but that didn't do much to change guest opinion of the attraction; in the three years after, just as in the 16 years beforehand, fans have marked the show as a "skip" – which they usually did on their way to Harry's wondrous world. The low guest-satisfaction ratings it has perennially garnered, combined with its exorbitant production costs (setting a performer on fire several times a day is understandably expensive), more than likely are the main culprits behind Universal's decision to pull the plug on one of the longest-running stunt shows in theme-park history.
There is no word on what, if anything, will replace The Eighth Voyage of Sindbad – when responding to our request for a comment, all Universal PR would officially state is the following:
As we continue to evolve our entertainment offerings, we will share updates along the way.
The Eighth Voyage of Sindbad will end its 19-year run on Saturday, September 15.
–
Find out all the rest of the changes that have beset Islands of Adventures over its 19-year history with our in-depth retrospective feature.
And be sure to follow Orlando Informer on Facebook, Twitter, and Instagram for the latest news and tips at Universal Orlando, Walt Disney World, and other Orlando experiences.