A recurring trend throughout 2020 has been, thanks to the coronavirus pandemic taking away a number of opportunities from whole swaths of the global population, the desire to take those favorite, far-away experiences and bring them somehow home. Loews Hotels & Co., the company that co-owns and operates all of the various hotels at Universal Orlando Resort, is playing directly into this impulse with its new Getaways in a Glass initiative – just in time for the holidays, to boot.
The idea – which, Loews says, was designed specifically for those "who are dreaming of a getaway or [are] ready to take one" – is to allow individuals to recreate some of the most popular cocktails from its various properties all across the country (whether those individuals will be at home or will be on the go to someplace other than Orlando). In Universal's case, specifically, that means dipping into the liquid lineups of both Royal Pacific Resort and Portofino Bay Hotel, which just got scheduled to finally reopen on December 1 (the first time it will be doing so since the advent of COVID-19).
Here is how Mark Weiss, the Senior Vice President of Food and Beverage for Loews, puts it:
"Our food and beverage is seamlessly and deeply intertwined into our hotels. In sharing our Getaways in a Glass cocktails, we hope to give guests a chance to have a taste of the incredible destinations where our hotels are located, while still delivering that locally, handcrafted hospitality that Loews is known for."
This idea of fashioning some kind of unique, exclusive experience with or from the Loews resorts is, it should be pointed out, something that the hotelier has been experimenting with for a little while now; back in 2016, the company unleashed a miniature travelling bar from one venue to the next, making its way across the entire nation over the course of a two-year period. This particular effort, in fact, culminated in Christmas 2018 in a trio of Bellhop Bars at three different Universal Orlando hotels (including, ironically, Portofino and Royal Pacific), offering up a cozy atmosphere and some "locally crafted cocktails and domestically produced wine." Just think of Getaways in a Glass as being even cozier.
There are two "iconic" drinks to be had in this virtual escapade, and they consist of:
Golden Dawn from Royal Pacific Resort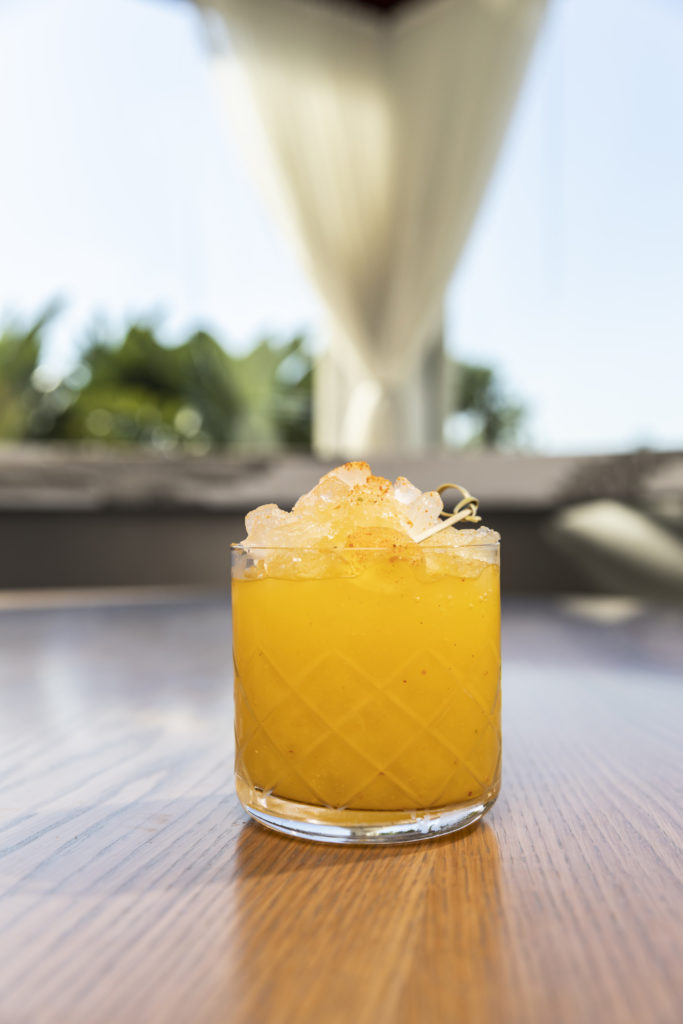 Loews crafted this drink to offer a "sun-kissed taste of Florida," and the list of ingredients really shows this:
3/4 ounce Bacardi Light Rum
3/4 ounce Plantation Pineapple Rum
1/2 ounce Triple Sec
1/2 ounce mango puree
1/2 ounce lime juice
1/2 ounce Giffard Orgeat
2 dashes Angostura Bitters
Directions: combine the ingredients in a shaker, then add ice and shake. Strain and serve over fresh ice. Garnish with a Yuzu gummy dipped in Togarashi.
(Will you be on-property at Universal Orlando Resort for the holidays? You can have the professionals make this for you over at the beautiful Orchid Court Lounge & Sushi Bar.)
Cool as a Cucumber from Portofino Bay Hotel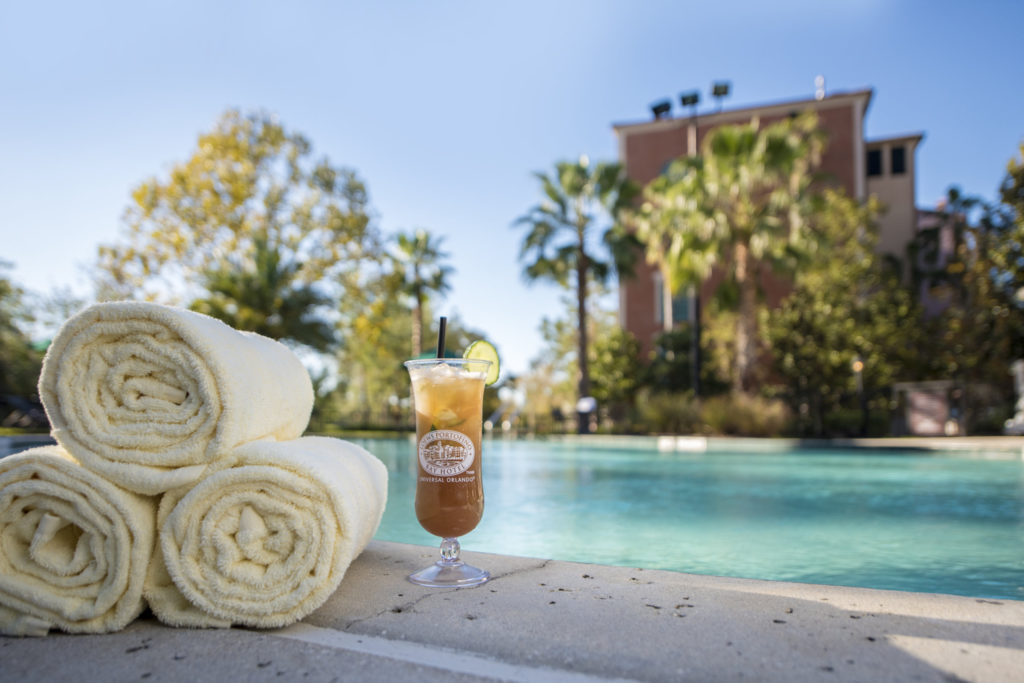 This refreshing sip will soon be available at the Harbor Piazza and at the Splendido Bar & Grill poolside bar.
Here's the recipe:
1/4 ounce St. Germain Elderflower Liqueur
1-1/4 ounce Tito's Vodka
Lemonade
Club Soda
Cucumber
Directions: muddle two slices of cucumber. Fill a glass with ice. Add liqueur and vodka and a splash of lemonade and club soda. Cover with shaker tin and gently shake. Garnish with a cucumber slice and lemon wheel.
---
In case you can't make it to Universal Orlando for the holidays this year, and you're "dreaming of a getaway to Orlando," these two cocktails should help to fill a little of that longing. Happy (Zoom) trails!
Share your pictures and thoughts on these cool cocktails with 150,000+ other Universal fans in our Orlando Informer Community on Facebook. And then be sure to follow Orlando Informer on Facebook, Twitter, and Instagram for the latest news, tips, and more at Universal Orlando, Walt Disney World, and other Orlando attractions.