Confirming at long last what everyone has suspected for the past two-and-a-half years, Universal has today announced that Dragon Challenge will be closing down on Tuesday, September 5 in order to make room for a brand-new Harry Potter attraction.
Although Universal didn't offer much in the way of specifics for the replacement ride, it did provide some rather vague – though still incredibly exciting – details: it'll be a "highly-themed" roller coaster that will, as expected, take us into a different corner of the wizarding world, where we'll encounter some of our "favorite characters and creatures." Interestingly enough, the company refers to the attraction as both a thrill and family-friendly ride, which leads us to believe that it might provide an experience not unlike Harry Potter and the Escape from Gringotts – even though it's supposed to be unlike anything Universal has ever done before. Finally, there's the little tidbit that the new coaster will open in 2019 (when many of Disney's new additions to Walt Disney World Resort will be up and running, incidentally).
There's even more to unpack regarding this announcement. First, a bit of historical context: Dragon Challenge originally debuted as Dueling Dragons in what was then the Merlinwood section of The Lost Continent, featuring what is still one of the single coolest entrances for any themed attraction in the world. Manufactured by Bolliger & Mabillard, it was designed to have two separate tracks, dubbed Fire and Ice, that intertwined and dueled against one another – the two cars would come within 12 inches of one another, with the ride's computer even weighing the two coasters once everyone was aboard in order to perfect the timing of the near-collisions. Adding to its uniqueness was its status as the world's first inverted dueling roller coaster, and its placement primarily over water certainly didn't hurt, either.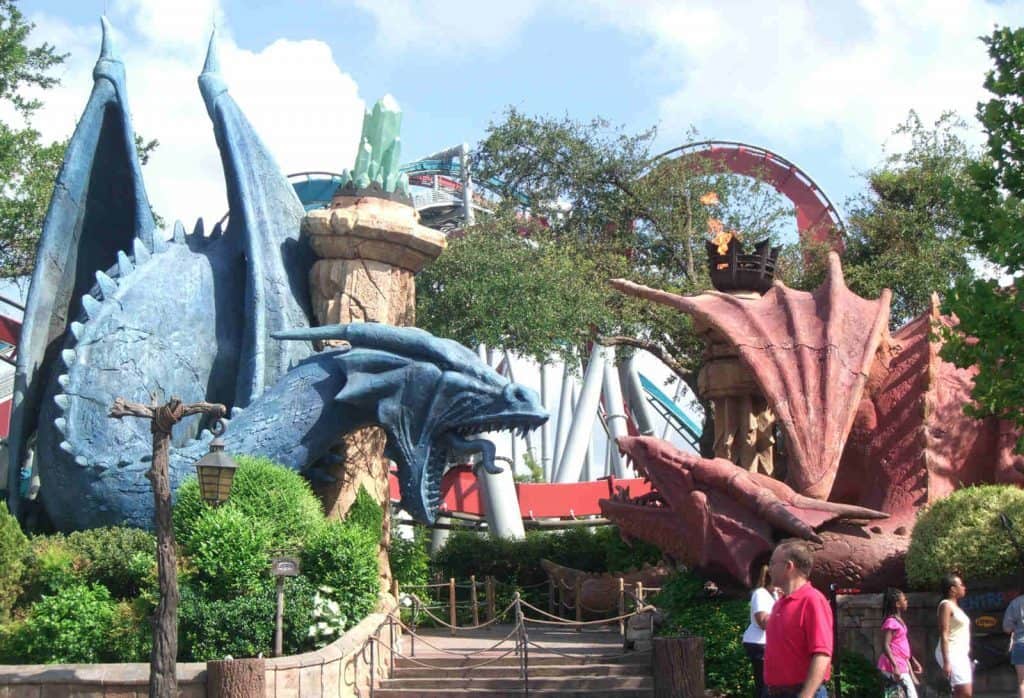 After opening with the rest of Islands of Adventure on May 28, 1999, the coaster saw a few massive changes just this decade. First, in 2010, it underwent a refurbishment that transformed it into The Wizarding World of Harry Potter – Hogsmeade's Dragon Challenge; the following year, after a small string of accidents plagued the attraction (it is suspected that objects were thrown from one car at the other, culminating in a rider losing his eye), Universal permanently removed its dueling nature, instead transforming it into a "chasing" coaster. Though still fun, Dragon Challenge lost most of its magic (no pun intended).
The incident that is causing the company to pull the plug on its 18-year-old ride, however, has nothing to do with branding or guest behavior and everything to do with engineering. After operating nearly every single day for the better part of two decades in the extreme environment that is Central Florida, the roller coaster's track has reached the end of its lifespan and will need to be replaced – much like its same-aged sister ride, The Incredible Hulk Coaster, which was torn completely down in 2015 and then rebuilt from the ground up (with a few technical improvements) the next year.
Today's look at the Incredible Hulk Coaster refurbishment. It reopens this summer! #UniversalOrlando pic.twitter.com/2gs4hcRAQh

— Orlando Informer (@OrlandoInformer) March 12, 2016
Rather than doing a similar rebuild for Dragon Challenge, however, the company has decided it would be better to keep it down for good, succeeding it with a brand-new Potter experience. It is currently believed that its replacement, given the press release's references to "a new level of storytelling with an action-packed adventure," will incorporate some of the dark-ride elements of such attractions as Harry Potter and the Forbidden Journey and, of course, Escape from Gringotts, which can still provide thrills but which more fully immerse guests into Harry's wondrous world – and which can also be built to accommodate a bigger swath of the various age demographics that love Hogsmeade. (Universal may also want to take advantage of the fact that it now has the money to design something from scratch, rather than being forced to retrofit a pre-existing attraction.)
Get your last ride on the Hungarian Horntail and the Chinese Fireball by September 4, when they challenge one another for the very last time.
–
For more on Dragon Challenge's layered history – and the rest of the Wizarding World's, as well – be sure to see our in-depth history feature on Islands of Adventure. You can also check out our wish list of what could replace the aging coaster.
And for continuing coverage of The Wizarding World of Harry Potter, be sure to follow Orlando Informer on Facebook, Twitter, and Instagram.