Grabbed this story off the wire because I thought it might be of interest to our readers and Universal Orlando fans, who may recall that once upon a time the Double Dare game show was filmed at USF's Nickelodeon Studios.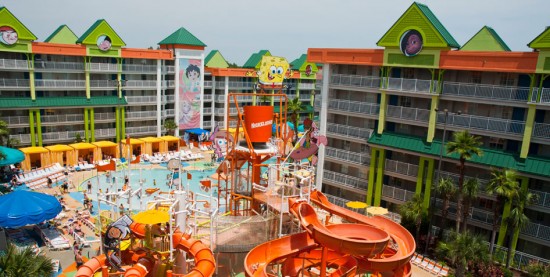 Nickelodeon Suites Resort, the only resort of its kind in the world, will kick off the summer with the addition of Double Dare on May 25th (previews begin May 21st). Double Dare, an original creation of Nickelodeon, was one of the first fast-paced, fun-centered and interactive game shows for kids; it was literally ahead of its time.
Studio Nick at the Nick Hotel has re-captured the thrills and the excitement of this one of a kind television show, allowing you to be "part of the act" this summer. Studio Nick's modernized LIVE Double Dare combines the exhilaration of the Original Double Dare television show with our new twists and turns, provided by state-of-the-art technology, plus updated content incorporating pop culture like only the Nick Hotel can.
"We are thrilled to bring Double Dare to the Nick Hotel," said Tony Aslanian, director of sales, marketing and revenue management for Nickelodeon Suites Resort. "The game show is just one more way we are creating experiences that are fun, interactive and memorable for the entire family here at the hotel."
The hotel's Studio Nick is transformed into the Double Dare sound stage. The stage will be an updated version of the classic Double Dare set. Guests will be recruited from the audience to compete in some physical challenges. Eight players will be selected to participate for the Blue Team or the Red Team. LED flat screens will display trivia related to the 25 year history of Double Dare giving guests the feeling they are sitting on the original game show set.
Follow @NickHotel on Twitter, or join their Facebook Page.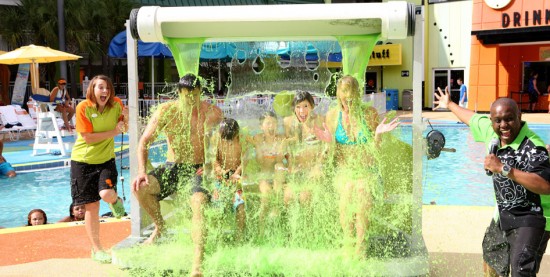 Take a trip back…
[youtube_video]Z85TF10StNU[/youtube_video]
About Nickelodeon Suites Resort
Located in the heart of Orlando's tourism district, Nickelodeon Suites Resort, otherwise known as the Nick Hotel, is much more than a place for guests to lay their heads at night. From two over-the-top pool complexes with slides and flumes, to live entertainment and Character Breakfast featuring Nickelodeon's beloved characters, to a multimillion dollar 4-D Theater, to the colorfully themed Kid Suites and gallons upon gallons of slime, Nick Hotel offers nonstop activity from dawn to dusk for the entire family any time of the year. For more information about the Nick Hotel, visit www.nickhotel.com or call (877) NICK-KID.