Right from day one, when Disney first announced the new Season of the Force event back in August, there was something off between how Disneyland and Walt Disney World Resorts would be celebrating the event. Whereas Disneyland Park always had the rock-solid date of November 16 for the commencement of the activities, Hollywood Studios received the much more vague release date of "the coming months," with the event eventually being revealed in stages throughout the next 8 weeks. And now there seems to be some mixed messages in regards to how Disney will be marketing the event to guests, with some outlets even claiming that the overarching moniker of "Season of the Force" has been retired, although all of its individual pieces-parts would remain standing.
Season of the Force concept art
Whatever the case may end up being – and we certainly should know soon, given that it is just around the corner – there's still a giant collection of activities to engage in and fun to be had. There's also the little question that accompanies such an event: is it worth your hard-earned vacation dollars?
Let's break everything down item by item to see if we can't find the answer.
The attractions, phase I: December 1, 2015
1. Star Wars Launch Bay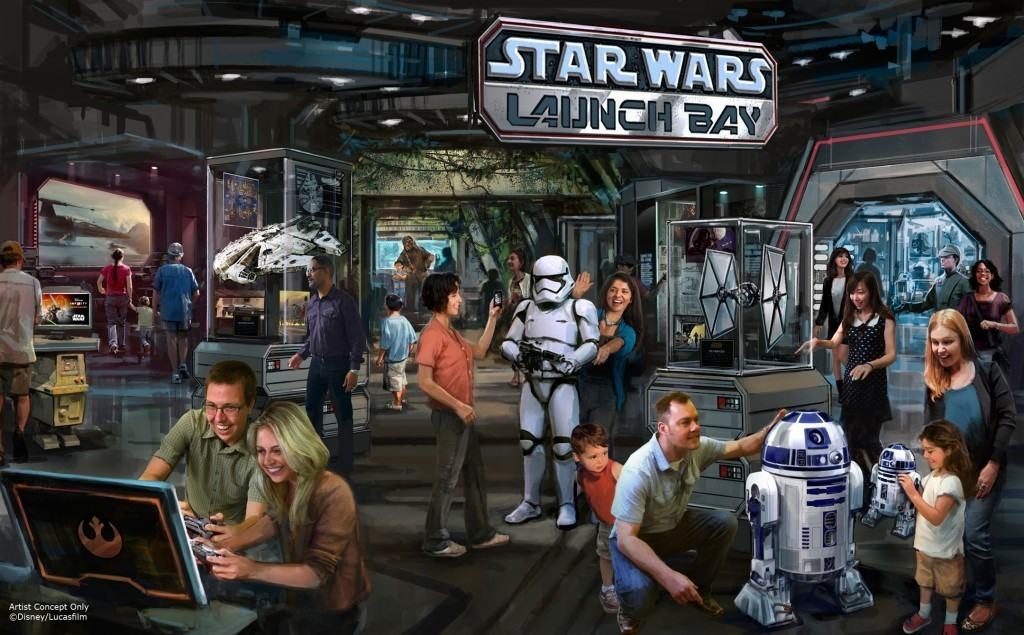 Star Wars Launch Bay
The seasonal (no pun intended) tie-in to Star Wars: Episode VII – The Force Awakens, which releases on December 18, the Launch Bay will be more in-depth than your typical temporary location. Guests can meet-'n-greet with Darth Vader and Chewbacca (replete with detailed backdrops); tour a collection of props and costumes from all the films, including the new one; get a chance to play the new Star Wars-infused video game, Disney Infinity 3.0, which includes park-exclusive levels; and, of course, purchase special merchandise.
The Launch Bay is located at the Animation Courtyard.
2. Star Tours: The Adventures Continue
A sneak peek at Jakku
The Force Awakens makes an appearance in Star Tours in the form of Jakku, the new desert planet that occupies much of the movie's story. There, guests will encounter a trio of the characters being introduced in Episode VII: ex-stormtrooper Finn (John Boyega), young scavenger Rey (Daisy Ridley), and adorable droid BB-8, who dispatches the transport's secret mission to R2-D2. (It should be noted that one of these is a blink-and-you-miss-it cameo appearance.)
Interestingly enough, for the duration of Season of the Force, Jakku will be programmed to be included in every experience for every rider; afterwards, the randomly-generated nature of the attraction will take over once again, making Jakku just as much of a crapshoot as any of the other six planets.
3. Jedi Training: Trials of the Temple
The Seventh Sister from Star Wars: Rebels
Having closed last month, the Jedi Training Academy is going to reopen under a new name and with a new backdrop: Jedi Training: Trials of the Temple will now, unsurprisingly, take place at the "secret site of an ancient Jedi temple." Even better, the attraction is similarly getting an update, this time in the form of new content from Star Wars: Rebels, the new television series currently airing on Disney XD – younglings will now battle the Seventh Sister alongside Darth Vader.
4. Star Wars: Path of the Jedi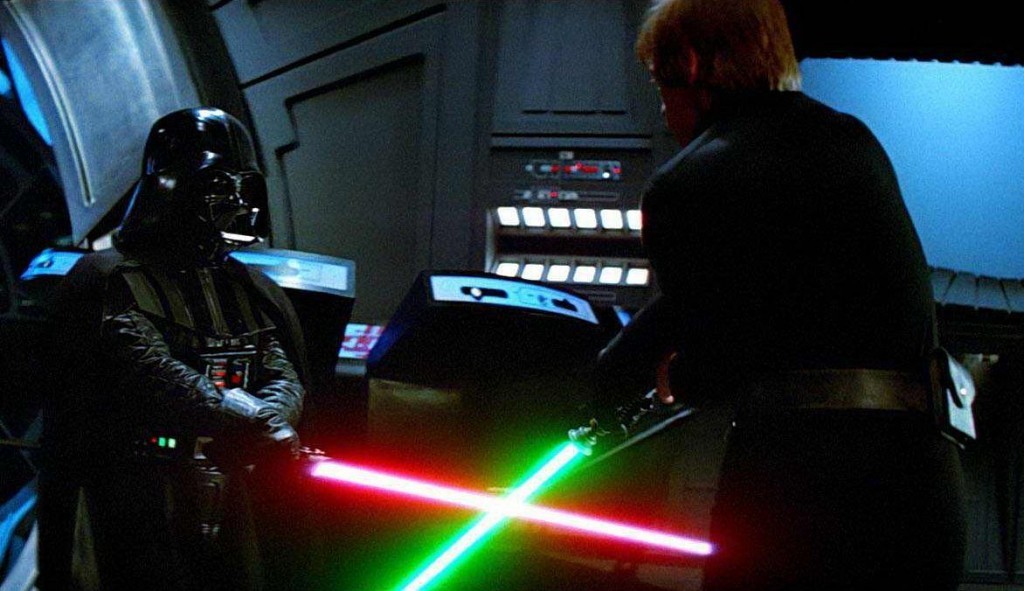 A pivotal moment from Luke Skywalker's path to becoming a Jedi Knight
An "exclusive cinematic event," this short film retraces Luke Skywalker's development into the last of the Jedi Knights by splicing together – supposedly seamlessly – footage from the original and prequel trilogies. It's designed to simultaneously titillate long-time fans and also serve as a primer to The Force Awakens for first-time Star Wars moviegoers.
Look for Path of the Jedi in a theater setting next to Echo Lake.
The attractions, phase II: January 5, 2016
1. Stormtrooper Patrols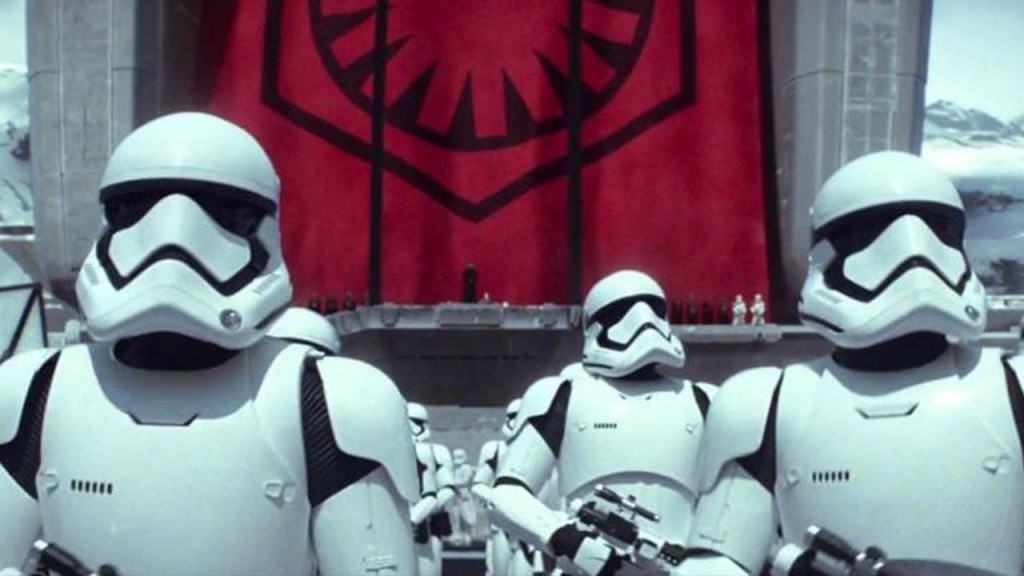 Stormtroopers from Episode VII: The Force Awakens
A roaming meet-'n-greet, these stormtroopers will roam the park, interacting and taking photos with guests along the way. This experience actually ties (loosely) into the story of The Force Awakens, as the soldiers are from the First Order (the Galactic Empire's replacement) and are hunting down hidden members of the Resistance (the Rebel Alliance's successor).
2. Symphony in the Stars: A Galactic Spectacular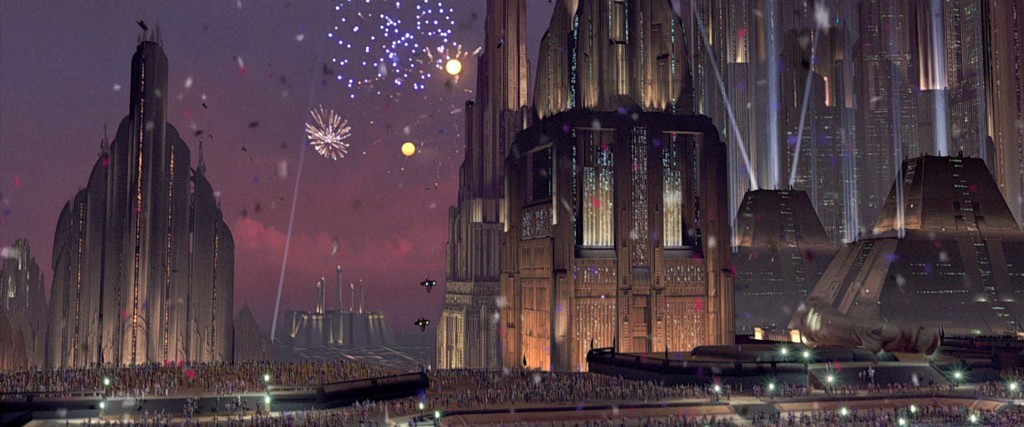 Fireworks at Coruscant, the capital of the galaxy
A special and Disney World-exclusive fireworks show set to John Williams's legendary Star Wars soundtracks, Symphony in the Stars was originally announced to be a weekend-only affair but has since been adjusted to feature daily showings. It should make for a suitable finale to a Star Wars-filled day at the park.
Of course, it wouldn't be Disney unless a special, hard-ticketed dessert party was offered during the fireworks show, featuring specially themed food, drinks, and – obviously – a Chewbacca stein.
3. Exclusive food and beverages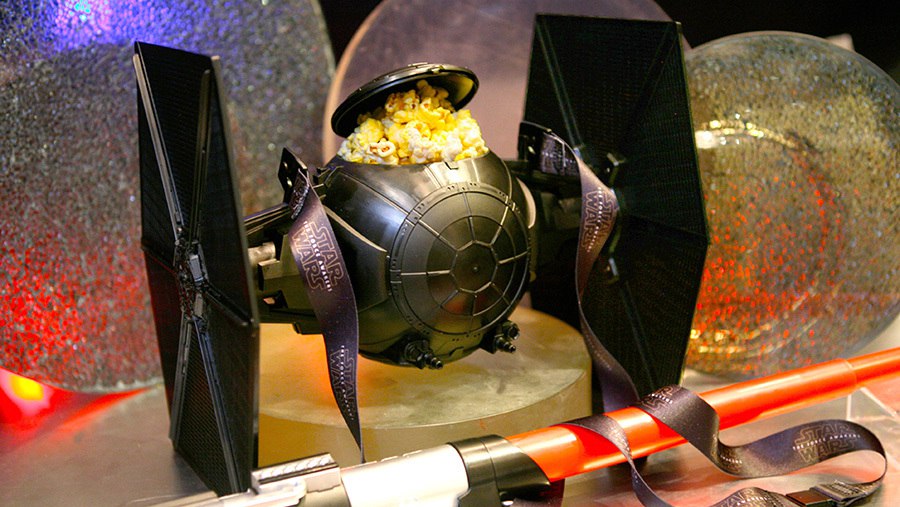 Here she is in all her beauty: the TIE Fighter premium popcorn bucket
Various locations scattered throughout the park will offer a wide variety of Star Wars-themed items to consume, including the Blue Milk Panna Cotta, Padawan Limeade, BB-8 Lemon and Butter Cream cupcake, and a Han Solo Souvenir Kid's Meal. There is no word on whether Disneyland's exclusive culinary collectibles will also be on-hand, such as the TIE Fighter premium popcorn bucket and the BB-8 drink sipper.
Is it worth it?
Temporary firework shows and character meet-'n-greets, a video montage, an upgrade to an attraction that was already scheduled, and (yet another) hard-ticketed dessert party – while there are certainly a number of experiences being held for Episode VII's big release, addressing the question of quantity, there's still the issue of quality that needs to be considered. Is Season of the Force worth it?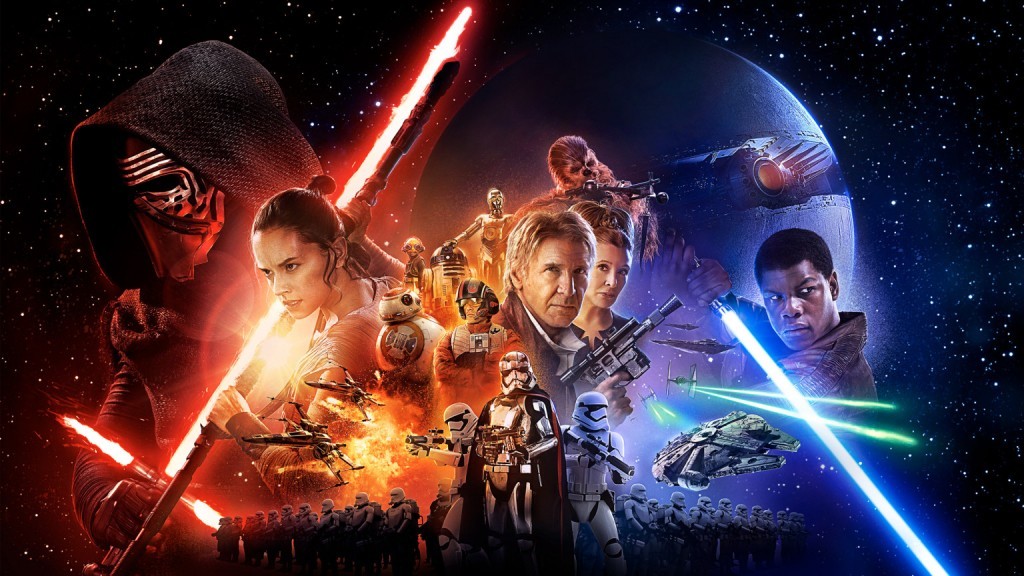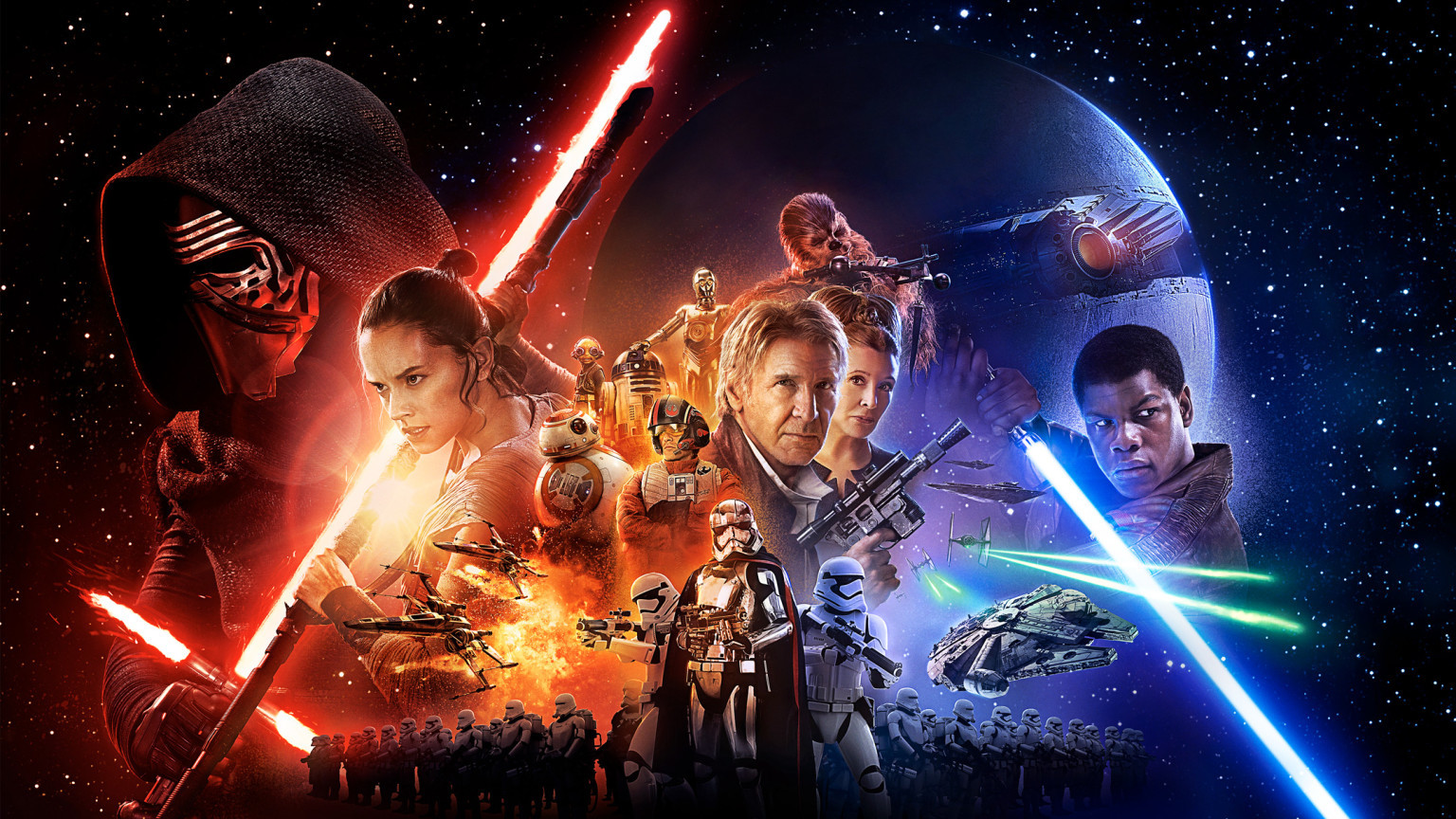 The Force Awakens's (very busy) poster
It's perhaps impossible to answer this without also acknowledging the larger issue of what The Walt Disney Company has managed to accomplish with its prize property after spending some $4 billion on it a little over three years ago. It may come as a surprise to many themed enthusiasts that next month's celebration is the very first new Star Wars-related content to come to any of its American parks since the Lucasfilm acquisition, meaning that not only does Season of the Force have to pass the movie tie-in test, but also whether it can live up to the larger expectations of fans from around the world.
In this regard, the answer is a resounding no. Yes, it'll be fun to sip on exclusive drinks while standing in line to look at The Force Awakens's props, but that's a far cry from, say, walking into a Wizarding World of Harry Potter – Diagon Alley-esque land, exquisitely detailed and delivered as a love letter to the fanbase (though still managing to throw all sorts of desserts and merchandise in guests' hands, but of course). And while getting a whole new sequence inserted into Star Tours is absolutely exciting and a genuinely valid use of screen-based technology, it still pales in comparison to getting a specifically Force Awakens-themed attraction of any sort.
One can't help but think Disney realizes this, as well, which is why it's quick to point out in all its press releases regarding Season of the Force that the long-awaited construction on the even longer-awaited Star Wars Land will commence soon after the event ends. It's a nice nod to the Star Wars faithful, but it only underscores the fact that the new land won't even be open until sometime in 2021 – or beyond.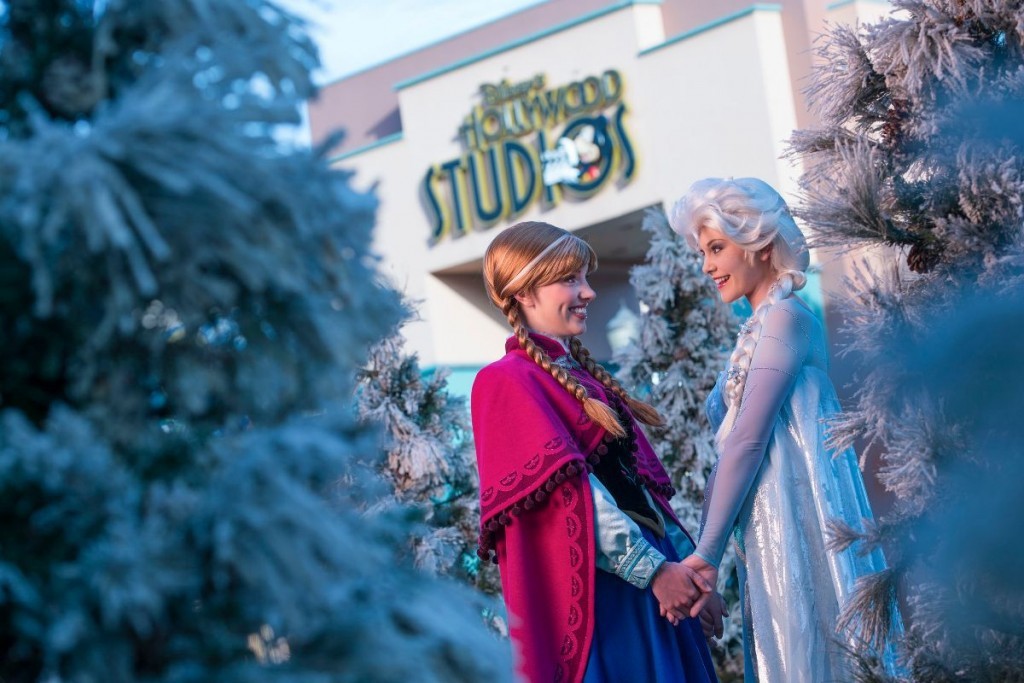 Frozen Summer Fun at Hollywood Studios
In the end, perhaps the best measure of its potential personal enjoyment is in its rushed-out-the-door sibling, Frozen Summer Fun, which also ran at Hollywood Studios for most of this past year. While none of those constituent pieces would be enough to draw in crowds by itself, taken in aggregate, they made for an extra layer of fun and engagement, particularly for those who are already fans of the subject matter.
And in a park that is fast losing experiences of any kind or stripe, such an event is sorely appreciated.