Leave it to Disney to find a way to address consumers' complaints and to increase its revenue stream in one fell swoop.
Transportation at Walt Disney World Resort is always at a premium, given the huge number of guests that visit there each and every day and the vast number of square miles that the property consists of — which means that a goodly percentage of patrons would be willing to pay money in order to find a faster and more efficient way of navigating Disney World's 13,000 acres. It turns out that, pretty soon, they'll be able to do exactly that.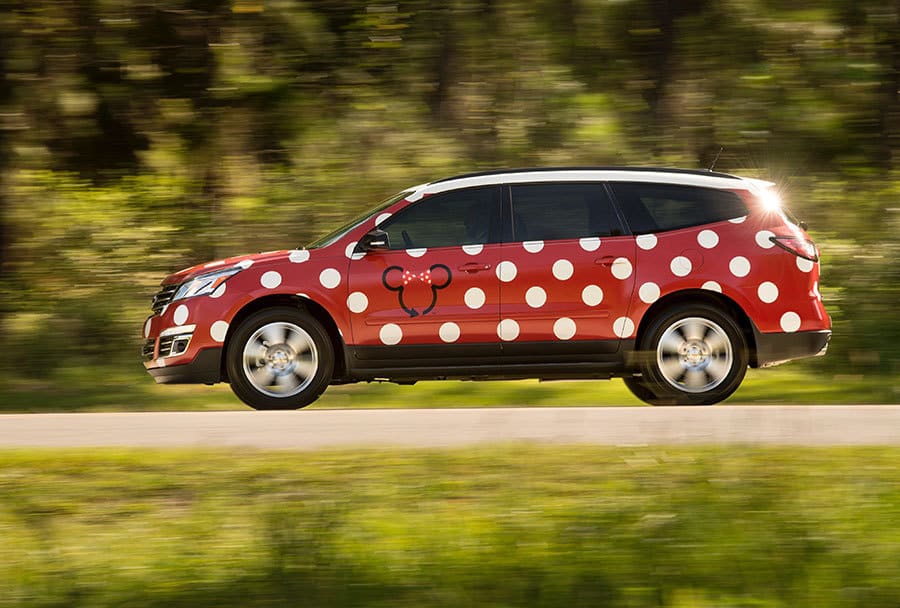 Today at its biennial D23 Expo, Disney made official what has been rumored for the past year: an Uber-like service will soon be made available to pick up guests and then drop them off at whatever on-site destination they'd like, whether that be a theme or water park, a hotel, or Disney Springs. Called Minnie Vans, the vehicles will be electric Chevrolet Traverses, and it's expected that they'll cost a flat rate to transport users.
Though an intriguing revelation, there were far more breathtaking ones also to be had at today's Parks and Resorts panel: a massive new E-ticket for Magic Kingdom (Tron Lightcycle Power Run), Epcot (Guardians of the Galaxy), and Hollywood Studios (Mickey and Minnie's Runaway Railway) each; another new transportation option for Walt Disney World Resort (the also-long-rumored gondolas); and, but of course, a Star Wars-themed hotel.
We hope to get more information on the Minnie Vans – such as when we can expect to see them roll out across the resort – in the very near future.
–
For even more from D23, follow Orlando Informer on Facebook, Twitter, and Instagram.