Much like driving around the festive neighborhoods back home to see Christmas lights, it is a tradition to tour Orlando's best hotels to check out their holiday decorations. Disney's on-site resorts have phenomenally themed Christmas decorations, with each one being worth a visit – but you may not have time to stop at them all.
Don't worry! In this guide, I've grouped the hotels by location so that if you wish to visit one or two on your way to or from a neighboring theme park, you can enjoy a quick little holly-jolly jaunt.
Disney's Epcot-area resorts at the holidays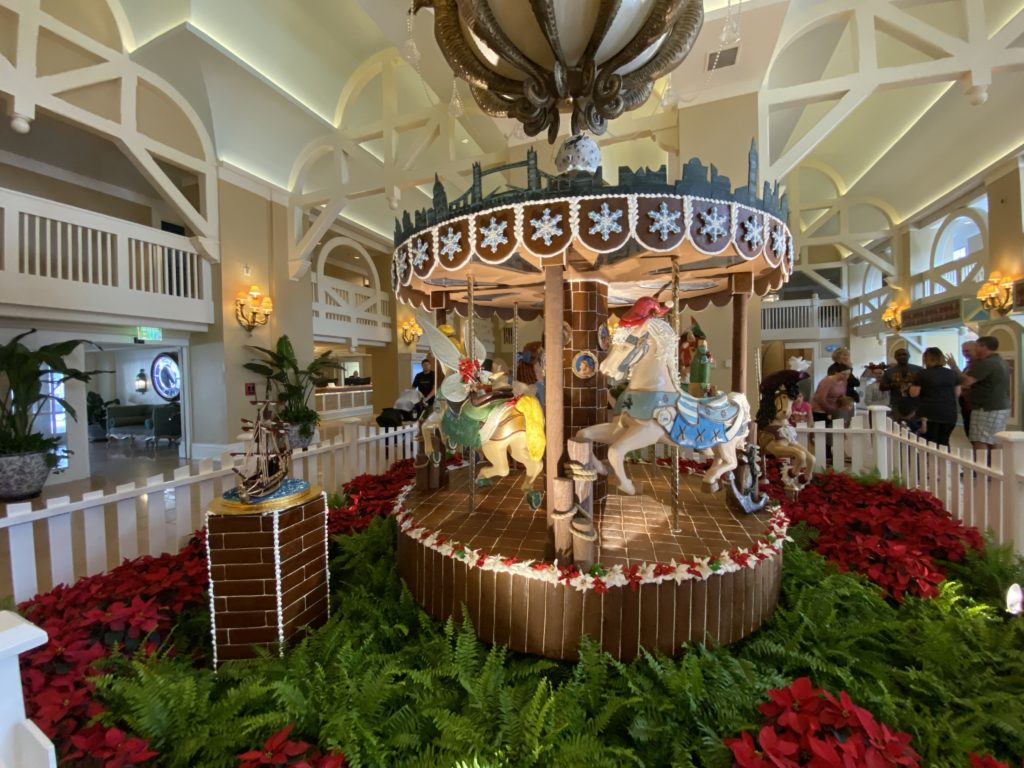 The Epcot-area resorts primarily include those in or around Disney's BoardWalk, such as Yacht and Beach Club Resorts, the Walt Disney World Swan and Dolphin, and, of course, BoardWalk Inn. These properties are the easiest to tour because they are all connected in the great circle of life – I mean, they are all connected by a boardwalk and sidewalk that surround Crescent Lake. Personally, this is my favorite collection of hotels to tour during the holidays.
The main yuletide attraction is the carousel made of gingerbread at Disney's Beach Club. Usually, the carousel has four horses on it, with an additional one to the side for guests to get a better look at and for photo opportunities. Each year, I look forward to finding out what the theme for the holidays will be. My favorite one of years past was "Fab 5," in which each horse was inspired by a Fab 5 character (Mickey, Minnie, Goofy, Pluto, and Donald); this year, the theme is Peter Pan, and it is just precious.
Right next door is Disney's Yacht Club Resort. Head toward the Beaches and Cream restaurant and keep going on the walkway along the back of the building, and you will reach the Yacht's lobby. The theme is a more sophisticated tone executed by polished brass, cherry wood furnishings, and rich, dark accents. The main holiday attraction here is a darling Christmas village. Growing up, my mom had a Christmas village and it captured my imagination, though it was maybe 1/16 the size of the Yacht Club's. As a kid, I wondered what the lives of the village's inhabitants were like. Here at Yacht Club, it is fascinating to watch so many moving parts, including a train and a ski-lift. Take your time and enjoy the details – and the touches of Disney, too.
The Yacht Club's Christmas tree in the lobby is also worth a closer look. It is adorned with dazzling blue and gold ornaments, as well as small nautical vessels – ships and boats of various styles rest on the branches throughout the tree.
Across Crescent Lake is Disney's BoardWalk Inn. I love the turn-of-the-century feel of this resort; the music here is one of my favorite eras of music. There is a large Christmas tree on the lawn of the courtyard, and inside the lobby, you'll find this hotel's gingerbread creation. The Boardwalk's lobby is actually one of the most festive in the area – it's dripping with garland that is practically covered in ornaments, and the gingerbread display is a recreation of the BoardWalk Bakery and surrounding facades. There are always fun details to enjoy.
The final resorts in this magical neighborhood are the Walt Disney World Swan and Dolphin hotels, which are managed by Marriott and which are, in my opinon, vastly different than the Disney-owned ones (not in a bad way – just different). I actually love these venues, thanks to the time I spent working in them. The Swan is smaller, somewhat quieter, and closest to Disney's Hollywood Studios. Here, at the back of the resort's lobby area, you can gaze a holiday display made of chocolate, including Santa Claus himself. The creation of this tableau is led by the Swan's pastry chef, who is world-renowned and has been at the property for years.
Over at the larger hotel, the Dolphin, you can gaze at a towering poinsettia tree in the massive, newly renovated lobby. The Swan and Dolphin like to save that they are "Santa's favorite resort," and if you decide to stay there, you may agree. Santa and Mrs. Claus meet hotel guests on select nights at a special Florida tiki hut along the Dolphin's causeway. It is precious and a uniquely Florida moment – after all, they are on a little vacation from the North Pole!
My recommendation is to visit the BoardWalk area and its collection of hotels when you're touring Epcot or Hollywood Studios. You can exit Epcot at International Gateway in between the United Kingdom and France pavilions. I'd suggest starting with Yacht and Beach Club, then BoardWalk Inn, and, finally, the Swan and Dolphin before continuing to walk to Hollywood Studios, taking the ferry boat, or returning to Epcot, of course.
BONUS: Disney's Caribbean Beach Resort at the holidays
With the addition of the Disney Skyliner gondola system, you can easily visit Disney's Caribbean Beach Resort from either Epcot or Hollywood Studios. Simply hop aboard a cable car either at Epcot's station (at International Gateway) or at the Hollywood Studios station, and your next stop from either one will be Caribbean Beach.
There is not a ton of Christmas decor here, where the Skyliner deposits you near the front entrance of the hotel. But you can take the internal bus that frequently runs throughout Caribbean to Old Port Royal, the property's dining and recreation area, where you'll find wonderful tropical Christmas decor and music.
I wouldn't go out of my way to visit here, but if you are looking for a change of pace and an easy way to visit a Disney resort during the holidays, this is a fun option.
Disney's Magic Kingdom-area resorts at the holidays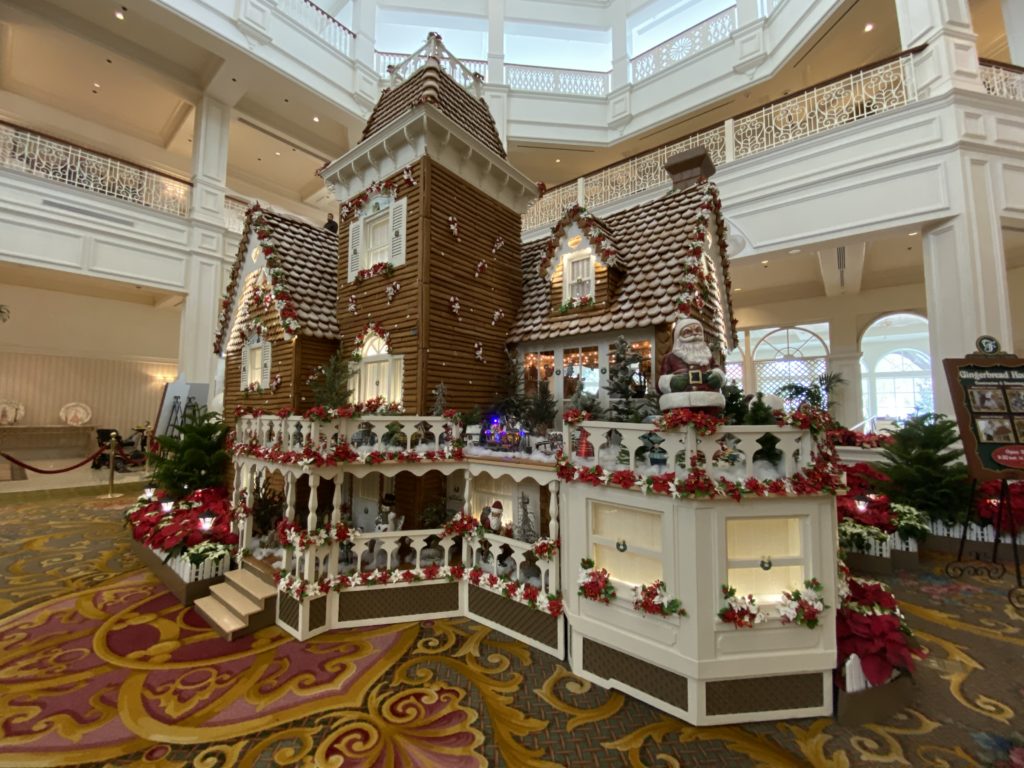 Magic Kingdom is, of course, surrounded by magical hotels. There are three on the monorail loop – the Contemporary, Grand Floridian, and Polynesian Village Resorts – and, also, Wilderness Lodge Resort is a short boat ride away. Definitely make time to tour at least one of these venues, perhaps as an afternoon break, when visiting Magic Kingdom.
Grand Floridian has the most popular gingerbread display. The Victorian-style gingerbread house is larger than a child's playhouse and looks as good as it smells. The house doesn't change all that much from year to year, but little details like Disney characters are added and swapped out each holiday season. The Grand Floridian's multi-story lobby is stunning and sophisticated, adding a classy backdrop for this beautiful baked-good creation.
Right next door is Polynesian Village. I adore this hotel; its classic tropical-island atmosphere is instantly relaxing. There isn't a big holiday display here, so if you're short on time, don't feel bad about skipping it, but if you are touring around via the monorail, then consider stopping in. Visit at 3:00 pm or after to hit up Trader Sam's Grog Grotto, which sails the tropical yuletide seas with a few holiday touches – there are tacky decorations and snow falling in the enchanted windows.
Contemporary is a must-visit, especially this year, the 10th anniversary of its having a gingerbread display. To commentate the occasion, the hotel is selling a box set of five Christmas cookies, each one a different flavor, for $14.00. This makes a unique small gift or a treat for yourself. The display itself, meanwhile, boasts a different theme each year, with 2019's being Cinderella. Overall, Contemporary's Christmas decor is lacking compared to other resorts, but it's still fun and festive. And this is truly one of the easiest properties to stop in and out of at Magic Kingdom – just take the monorail from the theme park, and it's your next stop. (Or you can always walk!)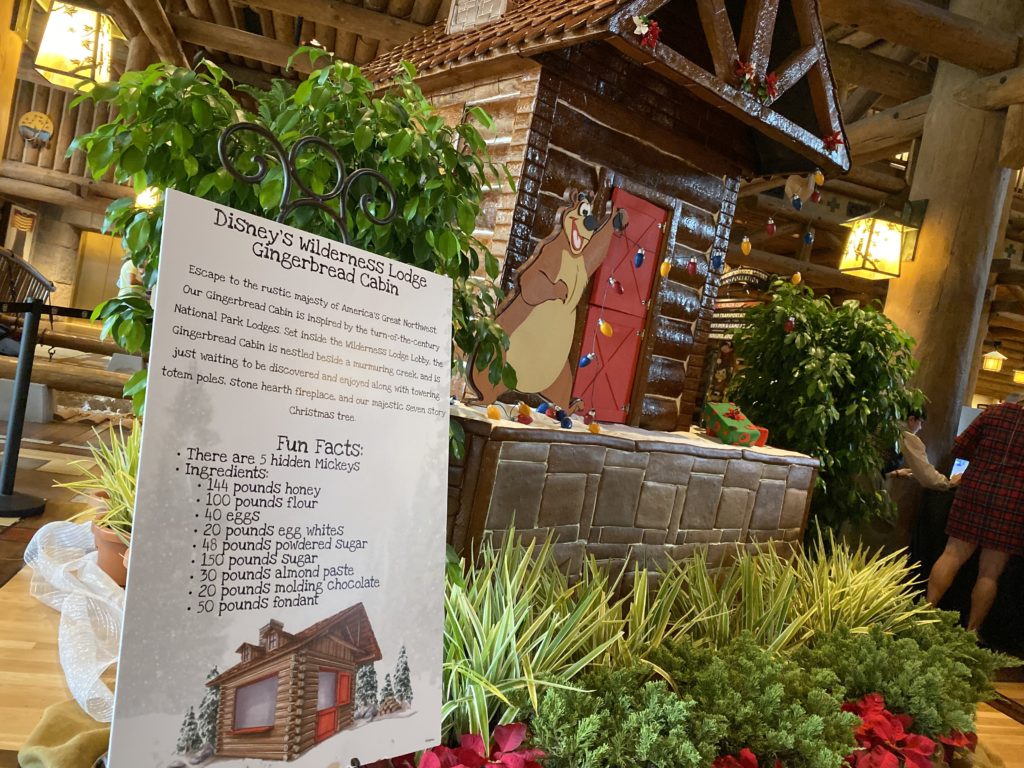 Beside the three resorts that are on the monorail loop, you can take a boat from Magic Kingdom to Wilderness Lodge. For many Disney fans, there is no better hotel during the holidays. Imagine a luxurious, warm, and inviting lodge amid towering pines in the Pacific Northwest that was somehow transported to Central Florida. It has one of Disney's tallest Christmas trees, which instantly causes you to look up and gaze upon its majesty. Rustic, woodsy details cover the tree, including teepees and drums. Garland curves around the lobby's wooden banisters. Pull up a rocker and sit by the fire (the beautiful fireplace is inspired by the grandeur of the Grand Canyon). There's so much to take in here.
New this year is a delightful gingerbread cabin. We Disney fans are super excited about this, as it marks the first time that Wilderness Lodge has gotten into the gingerbread spirit. The details, including the intricacy of the chimney and the gingerbread timber logs, beckon you to stay awhile – which, yes, now means that the hotel is an absolute must-visit.
BONUS: Disney's Fort Wilderness Campground at the holidays
While you're in the Magic Kingdom neighborhood, and especially if you do visit Wilderness Lodge, consider taking the boat from the Lodge to the Fort Wilderness campsites. While Disney does decorate the buildings around the campground, the real reason to visit is to see the delightful displays that guests camping out have put up. If you do take the boat, you'll be dropped off at the Settlement Depot, home to Pioneer Hall, Trail's End Restaurant, and Crocket's Tavern. From here, you can take a bus to ride around the campground or you can rent a bike for a delightful jaunt in the fresh wilderness air (the price is around $19 per person).
Other resorts at the holidays
If you visit Disney's Animal Kingdom park, consider taking a complimentary bus over to Animal Kingdom Lodge. There are two stops at this resort – feel free to do both. First is Kidani Village, the Disney Vacation Club building, with a smaller lobby that is decorated with warm holiday colors, a tree, and handmade decor. You can head out to the savanna viewing area to see beautiful African animals or sit around the fire pit at night. The second stop is Jambo House, which is the original building. Here, the lobby is multi-story and the towering, golden-hued tree is sure to make your jaw drop.
There's also Port Orleans Resort, which consists of French Quarter and Riverside – and both of them brandish holiday decor with a Southern flair. You can easily access these resorts from Disney Springs – take the complimentary boat transportation from the Disney Springs Marketplace boat dock, enjoy a lovely boat ride to Port Orleans, and then explore the festive decor. If you're an annual passholder or a Disney Vacation Club member, you can even get a complimentary order of beignets at Scat Cat's Club with a purchase of a beverage to celebrate the lounge's new look (for a limited time).
Important information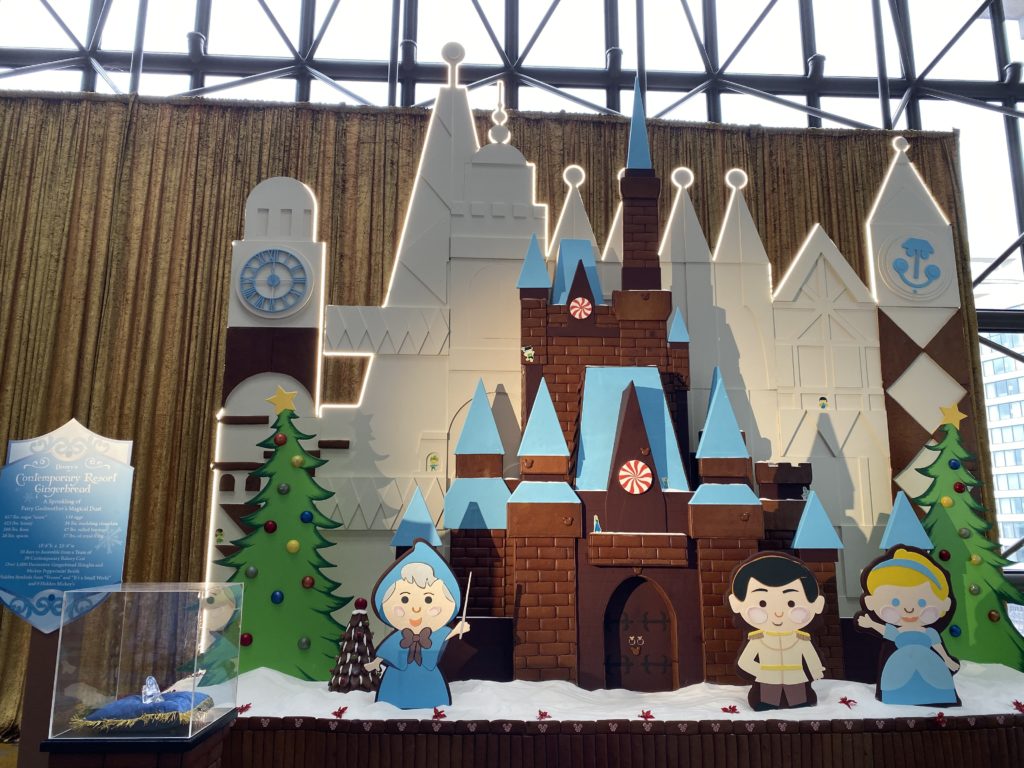 If you are driving to a Disney hotel and are not a registered guest, the official policy is that you need a dining reservation to park there. Generally speaking, as long as you show your photo ID and explain you are heading to the merchandise shop or a dining location that does not accept reservations, you will be able to park. This is less possible the closer it is to the week of Christmas Day (and afterwards, as well).
Practically each Disney resort has seasonal treats and beverages for purchase near its main holiday display or in its quick-service location, so grab a bite or a drink and enjoy the festive atmosphere.
Disney does not publish official dates of when the displays are fully installed or, at the end of the season, removed. Generally, however, they remain up through the first few days of January.
–
Share your favorite resorts to admire the Christmas decorations in at our OI Community Facebook group.
And don't forget to follow Orlando Informer on Facebook, Twitter, and Instagram for the latest news and tips at Universal Orlando, Walt Disney World, and other Orlando experiences.