One of the biggest developments to come out of The Walt Disney Company's purchasing of Lucasfilm back in October 2012 – besides getting two new trilogies of Star Wars films, but of course – was the possibility of finally getting an entire area themed to writer-director George Lucas's galaxy far, far away.
Development on such a land – one to be located at Hollywood Studios in Walt Disney World Resort, and a carbon(ite) copy at Disneyland Park over at Disneyland Resort – was routinely pushed back for various reasons, starting with the very high bar that The Wizarding World of Harry Potter – Diagon Alley established for all future Disney projects and moving on to the question of what Star Wars: Episode VII – The Force Awakens's commercial viability might've been. With all such hurdles out of the way, Walt Disney Imagineering went back to the drawing board and designed a series of attractions that incorporated both of those properties' sensibilities.
Today, we're almost exactly one year into the construction process on both versions of Star Wars Land, and although progress has been slow, it's definitely been noticeable, as Hello Giggles points out. The site has two Nearmaps that allow users to scroll between two different pictures taken of the same area four months apart, allowing us to get a really good idea of how work is progressing at the land that, up until last year, used to be called Streets of America at Hollywood Studios.
It is, of course, still too early to get any definite details out of the pics – Hello Giggles theorizes that the structures shown are for ancillary buildings, like shops or bathrooms – but it's enough to get the juices flowing. We know that two rides have officially been announced for SW Land already: a Millennium Falcon motion simulator that allows users to take control of the legendary ship (perhaps literally, combining videogame elements with theme-park thrills), and a First Order dark ride that just may – according to Screamscape – call for passengers to exit their first ride vehicle, progress on foot through a certain section of the attraction, and then link up with a second vehicle. We know where the former will be located in the land, though not the latter – just take a look at this concept art Disney released three months back: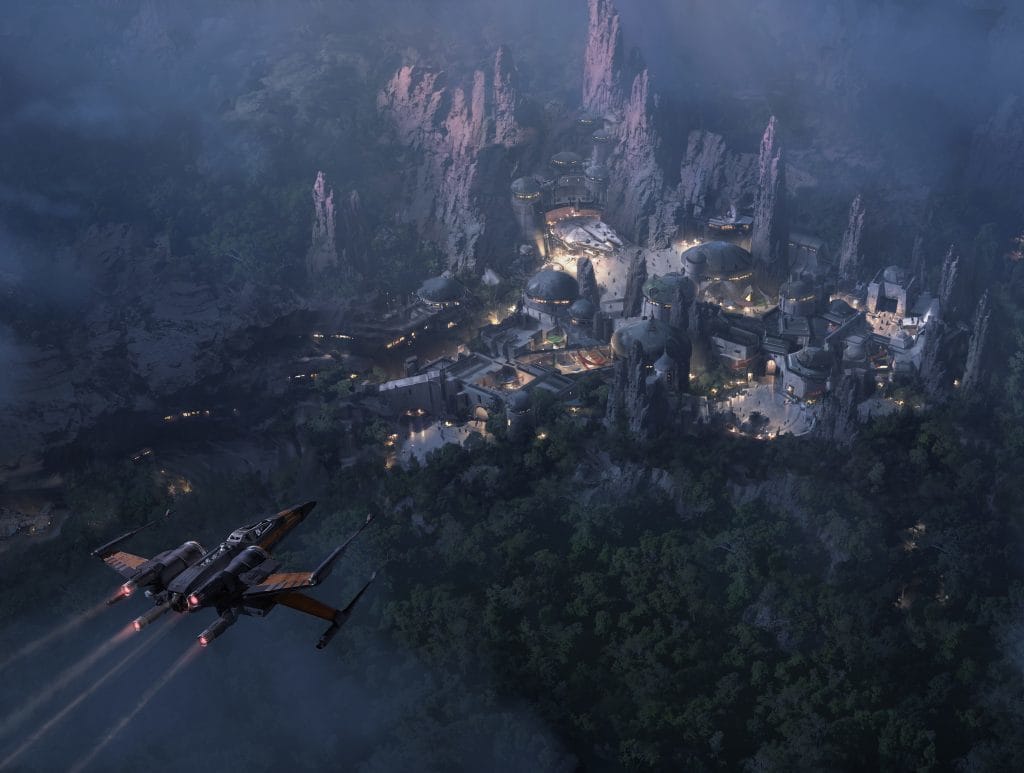 It very well could be that the construction seen in the recent pictures directly relates to one of these show buildings, but it could also be that we're looking at the third rumored ride (which might have been ordered up thanks to both The Force Awakens's and Rogue One: A Star Wars Story's immense successes at the box office) or, perhaps, a support building attached to some of the additional attractions that are said to be present in the land. These could possibly include interactive droids that roam the landscape and, just maybe, interactive Force experiences that, according to rumor, would roughly mimic Universal's Harry Potter wands or the TapuTapu wearable at Volcano Bay.
Since Star Wars Land isn't going to open until the summer of 2019, we may still have a long wait ahead of us before any recognizable structures start to go up. Until then, we'll have to keep theorizing about what's taking shape in front of us and what other possible surprises await us on opening day in the comments below or over at the Orlando Informer Facebook group.
For the latest news, tips, and more at Universal Orlando, Disney World, and other Orlando attractions, be sure to follow Orlando Informer on Facebook, Twitter, and Instagram.