Walt Disney World Resort is full of hidden gems and secrets that make visiting again and again a treat! One of these secrets is a unique souvenir that is often overlooked – the cut-paper silhouette. But what exactly is it, and where can you get one?
Cut-paper silhouettes are portraits, generally cut in profile, that are made from black card stock and then pasted on a light background, and often framed. As a silhouette mimics the shape an object makes in shadow, there is very little detail, with only the outline forming any sort of shape.
An art style dating back to ancient times, silhouettes are a great way to memorialize a person at a specific point in his or her life. They were first seen on Ancient Greek and Roman urns depicting famous battles, but cut-paper silhouettes gained significant popularity throughout the 18th and 19th centuries as an affordable alternative to painted portraits or miniatures. Although the invention of photography stifled the art form's growth, it can still be found today – like at Magic Kingdom!
Speaking of which…
Cut-paper silhouettes at Walt Disney World
Perhaps unsurprisingly, cut-paper silhouettes can be found in the areas of Magic Kingdom that are themed after the historic time periods in which these items were the most popular. One of the most prominent locations is a cart that can be found right on Main Street, USA, situated in the small alleyway between Uptown Jewelers and Crystal Arts. An additional cart location is also in Liberty Square, across from Sleepy Hollow Refreshments, near the entrance to Ye Olde Christmas Shoppe.
Cut-paper silhouettes can also be found in the France Pavilion of Epcot, near the water, right after you cross the bridge from International Gateway, and, finally, at a cart in Disney Springs's Marketplace, across from the Stitch entrance of World of Disney and next to the Ghiradelli Ice Cream & Chocolate Shop. One of the best features of Disney Springs is that there is no fee to enter the location, meaning this souvenir is extremely affordable.
Which brings us to:
The cost
Relatively speaking, cut-paper silhouettes are incredibly inexpensive and are some of the most affordable souvenirs that can be found at Disney World. Although the prices are always subject to change, as of this writing silhouettes cost $12 per person, with a group of two going for $20; a group of three, $24; and a group of four, $27. A protective frame can also be purchased for $8.95 (tax not included).
A silhouette is also a time-saver. When it comes to souvenirs, it can be a hassle trying to figure out what everybody wants, with your group going to – many times – multiple stores to satisfy everyone. A paper silhouette can be completed in around 60 seconds, which is short enough that even the most squirmy of children can sit for it.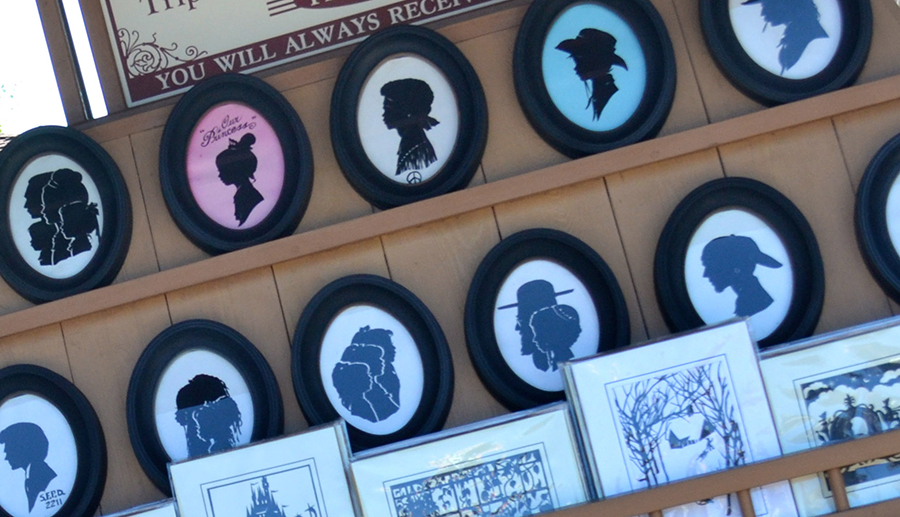 Why get one?
In today's fast-paced society, it can seem that time just whizzes by. One minute, children are laughing and playing, enjoying meeting Mickey Mouse, and the next they're off to college and leaving the nest. Being able to capture special family moments – like a Walt Disney World vacation – is an opportunity that shouldn't be passed up.
One of the greatest parts of a cut-paper silhouette is that it freezes time. It shows the person (or group) as she was in that moment, and can last forever; archaeologists are using silhouettes to determine the cultures of ancient civilizations, and those from the 19th century are a terrific look into the lives of people who wouldn't normally be remembered.
Keep the art alive
While cut-paper silhouettes were a dime a dozen 200 years ago, today the art form is far from thriving. While there are some artists who use the medium to express certain viewpoints, sitting for true portraits seems to be a thing of the past. What historians call the "19th century selfie" is becoming more difficult to find. Patronizing these silhouette stands will show that this art is still appreciated and can find space in today's society.
A souvenir to last
A great aspect of cut-paper silhouettes is how they can be used to measure the growth and development of a family. One that spends a single, special trip at Disney World can use the silhouette as a way to memorialize a wonderful vacation; should multiple stays be possible, getting a cut-paper silhouette done every visit can be used to show the passage of time. This can be a special way to mark each visit at Disney, as a silhouette will showcase how each person was at that exact moment.
Sitting for a cut-paper silhouette, as a family or as an individual, is a wonderful way to cement the trip in memory. Many souvenirs are objects that will be enjoyed for a bit before being tossed away or forgotten by the next exciting thing. Silhouettes, however, are not just a great souvenir – they're a great memento to be enjoyed for many years to come.
–
Tell us all your thoughts on the newest Disney craze in our WDW Community Facebook group, where thousands of other theme-park fans discuss all facets of their past and upcoming vacations.
And also be sure to follow Orlando Informer on Facebook, Twitter, and Instagram for the latest news and tips at Universal Orlando, Walt Disney World, and other Orlando destinations.