UPDATE 10:13 AM 11.14.18: at the International Association of Amusement Parks and Attractions Expo 2018, The Walt Disney Company announced that the Disney Skyliner will officially open in the fall of 2019.
UPDATE 12:40 PM 10.19.18: Disney showed off this spiffy little video that's meant to give us the best illustration yet of what the new Skyliner is going to be like to ride:
UPDATE 11:15 am 12.08.17: today, Disney lifted the curtain on what some of the Skyliner's various train stations will look like as part of its "12 Days of Disney Parks Christmas" countdown.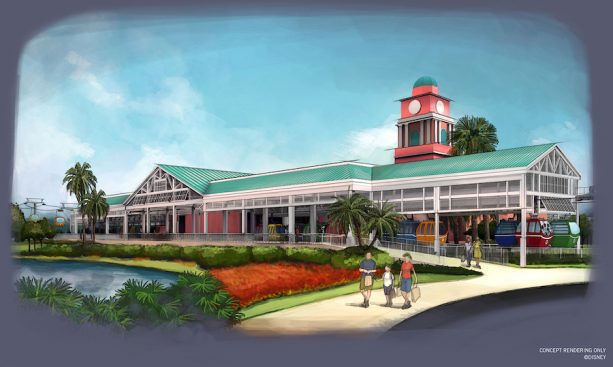 Caribbean Beach Resort station – the main Skyliner station, the Caribbean Beach Resort stop will allow guests to transfer from one route to the next. It will be made to look like the open-air village marketplaces that can be found all throughout the Caribbean, making it the perfect fit for the on-site hotel's just-revealed facelift.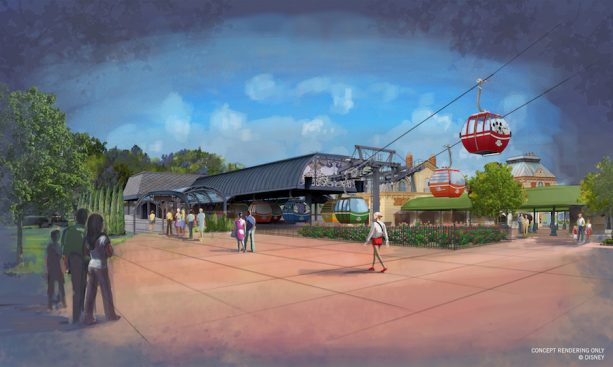 Epcot's International Gateway station – the design of this station will be informed by the various European pavilions located in World Showcase and will feature some lovely aesthetic flourishes:  metal and glass canopies, hand-painted murals, and Art Nouveau-style ornamental steel structures. Disney promises that, beyond the station's beauty, a major draw of taking the new gondolas to Epcot will be the "rare" birds-eye view of World Showcase.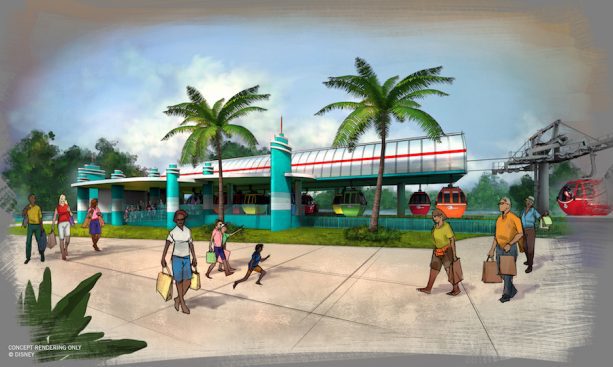 Hollywood Studios station – much like its sister park, Disney is promising some beautiful views of Hollywood Studios's buildings and attractions, most notably the Twilight Zone Tower of Terror (if you're traveling from Caribbean Beach Resort, that is). Expect this destination to fit seamlessly into the park's main entrance and nearby bus stations.
Pop Century and Art of Animation Resorts station – both hotels share a "whimsical" gondola station that the company says will still fit both of their respective thematic sensibilities. The track here will extend over Hourglass Lake, which sounds positively picturesque.
As if all that weren't enough, Disney also let slip a few other details to expect from the Skyliner: firstly, a turn-station will be installed at Buena Vista Drive, where the vehicles will slow down and allow riders to see the various "mechanical and aerial" components that constitute the new gondola service; secondly, only "select" cabins will burnish the Disney characters that have been spotted in previous conceptual artwork (as seen below). We imagine guests – particularly those with kids – will be jostling for these "uber" gondolas.
–
Over the past five months, the rumor that gondolas would be arriving at Walt Disney World Resort has been making the rounds, and doing so quite extensively, thanks to the presence of permits and actual construction on the ground. Today, Disney has finally gone ahead and made it official.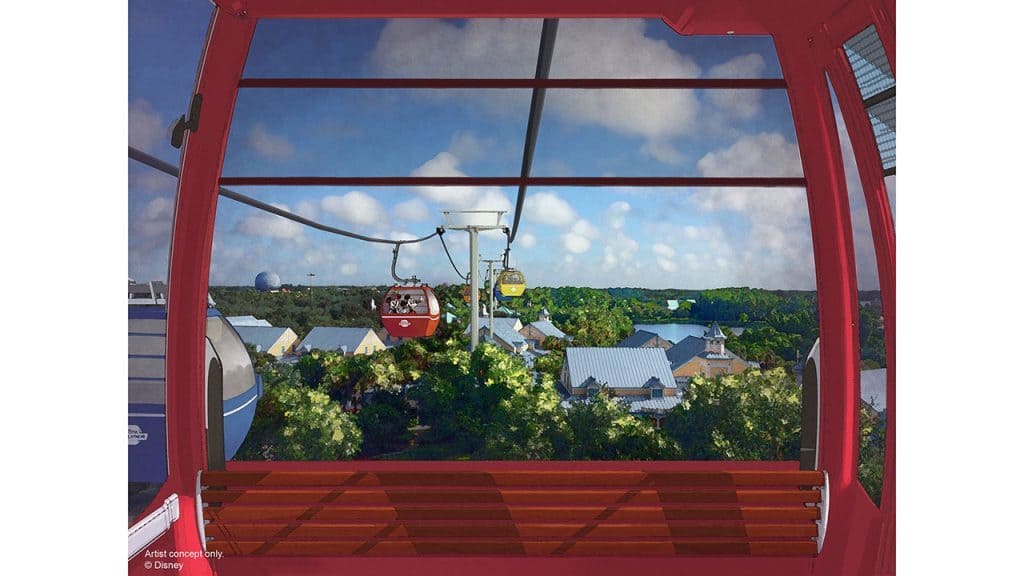 During the Parks and Resorts panel at the biennial D23 Expo, Bob Chapek, the chairman of the Disney Parks and Resorts division, confirmed that the brand-new transportation system, called Disney Skyliner, will link the Epcot and Hollywood Studios theme parks with three hotels: Caribbean Beach Resort, Pop Century Resort, and Art of Animation resort (the latter two will be sharing their skyway stop). Even better, there will be several different gondola cars that will each feature its own iconic Disney character, ranging from the expected (Mickey and Minnie mouse) to the more unusual (the Haunted Mansion ghouls).
While this is certainly a big deal just in terms of alleviating the traffic congestion that plagues the 13,000-acre resort, it's also a major acknowledgment of all the future work that is already ongoing or will shortly start at the two parks. Hollywood Studios will see its Toy Story Land open next year, with Star Wars: Galaxy's Edge following the year after; Epcot, meanwhile, was just confirmed to be getting a whole slew of its own changes, including a renovated Future World and new attractions in World Showcase (and a Guardians of the Galaxy roller coaster, of course!). Both sets of projects are expected to be wrapped up by the 50th anniversary celebration that will be held in 2021.
But the Skyliner wasn't the only transportation-related announcement made today: Disney World guests can also now expect to use an Uber-like service, called Minnie Vans, to get quickly around the resort.
–
For more on D23, Walt Disney World, and other Orlando attractions, be sure to follow Orlando Informer on Facebook, Twitter, and Instagram.