Walt Disney World Resort is home to two distinctly different water parks: Typhoon Lagoon (which opened in 1989) offers a lush, tropical atmosphere, while Blizzard Beach (1995), on the other hand, is an immersive storytelling experience about what happens when a freak blizzard creates a Florida ski resort on the meltdown. It can be hard to decide which Disney park to visit over the other, or decide if it is worth it to visit both.
Let's take a look at the features of each location, including the themes, attractions, and food and beverage, along with their overall experiences.
The themes
Disney's Typhoon Lagoon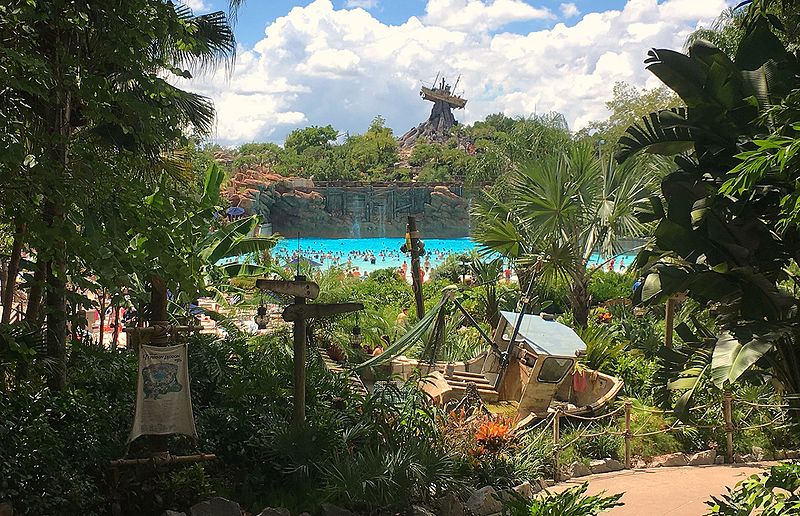 Legend tells of an incredible storm that transformed this tropical paradise – evidence of this legendary weather event is seen in the decor and thematic elements throughout the water park, including boats and ships that are lodged at the top of hilly peaks and nautical supplies that are scattered in unexpected places throughout. Beach music wafts over the air from the likes of the Beach Boys and Jimmy Buffett. Towering palm trees and beautiful tropical flowers provide a lush environment. Every so often, the rushing sound of a massive wave pushes through Typhoon Lagoon's central wave pool.
Disney's Blizzard Beach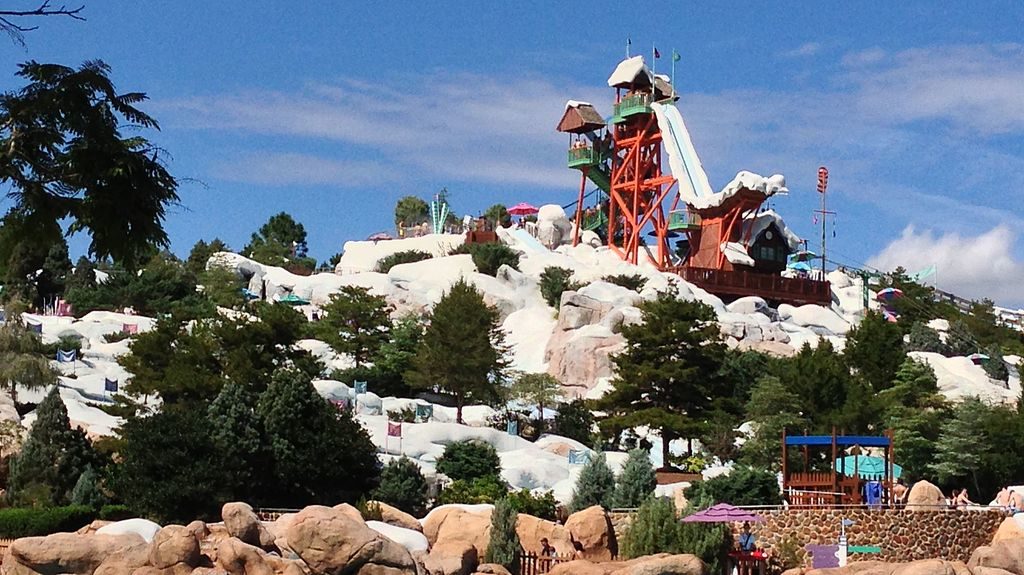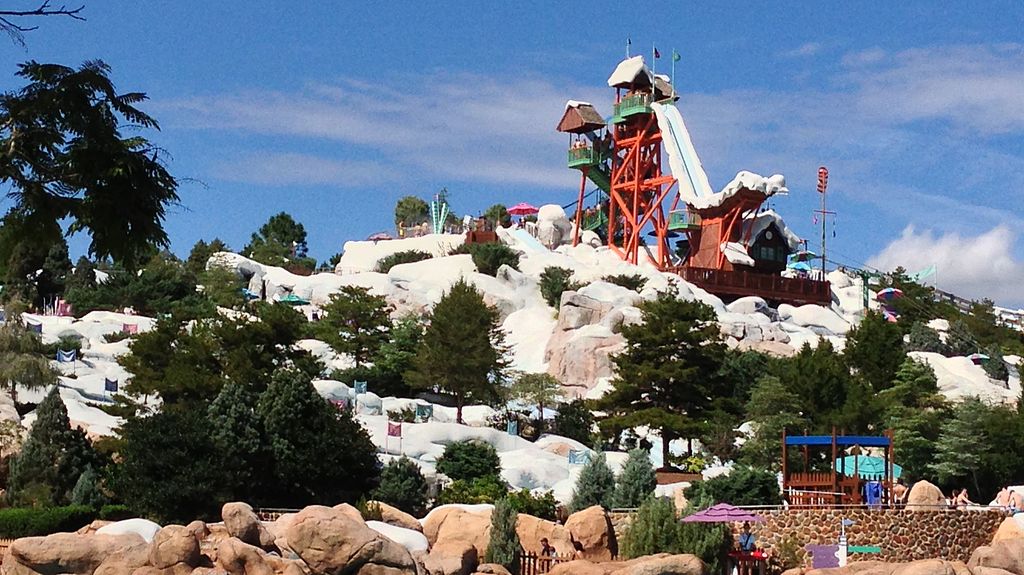 What would it be like if a blizzard hit Central Florida? And what if, during that freak storm, the good folks at Disney built a ski resort – and then it began to melt? That's the zany scenario you'll find yourself in at Blizzard Beach. Ski lodge-style buildings with snow-covered rooftops welcome you as you enter. Ski slopes and bobsled hills have become water slides and family attractions. The lazy river that circles much of the park is home to the occasional ice-cold patch as a result of the melting snow and ice. Beach music mingles with Christmas songs that play over the airways. A ski lift transports guests to the top of Mount Gushmore, Blizzard Beach's central peak.
The attractions
Disney's Typhoon Lagoon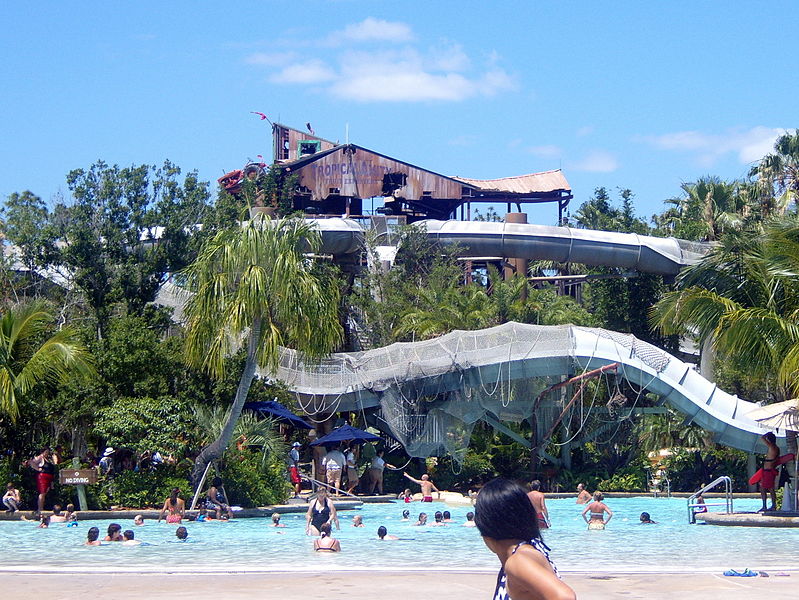 Typhoon Lagoon is both a thrill seeker's and chill seeker's paradise – to me, no other Orlando water park balances these two tastes better. Most other locations lean heavily into thrill-seeker territory, with water slides that are enclosed and dark and that feature steep drops and turns. When I am at a water park, I want to chill. Give me a tropical drink in my hand, steel drums playing on the air, and sandy toes – with a few breaks here and there to ride some slides that are manageable but not scary.
Typhoon Lagoon offers a beautiful, tropical lazy river and a massive wave pool that creates six-foot waves. There are two family/group raft rides, a water coaster that propels you up and down, regular body slides, and a steep-drop slide. The wave pool has a shallow end and leads into a creek along the beach, perfect for those who want to just take it easy or for little tykes still earning their fins.
My personal favorite attractions are Castaway Creek (the lazy river, of course), Gangplank Falls, and the Storm Slides, which are basic body slides with a very small thrill factor. Miss Adventure Falls is a fun group raft ride with extra theming, but the wait time isn't always worth it compared to Gangplank Falls, the park's original group raft ride (though it is a shorter ride, I should point out).
Thrill-seeker attractions: 2

Crush 'n Gusher – water coaster, 48″ height requirement
Humunga Kowabunga – body slide, 48″ height requirement

Anyone-can-do it attractions: 7

Castaway Creek – lazy river, any height
Typhoon Lagoon Surf Pool – wave pool, any height
Gangplank Falls – group raft ride, any height
Keelhaul Falls and May Day Falls – individual inner tube slide, any height
Miss Adventure Falls – group raft ride, any height
Storm Slides – body slides, any height

Toddler and little swimmer attractions: 2

Bay Slides – body slide, 60″ or shorter
Ketchakiddee Creek – water play area with small slides, 48″ or shorter
Disney's Blizzard Beach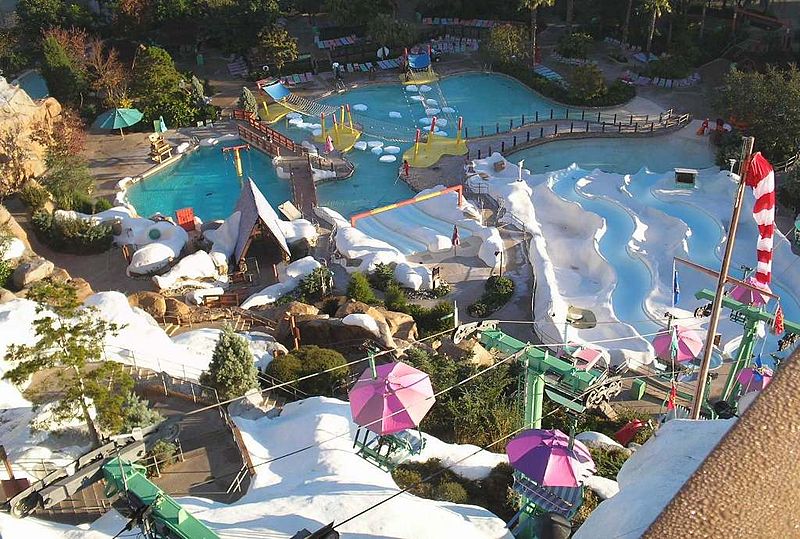 While I personally prefer the tropical atmosphere of Typhoon Lagoon, there are some great attractions at Blizzard Beach. The family raft ride Teamboat Springs is one of the longest attractions of its kind – I love it! And Summit Plummit is one of the tallest, steepest water slides you can find anywhere. Additionally, many parents consider the little swimmers' areas to be better here than at Typhoon.
Thrill-seeker attractions: 3

Downhill Double Dipper – inner tube slide, 48″ height requirement
Slush Gusher and Summit Plummet – tall slides, 48″ height requirement

Anyone-can-do it attractions: 7

Chairlift – an actual ski lift in the center of the park, 32″ height requirement
Cross Country Creek – lazy river, any height
Melt Away Bay – wave pool, any height
Runoff Rapids – inner tube slides (the middle slide is fully enclosed), any height
Snow Stormers – body mat slide, any height
Teamboat Springs – family raft ride, any height
Toboggan Racers – body mat slides, any height

Toddler and little swimmer attractions: 2

Ski Patrol Training Camp – water play area, any height
Tike's Peak – water play area, 48″ or shorter
Seating and cabana rentals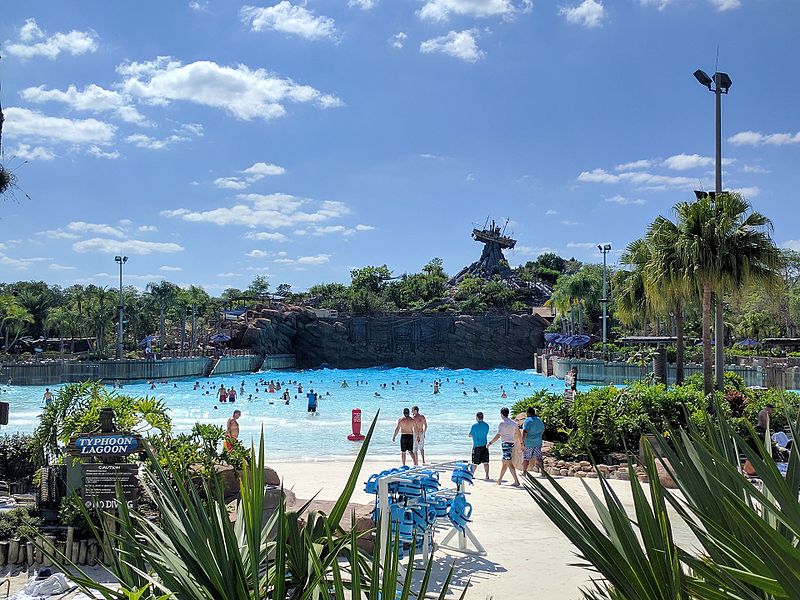 Disney's Typhoon Lagoon
Typhoon Lagoon has a lot of beach-like spots throughout the front half of the park, and fully reclining lounge chairs and low-seating arm chairs are available. The main beach area in front of the wave pool is the largest seating section, with smaller pods of seats to the left and right. Follow the main beach all the way as it wraps around the wave pool to the far right side – this is a nice location for those who want a small beachy area (just keep in mind that it does fill up quickly, especially in the summer). Another alternative spot is also to the right of the wave pool, but on the other side of Castaway Creek, the lazy river. There are places to sit all along the walkway, and a nice, large beach near Crush 'n Gusher. There isn't really a bad area for lounging and relaxing because each one has soft sand, great beach music, and both shady and sunny spots.
If you plan on making a full day of it, then renting a Beachcomber Shack might be the way to go. These reserved cabanas accommodate up to six guests, and each one includes towels, cushioned seating, a locker, refillable drink mugs (with free soft drinks), and ice water available all day. Prices are subject to change but, at the time of publishing, are $345. You can also rent a reserved set of lounge chairs, towels, and an umbrella for $58.58.
Disney's Blizzard Beach
Blizzard Beach does not have the lush tropical atmosphere that Typhoon Lagoon offers, but it can still be a relaxing place. The main beach in front of the wave pool has the most room to lounge in, and while there aren't as many smaller seating areas as there are at its counterpart, there are two smaller sections on either side of the beach.
You can rent a reserved space called a Polar Patio. These do not resemble cabanas but, rather, are a wooden deck with cushioned seating, shade, a locker, refillable drink mugs (again, for free soft drinks), and ice water available all day. The cost is currently $345, and the price for reserving a set of lounge chairs, towels, and an umbrella is $58.58.
Food and beverages
Disney's Typhoon Lagoon
Having fun in the sun all day requires some good food and drink, and Typhoon Lagoon has some of my favorite counter-service food in all of Walt Disney World. There are two restaurants, plus additional smaller spots for grabbing food.
Leaning Palms is the main counter-service eatery. Tucked beneath the shade of lush palm trees, this storm-weathered venue offers tropical salads, rice bowls, wraps, sandwiches, and, even, a Cuban-style hamburger (they also offer pizza and hot dogs, if you're looking for simple, easy fare). And adults can enjoy a pineapple Dole Whip with rum!
On the other side of the park is Typhoon Tilly's. Although smaller than Leaning Palms, Tilly's serves up fish and shrimp baskets, fish tacos, and wraps and sandwiches. There is also a small bar to the side, which features craft beer, wine, and a few frozen cocktails, too.
Now, let's turn to the smaller options. Lowtide Lou's has cold sandwiches, wraps, and beverages. On the right side of the wave pool is Snack Shack, with its quesadillas, shrimp salad, fish dip, guacamole, and sandwiches. And to satisfy your sweet tooth, there is Happy Landings Ice Cream, which offers decadent sundaes, root beer floats, and novelty ice cream treats.
Finally, for adults, there is Let's Go Slurping, a beach-side bar – you can find any beach-bar drink you can imagine here, frozen or on the rocks, and while it lacks ample seating, it's great for grabbing some liquid refreshment and heading out to your lounge chairs in the park.
Disney's Blizzard Beach
Blizzard Beach has a lot of food and beverage options throughout the park. The main counter-service location is Lottawatta Lodge, and it is one of the most well-themed counter-service restaurants in all of Disney property. The menu features burgers, flatbreads, sandwiches, salads, and plant-based dishes that include a tofu "crab" cake. You can also enjoy a milkshake or a frozen cocktail here.
There are multiple smaller quick-service possibilities dotted throughout the park. Avalunch slings specialty hot dogs. Cooling Hut has wraps, hummus, popcorn, and pretzels.  Warming Hut features a substantial menu, including a Honey Butter Chicken Sandwich and a Barbecue Turkey Leg Crunch! Frostbite Freddy's Frozen Freshments serves nachos and quesadillas with craft beer and frozen cocktails. And what's a day in the sun and water without an ice cream treat? At I.C. Expeditions, you can indulge in specialty sundaes and novelty ice cream concoctions.
Lastly, adults can enjoy cocktails from two bars: Arctic Expeditions is a walk-up-only bar with a variety of frozen and on-the-rocks cocktails, plus craft beer; Polar Pub is larger and has some bar seating, with a large specialty drink menu and craft beer and wine. Though Polar Pub lacks a beach-like atmosphere, it is still a popular watering hole.
Important information for both Disney water parks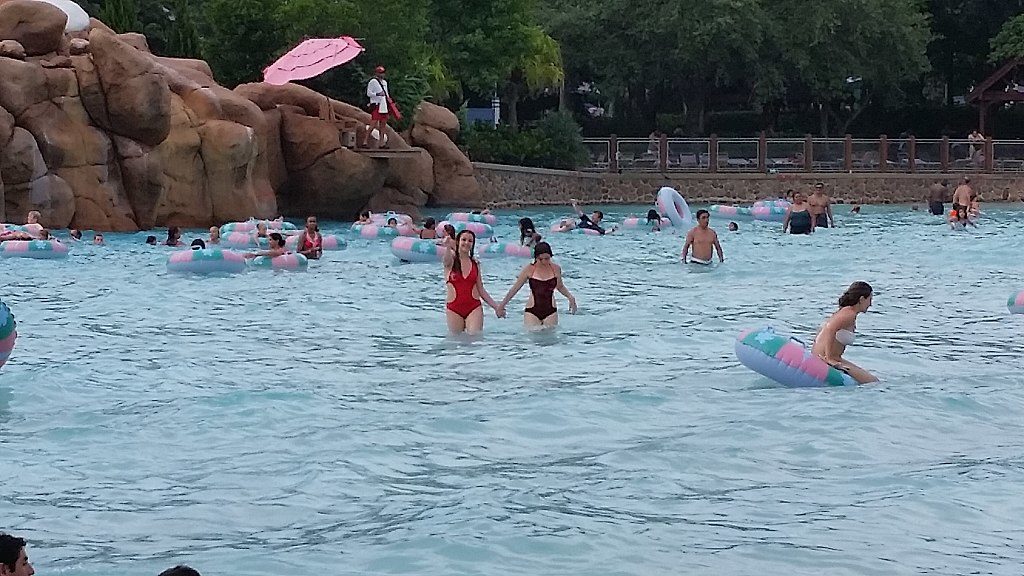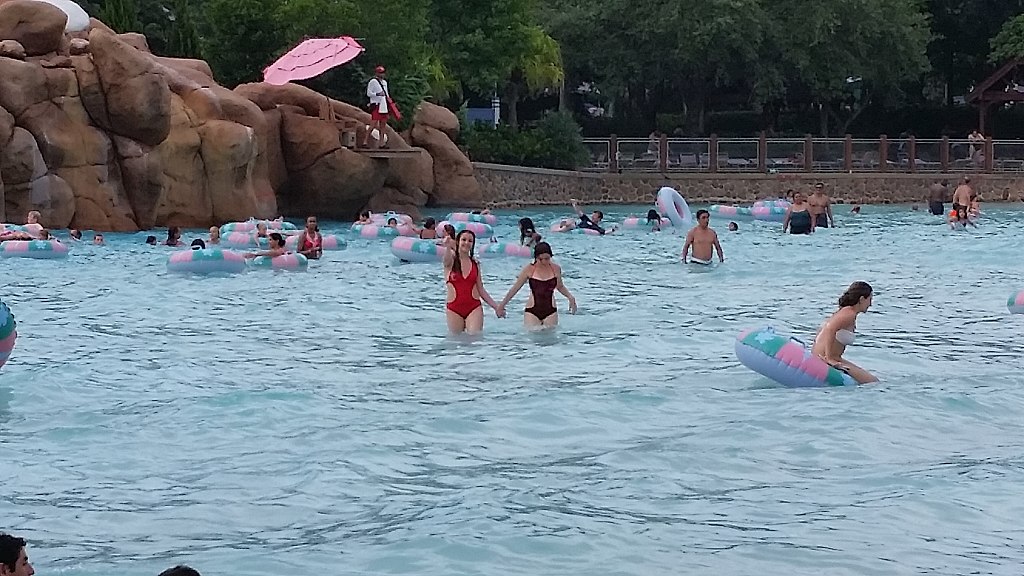 Disney's two water parks are available as their own individual ticket or as the Park Hopper Plus or Water Park and Sports add-on options.
Parking is free, though during the busy summer months, the lots can become very crowded.
Towels can be rented for $2.00. If you are staying at a Disney World hotel, then towels are complimentary with an eligible MagicBand.
Lockers are available at each park for personal storage. Small lockers are $10 per day, while large ones are $15.
Swim diapers are required for children who are not potty-trained.
During the winter months, each park takes a turn to close for a few weeks' refurbishment.
Both parks can close due to severe cold weather.
Both parks are subject to ride and pool closures due to severe thunderstorms and lightning, even if the weather is not visible in the sky but shown on radar.
Both parks have a mini-donut stand not too far from their entrances. Many Disney fans swear by their yumminess.
Don't forget to reapply sunscreen throughout the day and to hydrate!
–
Which Disney water park is your favorite? Share your thoughts with thousands of other Disney fans in our OI Community Facebook group.
And don't forget to follow Orlando Informer on Facebook, Twitter, and Instagram for the latest news and tips at Universal Orlando, Walt Disney World, and other Orlando experiences.