Wednesday, May 20 was the grand day, the one that Disney fans had been anxiously waiting for: the reopening of Disney Springs, the dining/shopping/entertainment district of Walt Disney World. This is just the first step of what will eventually be the complete reopening of the resort, which will begin in phases on July 11.
Disney Springs's return came right on the heels of Universal similarly reopening its CityWalk complex, back on May 14. (For a lot more info on that, check out our day-of impressions here.) In both instances, the theme-park operators unfurled several new safety guidelines that dictate how guests may enter the premises and how they may move about it once inside – and while the two destinations aren't that different in terms of their approach, Disney Springs is, admittedly, significantly larger than Universal CityWalk and, thus, has a few more variances.
So, what was it like to first set foot back on Disney World property after a 64-day absence, and during the COVID-19 pandemic, to boot? We'll walk you through that whole process, step by step.
How do I enter Disney Springs?
There is currently no line for parking, nor are there any parking attendants, as is normal for Disney Springs. Guests are free to park wherever they'd like. Only the Orange garage is open for now. pic.twitter.com/L1kuBkNvMl

— Orlando Informer (@OrlandoInformer) May 20, 2020
The process to enter Disney Springs is a bit different than what we see over at Universal's neck of the Orlando woods. Parking itself is only slightly altered, with just the Orange and Lime garages being open and the valet service unavailable – unlike with CityWalk, there are no orange cones blocking off every other parking spot in order to help facilitate social distancing. Additionally, the number of entrances to the dining and shopping complex have been limited to just four: from the ride-share drop-off location, the Hotel Plaza Boulevard pedestrian bridge, and, of course, from the two aforementioned parking garages.
This is what the temperature screening process looks like entering Disney Springs. pic.twitter.com/Ryqpejthu6

— Orlando Informer (@OrlandoInformer) May 20, 2020
These entryways funnel visitors to one of the health checkpoints that have now been set up on the property (located on the second-floor exits of the Lime and Orange garages and the Marketplace entrance), which is where your temperature is taken. Again, like at Universal (and at SeaWorld), if you have a fever of 100.4 degrees or higher, you will be diverted for a secondary attempt at an additional screening spot. If your temperature is still running high here, you will be turned away from Disney Springs, along with everyone else in your travel party, as well.
What does Disney Springs feel like now?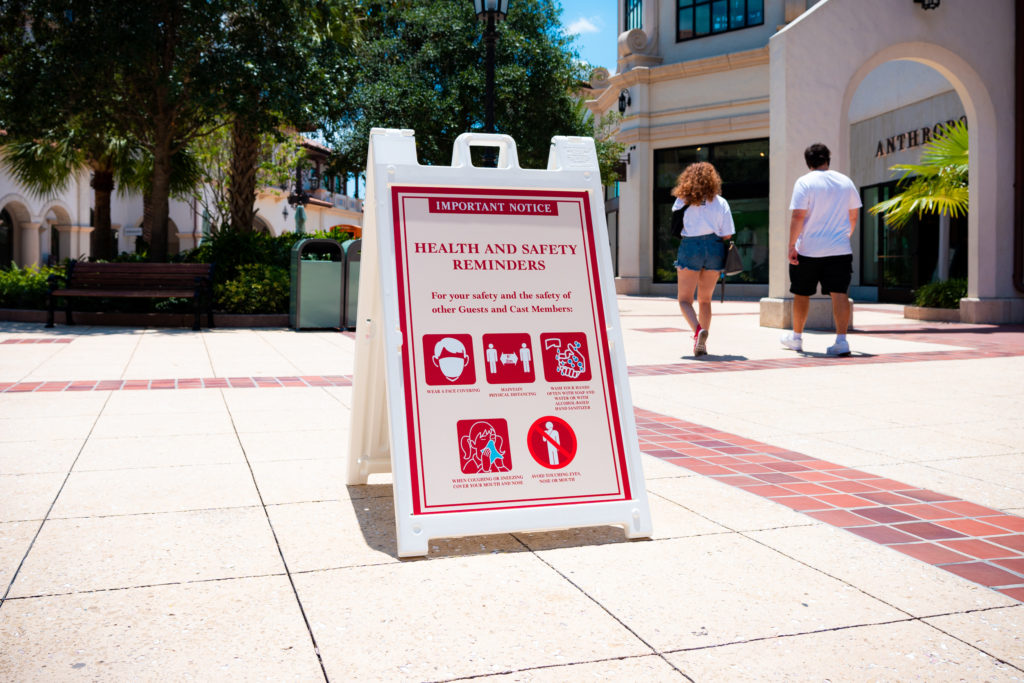 Before we can get to what, exactly, Disney Springs felt like for us after a two-month absence, we first need to discuss the ins and outs of navigating your way through the socially distant entertainment sector of Walt Disney World.
First and foremost, it's important to note that every guest who is the age of three and above must wear a face covering at all times while on-site – with the sole exception of when he or she is eating, of course. If you don't have one, you will not be allowed entry.
Once you set foot into Disney Springs proper, you'll notice a preponderance of signs – some of which are obviously temporary, while others look remarkably permanent – that remind you to keep at least six feet of distance from everyone who's not in your group. Joining these signs is a cavalcade of markers on the ground, showing you where to stand while waiting in one line or another. What's interesting here is that many of these take the exact opposite tack from Universal: whereas CityWalk's show you where to wait, Disney Springs's denote where not to stand (though there are still plenty of the "please remain here" variety, too). And where social-distancing stickers can't be laid out, physical barriers have been erected, such as around cash registers or at the area's Guest Relations.
(These markers aren't just for telling you where to place yourself while in a line – they will also, at times, direct you where the flow of traffic should go, such as over certain bridges or when specific doors are made into either an entrance or exit only.)
In addition to ground markings promoting social distancing at Disney Springs, there are also physical barriers in select places where it's difficult to maintain physical spacing. pic.twitter.com/pWxGmI478g

— Orlando Informer (@OrlandoInformer) May 20, 2020
Let's focus a bit on everyone's favorite part of Disney Springs: the food. More and more restaurants continue to open in the weeks since the complex's May 20 reopening, including both counter- and table-service options:
4 Rivers Cantina Barbacoa Food Truck
Amorette's Patisserie
AristoCrepes
BB Wolf's Sausage Co.
Blaze Fast-Fire'd Pizza
The Boathouse
Chicken Guy!
City Works Eatery & Pour House
Cookes of Dublin
D-Luxe Burger
The Daily Poutine
Disney food trucks
Dockside Margaritas
Earl of Sandwich
Erin McKenna's Bakery NYC
Frontera Cocina
The Ganachery
Haagen-Dazs
Homecomin'
House of Blues Restaurant & Bar
Joffrey's Coffee & Tea Company
Joffrey's Handcrafted Smoothies Kiosk
Marketplace Snacks
Morimoto Asia
Morimoto Asia Street Food
Paddlefish
Paradiso 37
Pizza Ponte
Planet Hollywood
The Polite Pig
Raglan Road Irish Pub and Restaurant
Sprinkles
Starbucks (both locations)
STK Orlando
Sunshine Churros (both locations)
Terralina Crafted Italian
T-Rex
Vivoli il Gelato
Wine Bar George – A Restaurant & Bar
Wetzel's Pretzels (both locations)
Wolfgang Puck Bar & Grill
YeSake Kiosk
Again as at CityWalk, most – if not all – of these venues direct you to wait outside until your party is called to be seated. The number of tables, whether located inside or out, has been drastically reduced, compiling with Disney- and Centers for Disease Control and Prevention-issued mandates, and the menus come either in digital (such as QR code) form or one-time-use paper form. (We also noticed that many refills for drinks required a one-time-use cup, as well.)
On reopening day, reservations were, naturally, strongly encouraged, although they had to be made using OpenTable (as opposed to Disney's website or the My Disney Experience app) – and even though having one wouldn't guarantee you admittance to Disney Springs, should parking have been all filled up. In our experience, wait times weren't actually that bad, given all the restrictions on capacity and regulations for increased sanitation, but we imagine this won't be the case for too long as more individuals get more comfortable with the idea of venturing out into the (Disney) world again. Finally, when it came time to pay, Disney attempted to steer us to cashless options, whether that be using Apple Pay or picking up a Disney gift card at, say, Guest Relations.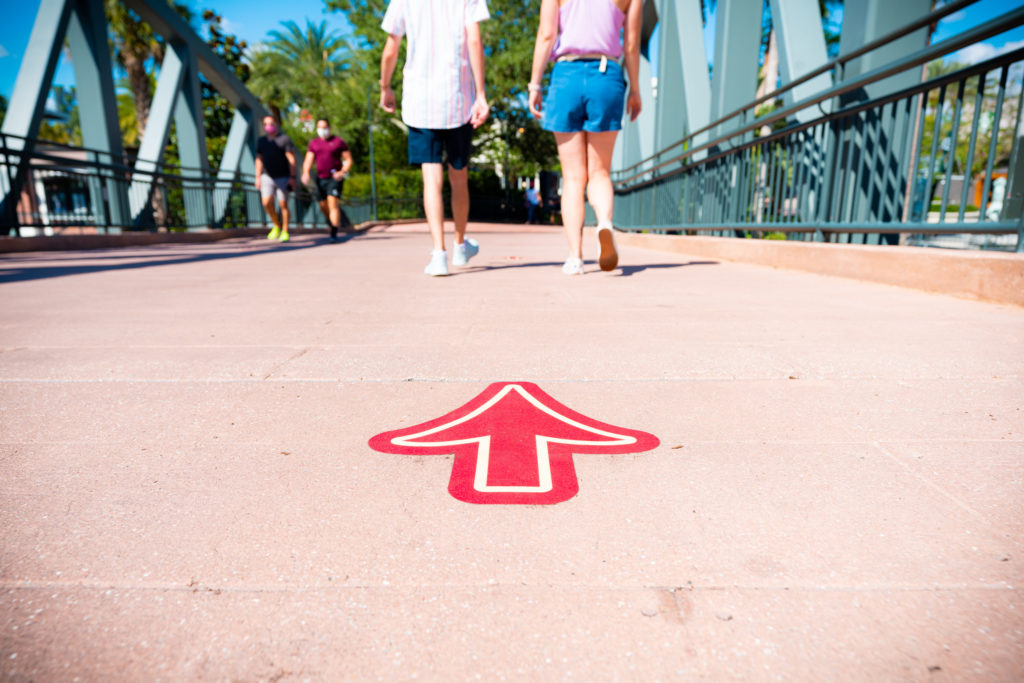 Now, just a brief word on Disney Springs's shopping and entertainment options. There are so many of the former, all we can do is note that some of the most popular stores that are currently open include World of Disney, Aerophile, UNIQLO, and Marketplace Co-Op. The latter is much easier to tackle, since Disney has suspended all entertainment offerings for the time being.
But speaking of retail, the company has announced a number of changes that not only already affect its dining/shopping/entertainment district, but will also be rolled out to all other corners of Walt Disney World, as well:
New items, lines, and limited-edition product launches are indefinitely halted, but they will continue to be available online at ShopDisney.
Because of physical distancing, the direct trading of pins with cast members is prohibited; in its place, pin boards have been set up in "select locations."
Package deliveries to either the front of the theme parks or to the on-site hotels is currently suspended, though guests may continue to take advantage of home deliveries.
All dressing rooms have been closed for the time being.
Back to reopening day. We don't know if it's because we were already used to many of these changes from our time at Universal CityWalk Orlando, or if it's because we missed strolling around Disney's resort so much, but we didn't find ourselves being too fazed by this new, post-outbreak Disney Springs. (Naturally, the beautiful weather that day certainly didn't hurt things.) The crowd level was low and, for the most part, easily navigable; we didn't find many who weren't compiling with the face covering and social-distancing requirements; and the processes for viewing menus or paying for our meals was as straightforward as can be.
I'd like more theme-park COVID info, please!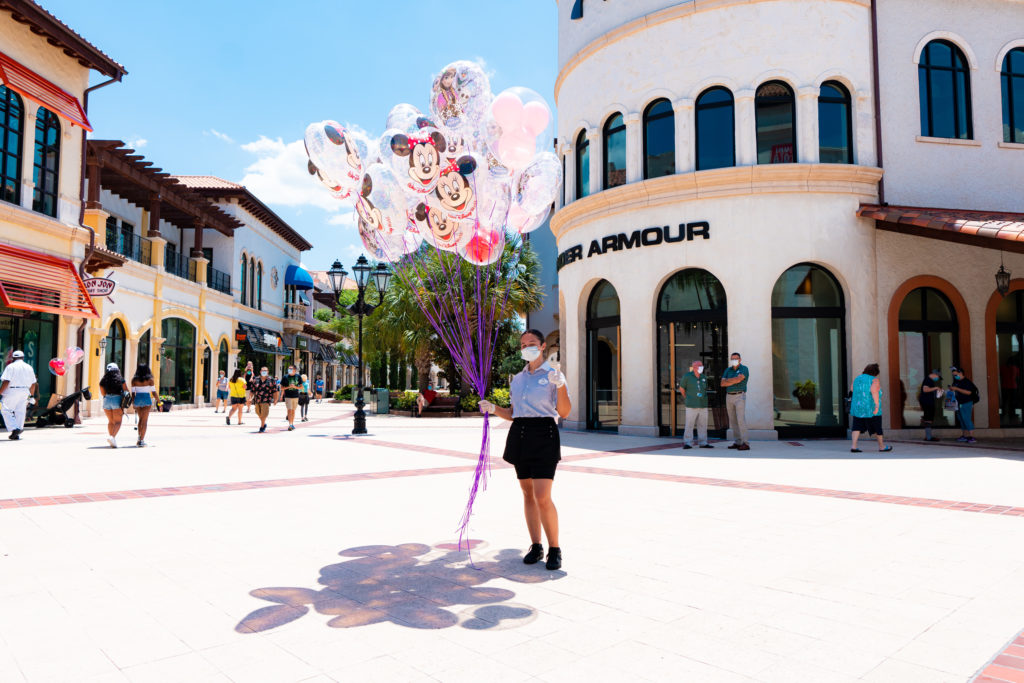 Sure! We'd be happy to help.
Here are the articles that we've been consistently maintaining during the ongoing coronavirus outbreak:
Walt Disney World, Universal Orlando, SeaWorld, and LEGOLAND first shut down
The theme-park resorts start to open back up
How to visit CityWalk during COVID-19
How to visit Universal Orlando's parks during COVID-19
How to visit Universal Orlando's hotels during COVID-19
How to visit SeaWorld Orlando during COVID-19
How the Shanghai Disney reopening could influence its Stateside counterparts

Disney Springs is currently open daily from 10:00 am to 10:00 pm, although individual venues may have wildly divergent hours. We'll do our best to keep this article updated with the latest details.
Last updated 11:00 am, June 17, 2020
–
Have questions about the phased reopening at Disney Springs? Ask thousands of other Disney die-hards in our Orlando Informer Community on Facebook.
And be sure to follow Orlando Informer on Facebook, Twitter, and Instagram for the latest news and tips at Universal Orlando, Walt Disney World, and other Orlando destinations.