Originally announced back at the 2017 D23 Expo, the Disney Skyliner has not only been in the news for quite some time, but also in the popular consciousness of guests – finding a faster way to traverse at least part of the vastness that is Walt Disney World Resort is at the top of many visitors' lists, and the little factoid that none of the cable cars would have air conditioning has been at the top of their concerns.
Having been invited to observe the Skyliner's dedication ceremony today, September 27 (it doesn't officially open to the public until Sunday, September 29), and having the chance to test the new method of transportation out, we can easily address both items – as well as attest to the fact that Disney's new gondolas are a welcome addition to its Orlando domain.
First, though, let's just do a quick refresher on what Disney is already calling the most magical flight on Earth.
Disney's Skyliner – the basics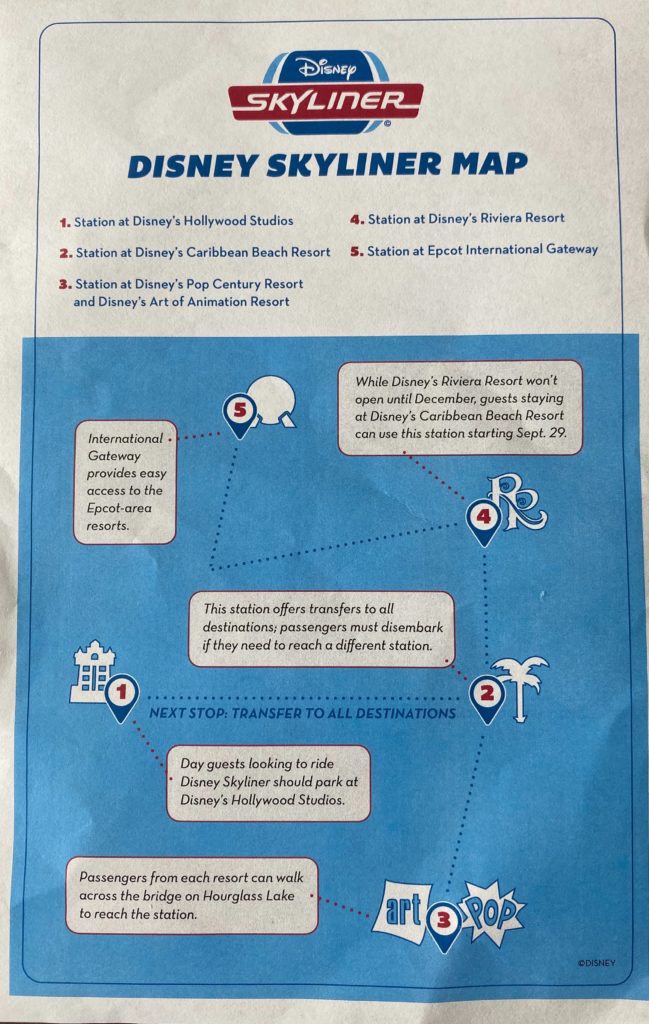 The Skyliner is meant to link several different stops at Walt Disney World together in much the same way that the resort's monorail already connects a number of hotels and theme parks together, providing an alternative method of moving about the property that will, hopefully, be faster than the standard – and ubiquitous – buses.
There are – for now, at least – five different stops and three different lines on the Skyliner route. Caribbean Beach Resort, a moderate Epcot-area hotel, serves as the main hub for them all; every other station will connect here sooner or later, which means that, yes, you will need to hop off and transfer to a different car at this location (though, let us assure you, the process is quick and easy). Radiating out from this central point are the following destinations:
Pop Century and Art of Animation Resorts (approximately three-minute ride) – both properties share a bridge that crosses Hourglass Lake to reach the new gondola station. The views here, as you cross the body of water, are pretty stunning.
Hollywood Studios (approx. three-and-a-half minutes) – if you're a day guest (that is to say, if you're not staying at an on-site resort) and would just like to take the Skyliner for a little spin, you'll need to park here.
Riviera Resort (approx. two minutes) – this newest Disney Vacation Club location won't officially open until December 16, but those guests staying at Caribbean Beach can use this station right away.
Epcot (approx. 10-and-a-half minutes) – the Skyliner deposits you at Epcot's International Gateway, which means that, if you're not going to spend the day at the theme park, you have easy access to all of its hotels in the area. (This leg is longer because you'll first need to go through Riviera and then a turn station, where the gondolas make, well, a turn to head up to Epcot.)
Each cabin holds up to 10 passengers, which means that, on busier days, you can expect to share the space with members of other parties. The Skyliner will follow the same basic guidance as Disney World's boats and monorails when it comes to weather – which is to say, minor winds and rain won't stop it from running, but anything stronger will. Drinks and food are allowed, but nothing of the alcoholic variety. And when it's time to either hop on or off the gondolas at the various stations, we should note that they slow down but don't actually stop moving altogether, much in the vein of boarding or disembarking Hagrid's Magical Creatures Motorbike Adventure over at Universal Orlando Resort. (There is an ADA version of the cars that does fully stop and which accommodates up to six guests [and one wheelchair].)
Disney's Skyliner – the takeaway
But what about that question of the temperature inside the Skyliner cars? While it may be widely known that they don't feature air conditioning, what the online enthusiast community may not know is that they do sport a series of bigger vents all along the top of the cabin and smaller ones at the bottom, providing a surprisingly refreshing airflow; when we jumped in on an 82-degree day, it was still rather cool inside our gondola. (Something which is aided by the windows being tinted just enough – a small but impactful touch.)
This actually goes a long way to helping Disney Skyliner provide a nice, pleasant, smooth ride – and one that is surprisingly fast, as well, especially going by those ride times we just mentioned. A voice will consistently chime in during your ride, letting you not only know what your next stop is, but also pointing out some pretty neat sights along the way or providing one piece of behind-the-scenes trivia or another – something which helps keep the experience engaging and interesting. We can already see this new transportation option being a big hit with both the young and elderly crowds, and also on date nights for those somewhere in the middle (speaking of which, don't be surprised to see a number of guests riding the cable rides just for the sake of doing so, particularly during its first year or two of operation).
Our biggest takeaway from making the Skyliner rounds a few times today is that it, so far, is a hit – it's relaxing, convenient, and faster than most of the alternatives available on-site. The only remaining question is how the cable cars will fare when they're slammed with throngs of people during Disney World rush hour, but we're pretty optimistic that the experience will still hold up, given the sheer quantity of ride vehicles and the abundance of great views that they provide.
Disney Skyliner has its grand opening on Sunday, September 29, 2019.
–
How excited are you for Disney Skyliner? Share your thoughts with thousands of other fans and vacation-planners in our OI Community Facebook group.
And also be sure to follow Orlando Informer on Facebook, Twitter, and Instagram for the latest news and tips at Universal Orlando, Walt Disney World, and other Orlando experiences.