If there's one thing I've learned since starting to professionally write about theme parks six years ago, it's this: the themed industry is increasingly at the very heart of businesses everywhere.
Take Disney's MagicBands, those wonderful little devices that act as ticket, hotel-room key, and credit card. They were designed by the company to try and convince guests to not leave Walt Disney World Resort property – if you go down the street to SeaWorld Orlando, you'll have to pull your archaic wallet out, which just might be too much of a hassle now – and Disney has been approached by other businesses who have the very same goals in mind, such as casinos. (Airports, meanwhile, are interested in MagicBands' ability to track the every movement of their wearers, allowing companies to fine-tune guest flow and maximize retail opportunities.) Then there's the increasing level of theming that seemingly everyone, from restaurants to shopping malls (those that are left, that is), is engaging in; or CVS's MinuteClinic, which primarily operates with FastPass+-style online reservations; or, looking to the future, the lessons in restructuring lines and wait times that nearly every single venue in our country could learn from the likes of Universal and Disney (including selling Express Pass-esque shortcuts to circumnavigate those waits).
If it seems like the themed-industry-inspired potential is endless, Disney appears to agree with you, as it just may be brewing up another big project that is meant to further blur the lines between theming and everyday life.
Disney restructures for the future

Yesterday, Disney announced that it has already engaged in a company-wide restructuring that it hopes will clear the way for its future endeavors – or, to put it in corporate speak, the change was made to "capitalize on today's rapidly-changing media landscape and more closely align with the company's priorities for future growth."
The major news that everyone has so far been focusing on is the creation of a new (and grammatically challenged) Direct-to-Consumer and International unit, which will allow both of Disney's new streaming services (one called ESPN+, which bows later this year, and the other an original [and still-unnamed] platform that will feature exclusive live-action Star Wars and Marvel television series, which arrives late next year) to be housed together in the same room. It makes sense that everyone's attention has been squarely focused on this development – after all, Disney is investing hundreds of millions of dollars in the on-demand effort, believing that it will form the heart of its business dealings from this point forward – but it also overlooks another little nugget that may be just as important, even if decidedly more subtle.
One of the three other new divisions that now constitute The Walt Disney Company is called Parks, Experiences, and Consumer Products, and it is the love-child of both Consumer Products and Parks and Resorts (the former entity which not only encapsulates the various Disney theme parks around the world, but also the cruise line and the Adventures by Disney umbrella of vacation experiences). This means that Bob Chapek, who's been the head of Parks and Resorts since 2015 (and the man whispered to be a possible replacement for CEO Bob Iger once his contract runs out in 2021), will now also have jurisdiction over toys, videogames, the world's largest children's publisher, every Disney Store location around the globe, and shopDisney.
What advantage does the Mouse House see in bringing these two different business segments together under the same roof? The company obviously sees this as yet another (potentially huge) intersection between theming and the wider world – by incorporating its retail presence, both physical and digital, into the domain of Imagineering, it hopes to create a "hub where Disney's stories, characters, and franchises come to life." (Not corporate-speaky enough for you? Then try this one on: the point is to "combine strategy and resources to produce even more compelling products and experiences that bring our stories and characters to life for consumers.")
In the immediate future, this is sure to simply mean behind-the-scenes developments, merging databases, perhaps, or holding endless meetings where the two formerly-separate staffs can compare best practices in courting, processing, and (hopefully) delighting consumers. But when we expand our focus to look more long-term – as, surely, Disney's executives have when formulating this move – there is the opportunity for everything to spill out into the foreground, and to do so in dramatic fashion. Just as Universal Creative, the theme-park-design wing of Universal, came over to help set up Toothsome Chocolate Emporium and Savory Feast Kitchen – helping design its fanciful façade, fully-themed gift shop, and its two daily character meet-'n-greets – there's no reason why Walt Disney Imagineering can't do the same to the Disney Store, helping to carve out areas where guests can be swept up into a living, breathing story… which would then help to sell certain toys or goods, but of course. (When one combines this idea with the Disney Accelerator incubator for technology start-ups – y'know, the program that helped launch Sphero unto the world stage – the sky well and truly becomes the limit here.)
Disney Springs, the dining/shopping/entertainment district of Walt Disney World, could easily serve as the testbed for new such experiences, truly allowing this themed attraction/retail hybrid to potentially flourish in a decidedly welcoming environment. A store with a fully-fleshed-out (fictional) backstory would fit seamlessly in with the likes of The Edison or Enzo and Maria's Hideaway Bar, and the fact that Disney has already been experimenting with rolling out hyper-reality experiences at the area serves as further proof of concept – and success.
From there, our themed retail attractions could be replicated and exported to various cities all throughout the country; with big-box retailers like K-Mart and Sears continuing to go out of business, shopping malls have been looking for space-fillers and have been increasingly turning towards experiential vendors such as bowling alleys or, even, fitness centers to fill the void. Think of this expansion program as a modern, more-synergistic take on Disney's original premise behind DisneyQuest – mini-theme parks that could be brought out to the people instead of attempting to lure the people to just Orlando (or Anaheim). When done on a smaller, more commercially-viable scale, with gaping holes in various communities ready to be plugged in, the chances for success are substantially greater.
Looping back to the theme parks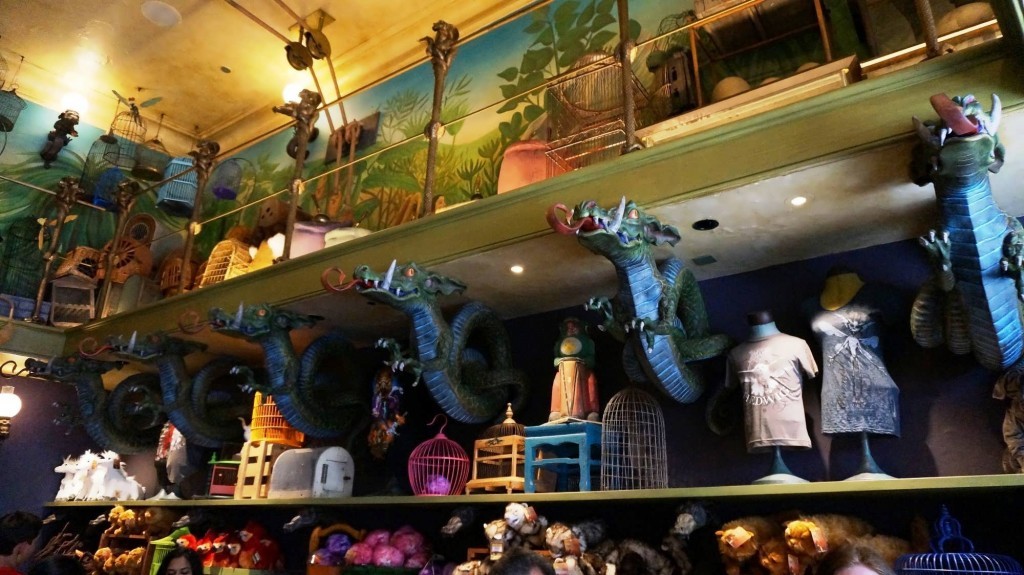 But there's absolutely something in this for the traditional theme parks themselves, as well.
The current decade has seen retail – and we'll lump food into this category, too – be more fully enmeshed in the parks' efforts to immerse their visitors. Everything really got started with Universal's Wizarding World of Harry Potter, of course – with stores that are fully themed, and staffed with employees who are always in character, and stocked with items that are exclusive to the location – but Disney's Pandora: The World of Avatar took it up to the next level, featuring an adoption ceremony for when patrons purchase a banshee puppet or allowing guests to have their faces be scanned and incorporated into Na'vi action figures. And next year's Star Wars: Galaxy's Edge looks to expand on this front, as well, deploying handcrafted trinkets that will make people have to buy a whole new wave of products from a franchise that has long been the most merchandised in the planet's history.
If theme-park designers are able to partner up with retail specialists and consumer-goods manufacturers, this approach can only be broadened and deepened, marrying exclusive items with presentations, ceremonies, and technological cues that not only make a spectacle when you first buy the item in the store, but continue to interact with the greater park, as well. The Wizarding World's interactive wands start to scratch the surface in this regard, and Galaxy's Edge's reputation system – which attempts to transform the traditional theme-park land into more of a live-action role-playing game – gets closer to the mark, but both lack the type of technological and physical infrastructure that we're talking about here. (And, hey – once guests bring their exclusive goodies home with them from Disney World, they could then trot them out to their nearest Disney Store to continue the items' interactive fun and storytelling ability.)
Should Disney fully capitalize on the promise of its new Parks, Experiences, and Consumer Products mandate, it might not be too crazy to think of Disney Springs as being the newest, most captivating land at all of Walt Disney World.
–
For even more on Walt Disney World – and other Orlando attractions, such as Universal Orlando and SeaWorld – be sure to follow Orlando Informer on Facebook, Twitter, and Instagram.