This has been a pretty big week for Universal, whether the company intended that or not: we've learned of its intention to build a massive seventh hotel on-site, discovered its patents for next-generation (Harry Potter?) rides, and, just this morning, saw its bold new take on the theme park menu for Volcano Bay.
But Disney isn't one to rest on its laurels, especially when the spotlight has been falling on its main competitor's major new addition for this summer; Walt Disney World Resort will also be receiving its own expansion in the form of Pandora: The World of Avatar, which opens just two short days after Volcano Bay. The constant back-and-forth between the two companies (and their new areas) over the past month, as the media hype begins to build in earnest, has been mesmerizing to watch – and fascinating to contemplate. This is the most aggressively the Mouse House has acted since The Wizarding World of Harry Potter put Universal Orlando on tourists' maps; will this be the tenor and tempo for the near future, as we start moving full-steam ahead to Star Wars Land at Hollywood Studios and Universal's third theme park?
Pandora's entire menu revealed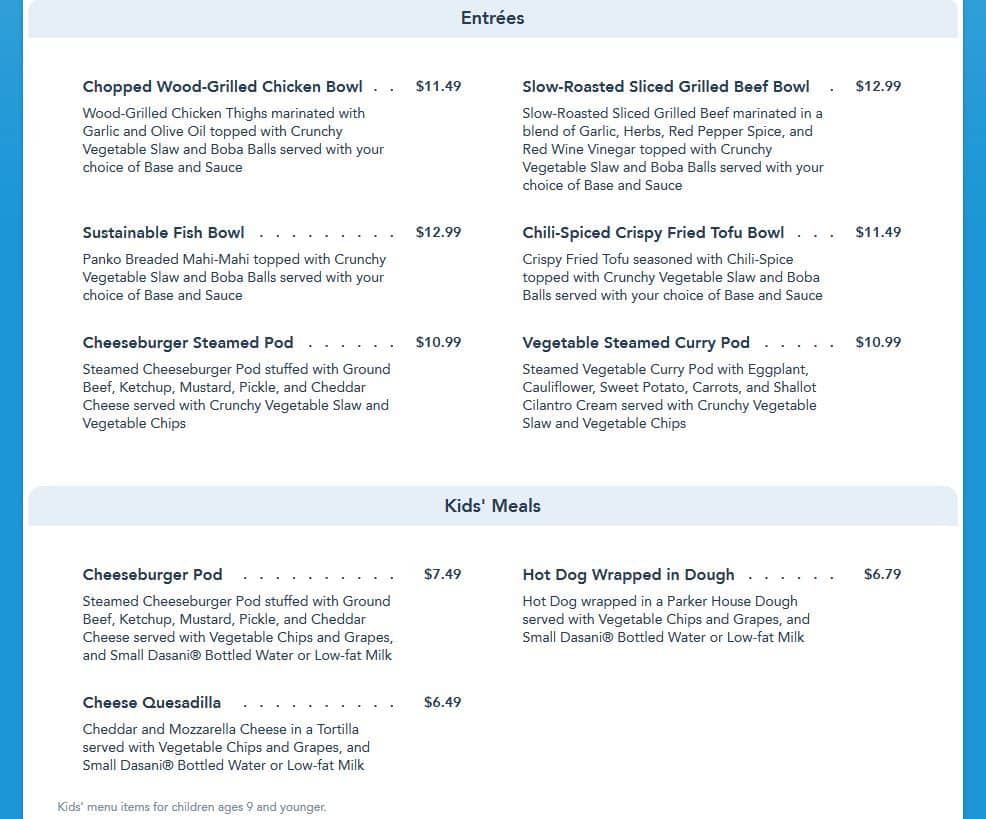 One of the biggest thrusts of Animal Kingdom's Pandora expansion lies in the exclusive, and rather unique, food and beverage offerings that will be on hand – what has become a prerequisite for any new theme park land since the Boy Wizard arrived on the scene seven short years ago, irrevocably altering the playing field. Two weeks ago, Disney started to lift the curtain on all the various dishes, revealing such delectable treats as the Na'vi blueberry cheesecake and Lumpia, a crispy pineapple-cream cheese spring roll. No, these dishes don't come as naturally to Avatar as Butterbeer and Florean Fortescue's ice cream do to Harry Potter, but they nonetheless look intriguing – not to mention, in the case of the blueberry cheesecake, absolutely gorgeous.
But the real news here landed just a few days ago, revealing that how guests order their food will be even more important than what it is they're eating: Satu'li Canteen, Pandora's sole restaurant, will be the theme park world's first fast-casual eatery, allowing guests to customize their meals Chipotle-style. Even better, patrons will be able to do so via Mobile Order on their smart phones, thereby bypassing the eatery's standby queue altogether.
Now, the company is putting the cherry on top of the Pandoran sundae by revealing the full, entire menu for Satu'li (no coincidence, given that this morning's chatter was dominated by Volcano Bay).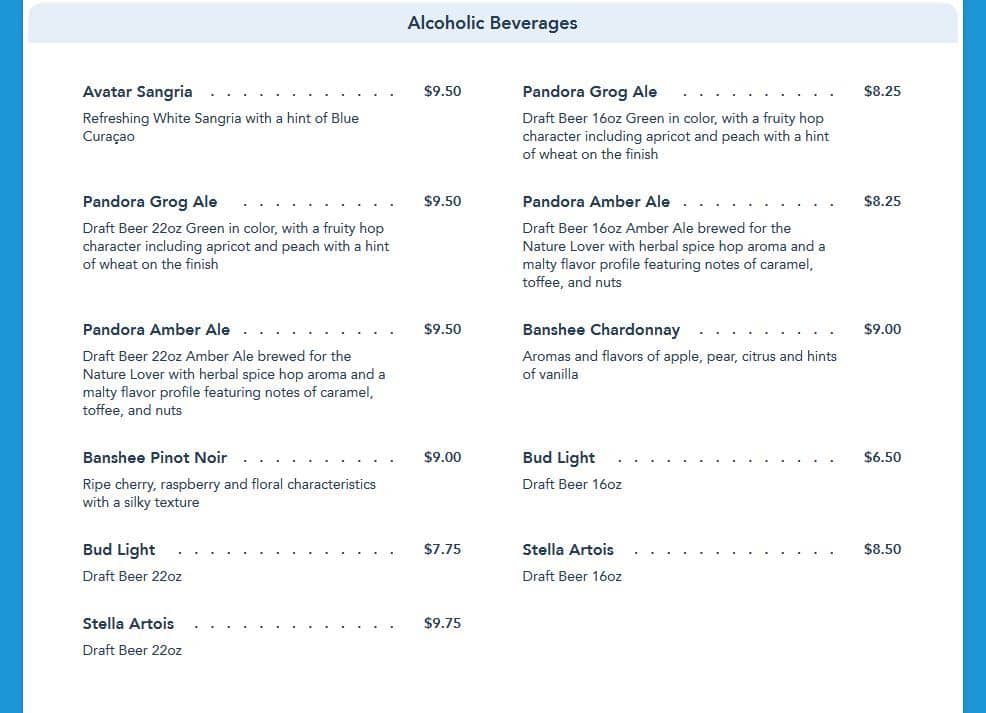 Since most of the menu's contents were previously disclosed, and since the prices are about what one would expect from a Disney World venue, the real item of note here is the breadth and depth of the alcoholic drink selection; from the Avatar Sangria to the Pandora Grog Ale to the Banshee Chardonnay, they may not be imaginatively named, but they do seem to be rather comprehensive – and an effort to consolidate the adult drinking market, which started in Epcot's World Showcase and has continued in earnest at Magic Kingdom (thanks to the perennially popular Be Our Guest).
Will this be enough to out-Butterbeer the Wizarding World's Dragon Scale and Fire Whiskey? We'll find out soon enough – especially if and when Universal makes moves to expand or otherwise revise its own alcoholic menu.
2. Pandora will be open late
With the huge emphasis on the land's culinary offerings, on its bioluminescent forest (which will be contained solely within the Valley of Mo'ara walk-through attraction and which, of course, will be viewable only at night), and on the two high-profile rides (Avatar: Flight of Passage and the Na'vi River Journey), crowd levels are sure to be high at all points of the day for Pandora: The World of Avatar, even until the theme park's late 11:00 pm closing. As such, Disney is going to extend its Extra Magic Hours – which allows on-site guests to spend extra time either before or after a particular park opens or closes – to Animal Kingdom; starting on Pandora's opening day of May 27 and running through to July 4, 2017, eligible visitors will be able to enjoy the new area's many nighttime splendors until 1:00 am. (We should probably note here that only Pandora will benefit from the two additional hours of operation; all the rest of Animal Kingdom will be shut down.)
We've also managed to discover (h/t to WDW News Today) that guests will be able to start making their FastPass+ reservations for the land's two attractions on March 24, for visits that will occur 60 days afterwards. We fully expect both River Journey and, more especially, Flight of Passage to max out their FP+ slots immediately, making the two-month window a must for all those who plan on heading to the expansion on or soon after its grand opening.
The World of Avatar having such a lengthy window of availability, even if temporarily, will hopefully do much to dispel its expected tidal wave of crowds throughout the summer, but, even more importantly, it will accomplish one further goal: lighting a fire under Universal's behind, motivating the company to similarly extend the Wizarding World's hours of operation. This certainly wouldn't prove to be a bad idea, as the rumored Hogwarts Castle nighttime show would then be able to have an extended series of performances each and every night – and thereby making for some happy (or, at least, less-aggrieved) No-majs.
–
Compare your upcoming vacation with everyone else's in the Facebook group  and stay tuned to Orlando Informer on Facebook, Twitter, and Instagram for the latest news, tips, and more at Universal Orlando, Walt Disney World, and other Orlando attractions.