Disney has been aggressively pursuing its food and beverage lineup for next month's Pandora: The World of Avatar, telling us about the brand-new Mobile Order initiative and even revealing the land's full menu. This is no surprise – Universal has said that it views the South Pacific cuisine of Volcano Bay as one of the most fundamental elements of the new park's immersive experience, just like butterbeer at The Wizarding World of Harry Potter, and there's no way that the Mouse House will let a single volcano eclipse its biggest expansion in the past five years (if not longer).
The latest reveal has to do with what is arguably everyone's favorite part of dining: dessert.
Joining the previously-announced Blueberry Cheesecake with Passion Curd is Pandora's second (and, apparently, final) dessert option, Chocolate Cake with a Crunchy Cookie, Banana Cream, and Goji Berries. It's a long and unwieldly name, but it's also an absolutely delectable dish – perhaps not quite as exotic-looking as its compatriot, but every bit as alluring. Disney says that the cake is made with a "few simple (but delicious) ingredients": white chocolate, bananas, and cream, topped with banana cream, a "little" drizzle of lemon, and a syrup-hydrated goji berry.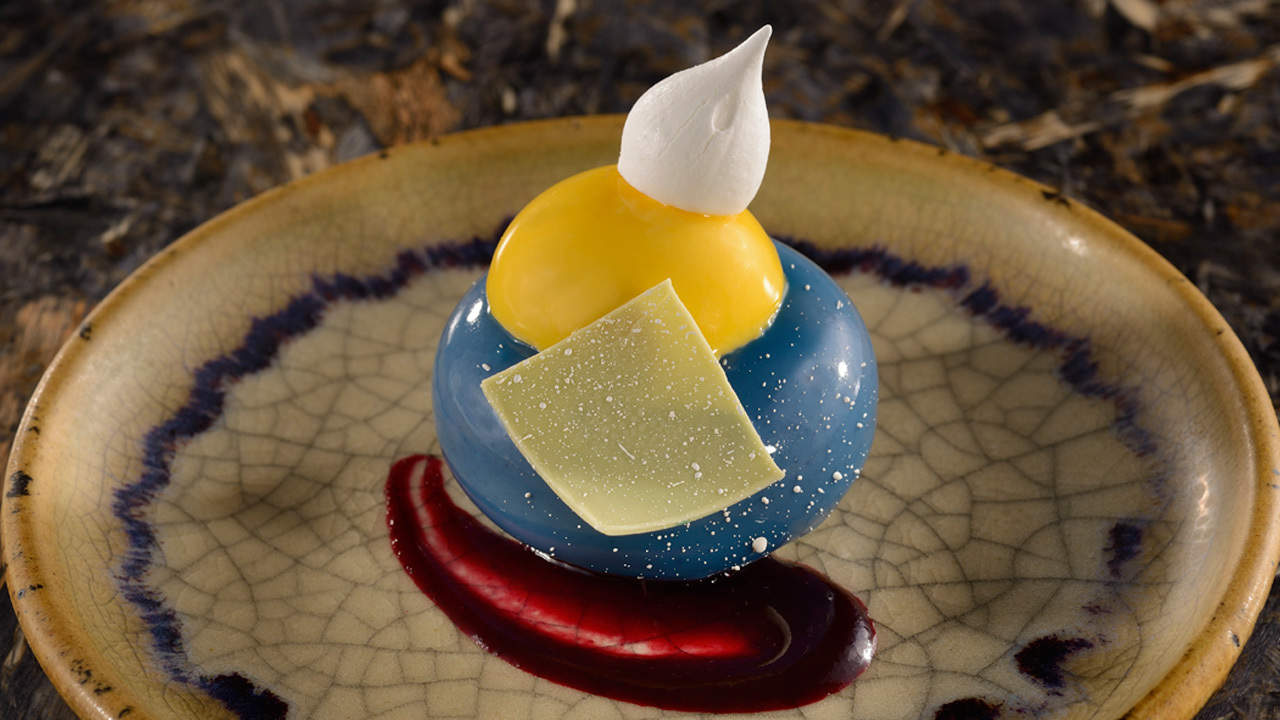 The company has even gone one step further by illuminating the philosophy behind the design and composition of both dishes. Executive Pastry Chef Stefan Riemer says the cheesecake's aesthetics were inspired by the colors of the Na'vi, while its wild balance of flavors and textures was a deliberate attempt to emulate Avatar's otherworldliness – the passion fruit's acidity contrasts with the richness of the cheesecake base, while the chocolate cake's cookie wafer does the same with its mousse. Similarly, the healthy nature of the alien race informed the desserts' ingredients list, with their lean physiology keeping it both short and simple (the chocolate bean was selected, for instance, because of its richness in antioxidants). This is also the main reason why the desserts come in smaller portions than what guests may be used to at the other theme park restaurants.
Such an approach is both different and strong enough to counter Universal's gastronomical offerings, taking the various butterbeer forms' sweetness and combining it with the unusualness of Volcano Bay's lineup. Whether guests will embrace these dishes (and their smaller sizes) anywhere near as much as they have the wizarding drink of choice will, of course, need to be seen – as will how the "alien" menu will influence all future dining developments at Walt Disney World and Universal Orlando Resorts.
Both the Blueberry Cheesecake and the Chocolate Cake will be available exclusively at Satu'li Canteen in Pandora: The World of Avatar starting on May 27.
–
Be sure to follow Orlando Informer on Facebook, Twitter, and Instagram for the latest news, tips, and rumors at Universal Orlando, Walt Disney World, and other Orlando attractions.