At the end of January, I was invited to attend a special event at Disney Springs. The venue was Frontera Cocina, a delightful Mexican dining experience created by celebrity chef Rick Bayless. The restaurant itself has been a staple of Disney's dining/shopping/entertainment district since 2016, and I myself had eaten there once before. I enjoyed it but was also wary of trying new flavors; instead, I stuck to the tastes that I knew. However, after last week's event, I think I've changed my tune. The night was a chance for Chef Bayless to unveil his new menu, Taste of Mexico City, and a chance for me to realize what great chefs can truly do.
We all have flavors we shy away from – things we tasted in our past that just didn't settle right, or foods we're too nervous to try. I have been guilty of avoiding entire dishes simply because they sound like I may not enjoy them. But when you are invited to try a new menu, you try everything on it. It was with mild trepidation that I tasted the first few dishes, but I quickly realized: this is flavor done right – every accent, every spice. Every new plate brought before me was a surprise, and I can't wait to share all of them with you.
Let's dive in, shall we?
1. Shrimp Ceviche Tostadas
Crispy corn tostadas topped with Florida Pink Shrimp, sun-dried tomatos, crunchy jicama, olives, serrano chiles, fresh lime, cilantro, onion, avocado (contains shellfish)
This new starter was the first surprise of the evening for me. Generally speaking, I don't care for cilantro – I find it overpowering to the point of ruining entire meals – and these beautiful little monsters were absolutely covered in it. I took the first bite just to say I'd tried it and instead found myself falling completely in love with this appetizer. Instead of overwhelming the shrimp and avocado-topped corn tostadas, the cilantro complimented it perfectly. No one flavor stole the show. Even my plus-one, who despises avocado and all that touches it, polished off an entire piece by himself, and loved every bit of it.
If I had to make one adjustment, I could do with more of the shrimp, and a bit less of the jicama. Overall, however, it was a hit, and I will definitely be ordering it again.
2. Winter Green Ensalada
Shaved black kale, Arcadian lettuce, grilled pineapple, toasted pepitas, Cotija cheese, red onions, jicama, roasted tomatillo-serrano vinaigrette (contains dairy, seeds)
I generally avoid salads that are purely plant-based, preferring to have some sort of chicken or steak. However, this surprisingly-spicy salad was a delight.
3. Three Chile-roasted Brussels Sprouts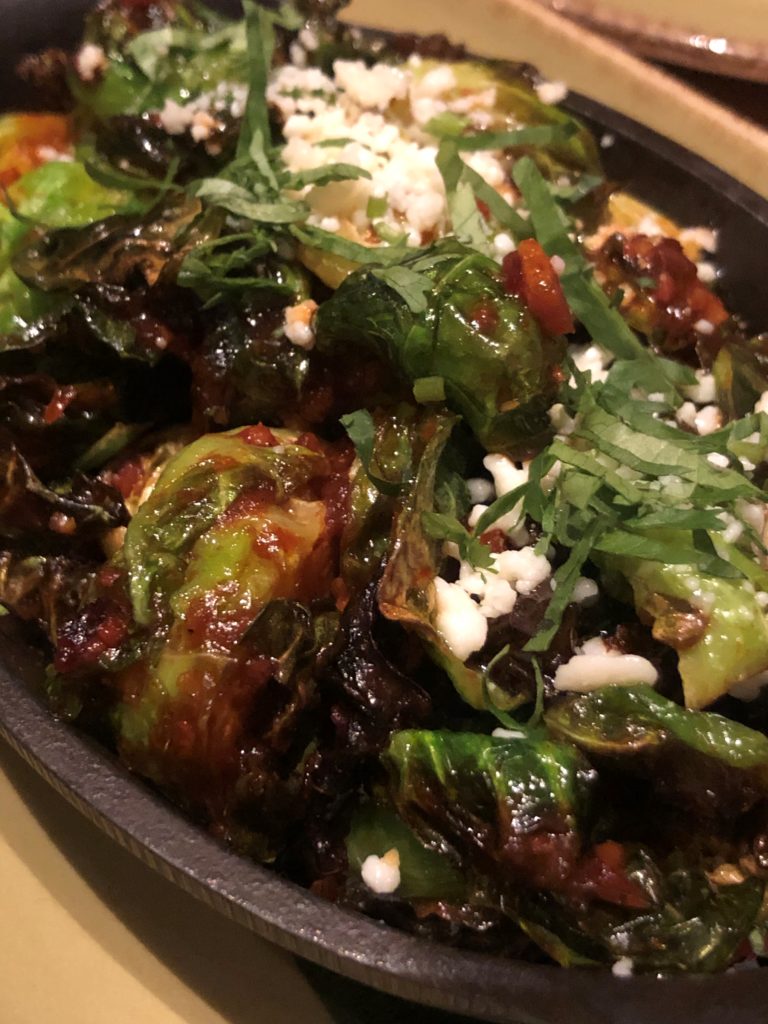 Crispy bacon, Cotija cheese (contains dairy)
Go ahead and file this under "vegetables I never would have tried if I weren't being polite and sampling the whole menu." Brussels sprouts have always been fairly high on my "no, thank you" list, and while I still would never order them willingly, the flavors themselves were actually delightful. The inherent texture of the sprouts is a personal turn-off for me; however, I realize that not everyone has the same aversions.
If you like Brussels sprouts, I'm sure you'll love these bacon-and-cheese goodies. Just don't ask me to share.
4. Swordfish Al Pastor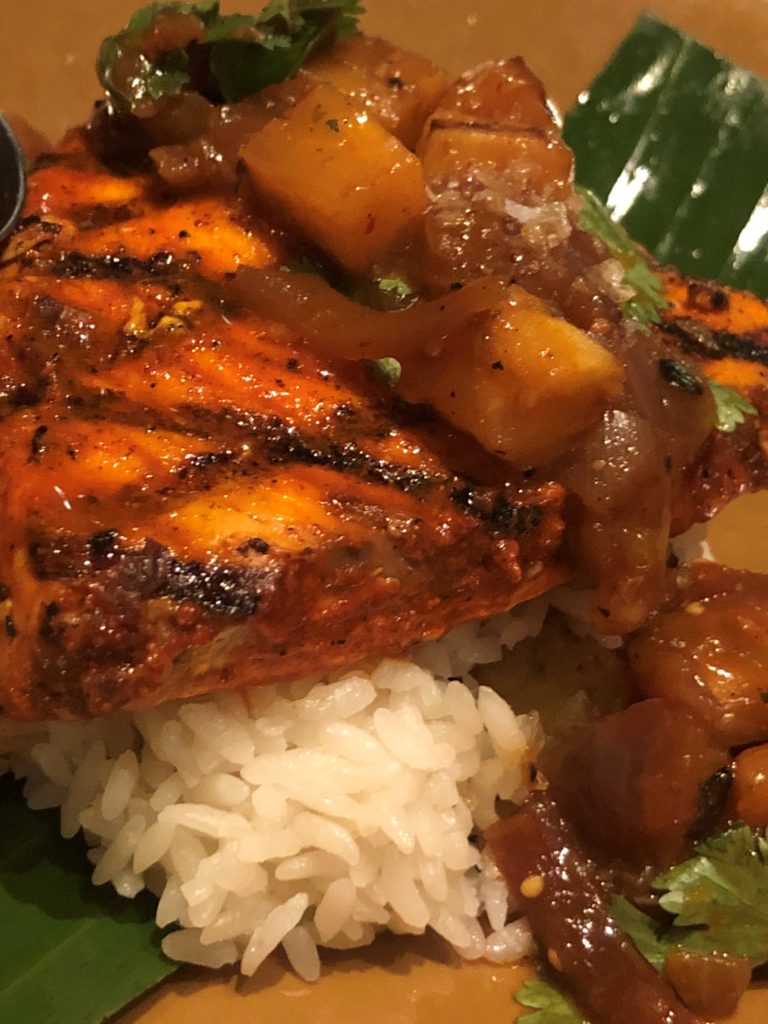 Grilled swordfish with "pastor" flavors (red chile, garlic, achiote), plantain rice, smoky pineapple-chipotle salsa
I have never enjoyed plantains – each time I've tried them, they've come across a bit too sweet, or a bit too slimy. This entree, however, taught me once again that the right flavors, in the right combination, can revolutionize a dish and change even the pickiest eater's mind. I've always been a fan of swordfish, but the plantain chunks mixed in with the rice absolutely transformed the entire fish. It's not a dish I'd dare try and make at home, but I have definitely found my go-to meal next time I visit Frontera Cocina.
We asked the chef about the plantains and discovered that they are actually a personal favorite of his, but most American consumers won't try the fruit. So, he and his partner do their best to incorporate it into their meals in more subtle ways. Their plantain race is a staple of each of Chef Bayless's restaurants, and it is incredibly worth trying.
5. Pork Belly Tacos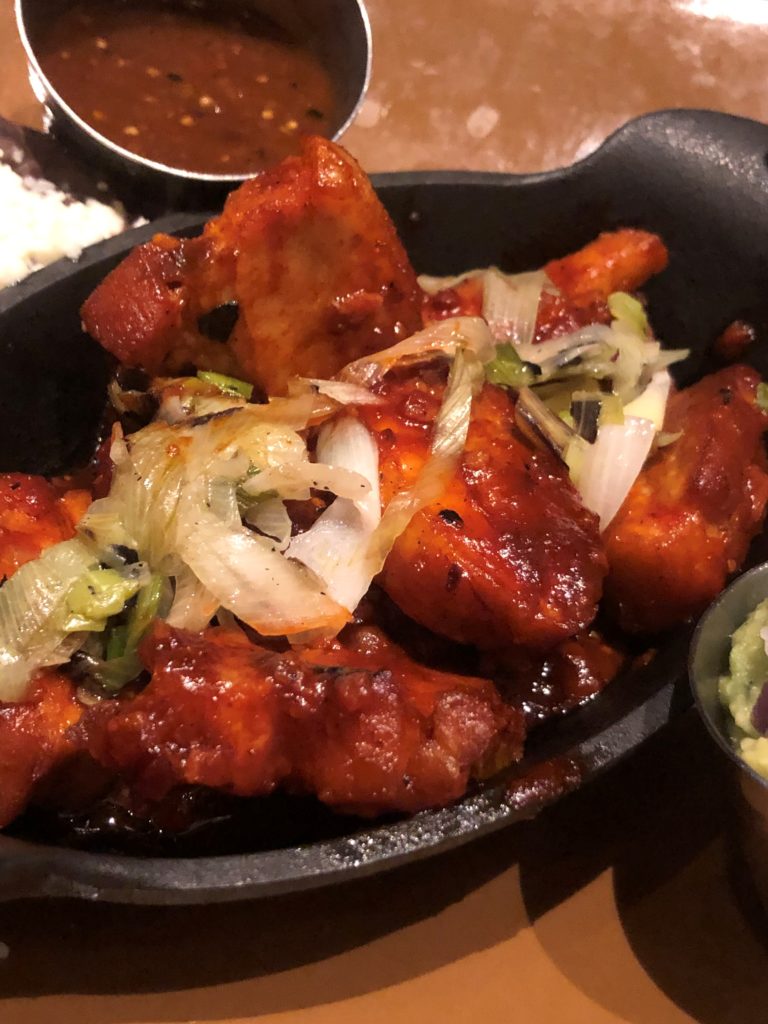 Crispy pork belly, smoky bacon, grilled knob onions, black bean refritos with queso fresco, guacamole, red onion, cilantro, three chile-agave salsa, served with warm corn tortillas (contains dairy, pork)
This dish was another cilantro surprise for me. The option to build your own taco is always a safe bet at Mexican restaurants, especially for those people who may be hesitant to try new things. I would suggest, however, trying at least one bite with everything before making your decisions; the black bean refritos were delicious, and the pork itself stood out even on its own.
6. Mexican Chocolate "Flan"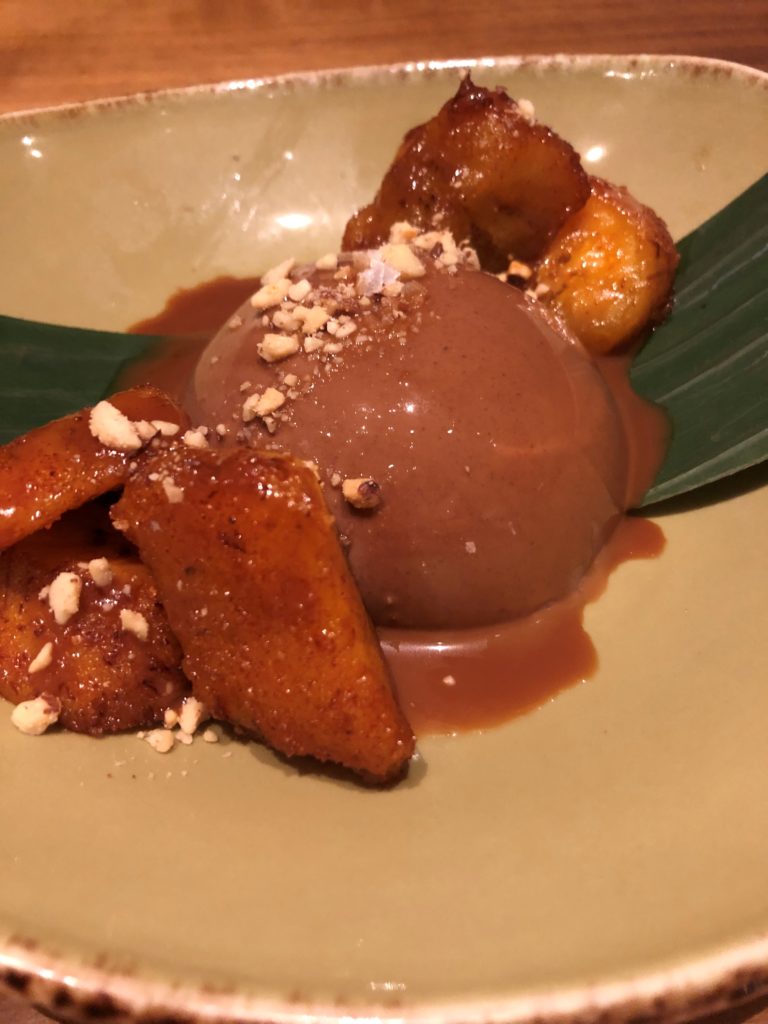 Dark chocolate (made panna-cotta style) with Mexican cinnamon, golden sweet plantains, cajeta caramel, toasted almonds, spicy cinnamon sugar (contains dairy, nuts)
As with the Brussels sprouts, I had a hard time getting over the texture of the custard. That being said, the flavor itself was almost good enough to make up for it. My dining partner adores flan, and he devoured almost the entire thing. I think it's safe to say, if this is your particular brand of dessert, you won't regret finishing off your incredible meal with this dark-chocolate treat.
7. Cafe de Olla Sorbet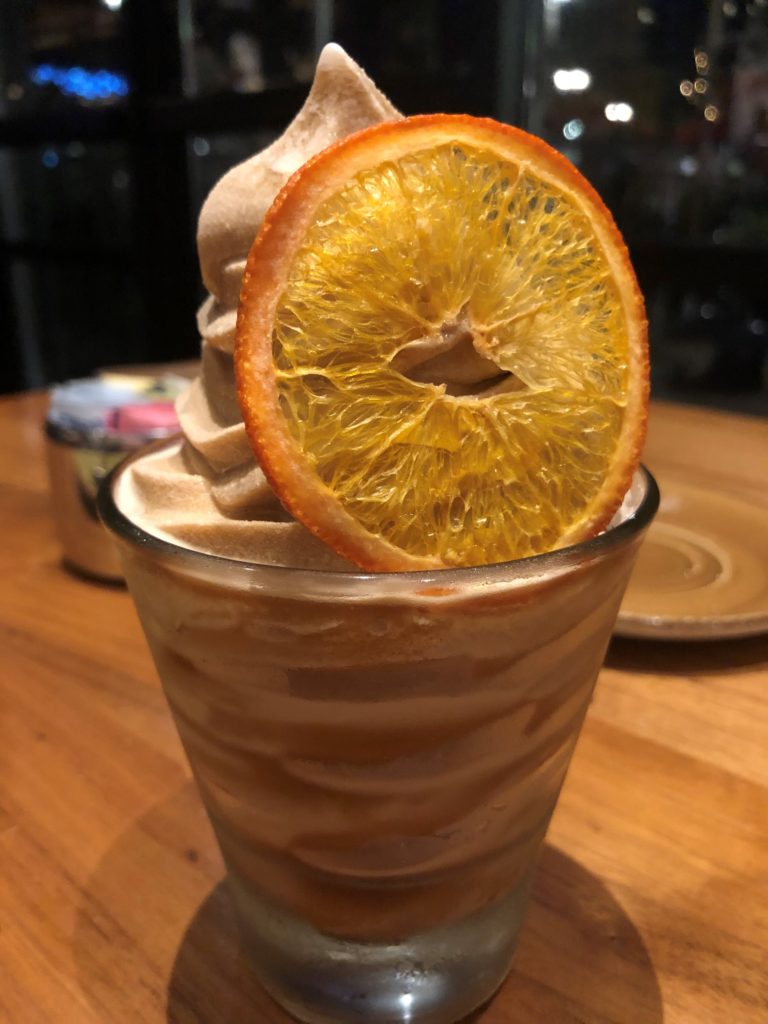 Mexican coffee, brown sugar, cinnamon, clove, orange zest
Throughout the entire evening, with dish after dish, Chef Bayless proved that the right artist can craft incredible flavor combinations. He can surprise and delight, and leave you eager for the next course. This dessert, however, brought the night home in a way I can only attempt to describe. Upon reading the initial list of ingredients that were supposedly used to craft this sorbet, my initial thought was something along the lines of, "Oh, great – so it will taste like one of those things, or none of them." Allow me to just say, for the record, that when I'm wrong, I am oh so very wrong.
Not only was every single flavor easy to pick out, they complimented each other in a way that can only be described as absolute witchcraft. Some, like the cinnamon, were immediately apparent to me. Others, like the coffee, lingered on the tongue as a delightful aftertaste. This delicious sorbet was a reminder that cooking is, in fact, a science.
If I had to choose only one of the dessert options, this would be my vote – no hesitation.
–
While the Taste of Mexico City menu will be sticking around for awhile, the seasonal options, including the winter salad, Brussels sprouts, and my new favorite sorbet, will only be available for a limited time. However, no matter when you plan your next visit to Frontera Cocina, there's bound to be something to intrigue and delight your taste buds. I know I can't wait to order the swordfish again, and I am absolutely eager to see what Chef Bayless has in store next.
It is an often-overlooked skill, being able to weave your flavors just right. Many dining patrons forget to savor their meals these days as they hurry home or get back out and shop. But Frontera Cocina urges you to sit back and enjoy yourself. Their incredible cocktails say, "Relax. This place is for celebration." The guitarist serenading us throughout the evening could transport anyone back to Mexico with merely a song, and he was well worth listening to. Even the decorations, simple but colorful, are meant to make people feel at home. That night, we sat in the back and watched the rest of Disney Springs pass us by. We enjoyed the view, the company, and the Taste of Mexico City. It is an experience I wish on everyone. Do stop by when you get a chance, and experience flavor done right.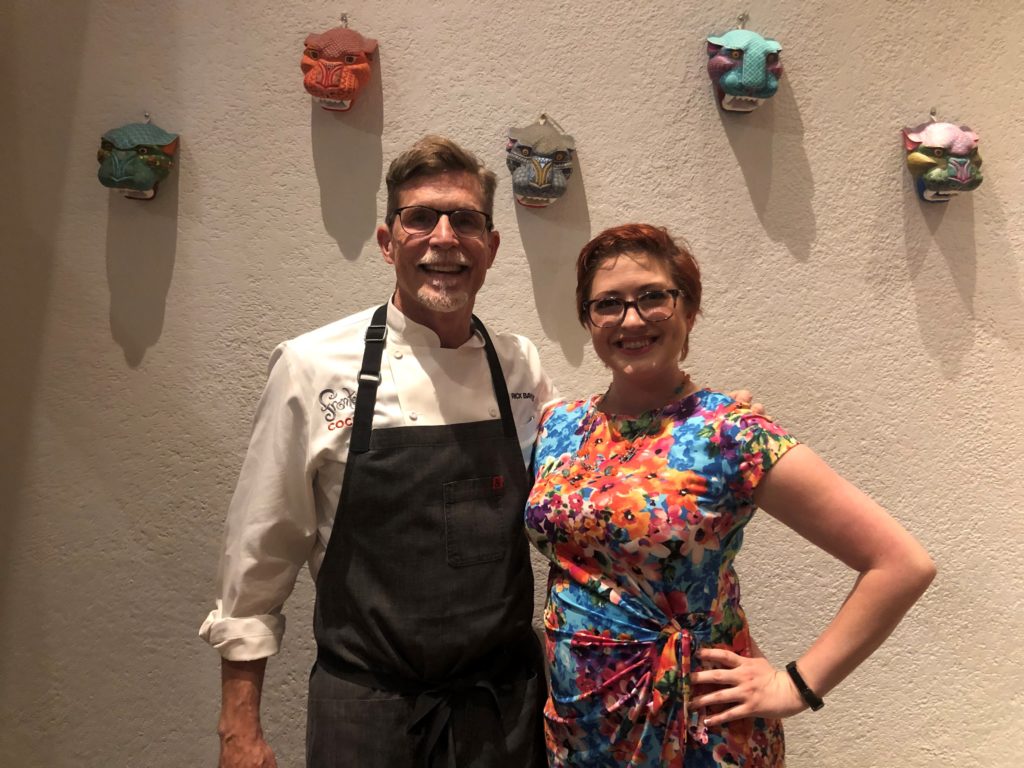 Tell us all about your favorite dining experiences on Walt Disney World Resort property over at our OI Community Facebook group.
And be sure to follow Orlando Informer on Facebook, Twitter, and Instagram for the latest news and tips at Universal Orlando, Walt Disney World, and other Orlando experiences.