Delish, a "top-10 food-related" website, was recently invited by Disney to come check out the Flavor Lab, a top-secret complex that opened in October 2015 in order to serve "as a hub of new product, packaging, and equipment innovation for food and beverage programs across Walt Disney Parks and Resorts," according to the Disney Parks Blog. (Surprised that Delish, which admittedly has something of a Disney penchant, was invited in? Don't be – the site is owned by Hearst Communications, which has a 20% stake in Disney subsidiary ESPN.)
The breakdown of the Flavor Lab's structure, operations, and purview – as noted above, it's responsible for nearly every new restaurant, dish, and drink at every Disney theme park worldwide – is amazingly in-depth, but a few fascinating general takeaways can be gleaned from the report. They represent a behind-the-curtains look at not only how the company is approaching food, generally (what has become the newest front in the theming wars, thanks to Universal and its Wizarding World of Harry Potter), but also the culinary offerings of Pandora: The World of Avatar, specifically.
The Flavor Lab's Structure
The 7,000-square-foot, backstage-only test kitchen is broken down into four sections:
Eat is the demo area, where potential new hires engage in Iron Chef-esque cooking competitions to land the job and where the pre-existent chefs collaborate with one another on their various, far-reaching projects, either in person or remotely, using the two giant flat-screen TVs that hang from the ceiling.
Create is where the culinary and Imagineering departments confer in order to hash out new concepts – since everything in a Disney park is ultimately driven by narrative, there needs to be a backstory for every new restaurant that informs its gastronomical offerings and its aesthetics, from its tables and chairs to its color palette. Additionally, Create is home to in-company classes (such as wine tastings for servers) and meetings with outside vendors, whether they be for cooking supplies or new appliances.
Drink is for, well, drinking, and for testing out each and every place setting for each and every Disney restaurant.
Finally, a large industrial kitchen – which, apparently, goes without a snappy Disney appellation – serves as the space where the company tries out endless varieties of commercial appliances, from ovens to slushie machines, in an effort to discover what will deliver the greatest efficiency for the greatest bang for the buck.
The Flavor Lab's Process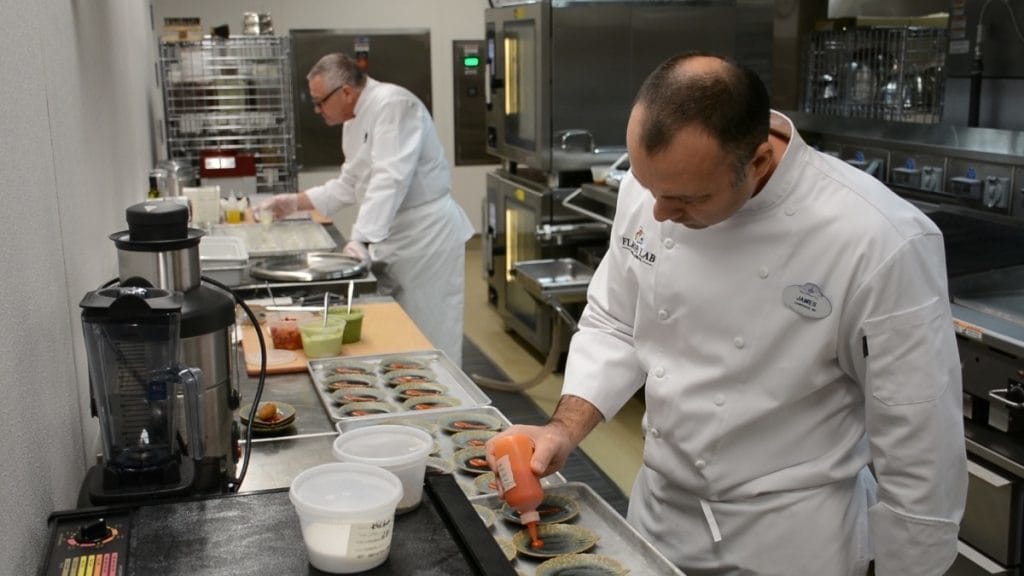 Using all these various stations, the chefs draw up entire menus or design, from scratch, brand-new dishes, testing each individual offering some three or four times before it can move on to the next step in the process: being presented to Disney's various executives for final approval. This particular leg of the journey, in turn, can be repeated another three or four times in an attempt to perfect every last aspect of the food and drink in question, from its taste to the way it is presented to guests in the finalized restaurant.
All in all, it is a process that can last anywhere from one to seven years, depending upon the nature and scope of the project at hand – whether it's an overhauled menu for a pre-existing venue or, in the recent case of Shanghai Disneyland, an entirely new theme park with entirely new establishments. For the impending Pandora expansion to Animal Kingdom, Disney's chefs are currently closing in on the four-year mark of testing, refining, and presenting.
Here's to hoping that such a massive undertaking – both in regards to the Na'vi's offerings and to the Flavor Lab, more generally – can help to make Disney as competitive as possible in the exclusive themed culinary realm; the more that Universal and the Mouse House push one another, after all, the more that consumers benefit.
And there are few benefits as satisfying as a good meal.
–
For the latest news, tips, and more at Universal Orlando, Walt Disney World, and other Orlando attractions, be sure to follow Orlando Informer on Facebook, Twitter, and Instagram.