The Disney cruise ship Fantasy departs from Port Canaveral, about an hour from Orlando. Recently I was fortunate to take a tour of the ship and Disney's attention to detail didn't cease to impress me.
Let's begin with the look of the ship, the colors — darkest blue, white, red, and yellow bring to mind the color scheme of their famous icon, Mickey. Disney even got special permission to have yellow lifeboats instead of the customary orange. The colors and style evoke classic ocean liners and a time when people took grand voyages instead of quick trips.
The atrium has many beautiful chandeliers and a grand staircase. Classic Disney characters are subtly part of the decor, with Minnie at the bottom of the stairs in her traveling ensemble. (Remember that you can click any image to view it full-screen, and don't miss the complete photo gallery at the bottom of the page.)
There are many different styles of cabins. Outside cabins with ocean views and balconies, inside cabins with  Disney "magic" portholes showing views from cameras mounted outside on the ship. There are also suites, family suites and a concierge level with it's own outdoor sunning lounge area.
All the cabins offer enough space to be comfortable and can be configured for multi family members using a combination of a queen bed, comfortable sofa, upper berth and murphy bed depending on which category of the cabin and how many occupants.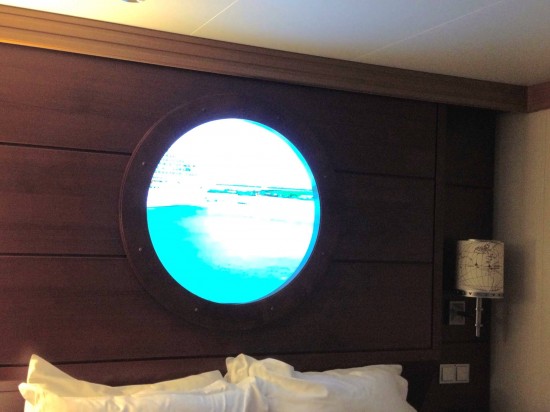 The inside cabins with the "magic" porthole let you see a camera feed from the ship's exterior so you don't feel left out of the view. These portholes also occasionally show animated characters passing by – like Goofy water skiing or Mickey waving hello.
Top of the line cabins offer ample space and the feel of a luxury hotel room. We saw one with a Jacuzzi in the bathroom and TV in the bathroom mirror:
Whichever cabin you book, the rest of the ship is a playground to explore and enjoy, no matter what your age.
For the kids, there is a nursery for babies, an activity center for toddlers through school age, and separate areas for tweens and teens. It is essential to provide the exact number in your party when booking your cruise, and the ages of any and all children, including if there is a chance of a newborn coming along. It was explained to us that their children's programs are designed so that every child gets attention and  have a specific number of counselors required per number of children.
Disney is very serious about providing a fun and enriching experience for kids of all ages and to ensure this they even have a limit to the number of children of each age group booked on each voyage.
If you are traveling without children, there are also other adult only areas of the ship including a pool, lounges, and of course, bars.
In addition, the spa area offers many different ways to pamper yourself. You can book couple's massages, some including time with your own private sunning deck, showers, and a Jacuzzi that you can enjoy with your treatments. For teens there are spa parties where everyone can get mani/pedis. One of the options called the Rainforest includes specialty showers with variable water intensity and therapeutic lights. This area also has heated tile chaise lounges which feel heavenly.
There are many dining options onboard. Main dining is handled on a rotation, so that each night you experience a new restaurant for dinner and your waiter moves with you providing  the same service each night with a different experience and ambiance. You can also choose quick service buffet dining. The other option is Remy and Palo, two restaurants which cost an additional fee. They provide luxury dining and are adult only.
Before or after dinner, you can enjoy classic Disney entertainment in the theater with their Broadway like productions. In addition, there is a movie theater showing a selection of Disney movies with an occasional premier at sea when there is a new Disney movie being released during your cruise. Of course, you will also have many opportunities for meeting and greeting Disney characters and purchasing photo souvenirs.
In summary, the Disney Fantasy is a beautiful ship. It can help fulfill many vacation dreams by offering something for everyone in the family to enjoy, regardless of your itinerary and ports of call.
Official website: http://disneycruise.disney.go.com/ships-activities/ships/fantasy/
Disney Fantasy cruise ship – photo gallery
Click any image to view it full-screen. When the full-screen image is open, click to the right or use the right arrow on your keyboard to advance through the gallery. If several thumbnails are missing, try reloading this page in your browser.
[sws_author_bio user="Carla.G" size="105″ authorposts="More OI posts by Carla" name_format="About the author"] [/sws_author_bio]