What better way to enjoy the warm air and sunshine of the spring season than by taking a tour around the world showcase at Epcot's 23rd Annual International Flower and Garden Festival? Running from March 2nd thru May 30th, Epcot is taken over by displays of character themed topiaries, a magical butterfly garden, rock shows, gardening presentations, and educational workshops to help us get in touch with nature and give back to this planet we call home. But, let's not forget what we really go there for: the food!
Spread throughout the countries are enticing outdoor kitchens offering specialty food and drink from around the world and from right here in Florida. Many of the snack size plates are only available during the festival, and with so much to choose from, you may need to make multiple trips just to try everything that is offered! The F&G Festival food is known for offering a wide variety of vegetarian dishes (which I am personally extremely grateful for) but there is at least one offering at each stand for the meat lover in your group as well. There are also specialty drinks, both alcoholic and non alcoholic, to pair with your dishes.
Bring your appetite and a willingness to try new foods. With most dishes around the $5 mark, it's the perfect opportunity to try something without the commitment of a large meal. Here are a few of my favorites…
Located in the United Kingdom section of the World Showcase is one of two new outdoor kitchens, the Cider House. With all of the sweet offerings I knew were available at the festival I thought I should try a few things that were semi-healthy. The Land Harvested Field Greens salad ($3.75) was extremely flavorful.  Filled with apples, dried blueberries, stilton cheese and tossed with an apple cider vinaigrette. The tanginess of the vinaigrette was a perfect complement to the sweet fruit and the rich flavor of the cheese. Even though these plates are pre-made and just waiting for someone to order them, the greens were crisp and fresh. A great start on the journey!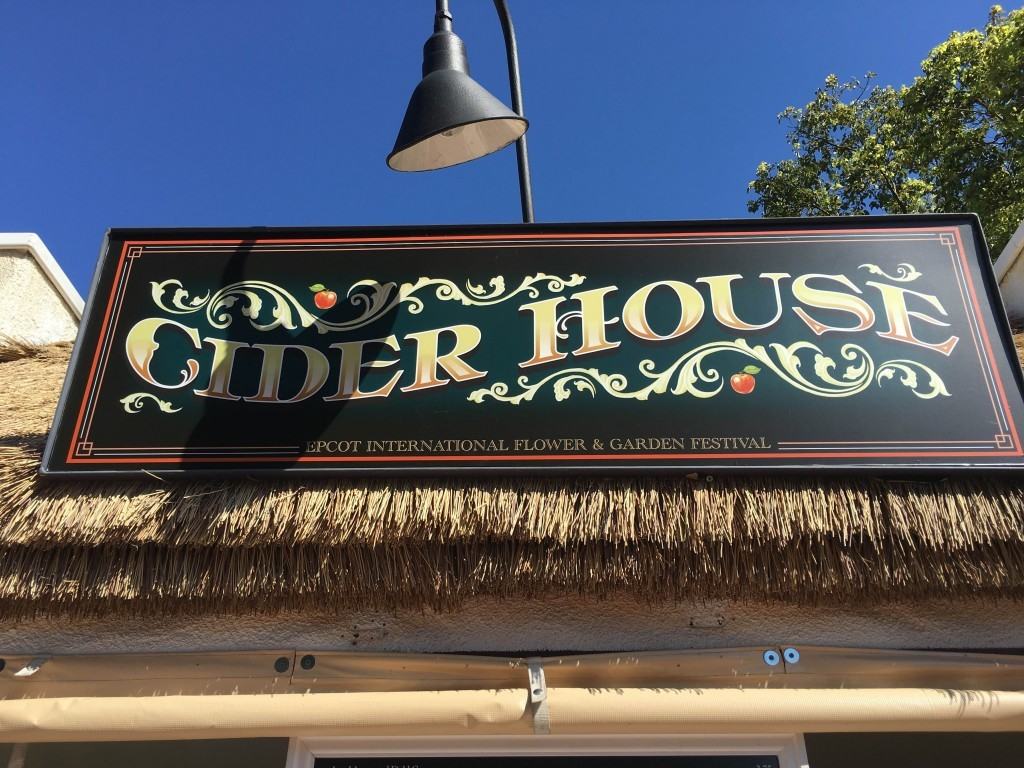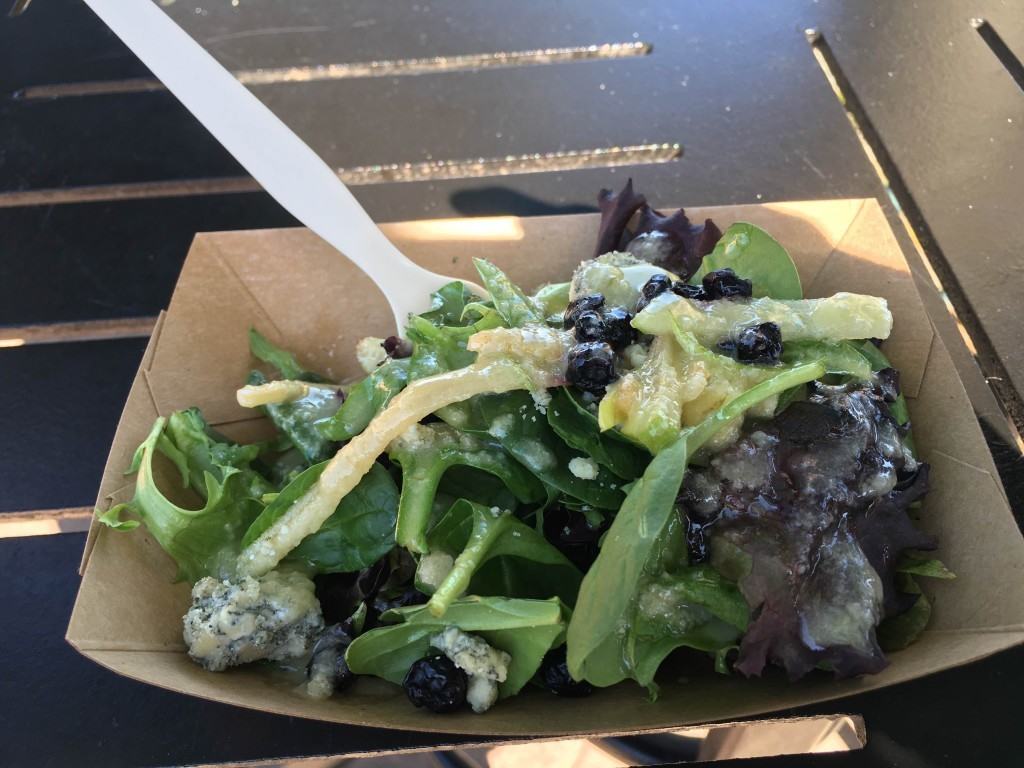 Keeping with the salad theme, I had always wanted to try watermelon salad and just never got around to it. After visiting Urban Farm Eats (located near walkway to Imagination), I don't know why I waited so long! The dish featured crisp, juicy watermelon, pickled onions, B&W Gourmet Farms baby arugula, feta and topped with a balsamic reduction (also for $3.75). Not only was this wonderfully refreshing as far as food goes but it was beautifully plated on VerTerra dinnerware. Flower and Garden is all about keeping in touch with nature, VerTerra is a line of single use party plates, bowls and trays made from fallen palm leaves. (You can learn more here.)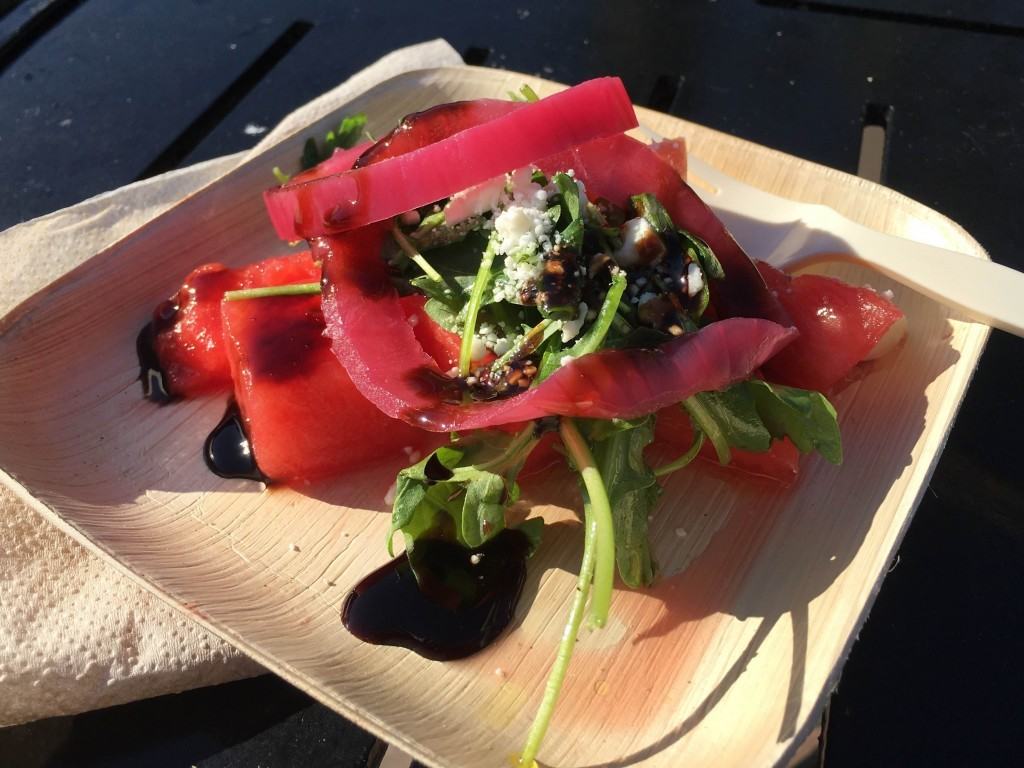 For those of you craving a little more protein, a stop at the Smokehouse: Barbecue and Brews outdoor kitchen is sure to satisfy. Located in The American Adventure pavilion, it offers 3 hearty dishes and one mouth watering desert in the form of a warm chocolate cake with caramel sauce and pecans. Top on the list is the Beef Brisket ($5.75) with white cheddar fondue and pickled jalapenos. The flavor will take you from spring and transport you straight to a summer bbq, complete with lake view and live music. Add one of the available sauces to customize it to your tastes.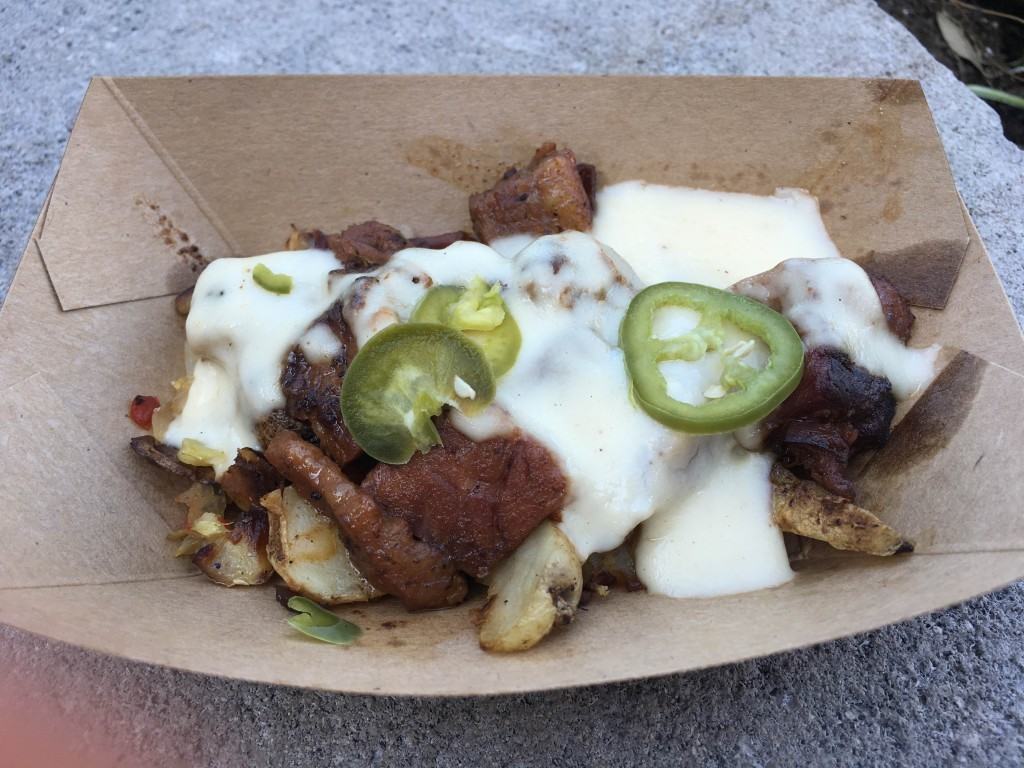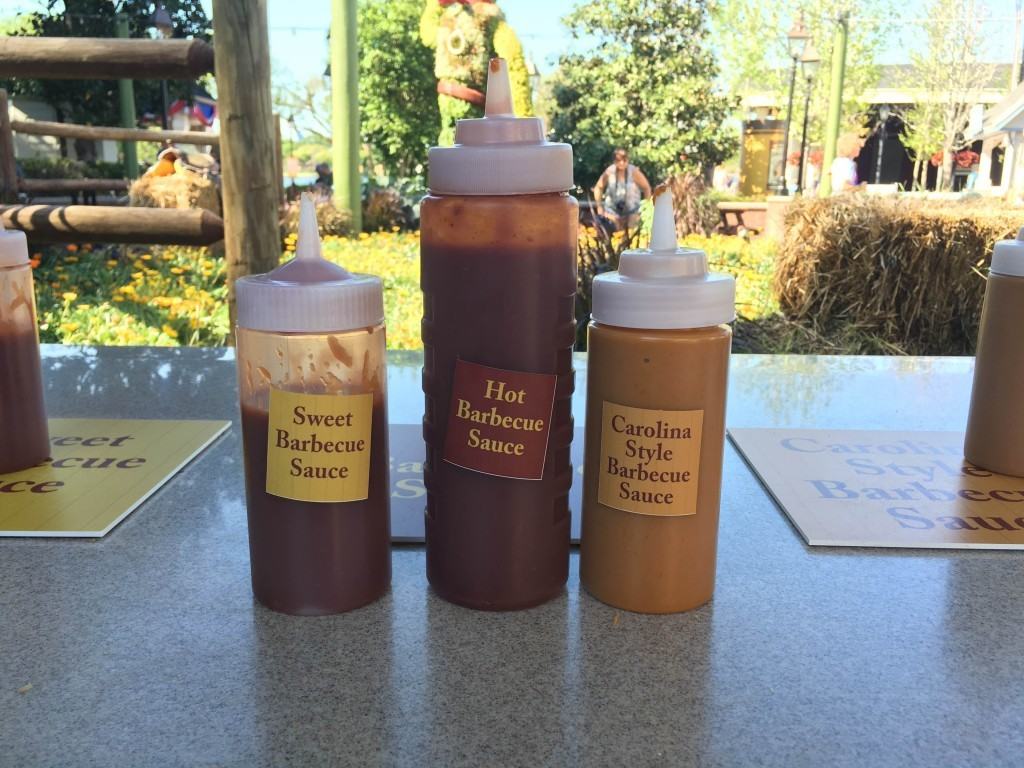 Are you getting hungry yet?
You're going to need your full appetite when you get to Italy and stop at the Primavera Kitchen. For $17 you can order the entire food menu and enjoy a full meal in one of the most scenic places of Epcot. The Pollo alla Parmigiana (chicken parmesan for those of us that don't speak Italian) and the Mezza Lune Primavera (egg pasta stuffed with ricotta and spinach in a cream sauce with spring vegetables and pecorino cheese) are both excellent serving sizes compared to the many small dishes offered at the festival. The desert option, Cremoso al Pistacchio, is a light and not-too-sweet treat made with pistachio cream, strawberries and mascarpone cream.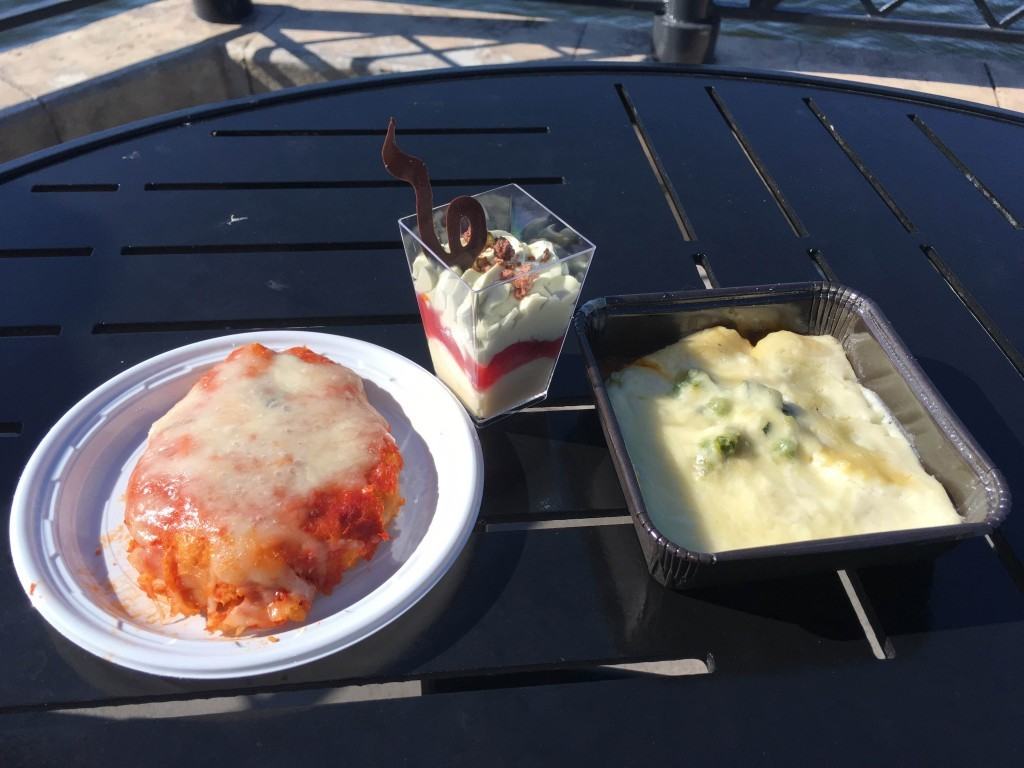 You cannot walk through the F&G Festival without hearing someone ask someone if they want more Frushi. It seems this was the dish everyone was talking about. It's a returning favorite and there is always a line. Located at Hanami in Japan, Frushi ($5.25) or "fruit sushi" is a fun, fruit filled desert that will have you ordering seconds! Fresh pineapple, strawberry and melon is rolled with raspberry coconut rice, sprinkled with toasted coconut and served with whipped cream and raspberry sauce. Chopsticks are available, but don't feel bad if you end up using your hands for this one!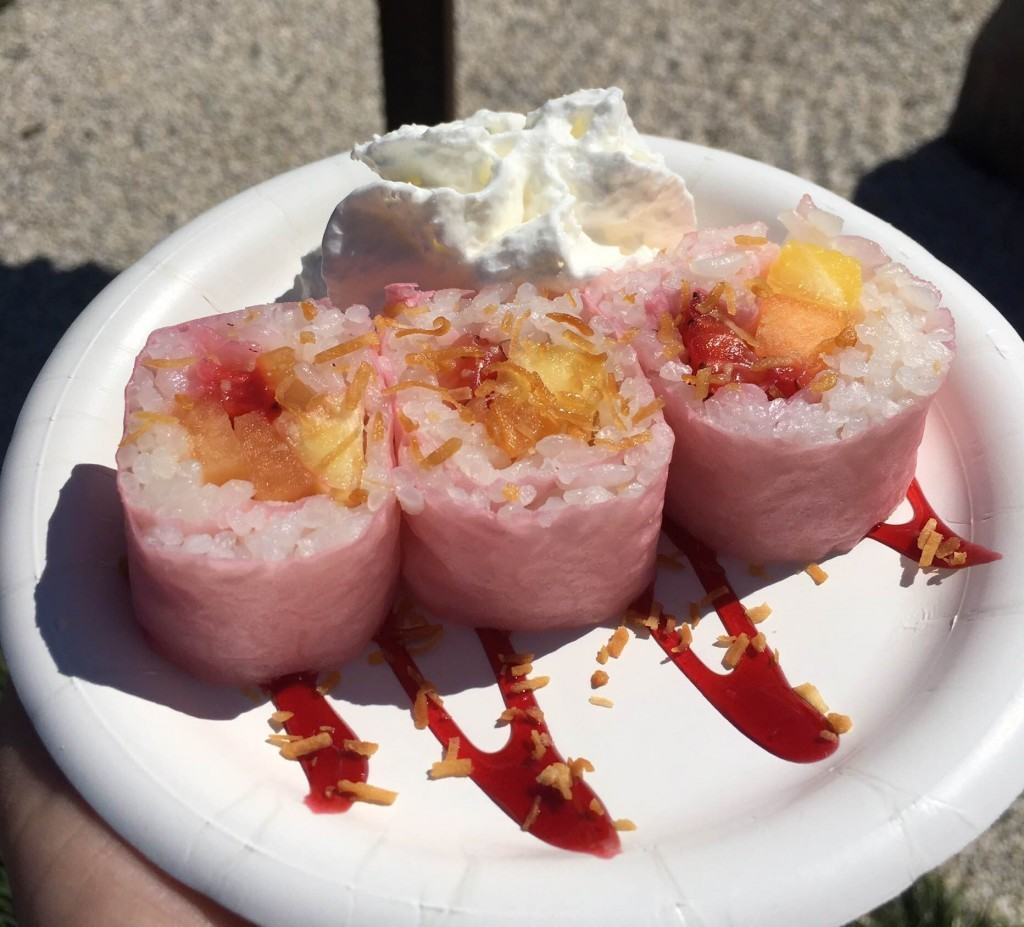 My personal favorite stop is the Lotus House located in China. I highly recommend saving room (or stopping here first just to be sure) for the Vegetable Spring Rolls ($4.50) and the Candied Strawberries ($4.95). The spring rolls are served with an Orange sauce that has a mild kick to it. It's so good not a drop will be wasted. They have a fresh taste and even though they are fried, do not taste greasy at all. The Candied Strawberries are served kabob style and are simply too good to share. I've had these a few times, sometimes there are 3 large berries, sometimes (as you can see) there are more to enjoy! Covered in a glassy, sugar coating that breaks apart when you bite into them, be sure to have plenty of napkins on hand!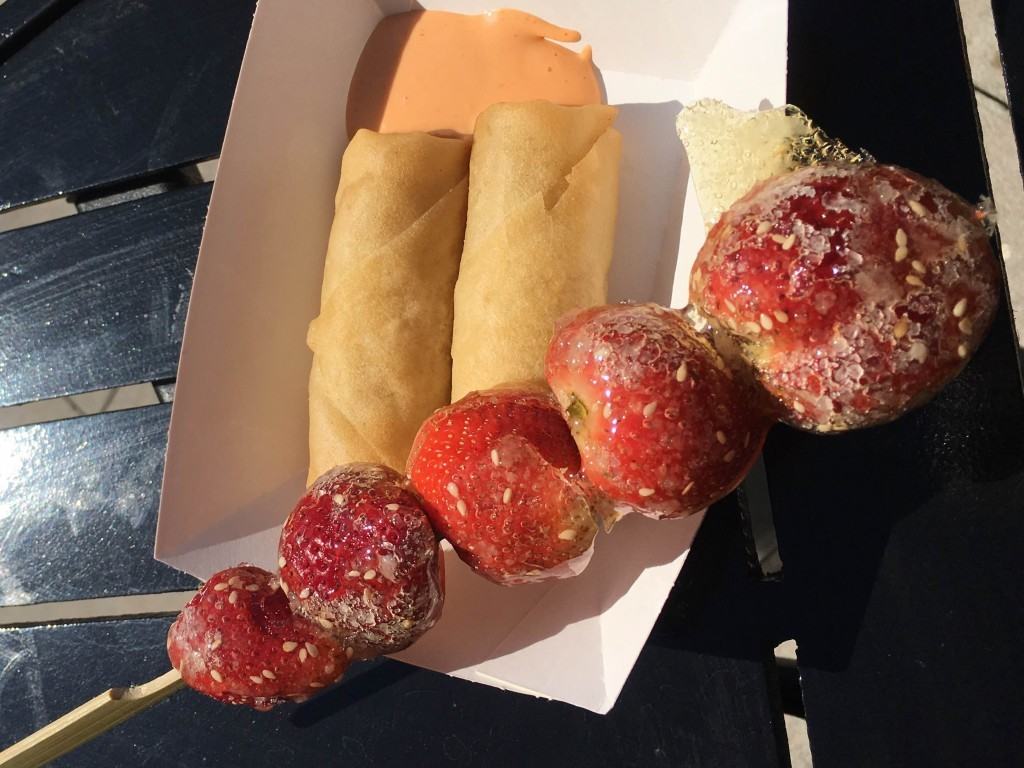 Remember, you only have until May 15 to enjoy most of these delicious treats. So grab a friend, come hungry (and thirsty) and take a walk around the world culinary style. Just be prepared, because with so many good offerings, you may need to plan more than one trip!