In gearing up for the giant 50th anniversary of Walt Disney World Resort – which is called "The World's Most Magical Celebration" and which kicks off its 18-month-long festivities on October 1 – Disney announced what could arguably be labelled the centerpiece of the event (sorry, icon makeovers): two brand-new nighttime spectaculars.
The first is actually a known property, but it's nonetheless exciting to get a fresh look at it – and, even more importantly, to have an official start date. Harmonious, as a quick refresher, is being billed as one of the largest nighttime shows ever to be featured at a Disney park, using EPCOT's World Showcase Lagoon as its aquatic stage and the various international pavilions as its thematic backdrop. The Mouse House elaborated on the production this morning, saying:
It's a grand, powerful tribute to the stories and songs that unite us, embracing new technical magic that incorporates pyrotechnics, choreographed moving fountains, lighting, and media in new ways.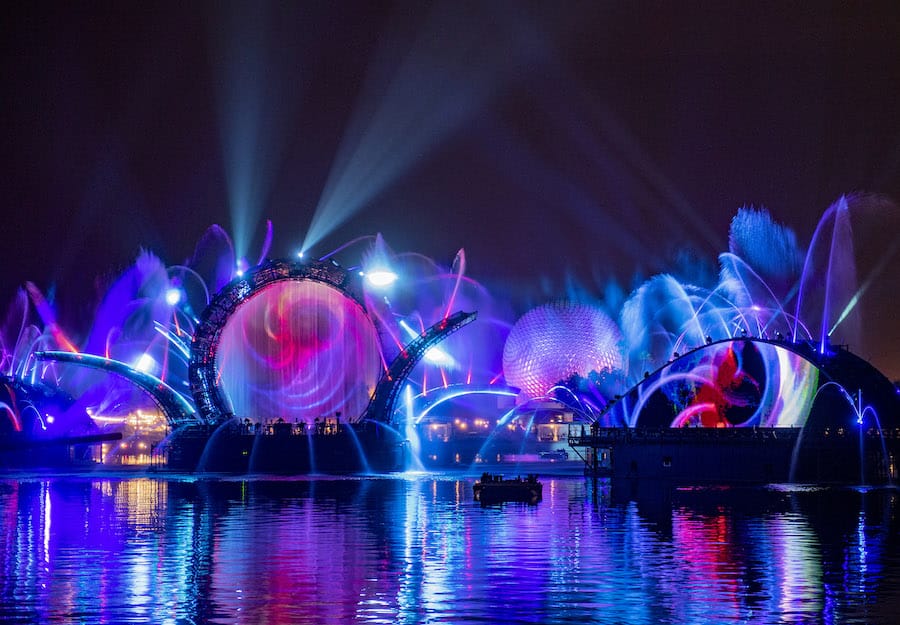 Some 240 artists from around the globe were involved in its creation, helping to craft a custom soundtrack that reimagines classic Disney songs in more than a dozen different languages. You can take in all this majestic splendor starting on Friday, October 1, 2021 – the first day of the 50th anniversary proceedings.
It is the second, just-revealed spectacular, of course, that has truly caught our attention this morning. Called Disney Enchantment, and also debuting on the same day as Harmonious, it'll be held at Magic Kingdom (the epicenter of the world's Most Magical Celebration) and it will, according to Disney, "take you on a journey filled with adventure, wonder, and empowerment." More than simply being a new nighttime experience to sweep guests away with, and more than deploying music, fireworks, enhanced lighting, and projection-mapping to tell its story, this new production is extremely notable for one very specific reason: it's the first show to apply its "immersive" projection effects beyond just Cinderella Castle, going down the length of Main Street, USA, as well. This really does turn the page on what a Disney nighttime experience can be, paving the way for a whole host of new possibilities all across Disney World's four theme parks.
We guess you could say that Disney is celebrating its first 50 years in Orlando by hinting at what the next half-century could have in store.
---
What do you think of this possibly revolutionary new nighttime spectacular? Let us – and thousands of other Disney fans – know in our Orlando Informer Community on Facebook.
And then be sure to follow Orlando Informer on Facebook, Twitter, and Instagram for the latest news, tips, and rumors at Universal Orlando, Walt Disney World, and other Orlando attractions.