UPDATE (3:11 pm, 03.19.21): Disney released another tidbit of the new Jungle Cruise's backstory, focusing on the new character of Alberta Falls, the granddaughter of world-renowned Dr. Albert Falls and, of course, the proprietor of Jungle Navigation Company, Ltd. The Mouse House even added the fun touch of fabricating a 1938 interview with her conducted by the newspaper The Daily Gnus: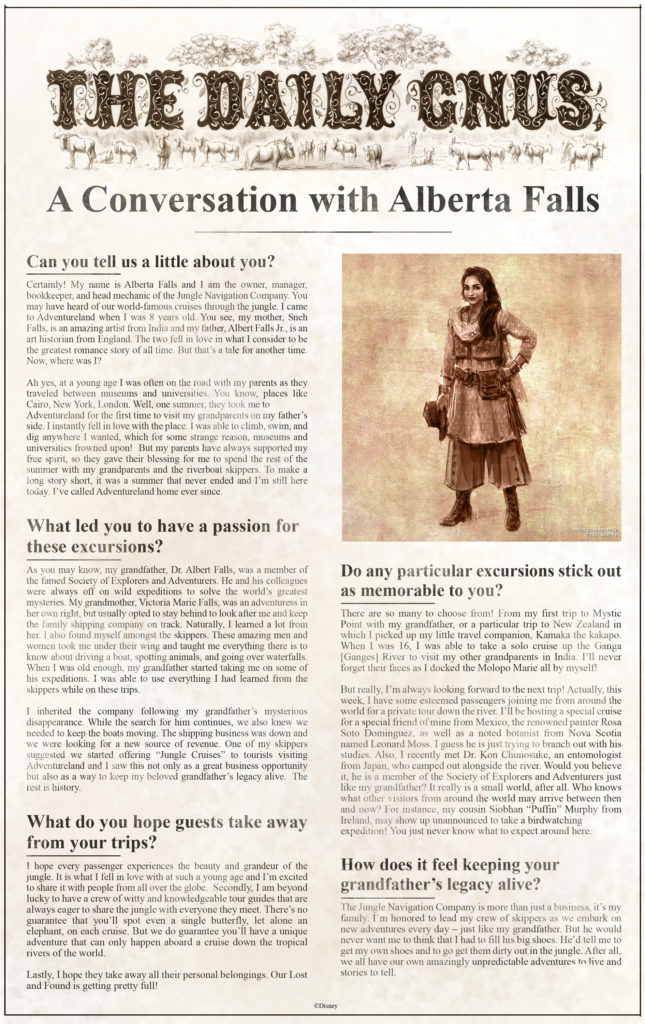 You can find the original article in its entirety below.
---
In a surprise announcement, Disney today announced that it would be revising one of its most classic and most beloved attractions, Jungle Cruise, which was an opening-day ride at both Disneyland (in 1955) and Magic Kingdom (1971). On the one hand, the company is promising to stay true to the essence of the previous incarnation, including its trademark humor; on the other hand, the move seems to be designed to follow up on the recent changes that have been unveiled for Splash Mountain's reimagining, which was revealed six months ago.
Walt Disney Imagineering Creative Portfolio Executive Christ Beatty expounded on this decision in a conversation with D23:
We are constantly evaluating ways to enhance attractions and experiences in our parks. We want to make sure everybody has the best time – that guests from all over the world can connect with the stories we share and that how we bring those to life are respectful of the diverse world we live in. […] When you look at the Jungle Cruise, as it is today, there are just a couple of scenes that don't do that and needed a refresh.
Both of these elements – maintaining the humorous spirit and incorporating a more socially conscious ethos – can be seen in one of the new narrative flourishes: another skipper and his crew, whose boat ends up capsizing and who will be realized in audio-animatronic form (a first for the storied ride). Not only does the vessel end up being ransacked by chimpanzees, but these new human characters will run the gamut of races, genders, and backgrounds, which will "reflect and value the diversity of the world around us," Disney has stated in its press release.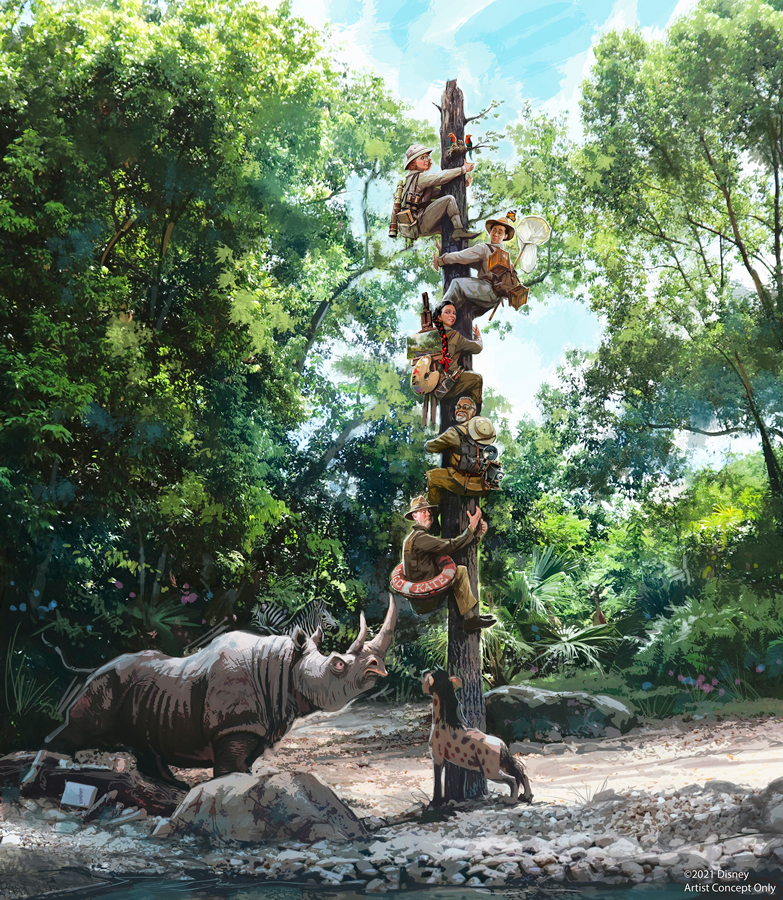 What are some of the other changes that guests can expect to see when Jungle Cruise emerges from its transformation later this year? The "negative depictions of 'natives'" will be addressed, as will the "mystery" of what happened to those boats that were decommissioned from the attraction over the decades, with the Mekong Maiden and Kwango Kate specifically being namedropped. This, also, is a telling move – Disney is seeking to work real-world history into the fictitious reality of the ride, thereby making it something of a meta experience. (Yes, apes are involved here, too, but of course.)
What guests won't see when the "story update" is finished is any major connection to the new Jungle Cruise movie starring Dwayne Johnson and Emily Blunt, which is currently scheduled to hit theaters on July 30, 2021 (it has been delayed several times, most recently due to the COVID-19 pandemic); presumably, Disney would consider incorporating the new filmic material only if the release proves successful, much like what we've seen with Pirates of the Caribbean all over the world. But don't confuse "major connection" with "Easter egg" – Imagineers have already begun teasing one or two well-placed ones within the new or revised ride scenes.
Walt Disney Imagineering has been tinkering incessantly with its world-famous experience ever since the 1960s, when it began adding in new scenes, lines of dialogue, or queues – changes which, at times, have been spurred by real-world tragedies, including the terrorist attacks of September 11, 2001 and the accidental death of a child by an alligator on Walt Disney World Resort property in 2016. This year's revisions look to be the biggest ones yet, delivering what the Mouse House is calling Jungle Cruise's "first continuous story."
We'll get the chance to see for ourselves at some later point this year, when the re-forged expedition sets sails again.
---
How do you feel about the announced changes to Jungle Cruise? Let us – and thousands of other Disney fans – know in our Orlando Informer Community on Facebook.
And be sure to follow Orlando Informer on Facebook, Twitter, and Instagram for the latest news, tips, and rumors at Universal Orlando, Walt Disney World, and other Orlando attractions.