Update 3/6/12
Alice has received the maximum number of completed surveys that she can accept, so I have removed the link from the post below. Thank you to everyone who participated!
Original post
I was contacted by Alice James via Twitter, asking if I'd let my readers know about a survey she is distributing. I said that I would be happy to. Here are a few words she wrote about the survey along with a link to complete it.
This short 10 question survey is aiming to get a wide range of input and opinions from the disabled community on their views on the world's theme parks today. It doesn't matter if you've only been to a theme park once or you go every week. All responses will be greatly appreciated!

The main purpose to this survey is to collect data for my university dissertation, which aims to help raise awareness for the disabled within theme parks. All responses are completely confidential.

Click here to complete the survey

Thank you so much!
If you have a question about Alice's work, you may contact her via her Twitter account: @AliceAnnJames.
Universal Orlando Rider's Guide for Rider Safety & Guests with Disabilities
For our members who would like to learn more about visiting Universal Orlando with disabilities, the resort publishes an extremely thorough guide to their attractions Below is a sample page from the Jurassic Park section: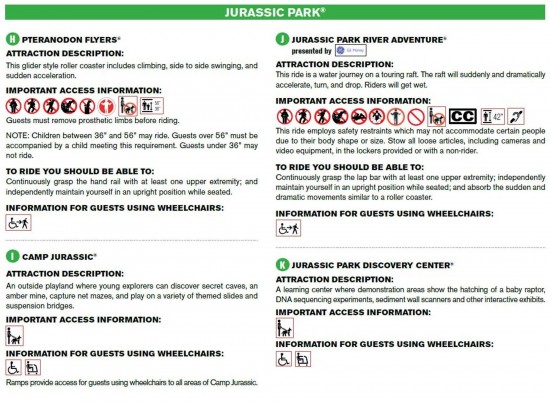 Use this link to view and download the PDF version of the guide (please note that it is a rather large PDF file):
Universal Orlando Rider's Guide for Rider Safety & Guests with Disabilities – PDF file
You can also check out these two posts for more information:
OI Share: Alissa & family visit Universal Orlando (and help us understand the Guest Assistance Pass)
Guests with disabilities: What rides can we go on in Disney World, SeaWorld, and Universal Orlando?
Have you had an experience at Orlando's theme parks that you'd like to share?
I regularly get asked about these issues as they relate to Orlando's theme parks. Since I am not able to give first-hand accounts of such experiences, I rely on our community to provide their support and insight. That's why I'd like to know if you have an experience connected with these issues that you'd like to share with our readers. If you do, please visit this page to learn more and contact me. Thank you for your help.