A week ago today, we entered the hum-drum work week to discover an early yuletide surprise: The Wizarding World of Harry Potter – Hogsmeade had been decked out for the holidays overnight, getting ready for the first-ever Christmas in The Wizarding World (which starts Saturday, November 18, for all those keeping track at home).
Now, it's Diagon Alley's turn to get festooned with holiday cheer, and we're still so enamored with Universal's impeccable design sensibility, we've decided to give London the same spotlight that we did Hogsmeade Village. Last time, we shared with you our three favorite areas decorated for Christmas; this time, since none of the interiors of Diagon Alley's various shops have had their festive transformations yet, we're just going to stick to our favorite outside flourishes, and expand our scope to six in the process.
6. Weasleys' Wizard Wheezes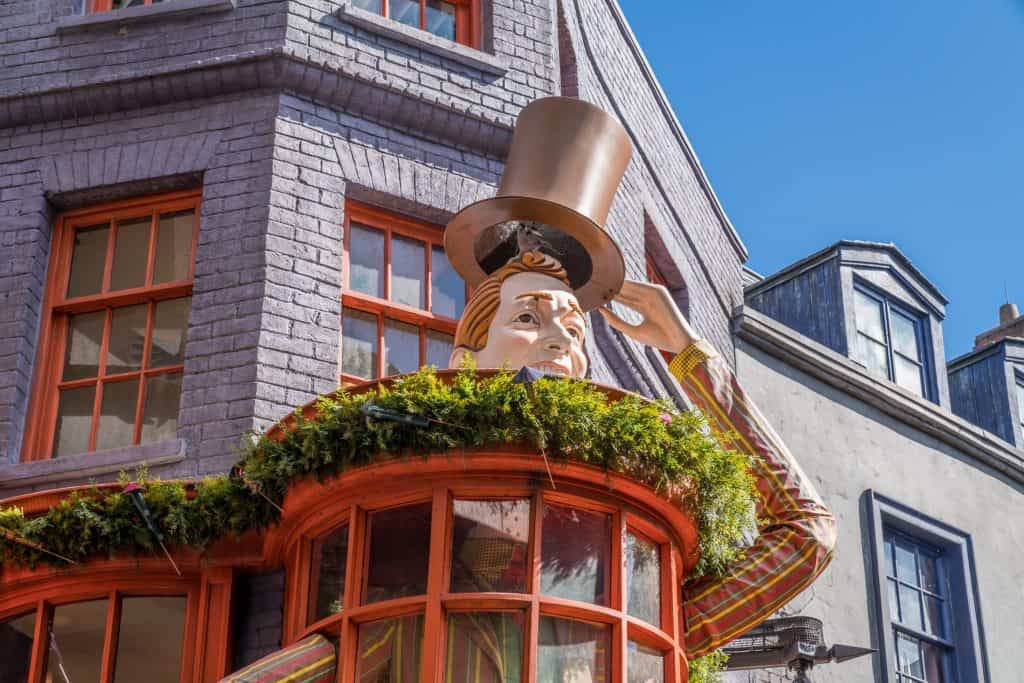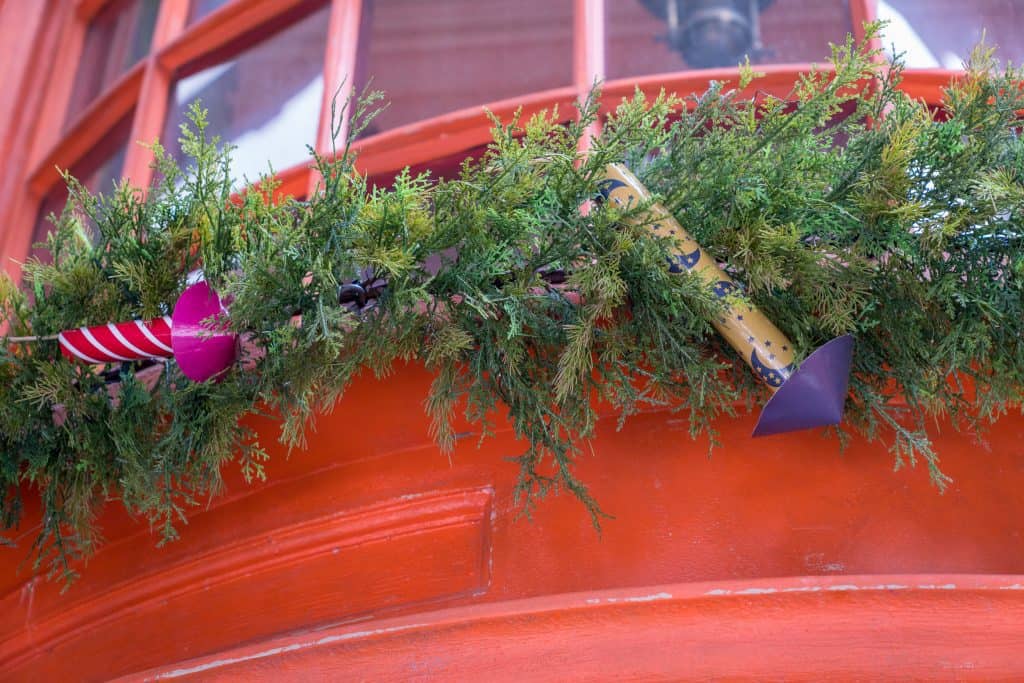 Just as over in Hogsmeade, the Christmas décor seen in Diagon Alley takes one particular theme and weaves it ever-so-beautifully into the standard holiday fare. For the Weasley brothers' world-famous store – which is, arguably, the flagship stop on Diagon Alley's stretch of retail establishments – that one theme is, of course, fireworks, which the mischievous Fred and George use to advertise Wizard Wheezes on the Hogwarts Express. The rockets are a nice touch, and they, of course, complement the three-story shop perfectly.
What's even better is that they're just the tip of the yuletide iceberg.
5. Apothecary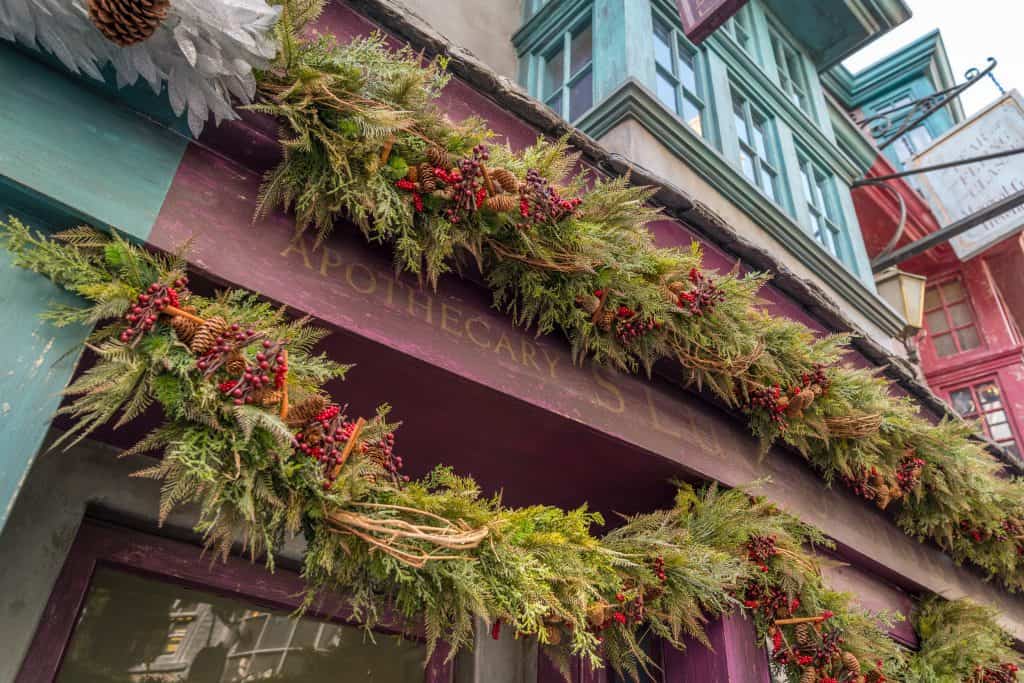 What's so wonderful about The Wizarding World of Harry Potter's festive cheer is that Universal, much like in designing the two theme-park lands to begin with, spared no expense – even the fake storefronts have been well and fully made up.
One of the best of these faux-displays is the Apothecary, which sits right next to Shutterbutton's Photography Studio. As one might expect from an apothecary, which carries all the ingredients necessary to make various and sundry potions, the store's garland has a wide and interesting variety of items incorporated into it, such as pinecones, berries, and twigs. It's one of the most rustic-looking decorations in Diagon Alley, and it's refreshingly beautiful.
4. Flourish and Blotts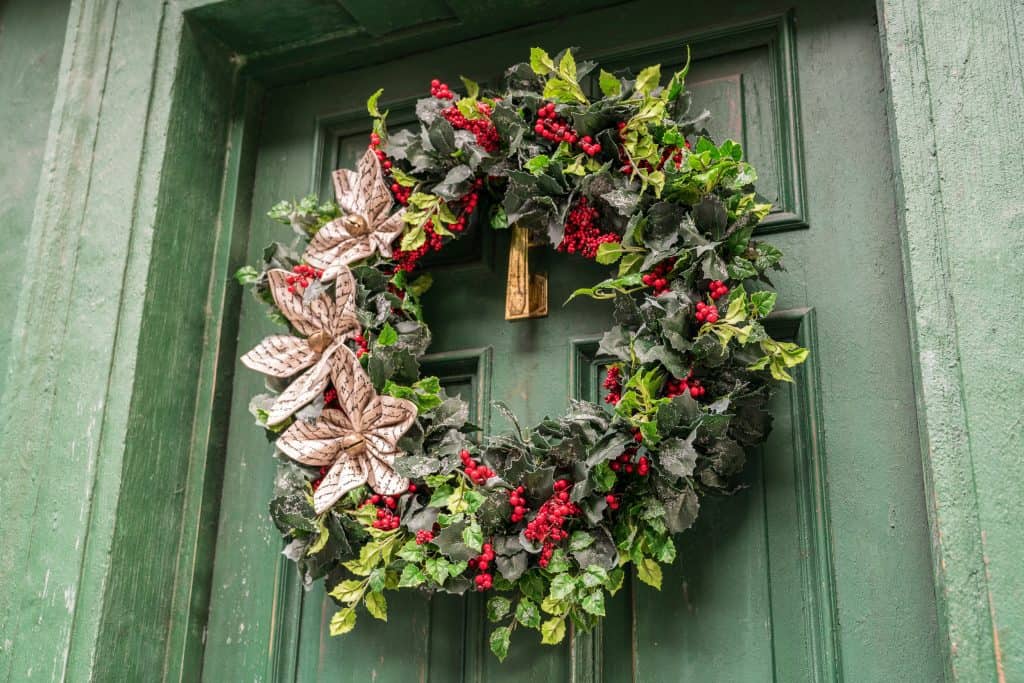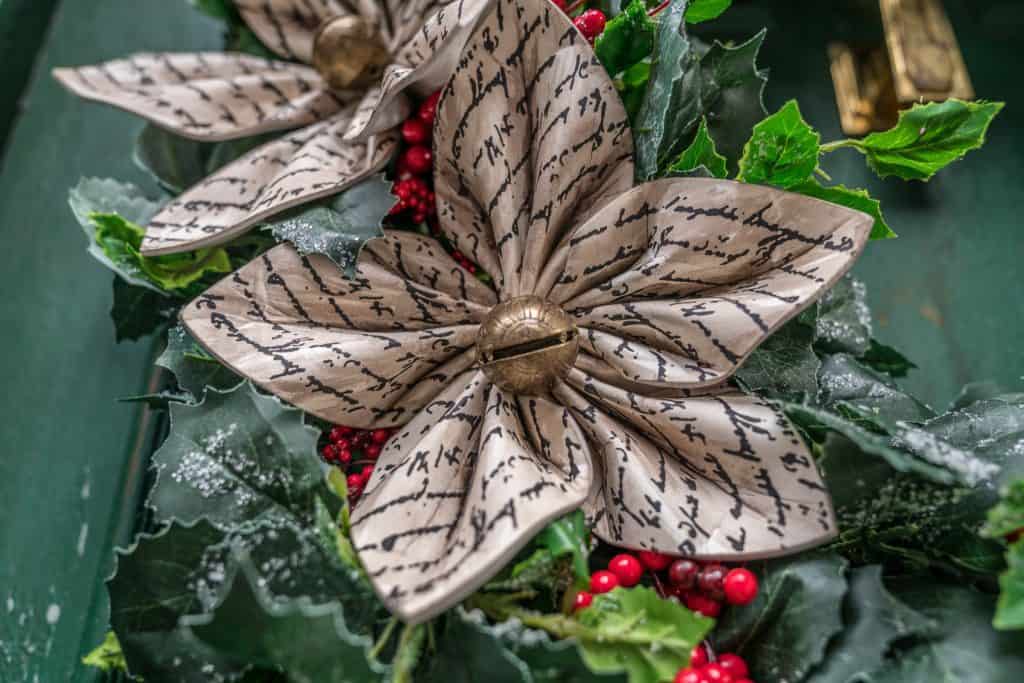 Let's switch our focus from garland to that other iconic staple of Christmas, wreaths, shall we?
Before hitting the Daily Prophet offices (yes, yet another of the Wizarding World's legendary facades), one first encounters Flourish and Blotts, the bookstore where Professor Gilderoy Lockhart once showboated for all his adoring witches and wizards. And on Flourish's door one can now find an impeccably-designed wreath that has transformed some bunches of book pages into fake flowers, with bells affixed to their middle. It's classic wizarding theming: a quick glance would completely miss the detail, but once you've spotted it, a whole new magical world seems to blossom up in front of you (please excuse the pun).
3. Daily Prophet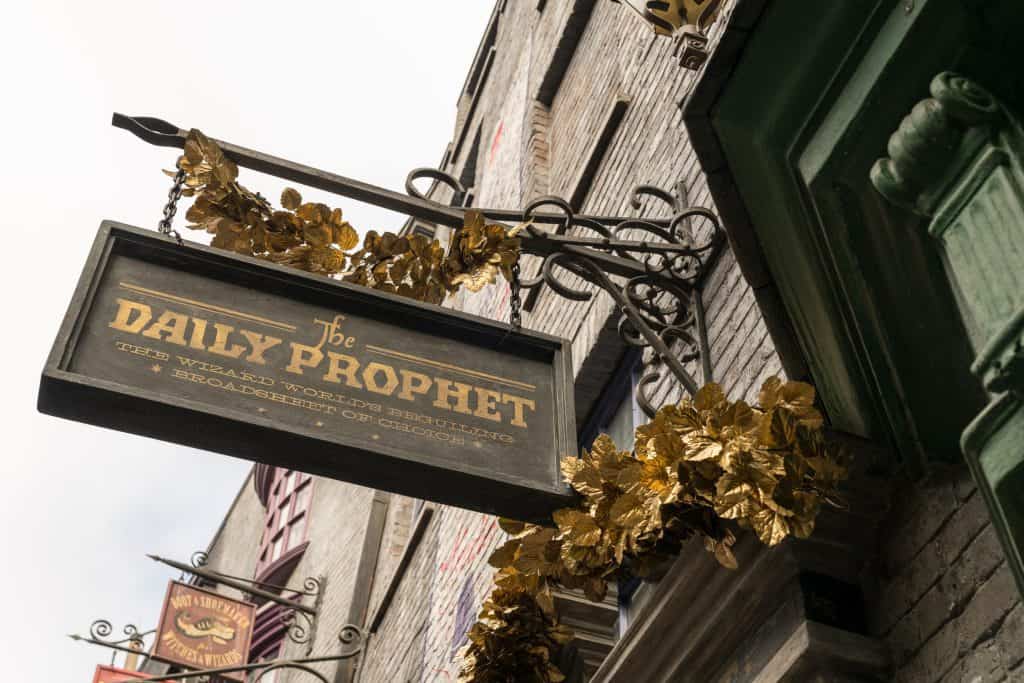 Let's move back next-door and linger on a piece of décor that is the exact opposite of everything that we've appreciated thus far. The Daily Prophet's golden garland is something straight out of the 1920s or '30s, beautifully-detailed vinework that is picturesquely hung around and off of the sign declaring the storied newspaper's name. It's eye-catching, it looks like a bronze statue, and, at the same time, it's still somehow appropriately subtle.
What more could one possibly ask for? We have to imagine that even Rita Skeeter would have to approve of the classy touch.
2. Shutterbutton's Photography Studio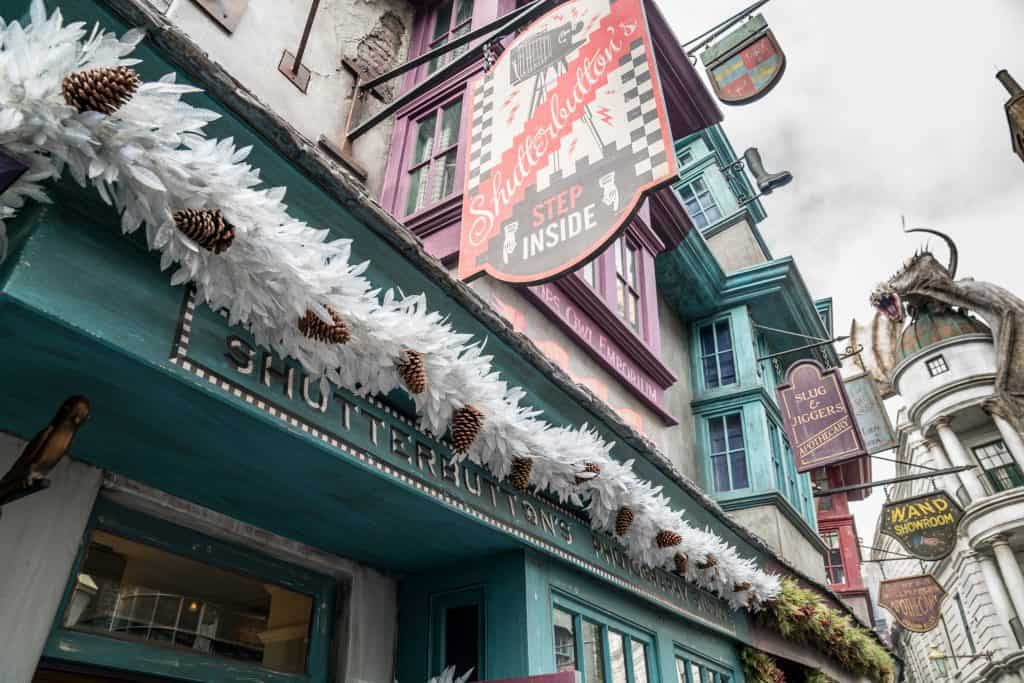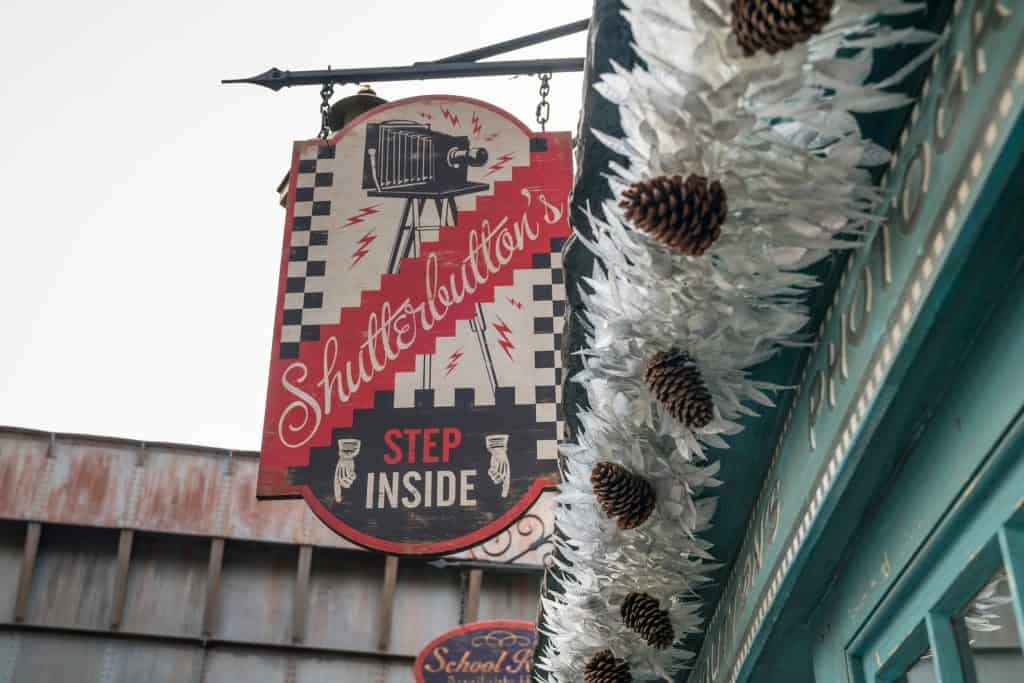 The aforementioned Shutterbutton's Photography Studio, nestled right next to Madam Malkin's Robes for All Occasions, might be a chronically-overlooked stop in the Wizarding World (hence why it was moved from its original corner position in Carkitt Market to its new residence on Diagon Alley proper), but its Christmas decorations just might change that.
There's just one word we have for the white garland that is punctuated with traditional pinecones: stunning. It somehow seems like the only appropriate fit for the studio, like a '40s movie star's boa that got the holiday makeover. Much like the Daily Prophet's golden vines, it's immediately striking and hard to take your eyes off of.
1. Spindlewarps Wool Shop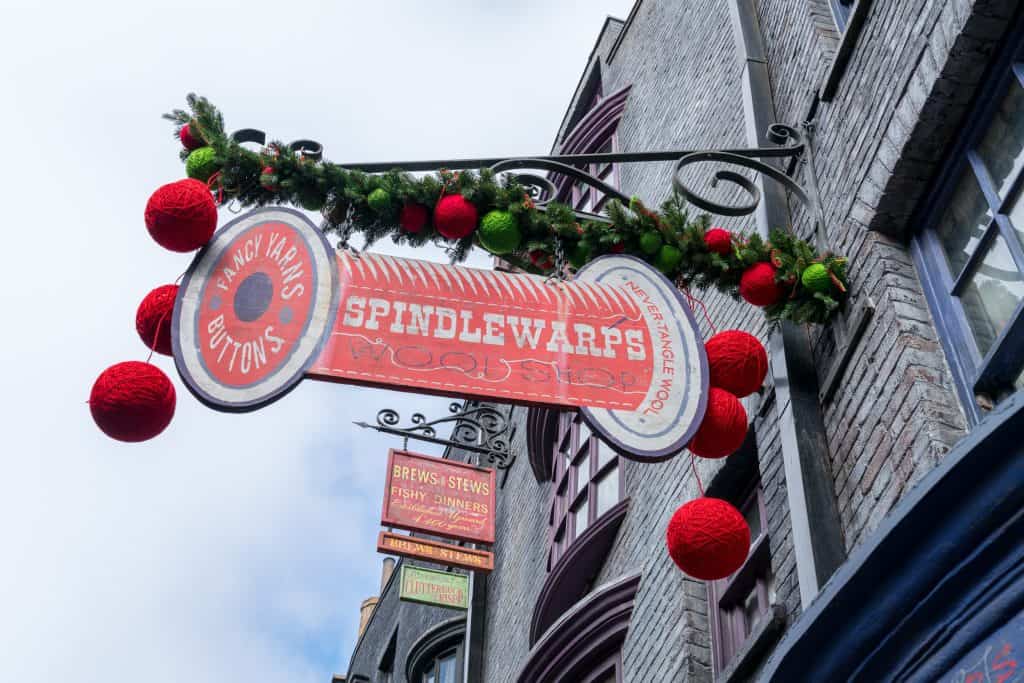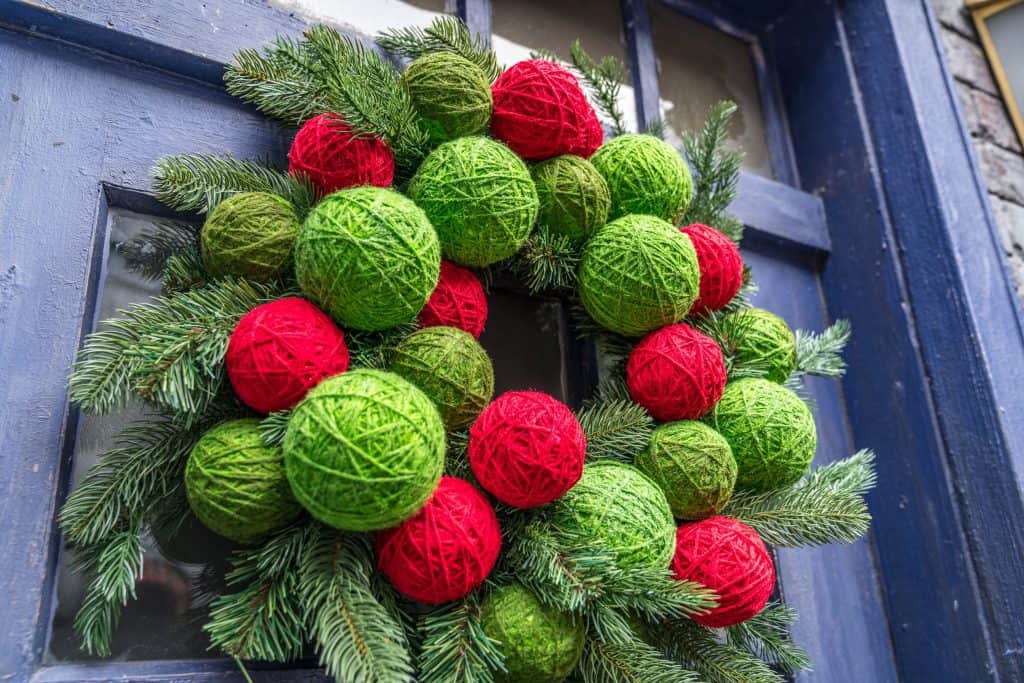 The most fun Christmas flourish of them all also doubles as our favorite. With the almost-sublime combination of lightheartedness and immersiveness – just like the Harry Potter novels and films themselves – how could it not?
Giant balls of wool (yes, we're assuming it's the never-tangle variety that is advertised so prominently on the shop's sign) are first strung all along Spindlewarp's garland, and then hung off from the sides of that selfsame sign. It's cute, but it's not even the best part of the shop's yuletide makeover – that would be the wreath comprised of even more of the wool balls, alternating in green and red (of course). Some of the other decorations might take your breath away, and some might make you do a double-take, but this is the only one to put a big smile on your face – and keep it there for the whole rest of your festive time in the Wizarding World.
–
With all of this holiday beauty in mind, we just can't wait until we get to experience all the rest of what Christmas in The Wizarding World has in store for us. Thankfully, Saturday, November 18 is just around the corner.
Find out everything you ever wanted to know about the new holiday tradition in our complete guide.
And be sure to follow Orlando Informer on Facebook, Twitter, and Instagram for the latest news, tips, and rumors at Universal Orlando, Walt Disney World, and other Orlando attractions.