Halloween happenings have materialized all over Universal Orlando Resort. This includes bringing a certain venue back to life from a temporary death. 
CityWalk's Red Coconut Club has been temporarily closed since early 2020, patiently waiting for guests to dance the night away once again. That all changed when Universal Orlando Resort decided to reopen this entertainment establishment with pomp and circumstance by transforming it into a Universal Monsters-themed lounge for the Halloween season.
We first received hints regarding the Red Coconut Club's themed revival through hidden clues throughout Universal Studios Florida and Islands of Adventure. These included posters alluding to the club's imminent renamed return outside of The Tribute Store, as well as a drink menu displayed alongside a lei and tiki cocktail glass.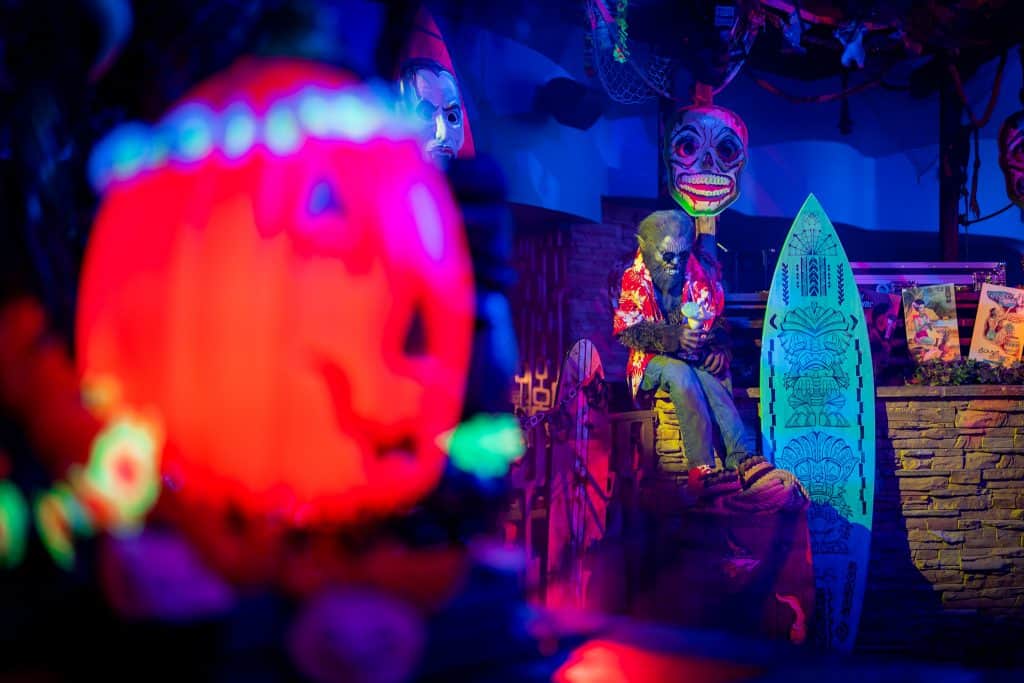 Opened on September 2, the same day as the opening date of Halloween Horror Nights 2022, we stopped by to take a peek into this monstrous affair. Upon entering the Dead Coconut Club, a Frankenstein's monster figure is there to greet you at the door. Venturing further inside, you'll notice the club has been decorated with traditional Halloween decor, as well as various nods to other classic Universal Monsters. Sipping on cocktails alongside their guests are also the Creature from the Black Lagoon and the Wolf Man. Onstage, we have a figure of The Invisible Man on piano with The Bride of Frankenstein by his side. These details culminate together to set the tone for a ghoulish evening at Dead Coconut Club.
This lounge plans to be open nightly from 5PM through 2AM on Halloween Horror Nights evenings.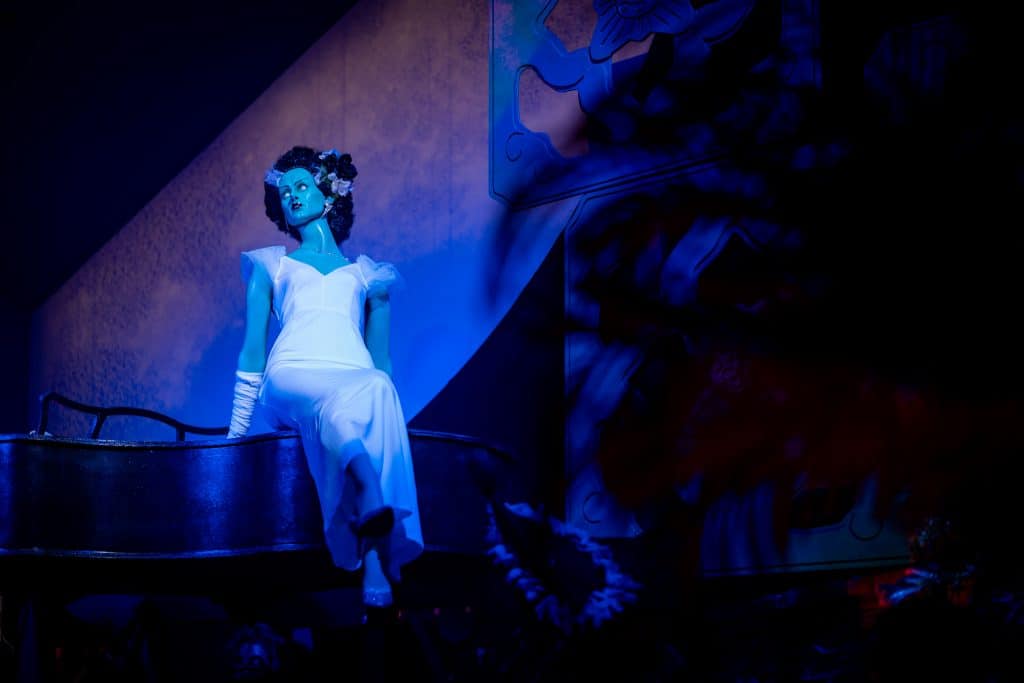 Now let's get down to business. We know why you are really here – What's on the menu?
Cocktails
Souvenir $17.50; Souvenir Refill $14.50; Non-souvenir $14.50
The Bleeding Eye
A diabolical violet mélange of El Jimador Blanco Tequila, Crème de Cassis, agave, lime juice, and ginger beer. Served with a lychee-blueberry edible eyeball
The Haunted Isle
A tempestuous, tropical tipple combining Pusser's Navy and Plantation Pineapple Stiggins Rums with tropical juices, allspice bitters, and mysterious Falernum
The Java Monster
A dark and mysterious blend of Pusser's Navy and Cruzan Dark rums with Kahlua, tropical juices, and allspice bitters
Un-Tipsy Tiki
A refreshing tropical spritz combining tropical juices, tonic water, and rich Orgeat
Draft Beer
Hacker-Pschorr Oktoberfest $12.00
Whole Hog Pumpkin Ale $12.00
Rogue Batsquatch $12.00
Keel & Curley Pecan Pie Cider $12.00
Bud Light $10.50
Canned Beer
Voodoo Brewing Lacto-Kooler $12.25
White Claw $10.50
Bottled Corona $10.50
Heineken $10.50
Wine
Beringer Chardonnay $9.00
A-Z Reisling $11.00
Spellbound Cabernet $9.00
Our personal favorite was The Java Monster. Hard to pass up a sweet treat with a tropical twist! This was the perfect cocktail to sip on before we ventured to Universal Studios Florida to spend the evening at Halloween Horror Nights.
If you are making your way to Universal Orlando Resort this Fall, we highly recommend making a stop by the Dead Coconut Club to relax and unwind next to some of horror's biggest names.
---
Learn more about Halloween Horror Nights in our insider's guide, then discuss it all with 150,000+ other Universal die-hard fans in our Orlando Informer Community on Facebook. And be sure to follow Orlando Informer on Facebook, Twitter, and Instagram for the latest news, tips, and more at Universal Orlando, Walt Disney World, and other Orlando attractions.