First this week, there was Blue Man Group; now, another show that was initially suspended in the wake of COVID-19 has officially – and, perhaps, retroactively – gotten the axe: A Day in the Park with Barney.
A Day in the Park has earned its place in Universal Orlando history for more than just being, at 26 years of age, one of the longest-running attractions at the resort – the stage show/playground hybrid was one of the company's very first attempts at appealing to a young audience ("Our mission from day one was to make it the best toddler experience that's ever been done," said one senior Universal executive at the time). Its arrival at Universal Studios Florida in 1995 came at the height of the PBS television show's popularity, creating something of a marketing buzz around the still-young theme park and eventually helping to cement that particular corner of Universal Studios into a children's area – a fact which would be rendered official four years later, when the area was redubbed as Woody Woodpecker's KidZone.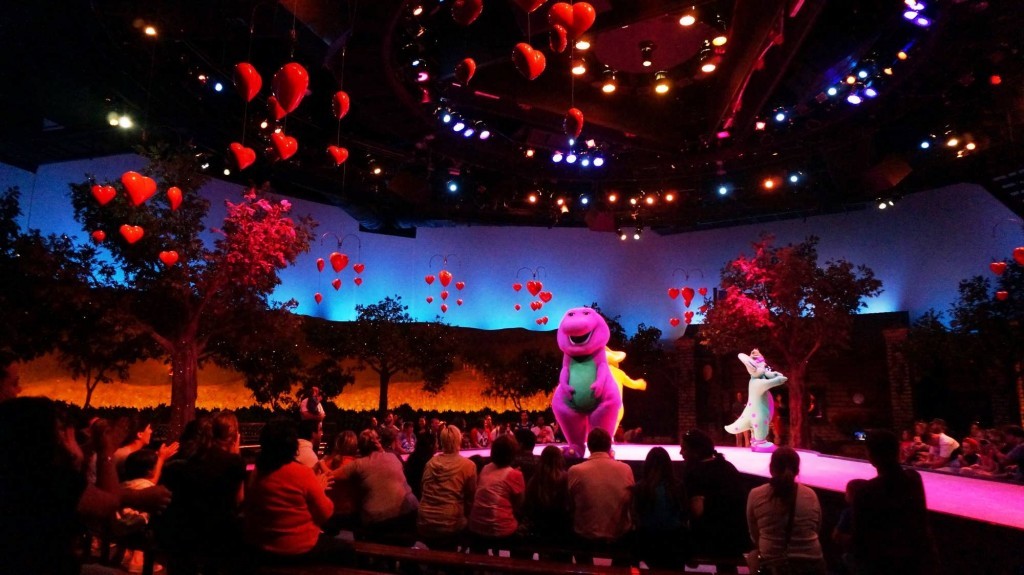 But we're getting ahead of ourselves here. Barney the purple dinosaur originally started off life as a series of direct-to-video releases, created by children's author Sheryl Leach after her young son ran out of similar content to watch, that ran from 1988 to 1991. The videotapes soon caught the attention of public TV executives, who quickly expanded the concept into Barney & Friends on the national stage. Premiering on April 6, 1992, the show would run for 14 seasons and one theatrical film, lasting until 2010; currently, its reruns can still be caught on the Universal Kids cable channel, with talk of a revival – either in television or movie form – still making the rounds.
Given the source material's resonance with children and its ultimate longevity, Universal was only too happy to add Barney and his dino pals into its still-new theme park, initially as appearances in its parades starting in 1993. The company gave a very fast greenlight to a permanent attraction and worked double-time (in conjunction with the character's creator, Sheryl Leach) to have it open just within two years – A Day in the Park with Barney was the (long-lasting) result. It joined three other kids' experiences that were already in place in what was then called the World Expo section of Universal Studios Florida – those being the opening-day E.T. Adventure and Animal Actors on Location and 1992's Fievel's Playland – and it was quickly followed by yet another, Curious George Goes to Town, in 1998. The following year, the official name change to Woody Woodpecker's KidZone was enacted, along with the debut of Universal's very first roller coaster, Woody Woodpecker's Nuthouse Coaster – now not only did the theme park have its own dedicated kiddie area for the first time, it also had something (along with Men in Black Alien Attack) to try and keep audiences within its gates, attempting to prevent them all from flocking over to the just-opening Islands of Adventure next door.
Ironically enough, the purple dinosaur would return to his Universal roots in 2020, once the park reopened after its months-long COVID-19 closure on June 5; when a number of less-popular attractions were temporarily closed on August 9, A Day in the Park with Barney was one of them, forcing the still-beloved character to meet-'n-greet with guests outside from that point forward. That slim presence disappeared just a few weeks ago, with the final, official word of the stage show's closure coming on February 3 in the form of an otherwise-nondescript Universal Orlando tweet.
---
Feel free to share your thoughts on and memories and photos of A Day in the Park with Barney with 110,000+ other die-hard Universal fanatics in our Orlando Informer Community on Facebook.
And be sure to follow Orlando Informer on Facebook, Twitter, and Instagram for the latest news, tips, and rumors at Universal Orlando, Walt Disney World, and other Orlando attractions.