The biennial D23 expo kicks off at Anaheim, California today, Friday, August 23, and will run throughout the entire weekend, drawing to a close at 7:00 pm PDT on Sunday evening. While celebrating all forms of media and entertainment that the Disney empire now consists of (a status which is made all the truer by the company's still-recent acquisition of Fox), it is, naturally, the theme-park developments that most interest us, and 2019's showing has, so far, not disappointed – despite the fact that the proceedings aren't officially scheduled to kick off for another few hours.
Late Thursday evening, the chairman of Disney Parks's Experiences and Products division, Bob Chapek, presided over a special preview of what announcements audiences should formally expect to receive on Sunday, when the "Disney Parks, Experiences, and Products" panel holds court. Though short on details, the three major revelations already have us salivating, promising more excitement to come in just two short days' time.
1. Star Wars: Galactic Starcruiser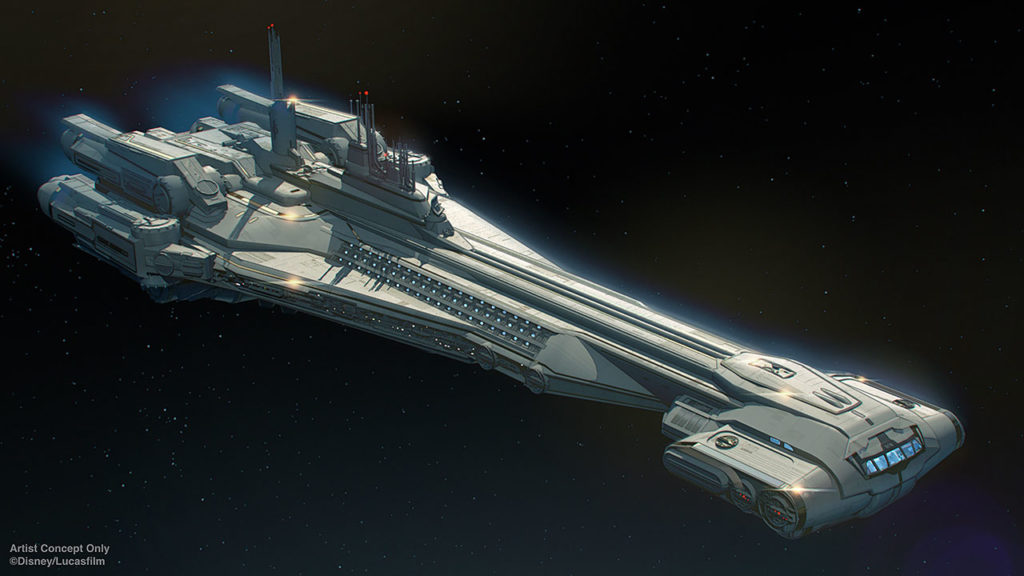 As exciting, immersive, and potentially game-changing as Star Wars: Galaxy's Edge, the upcoming theme-park land that opens at Hollywood Studios on August 29, is, it's actually another, just-next-door development that promises to be even more so: an attached hotel that is so thoroughly themed, it's the very first instance of what has been dubbed Disney 360, a vacation concept that'll have guests be totally subsumed in a story every minute of every day.
And since it was the last D23 expo, all the way back in 2017, that this so-called Star Wars Hotel was first revealed, it's only fitting that this expo give us its official name: Star Wars: Galactic Starcruiser.
The name derives from the fact that the resort will simulate an interstellar journey, starting with a departure from Earth to a luxury starcruiser which then, in turn, will travel to the distant and far-off planet of Batuu, the setting for Galaxy's Edge. This "glamorous" vessel of the Chadrila Star Line is named the Halcyon, a term which denotes a "period of time in the past that was idyllically happy and peaceful" (while the in-the-past part of the definition fits Star Wars perfectly, given that it takes place "a long time ago," that peaceful part has been remarkably short-lived in the movies' main storyline, given how often galactic civil wars break out).
There were a few other details dropped regarding Starcruiser, including the confirmation that travelers will need to book a (minimum) two-night package, and the reaffirmation that they will "interact with characters and become active participants in stories that unfold around them on their galactic journey."
(For even more on Star Wars: Galactic Starcruiser, see our guide page.)
2. Brand-new Epcot attractions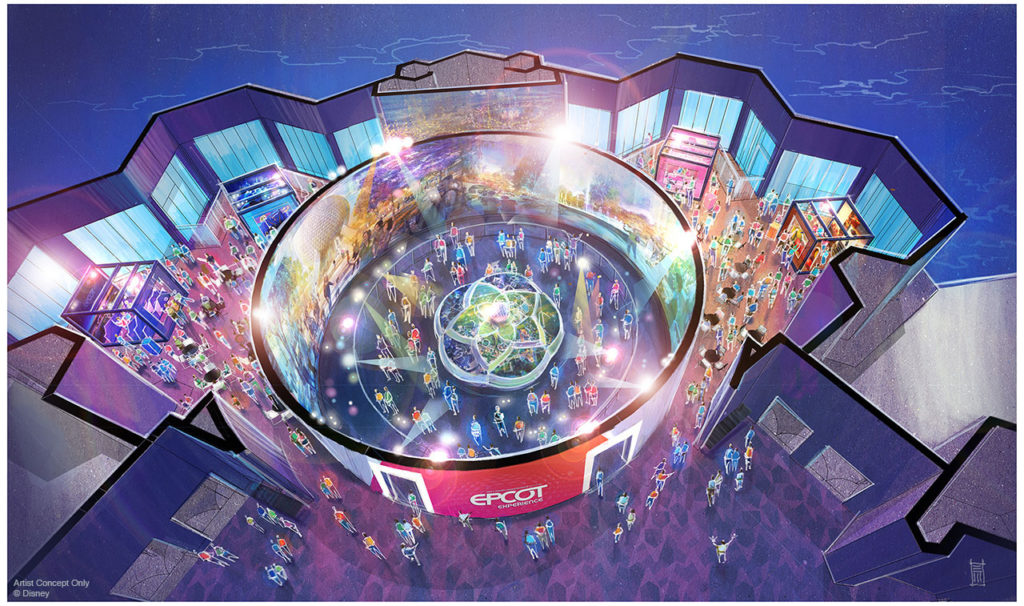 Later this year, giant swaths of Epcot will go behind construction walls – an impressive feat, given that a number of building and demolition projects are already well underway across Walt Disney World Resort's second theme park (indeed, Disney has just this weekend called the transformation the biggest-scaled renovation it's ever done in its 64-year history). Once again, it was last year's D23 that first unveiled the massive overhaul intended to bring the 37-year-old park into the present day – just in time for Disney World's 50th anniversary celebrations in 2021 – and last night's follow-up doesn't fail to disappoint.
First up is this broad mission statement from Bob Chapek: once the multi-year evolution of Epcot is complete, it'll be "more Disney, more family, more timeless, and more relevant to the millions of guests who visit each year" (read: the park will feature more intellectual properties, just like its three brethren at the resort have been receiving). This means that Innoventions West will be completely razed to the ground, but, much more importantly, it also means that a brand-new attraction will be installed: Journey of Water, Inspired by Moana – the very first time Disney's 2016 animated film will be realized as a theme-park experience. Here, in what appears to be a trail through Epcot's newly-installed greenery, guests will "interact with magical, living water in a beautiful and inspiring setting."
The long-underused Odyssey Events Pavilion, meanwhile, will become home to Walt Disney Imagineering presents the Epcot Experience in October, an exhibit that will function as a preview center for all of the new developments arriving at the theme park over the course of the next two years. Promising a "first of its kind" undertaking, Disney says the Epcot Experience will offer more than just concept art and models – interactive exhibits will also be on hand that will do nothing other than channel the spirit of innovation that originally fueled Epcot.
This new pavilion offering will land simultaneously with the new Epcot Forever nighttime spectacular – and, just possibly, with the still-unnamed space-themed restaurant over in Future World, which truly would kick off an exciting new period for the theme park. After that, Remy's Ratatouille Adventure, the Play Pavilion, a Guardians of the Galaxy roller coaster, and a handful other assorted projects will be arriving – including a brand-new country pavilion coming to World Showcase, which will be unveiled this Sunday.
3. The Tron coaster's name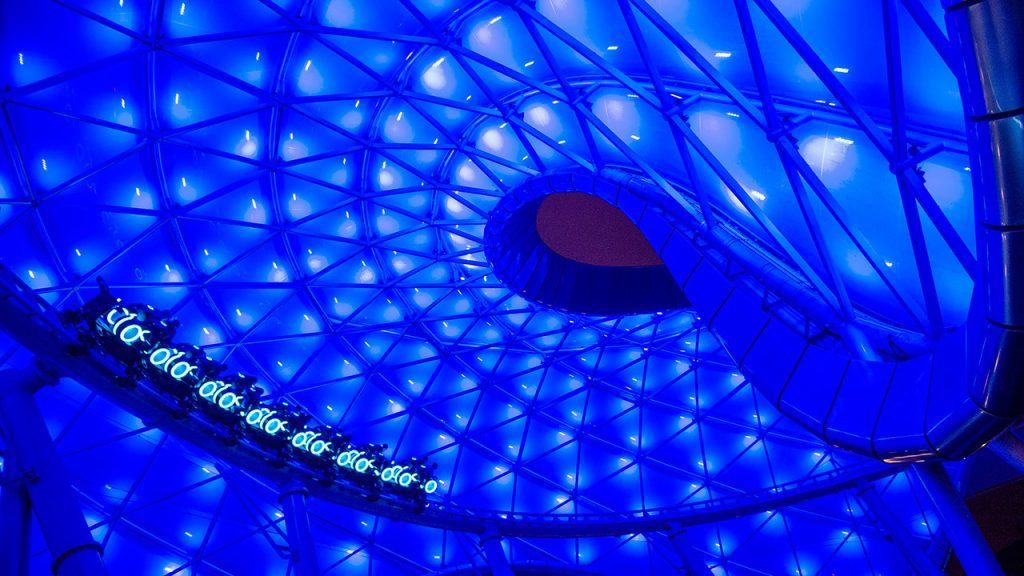 The final D23 2019 news item thus far – yet another update from two years ago – is short but nonetheless sweet.
Although the new Tron-themed roller coaster coming to Magic Kingdom in 2021 is an import from the opening-day Shanghai Disneyland attraction, and although that oversea ride is named Tron Lightcycle Power Run, Disney just last night confirmed that Orlando's version will have a slightly-abbreviated name: Tron Lightcycle Run. Hopefully, even more on the highly-anticipated coaster will arrive later on this weekend.
–
How excited can you possibly be right now for D23 and, more importantly, Walt Disney World's impending 50th anniversary? Share your torrent of feelings with thousands of other die-hard fans in our OI Community Facebook group.
And be sure to follow Orlando Informer on Facebook, Twitter, and Instagram for the latest news and tips at Universal Orlando, Walt Disney World, and other Orlando experiences.