With the seasons changing, Red Coconut Club has transformed once again to celebrate Universal's Mardi Gras: International Flavors of Mardi Gras, happening from February 4 through April 16, 2023. From 5:00 PM to 1:00 AM, take a gander at the detailed decor and sip on delicious cocktails like the Sazerac or Bayou Thunder.
History of Red Coconut Club Transformations
Prior to September 2022, Red Coconut Club had sat vacant, waiting for its dance floor to be filled for the first time since 2020. Joining arguably the most anticipated event of the season, Red Coconut Club dawned Universal Monsters-inspired decor to haunt alongside the Halloween Horror Nights 31 festivities and was called Dead Coconut Club. The all-hallows bar was met with astounding success but came to a close with the end of the yearly fright-fest.
However, while Universal Orlando Resort dawned tinsel and holly as they decked the halls, Red Coconut Club opened its doors once again to become Green & Red Coconut Club, offering a variety of merry and bright festive delights. As remnants of the holidays drifted away from Universal Orlando Resort, this yuletide rendition of Red Coconut Club adjourned. This only left us anticipating the watering hole's possible return as the good times would start to roll soon with Mardi Gras around the corner.
A Look Inside Cursed Coconut Club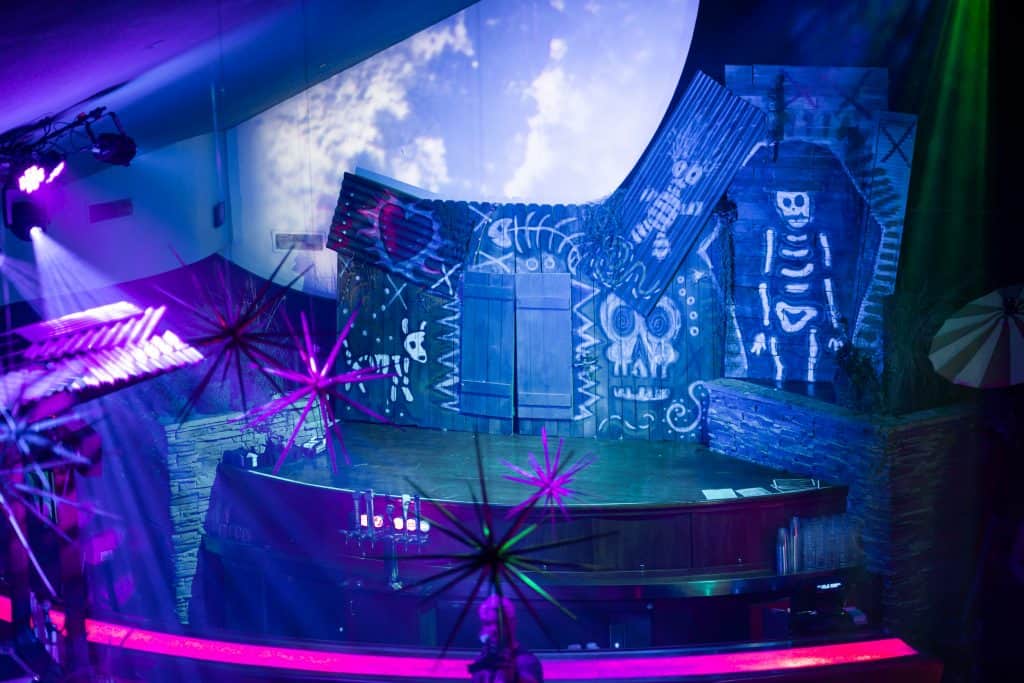 While Universal Studios Florida gives an intricate reflection on Mardi Gras celebration in the French Quarter, Red Coconut Club's newest iteration highlights another part of NOLA culture. To set the tone of this chilling bar, the Cursed Coconut Club facade has been adorned with graveyard decor, similar to what you would see with the above-ground memorial sites in New Orleans. Walking through the fog that surrounds the bar's entrance, you will find a variety of items inspired by New Orleans' deep-rooted history in Voodoo. With a total of three bars, detailed decor, and plenty of fun, lounging options, you and your krewe have everything you need to celebrate with the spirits!
Cursed Coconut Club Menu
Flavors from the bayou are being served for this limited-time offering. Here's what's on the menu: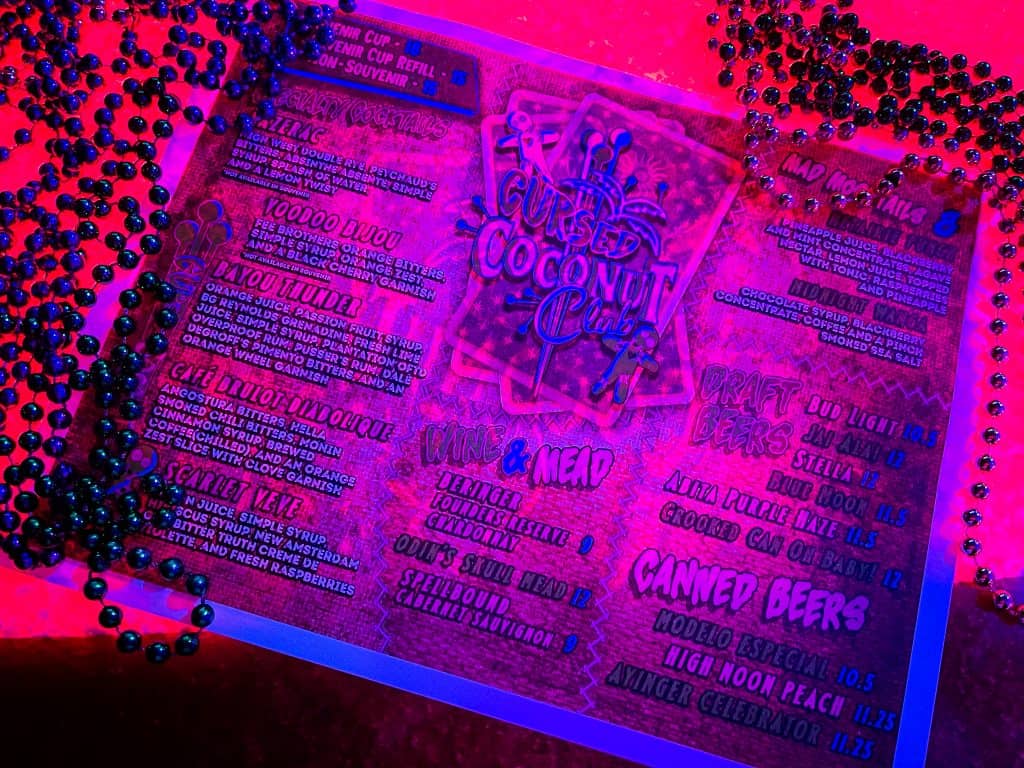 Specialty Cocktails
Souvenir Cup – $18.00
Souvenir Cup Refill – $15.00
Non-Souvenir – $15.00
Sazerac
High West Double Rye, Peychaud's Bitters, Absinthe Asente, Simple Syrup, Splash of Water, and a Lemon Twist
Voodoo Bijou
Fee Brothers Orange Bitters, Simple Syrup, Orange Zest, and a Black Cherry Garnish
Bayou Thunder
Orange Juice, Passion Fruit Syrup, BG Reynolds Grenadine, Fresh Lime Juice, Plantation OFTD Overproof Rum, Pusser's Rum, Dale Degroff's Pimento Bitters, and an Orange Wheel Garnish
Café Brulot Diabolique
Angostura Bitters, Hella Smoked Chili Bitters, Monin Cinnamon Syrup, Brewed Coffee (Chilled), and an Orange Zest Slice with Clove Garnish
Scarlet Veve
Lemon Juice, Simple Syrup, Hibiscus Syrup, New Amsterdam Gin, Bitter Truth Creme de Violette, and Fresh Raspberries
Wine & Mead
Beringer Founders Reserve Chardonnay – $9.00
Odin's Skull Mead – $12.00
Spellbound Cabernet Sauvignon – $9.00
Mad Mocktails
Metairie Punch – $8.00
Pineapple Juice, Blackberry, and Mint Concentrates, Agave Nectar, Lemon Juice, Topped with Tonic, Raspberries, and Pineapple
Midnight Wanga – $8.00
Chocolate Syrup, Blackberry Concentrate, Coffee, and a Pinch of Smoked Sea Salt
Draft Beers
Bud Light – $10.50
Jai Alai – $12.00
Stella – $12.00
Blue Moon – $11.50
Abita Purple Haze – $11.50
Crooked Can Oh Baby! – $12.00
Canned Beers
Modelo Especial – $10.50
High Noon Peach – $11.25
Ayinger Celebrator – $11.25
Don't let your feet fail you now, and head over to Cursed Coconut Club to join Universal's Mardi Gras Celebration!