Jill and Kevin Levett joined Orlando Informer's Facebook community when it first opened a year-and-a-half ago, and in the time since, the British couple has proven to be extremely popular with the 30,000+ members of the group. The reason is obvious: above and beyond their penchant for giving away Harry Potter goodies (such as shirts and robes) to fellow OI members, the Levetts take now-legendary three-week vacations to Universal Orlando Resort every year, documenting nearly every smile and community run-in along the way.
Such a plethora of adventures allows all the rest of us to live vicariously through them, of course, to take that leisurely trip all across Universal's three parks and five on-site hotels, but it also allows us to learn a great deal about vacation-planning, generally, and how to tackle Universal Orlando, specifically. Because of this, we thought we'd catch the pair once they'd returned to their native soil of the United Kingdom and pick their brains about their lengthy sojourns. It turns out there was, indeed, a few pointers that we were able to distill from our conversations with them – five, in fact, which we're happy to share with you below.
Make mine Universal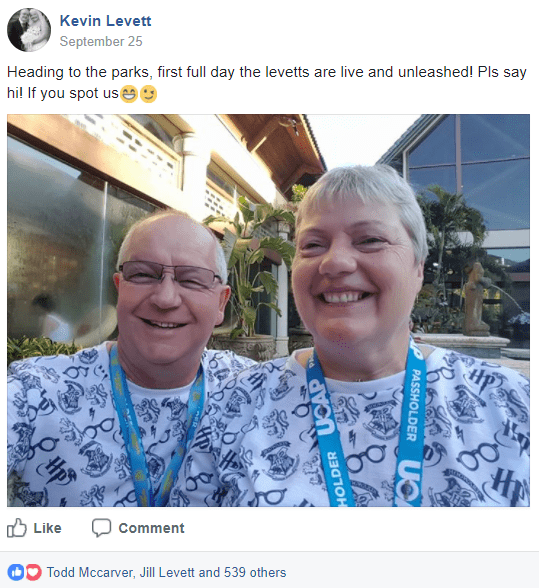 If you're going to take a three-week-long trip across the Atlantic to Orlando, you'd want to hit up all the different sights and sounds the city has to offer, right? Wrong.
Well, mostly wrong – the Levetts have certainly visited Walt Disney World Resort and a number of the other Central Florida destinations in the five years they've been making their annual pilgrimage, but they keep finding themselves spending more and more time at Universal Orlando specifically. Disney, they say, can be rather stressful, given the parks' heavy crowds and extensive requisite pre-planning (though it's still a good and fun option for many other families, we should probably emphasize).
Universal, meanwhile, is a leaner, meaner beast, and it still provides more than enough to occupy their time with across all 21 days they're there. "We love the attractions, coasters, side shows – the whole atmosphere is warm and welcoming," the Levetts say. "We feel as though we belong. We love to meet the characters and find the whole experience pleasurable and stress-free. Universal is our home away from home – we can just chill, relax, and enjoy!" That, it turns out, is a giant secret of the couple's vacationing success – remain flexible, enjoy the days as they come, and relax as much as possible.
But we're getting a little ahead of ourselves. The takeaway for the time being is that Universal offers some of the most laid-back-but-still-exciting experiences to be had on your Orlando vacation.
What kind of trip to take?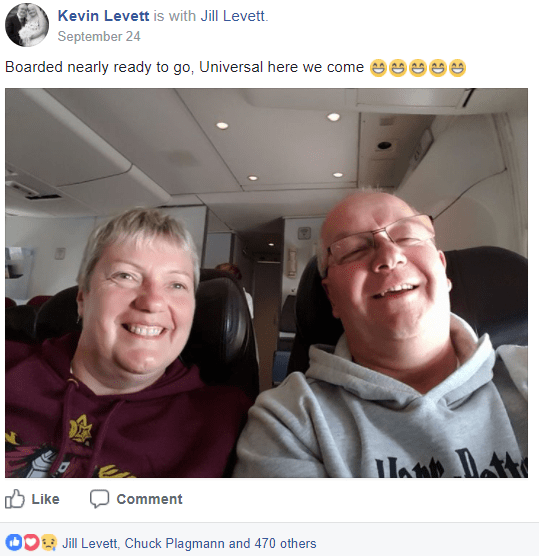 Yes, Jill and Kevin Levett make their once-a-year trip to (Universal) Orlando every fall, when it's cheaper to travel, when it's less busy (thanks to school schedules in both the United Kingdom and United States), and when, of course, Halloween Horror Nights is held. But, it turns out, they also like to make smaller, simpler jaunts over the pond whenever they can, as well; they call this their "cheeky week," and it's a smaller, simpler vacation that allows them to quickly come in and get out for a little theming pick-me-up. They do this on those years they can squeeze it in, typically during either May or the holiday period.
Although it won't be feasible – or, even, desirable – for every family to schedule a three-week stay, the couple's rationale behind doing so will ring true for everyone: flights into Orlando can be expensive, so staying as long as possible essentially amortizes the cost. And, of course, there's more than enough to occupy your time with at Universal, whether it be the attractions, the on-site hotels, or the various annual events.
How to plan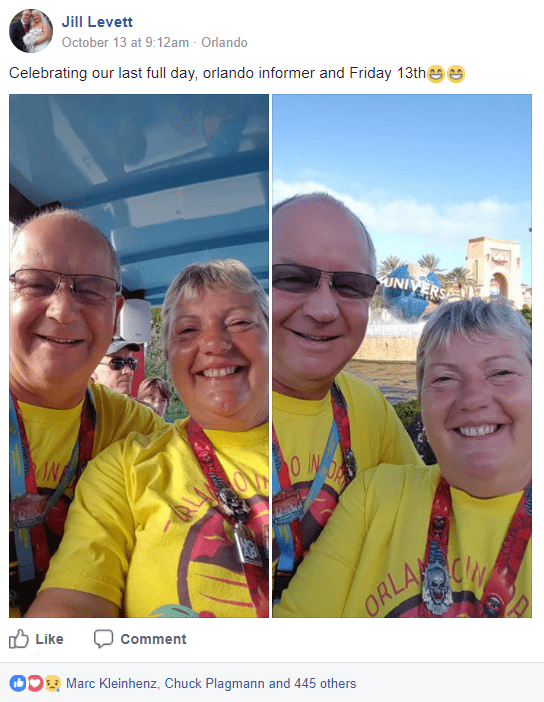 The vacation-planning process is an ongoing one for the Levetts, even though they've been doing this regularly since 2012; in fact, they state that they're even planning their next vacation while on their current excursion. "We usually book as soon as we arrive back home!"
Since the timing of their vacation is pretty much locked in stone, the biggest variable for them from year to year is which of Universal's five resorts they're going to be staying at (they always stay on-site since they love the convenience of it, from the resorts' close proximity to the parks to the option of having your purchases be delivered straight to your room). "We look at the hotels and decide which is the best deal" depending on the current rack rates and other seasonal promotions and discounts, they state. Their main go-to is Royal Pacific Resort for their fall excursions, and they tend to gravitate towards the two most inexpensive venues – Cabana Bay Beach Resort and Sapphire Falls Resort – for their one-week vacations, even though they're quite partial to the extra perks of free Express Passes and water-taxi access of the more luxurious venues.
Other miscellaneous items the Levetts try to account for while sketching out their next Universal adventure is what new attractions may be opening and what special events may be coming up (such as anniversaries) – these elements can affect everything from the timing of their "cheeky week" to the selection of their hotel.
How to tour the parks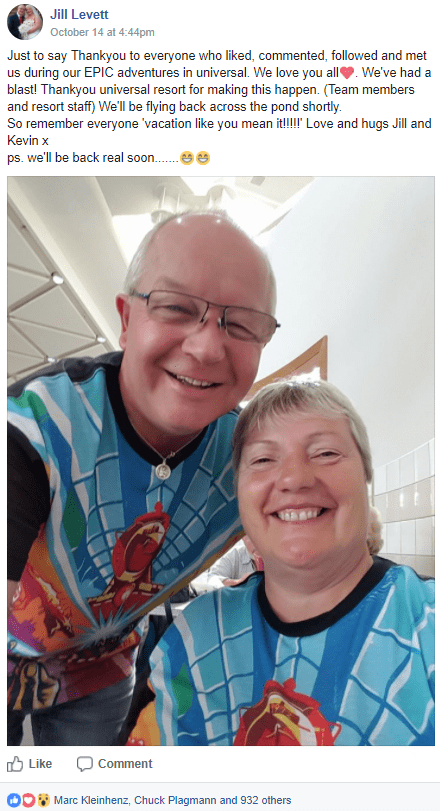 This may be the shortest and simplest of the Levett-supplied tips, but it's also the most important: a strict, minute-by-minute agenda should be avoided as much as possible. "We are very flexible and like to 'wing it,'" Jill says. This allows for the maximum possible amount of fun and discovery – and the minimum possible amount of stress, frustration, or headaches. In this way, each day is like an adventure unto itself.
In keeping with this freeform touring style, the couple actually has developed a sense of when to abandon one particular plan for another. They never wait in a line for longer than 40 minutes, for example: "If an attraction is really busy, we just change to something else," Kevin says. They'll always use their Express Passes if they have them; if not, they'll split up to take the single-rider line. Should the forecast call for rain, they'll simply take a coffee break if it's during the day or they'll don their ponchos and tackle some haunted houses if it's during HHN at night. In this way, they're always on the move, always ready for the next smile-inducing experience.
All of which isn't to say that nothing is structured. "The only things we book are RIP and Behind the Screams Tours [at Horror Nights] and a cabana at Volcano Bay" – in other words, the items that absolutely must be scheduled beforehand due to their limited availability.
Use Orlando Informer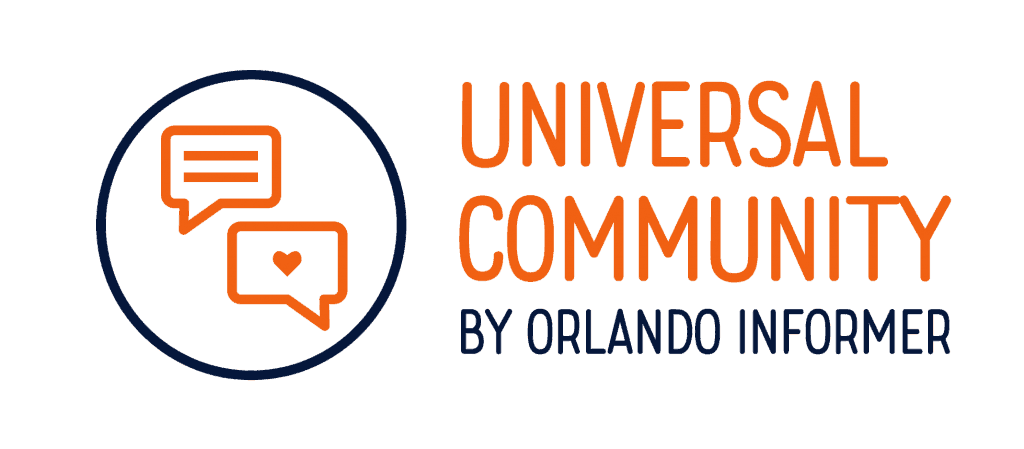 Okay, okay – yes, this one sounds rather self-serving. But hear the Levetts out.
"We love finding out new things and making a new bucket list every trip," they explain. This is where OI comes in. "We read the touring plans, we read every article about all the different events happening in the parks." In this way, if something pops up that they're not familiar with, they'll take the time to research it, such as the various source materials that comprise both Halloween Horror Nights and Race through New York Starring Jimmy Fallon; by sampling the various movies and television episodes behind the attractions, "it makes it much more enjoyable," they enthuse. And then there are those in-park experiences that they wouldn't otherwise have known about – like being a balloon handler in Universal's annual holiday parade. In other words: prepare during the planning process, but improvise once there on the ground.
"The podcast and Universal Center and website are an invaluable source of information which we use on a regular basis," the Levetts told us. But perhaps the piece of the OI equation that is becoming the most important to them is the Facebook community, where they can ask questions, count down the days to their next vacation, and share their new discoveries with everyone else. It's helped them to meet a goodly number of fellow vacationers, and it's helped to make their time in Orlando all that much better. (It can do the same for you! Why don't you swing by and sign up?)
–
Follow Orlando Informer on Facebook, Twitter, and Instagram for the latest news, tips, and rumors at Universal Orlando, Walt Disney World, and other Orlando attractions.