Let's paint a picture.
You're at Walt Disney World Resort's Magic Kingdom with your family. After busily traveling through all of its different lands, you now find yourselves starving in the middle of the day. Typically, the next course of action is to quickly survey the park map for the restaurant that best matches what everyone is in the mood for. However, your stomachs are collectively growling too loudly for a moment's thought, and all you actually require is somewhere that'd make everyone happy. Well, readers, the answer lies on the edge of Tomorrowland. Its name: Cosmic Ray's Starlight Cafe.
But what warrants this venue above the others? Well, allow me to explain.
Seating at Cosmic Ray's Starlight Cafe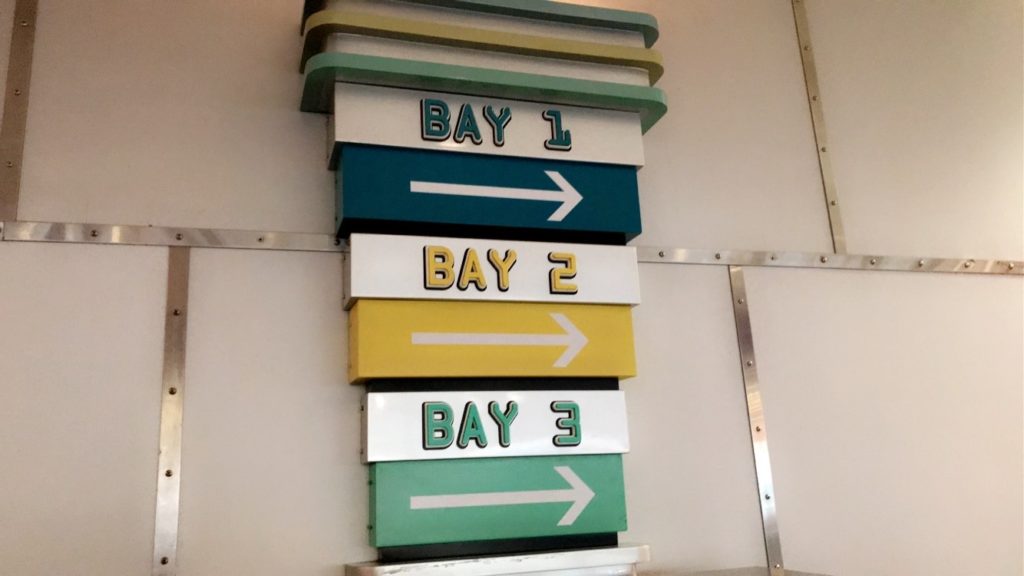 As the largest quick-service restaurant in all of Disney World property, Cosmic Ray's Starlight Cafe offers plenty of indoor and outdoor seating, which allows even larger families to have somewhere to enjoy their meals. As much as I prefer sitting outside for the twin benefits of the gorgeous weather and people-watching, I can tell you that indoors is where you want to be.
In one section, guests have a direct view of Cinderella Castle via large, tinted windows. When you combine this with a meal, the only things missing to complete this experience are character interactions and an elaborate firework show. In the other area, guests can take in Cosmic Ray's star attraction and entertainment: Sonny Eclipse. We'll discuss who that is in just a moment, but, for now, we'll note that the table arrangement provides enough seating to enjoy his show and provide an area for the little ones to dance their hearts out to the music.
During my last visit over the holidays, I put Cosmic Ray's to the test by going during the late-afternoon and early-evening hours, when hungry families would be at their most ravenous. What I expected was the worst-case scenario of not being able to find a table to eat my meal at. What I experienced was the exact opposite – there was a plethora of choices throughout the venue. I would still advise to arrive a little earlier, especially if Sonny Eclipse is in your interests. In any case, there's plenty of seats, and nothing beats the ice-cold air-conditioning on a hot, grueling day.
The food of Cosmic Ray's Starlight Cafe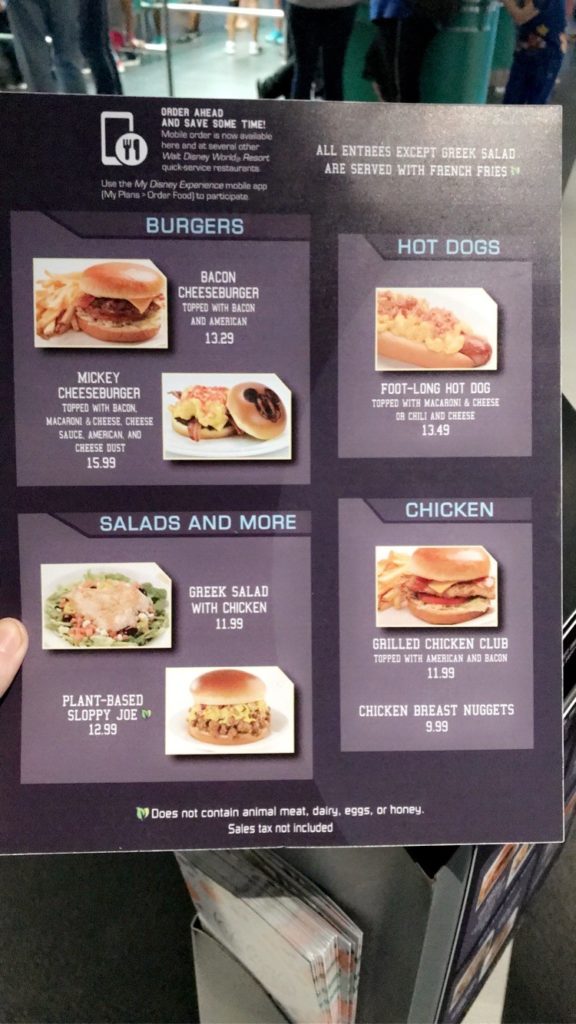 The other question that comes to mind in conjunction with the seating of Cosmic Ray's Starlight Cafe is exactly how quick and efficient this service is. At its disposal, the restaurant holds anywhere up to four bays to handle those heavier rushes of the peak season. In the past, each bay offered specific fare, which could have negatively impacted the guest experience; today, however, each one serves everything on the Starlight Cafe's menu. Sure, there were still the natural queues to order and receive meals as my visit crossed into the dinner hour, but I found the combination of available bays and the cast members' efficiency noticeably helpful in expediting those massive lines when I was there.
While we're speaking of the menu, there are a few things you'll want to know. While the food isn't terrible, it isn't anything spectacular, either – it's your generic theme-park fare, but, interestingly enough, it is the only joint to get a burger at in Magic Kingdom. If you'd like to elevate your meal, there's a great toppings bar that allows guests to add that little extra something to the otherwise-run-of-the-mill offerings. Here, you can essentially customize your meal with things like jalapenos, mushrooms, lettuce, tomatoes, and crispy fried onions, all of which would make a great addition to anything on the menu. (Note: during the COVID-19 pandemic, this topping bar has been discontinued.)
Objectively, there's little about the food that warrants me absolutely telling you not to go, especially considering that a meal at the cafe will average between nine and 15 dollars, which is reasonable in theme-park standards. However, there also isn't much convincing me to place my order here if I wanted the view or Sonny Eclipse and I wasn't desperate for a $14 burger that I had to improve upon. In my humble opinion, there are better offerings nearby at similar prices; for example, guests can follow my lead and order a chicken parmesan or a pepperoni flatbread pizza at Pinocchio Village Haus and bring it back to Cosmic Ray's to enjoy a meal with Sonny's show or that view of the castle (and, possibly, that elaborate fireworks display).
The entertainment at Cosmic Ray's Starlight Cafe: Sonny Eclipse!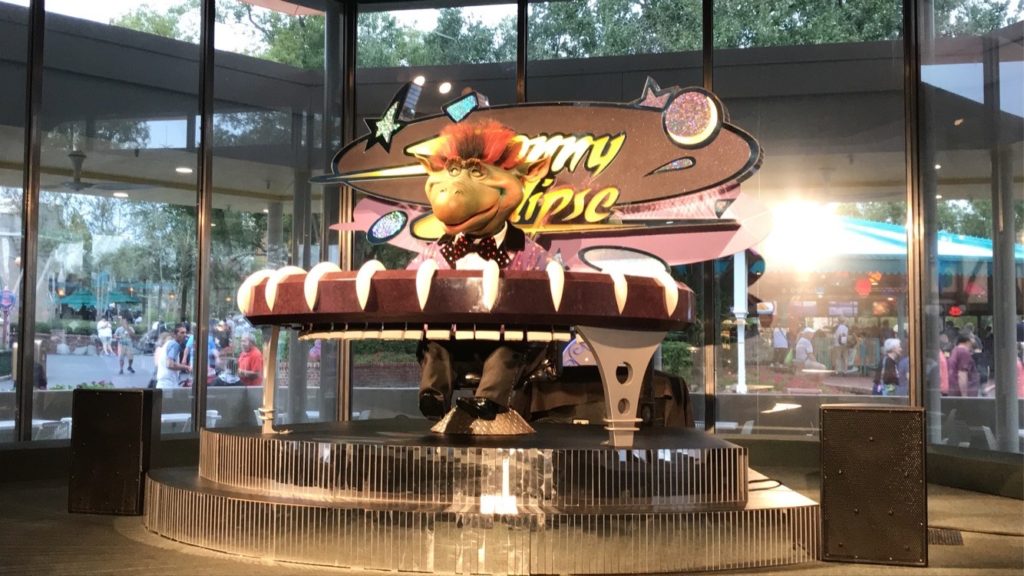 What makes Cosmic Ray's Starlight Cafe a considerable restaurant is that it's the only one with entertainment in Magic Kingdom – that entertainment being the "biggest little star in the galaxy," Sonny Eclipse! Sonny is an audio-animatronic character themed as a smooth-crooning, snazzy-dressed alien from the famed Yew Nork City on the planet Zork. If I had to pinpoint his brand of music for those unaware, I'd say it resembles that of an upbeat Tony Bennett.
Sonny Eclipse's soundtrack involves eight original songs played from his amazing Astro Organ keyboard, backed by the melodic vocals of an invisible trio known as the Space Angels, and spaced apart by some of the corniest banter on this end of the galaxy. The overall routine loops all day and clocks in at around 25 minutes, which makes him a great idea for taking a break from the park at any point of your day with or without a meal. I only wish he were interactive, but I suppose I can settle for the pre-recorded vocals of Kal David instead.
Sonny Eclipse may seem like a simple animatronic, but he has quite a fan base. His tenure at the Starlight Cafe began in 1995, when he took over for Michael Iceberg and the Iceberg Machine, who had performed at both Walt Disney World and Disneyland since the 1980s. (Michael Iceberg was actually popular enough to score a televised concert special and a spot as the musical guest on The Tonight Show Starring Johnny Carson. If you don't know who he is, give him a Google, as he's pretty wild.) Although Sonny Eclipse is exclusive to our neck of the woods, I'd say that his success and popularity have proven that he fills Mr. Iceberg's shoes quite nicely.
–
What are your thoughts on Cosmic Ray's Starlight Cafe? And what's your favorite place to eat at Magic Kingdom? Tell thousands of other Disney fans in our OI Community Facebook group.
And don't forget to follow Orlando Informer on Facebook, Twitter, and Instagram for the latest news and tips at Universal Orlando, Walt Disney World, and other Orlando experiences.