UPDATE (06.21.19): It breaks my heart to have to update my review this way. Recently, Copper Canyon has closed the doors of its International Drive location. This happened suddenly, and the timing couldn't be worse. The restaurant always held a dear place in my heart from the first meal I had so many years ago, and I have countless, fond memories there. Copper Canyon remains in business with three remaining locations in its home state of Maryland, but I'll miss having them here in the City Beautiful. While it won't be anytime soon, there is word of a chance they'll be back. I look forward to that possibility, but, in the meantime, I'll face what will possibly be my greatest challenge – finding a suitable replacement. I fear that nothing will compare.
That said, let's dig into what made them stand out from the crowd and why they should be your top consideration if they ever come back.
Get treated to class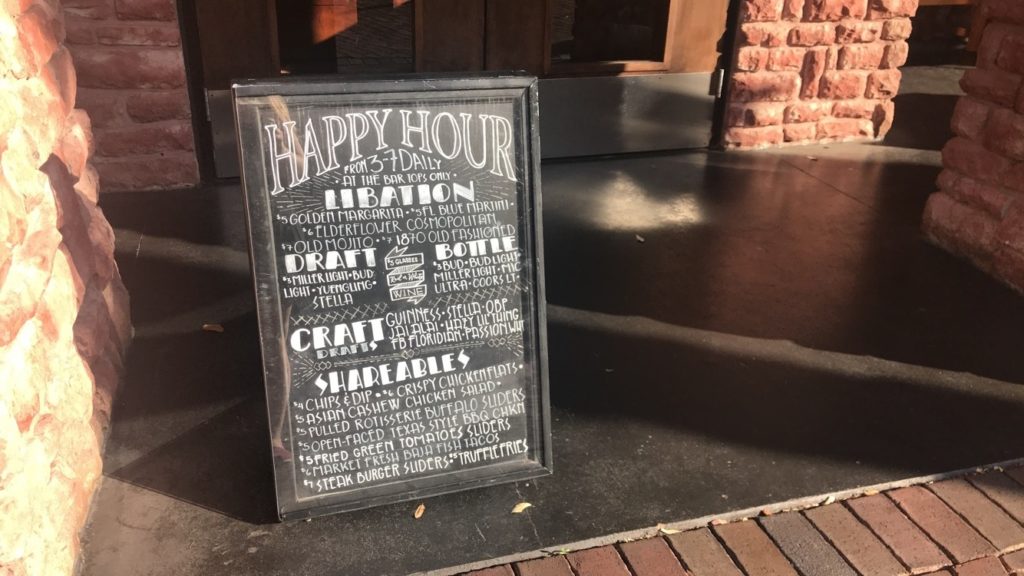 Upon entering Copper Canyon, you're immediately greeted by the friendly host stand and bar. You'll quickly notice the establishment's semi-formal, intimate atmosphere is set by the soft mood lighting above the tables and trendy lanterns at each booth – this makes it the perfect venue for a romantic date or a family dinner after seeing a movie. On my last visit, Copper Canyon was being used for a dinner event for conventioneers. At most places, this can spell disaster in the form of long waits for seating, food, and service or difficulty in holding a conversation (since the crowds can resemble the busy holiday period), but, thankfully, it was the exact opposite.
Copper is a scratch kitchen, which is just as impressive as it sounds – everything is made in-house using the season's freshest ingredients, down to the butter. If you're like me, you can appreciate this due to the innate flexibility should anything need to be made to order or be altered. Of course, some ingredients may not be available due to the current season's offerings, but I wouldn't stress it – this has never been an issue, as they've always provided a great meal regardless of the ingredients at hand. The kitchen also has an open format, which allows for better efficiency in bringing meals to patrons and provides a stronger sense of trust, since everything is in full view. Personally, I enjoy this as a spectator watching the entire preparation process from start to finish, but that's just me.
Now that our table is set, let's get to what's important – the food!
A great meal begins with a good starter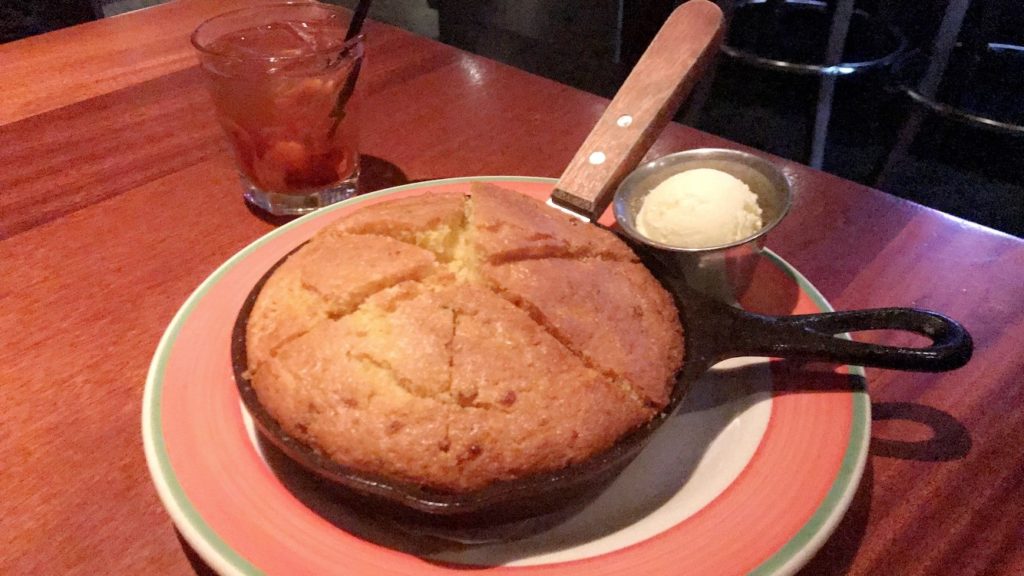 Whenever we visit, we can't pass up ordering off of Copper Canyon Grill's appetizer menu, which has plenty of worthy options. If you told me to choose one, I would curse you relentlessly for limiting my love, then select the Iron Skillet Cornbread. As a born-and-bred Floridian, I've encountered many cornbreads in my day and have a loving predisposition towards them. Believe me when I tell you that theirs has a near-perfect texture, and its sidekick, the house-churned whipped butter, makes them a palatable duo. As is typical with cornbread, it's a bit crumbly. I'd suggest to get fancy and snap the napkin in your lap to combat this. Additionally, you should know it only feeds six. While this is suitable for a couple or smaller family, if you're going with friends or a larger group, you'll want to get a second serving. Don't worry – no one will judge you if you just want an order to bring home, either.
At this point, the question might arise: "What makes it so special? Why does this cornbread stand out to this Southern kid?" Let me tell you!  It's something sneaky and not just the neat skillet it's served in – hidden within the cornbread are bits of jalapeno that add an exciting little zing to the bread. If you're concerned about the added heat, don't fret – it's nothing crazy, and it's just enough to add that something extra to the otherwise-wonderful flavor.
If this isn't your speed, the calamari is also quite excellent. It's a decent portion for an appetizer, and they don't skimp with how crispy they make each piece. Not to mention, the marinara it's paired with has a sweet zest that compliments it nicely.
If neither of these choices entice you, I have faith you'll find something, as you can't possibly go wrong with this menu.
We all have to eat, so why not eat well?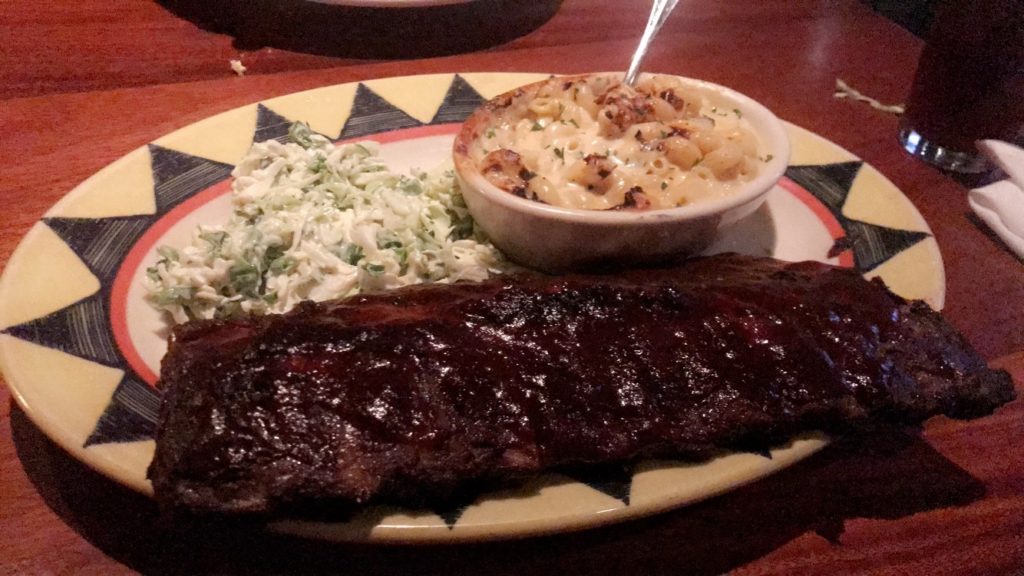 The entrees at Copper Canyon are good enough that you could almost point your finger and land on a quality choice. That being said, I'm sure a little direction is appreciated. A couple favorites of the wife and me are the Barbecue Rib Platter and the Andouille Pasta.
I'll start with the ribs by simply saying they're a specialty dish for good reason. If you're already thinking about trying them, they need not be denied! These ribs are fall-off-the-bone tender, with an almost-perfect char adding a little crunch to the meat. They're gloriously slathered in a sweet, mesquite barbecue sauce and are consistently just as savory as they sound (don't lie – you already wish you were eating them). They come with a cool, refreshing coleslaw, which provides that flavor journey you want when you're eating a dish like this. Typically, it's served with french fries, which is fine; however, I'd encourage you to substitute the fries for the bacon mac 'n cheese, since the bacon's smoky curing richly blends with the side dish's sharp and creamy cheese, providing the excursion needed to complete the noble quest you embarked on.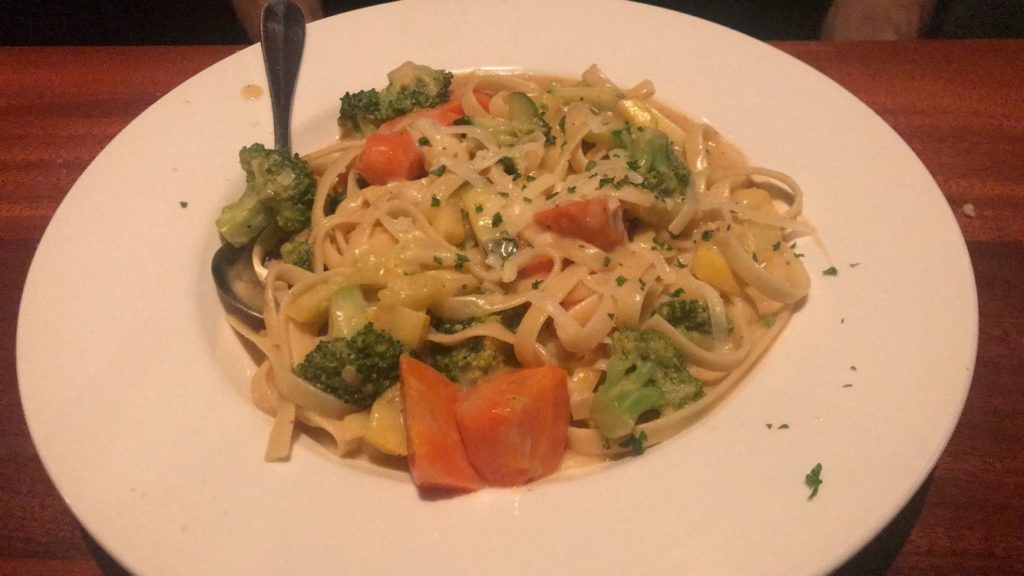 The Andouille Pasta is my personal recommendation for a few reasons: pasta is almost anyone's go-to for dinner, and it's comforting, filling, and a sure thing. Focusing specifically on this dish, it's great not just due to how much personality it has in its original state, but also in its versatility. For those unfamiliar with it, I'll start by describing Andouille Pasta as "fettuccine alfredo with a kick." Its name refers to the sausage it calls for, and you can add in either chicken or jumbo shrimp; as someone who is mostly vegetarian, though, I usually request to substitute the meat with any available vegetables. The kitchen is always open to this and responds accordingly, loading my dish with anything they can find, such as squash, zucchini, or, even, peppers. That being said, here is where I get into my biggest concern.
Objectively, Copper Canyon's menu lacks vegetarian options. This issue isn't uncommon, but I'm surprised that a scratch kitchen would limit themselves when this is becoming a more commonplace diet. While there are two directly-vegetarian choices, frankly it's actually only one – veggie burgers are always great to offer, but this doesn't set you apart, as these are available almost anywhere within a reasonable distance. The other, the Fresh Vegetable Platter, I'm more critical towards – while it is a larger portion, I wouldn't quite call a plate of prepared vegetables an entree, given the variety in American vegetarian cuisine. Considering this also neglects a scratch kitchen's creative potential and the chefs' culinary prowess, there's some disservice present for both the establishment and their patrons.
Don't get me wrong – Copper Canyon Grill will always be my top choice for anyone. This is just something to be aware of for any vegetarians.
A party without cake is just a meeting
No dinner is complete without a treat. As our dessert, the wife and I always choose the carrot cake. It's large enough to feed two, allowing us to half it with enough for each of us to enjoy. Its flavor reminds me of the sweetest parts of Thanksgiving, with prominent notes of clove and allspice that blend with the cinnamon and nutmeg that are traditionally in carrot cake. If the clove taste gets to be a bit strong, hit it with its friend, the caramel drizzle, and if you want the full experience, bedazzle it with the roasted pecans. You'll thank me later.
Admittedly, carrot cake isn't for everyone, and it was a bit rich on our last visit. As an alternative, I'd lean you towards the bread pudding – it's a warm, comforting finisher and always my second go-to as a meal-cap. On a previous visit to Copper Canyon, one of the chefs spoke to us extensively about his love for this dessert. I can't exactly quote him, but I can say he spoke poems about it, and I second his passion.
Call me old-fashioned
It's fair to say that I know my way around a bar. So, trust me when I tell you that Copper Canyon Grill is home to my favorite Old Fashioned in Orlando. Naturally, this is a stronger cocktail, as its focus is on the bourbon it calls for. Typically, this deters anyone who doesn't care for that all-too-familiar taste of alcohol. To curb this, Copper's bartenders muddle not only the classic simple syrup and maraschino cherries, but also the orange that's usually the garnish. While this may sound like a risky move, I would say it's one worth making – the sweet and citrus flavors bring forward the smoother points of the bourbon while maintaining its potency.
–
I have one last note to make about the restaurant: it validates valet parking. This helps to hasten getting to Copper Canyon since you won't have to worry about scouring the garage for a parking spot. Simply hold onto your valet ticket and speak with the host for validation.
Oh – and before leaving, don't forget to grab a chocolate mint stick on your way out!
Share your favorite places to eat in and around Orlando with 70,000+ other vacation planners in our OI Community Facebook group.
And be sure to follow Orlando Informer on Facebook, Twitter, and Instagram for the latest news and tips at Universal Orlando, Walt Disney World, and other Orlando experiences.