Cooper's Hawk is an award-winning restaurant and winery located at the intersection of International Drive and Sand Lake Road – the head of Restaurant Row. They consider themselves a modern-casual experience delivered in an upscale setting. What this means is that the cuisine is kept familiar, but with their own spins thrown in while guests enjoy a classier night on the town. Their philosophy is that food and wine have the power to create lasting connections – a belief I can immediately get behind.
My wife and I had gone once before, for our engagement two years ago, and decided to return to celebrate our recent status as newly weds.  Now, I know what you're thinking: "Congratulations, Sean – but what makes them worth my time?" I hear you. Without further ado, let's get into why you're reading this and what Cooper's Hawk means to you.
A warm welcome and award-winning start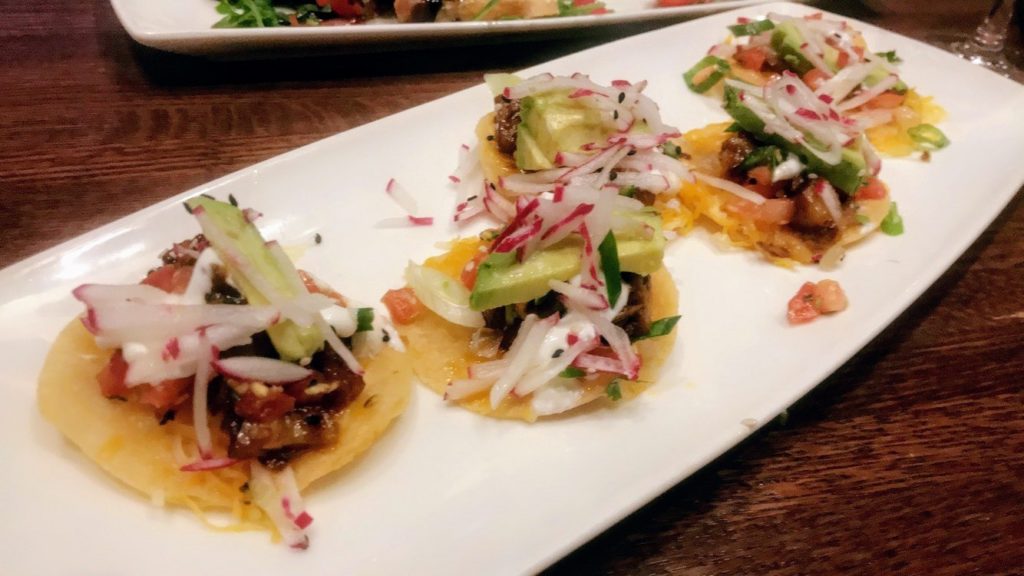 Several things separate Cooper's Hawk from the surrounding competition. One of my biggest takeaways is how hospitable their staff is, with their passion being extended to every patron. Our server was constantly looking after us during our dinner (without being overbearing). As part of their no-risk policy, they urge you to try each wine before ordering a glass. They even have tastings of their wine of the month upon entering the doors.
The staff has an excellent knowledge of their offerings and wants you to have the best experience possible. During the wine tasting we had, the hosting bartender told us a little bit about each pre-selected wine and even offered to not only substitute any we might not like, but also compare any to their Lux category so we know what makes them stand out above the rest. The establishment even offers complimentary valet parking. From beginning to end, Cooper's Hawk essentially opens their arms to you and makes you feel like close family members.
The menu at Cooper's Hawk has a variety of modern-American dishes, and they even make their own specialties in their scratch kitchen. We started with their Asian Pork Belly Tostadas, which won the Nation's Restaurant News's 2013 Menu Trendsetter Award. Honestly, when a restaurant boasts an award, you have to try it! The duo of the radish and sesame seeds brought an Asian flare to the Tex-Mex taste of the avocado and tostadas. Their flavor wrapped itself around the savory pork belly in the most unexpected way. The radish and tostadas' crunch also balanced out the melt-in-your-mouth variety of the other ingredients. Suffice to say, I see why this appetizer is considered a trendsetter.
We also ordered the bruschetta. While one could argue that this is a hard dish to get wrong, I did enjoy its nontraditional use of thicker bread and burrata cheese. This helped to carry the rest of the ingredients and provide a more powerful flavor-burst upon consumption.
Dinner is served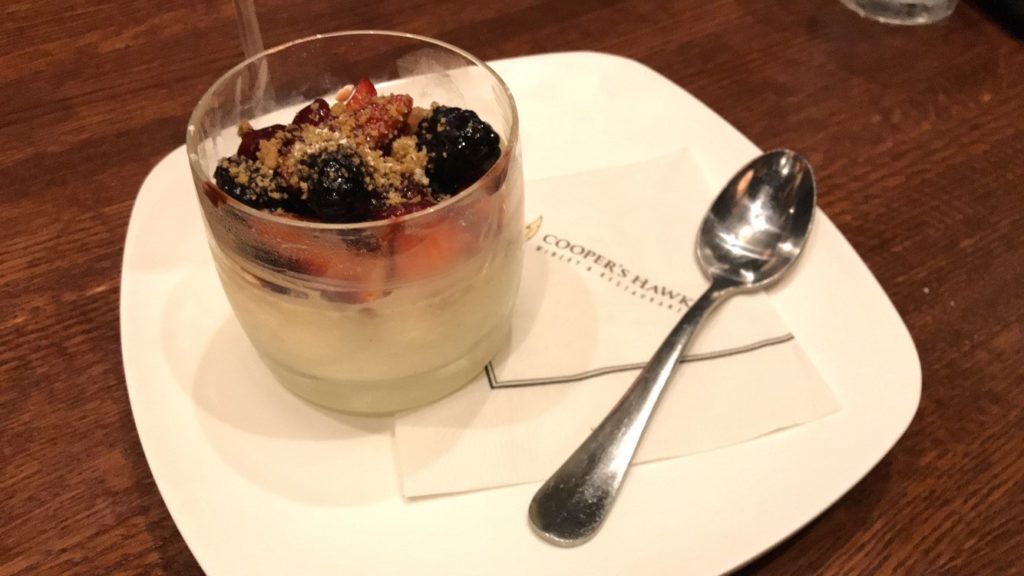 As our entrees, my wife and I chose Dana's Parmesan-Crusted Chicken and the Roasted Vegetable Enchiladas. Both meals hit their proper marks well. The chicken was perfectly breaded, which complimented the filet's tenderness. In lieu of pasta, it was paired with garlic green beans in a lemon-butter sauce. They also topped the chicken with a tomato-basil relish instead of marinara, which provided a refreshingly lighter take on a typically heavy meal. It was served with Betty's Potatoes, which are their version of cheesy potatoes and uses a white cheddar cheese and scallions. Personally, I could have enjoyed this side with any entree.
The enchiladas are an exceptional vegetarian option. They're quite tasty, and their mild heat mends the sweetness of the butternut squash together with the rest of the dish so anyone can enjoy it. They're accompanied with a corn-jimaca salad, which those unfamiliar with it can compare closely to a sort of slaw. The teamwork of the jimaca with the corn, green beans, and cucumbers brought a unique, refreshing taste and crisp texture to the enchiladas.
Our dessert was the Lemon Ice Wine Cheesecake. On a personal level, I hate anything lemon and will hard-pass on it at almost any opportunity. However, there hasn't been a cheesecake I've disliked, so I accepted the inherent challenge. To summarize it in a single word, I would say "delectable." The cheesecake was on the airy, fluffier side, and its sweetness was harmoniously paired with the tart, with the lemon ice wine nestled in subtly. The macerated berry topping also gave it a little extra complexity. If anyone needs any additional convincing, it also helps that the dessert is on the boozier side, as well!
A meal without wine is a tragedy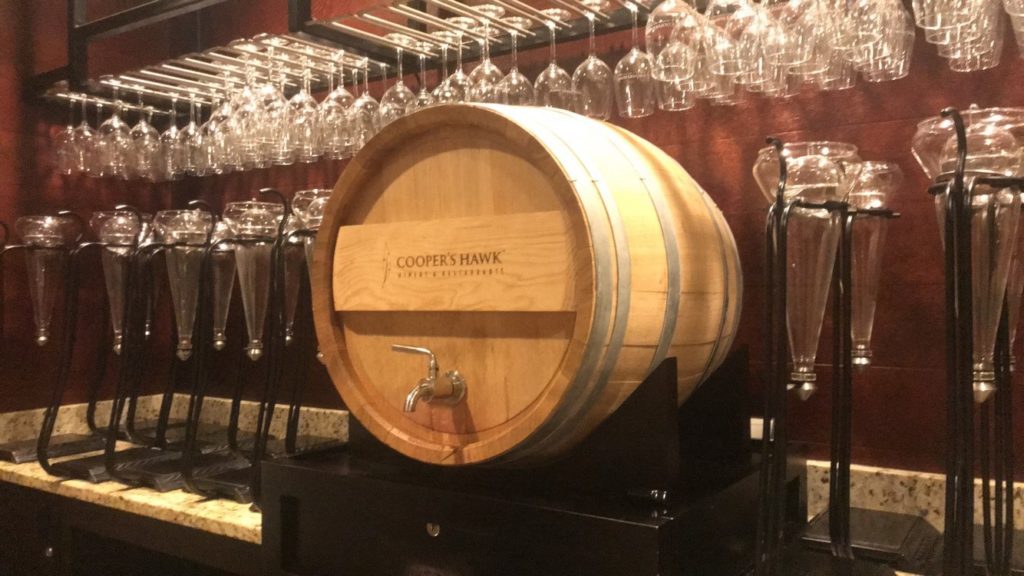 Since they're also a winery, Cooper's Hawk expertly suggests what wine would best compliment each dish. This is shown via the bin number next to the dish within the menu, which you then match with the wine list in the beginning pages. If the suggested wine doesn't work for you, the aforementioned no-risk policy can help you find one or, even, try something new. Needless to say, we tried several wines both during and outside of our tasting – our top favorites were the Lux Pinot Noir, the house red blend, and the Rhubarb.
The house red blend is a very popular mix of Merlot, Cabernet Sauvignon, and Shiraz that's almost exclusive to the restaurant. Its subtle, fruity notes are so universal that I paired it with my meal instead of the suggested Malbec. The Rhubarb was a very fascinating, sweet, earthy flavor and had to be my personal favorite due to its unique taste. We'd sampled the Lux Pinot Noir over our wine-tasting. While I'm no sommelier, I can say that its velvety texture and notes of spice mix excellently with the plum and cherry flavors, giving it a superb value for their asking price.
I'm going to take a moment here to talk additionally about the wine at Cooper's Hawk. Something to make note of is that they clearly pride themselves in this respect. They only sell their own wine, have close relationships with some of the nation's top vineyards, and search the world for the best grapes they can find. Guests can order wine by the glass, bottle, or their choice of wine flights off the menu.
They even have a wine club membership that has so many benefits that it almost requires an article on its own to talk about. Let's just hit some of the club's best points: there's membership options for every wine taste (variety, red, white, and sweet, to be exact). It has a starting price of about $20 per month, but they make it insanely easy for members to earn points towards free wine (including a $15 birthday credit towards a bottle). The membership grants discounts and events that you either have to know or be a member in order to attend.
Even if the membership isn't your speed, their tastings done in their Napa-style tasting bar are a great option for an easy date night. These do vary monthly and, at $8 a person with eight wine types, are quite affordable.
More than just wine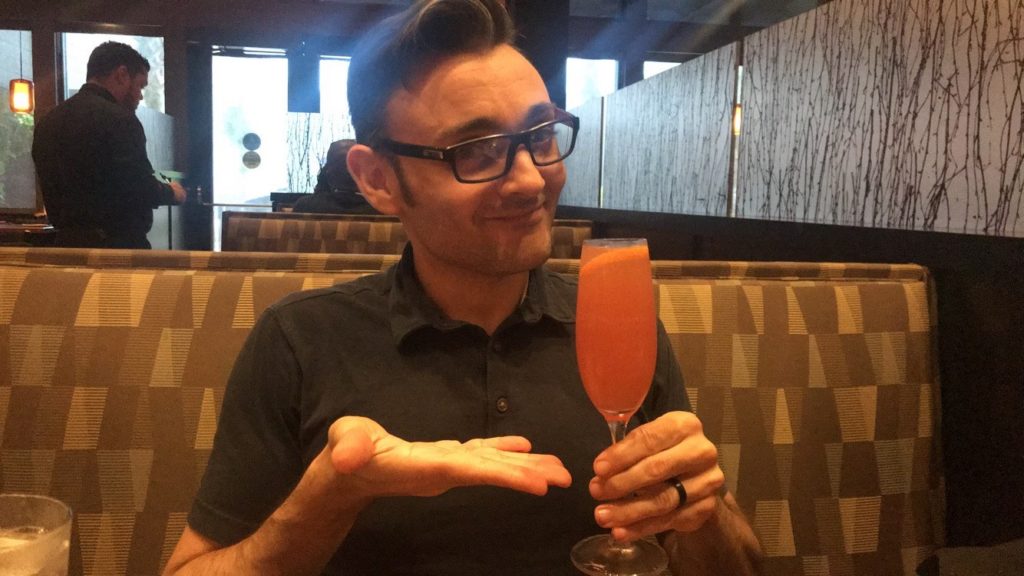 If you aren't a fan of wine by the glass, don't fret – they have an excellent selection of alternatives, such as their sangria, along with several kinds of wine cocktails, including my favorite, the Cooper's Hawk Bellini. This version mixes blood orange puree with Grand Marnier and their sparkling Moscato, which ups the ante of the typical peach and prosecco concoction. They also boast a full bar, as well, so even if wine isn't your speed, they have you covered.
On top of the great service, dinner, and wine, there's even an on-site bakery. Over both of our visits, my wife and I made sure we grabbed a few of their house-made chocolate truffles and even tried their cheesecake lollipops. Please believe me when I say that each treat was even more decadent than the last! You honestly can't go wrong with whichever you choose here.
Cooper's Hawk also provides several accessories in their gift shop at the entrance, such as a Viking's head-styled pourer, glassware, and decanters for any wine-lover's needs. This place seriously has it all.
–
What are your favorite places to hit up outside of the parks in the Orlando area? Share them with (literally) tens of thousands of other Universal fans and vacation-planners in our OI Community Facebook group.
And then be sure to follow Orlando Informer on Facebook, Twitter, and Instagram for the latest news and tips at Universal Orlando, Walt Disney World, and other Orlando destinations.