There has been so much construction going on at Universal Orlando that I want to help our readers by explaining everything in one post. There is some amazing stuff happening at Universal Studios Florida, Islands of Adventure, and Universal CityWalk, so let's get started right away!
Soundstage 44
I want to write that the work at SS44 is the most exciting stuff going on right now — but honestly, all this stuff is really exciting. Perhaps it is better to say that the work at SS44 is currently the most talked about construction project at Universal.
So what's happening here? Well, at first everyone thought it was going to be a small project to bring SS44 back up to code for use during Halloween Horror Nights. Then people started speculating that it was going to be Transformers: The Ride, which opened up last year in Hollywood. Then a rumor started that it was actually going to be a year-round haunted house to debut with HHN 22. Then people started saying that the haunted house rumor was a hoax, and it really is going to be Transformers.
I like to follow the rumors, but I don't do speculative research myself because my work is all about helping my subscribers plan the perfect Universal Orlando vacation. And while rumors are fun, they don't help much in vacation planning. So I have no idea what Universal is building here. All along I've doubted the possibility of Transformers because, from what I've read, the ride experience is identical to Spider-Man — and Universal already has one of those. In addition, do we really need another simulator at Universal Studios Florida?
But from what those folks with "reliable sources" are saying, it seems like Transformers is a good bet. Whatever it is, it's going to be big if it needs pillions like this driven into the ground, right?
[youtube_video]dBnMqxD-D4E[/youtube_video]
Not so Super Hero Island
There is no construction work going on at Marvel Super Hero Island in Islands of Adventure, but the other day I tweeted this…
These pillars got a new paint job, and just when @UORnews is about to shut the whole island down [pic]: 4sq.com/NakYZ9

— OrlandoInformer.com (@OrlandoInformer) July 15, 2012
… and it caught a few people off guard. So I thought I'd take a few moments and explain it. Now, all of this is 100% speculation, but here we go anyway: One possibility of why Universal is in a rush to build Transformers is because Disney decided to buyout the rights Universal owns for the Marvel characters at Islands of Adventure. If this were indeed true, Universal would have to shut down that island and re-brand it. Well, Hulk, Doctor Doom, and Spider-Man are very popular thrill rides. If Universal shut those down, they'd need something new to offset the temporary loss. And what could be better than Transformers: The Ride?
Some argue that there is no way Universal would give up the rights to its Marvel contracts since Marvel is one of the hottest things going right now. But the truth is, there isn't much happening at Disney to get the huge target audience for Marvel excited. Fantasyland expansion? Avatarland? So maybe Disney has decided to put up the cash for the full rights to Marvel after all?
By the way, if you are unfamiliar with the whole Disney / Marvel / Universal situation, here's a great article from OrlandoSentinel.com.
Harry Potter Land 2.0
As if SS44 wasn't enough to keep the rumor mill churning, there is a second enormous hole at Universal Studios Florida, and that's the old Amity / JAWS area. The strange thing about this area is that, from a layman's perspective, it has looked essentially the same for months.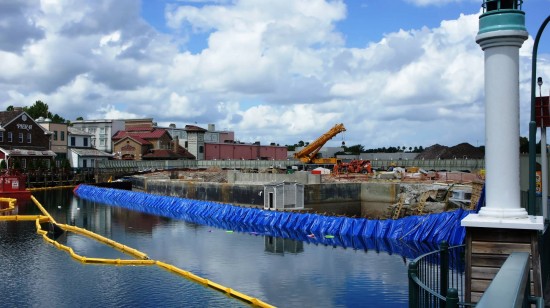 In fact, I have a JAWS & the Amity area construction page in the OI Universal Center — but I haven't updated it since May 9th because nothing looks different!
Anyway, just to recap, this area is supposedly set up to become the London side of Harry Potter world at Universal, with its counterpart already well ensconced over at Islands of Adventure. The biggest things we expect from this area are an indoor dark coaster based on Gringotts Wizarding Bank and a true-to-life Hogwarts Express to bring guests from one side of the Harry Potter world to the other.
While Universal has not confirmed anything happening in the Amity area at USF, they have confirmed that some sort of expansion will happen to the Wizarding World of Harry Potter at IOA, and that just may be the addition of a train station for the Hogwarts Express…
Lost Continent loses again
This brings our little trek through the construction projects at Universal over to Lost Continent at Islands of Adventure. Here, next to the Eighth Voyage of Sindbad theater, we now find this construction wall: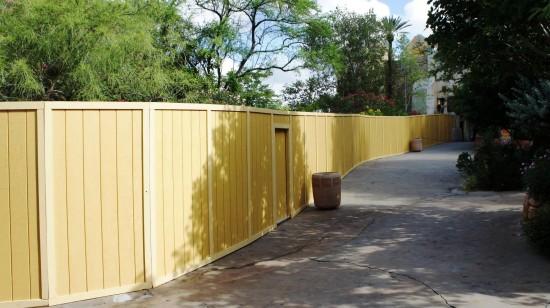 As I mentioned above, this wall is rumored to be concealing what will soon become work on the new Hogwarts Express train station. Seems like as good of a place as any. I'm just trying to figure out how they are going to make the ticket process smooth and entertaining, as guests presumably will need Park-to-Park admission tickets to ride the Hogwarts Express.
Universal CityWalk projects
If you think you can get away from construction by leaving the Universal Orlando theme parks, think again. Near the lagoon at Universal CityWalk, work continues on the third phase of the Shoreline at Universal CityWalk project. In addition, the Fresh Produce store will soon have a new neighbor: PYQ.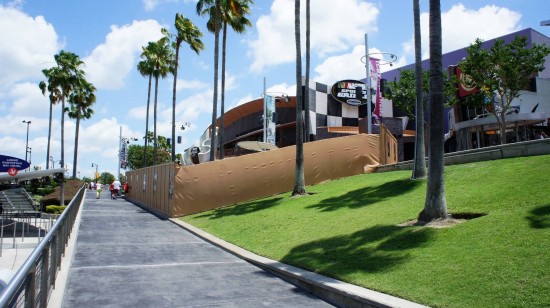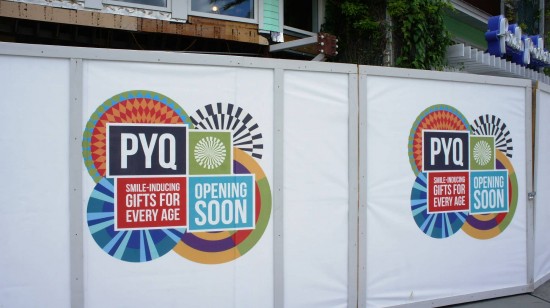 Cabana Bay Beach Resort
Contractors trying to get in at Universal have no need to worry if they haven't been selected for one of the projects above. Why? Because Universal's most recently announced project — the Cabana Bay Beach Resort — will become the complex's fourth on-site hotel. Boasting 1,800 rooms, making it twice as big as any of the current Universal on-site hotels, it is scheduled to open in 2014.

Rebirth
If there is one thing you can say about the leadership at Universal, it's that they are not afraid of change. And, thanks to the incredible popularity of the Wizarding World of Harry Potter, they aren't too afraid to spend money either. In just the first half of this year the following projects have been completed: Blue Man Group revamp, Hollywood Drive-In Golf, The Amazing Adventures of Spider-Man upgrade, Universal's Superstar Parade, Universal's Cinematic Spectacular, new in-park dining experiences, SpongeBob StorePants, Q-bot Ride Reservation System at IOA, PHOTO Express Passes at the on-site hotels, and Despicable Me Minion Mayhem.
Pretty impressive, ain't it? I gotta tell ya, as the editor of the world's largest and most up-to-date Universal Orlando vacation planning resource, I certainly have no shortage of work in the pipeline!
This will be a one time post. But if you want to stay up to speed with the very latest at Universal, we offer several options. First, it's a great idea to bookmark our Universal attraction refurb, openings & closing page, which offers an always up-to-date snapshot of what's happening at the parks. For all the details, check out our Daily updates page, which shows you everything we've updated on the site and all the little changes we've caught at Universal. Remember that you can always see our very latest updates on the top of our homepage too. Finally, each week we also post an Orlando theme park rumor column.
Summer 2012 construction at Universal Orlando – photo gallery
Click any image to view it full-screen. When the full-screen image is open, click to the right or use the right arrow on your keyboard to advance through the gallery. If several thumbnails are missing, try reloading this page in your browser.